Rev. Dr. & Pastor Mrs. Tunde Elebute, host pastors, International Christian Faith Mission, Gbagada, Lagos, will mark their 36th wedding anniversary next month September 12, 2023. The amiable couple shares the thrills and frills of their about 36 years in marriage with Christian Benefits on Ideal Christian Home.
Congratulations on your 36th wedding anniversary next month September 12, 2023. May the Lord continue to uphold your lovely marriage. First, please share with us how your paths crossed.
Dr. Elebute: Amen! Thank you very much. We have known each other since our days in secondary school. We attended the same Christian fellowship. I was a Muslim before I gave my life to Jesus Christ, while she was already a Christian before we knew each other in secondary school.
Were you both already believers when you proposed marriage to her?
Dr. Elebute:  Yes, I was already the President of a Christian fellowship when I proposed to her.
Ma, what was your immediate response when he proposed marriage to you?
Mrs. Elebute: I prayed about it to know if he is the will of God for my life. I also discussed it with my spiritual mentors for prayer, guidance, counseling and direction.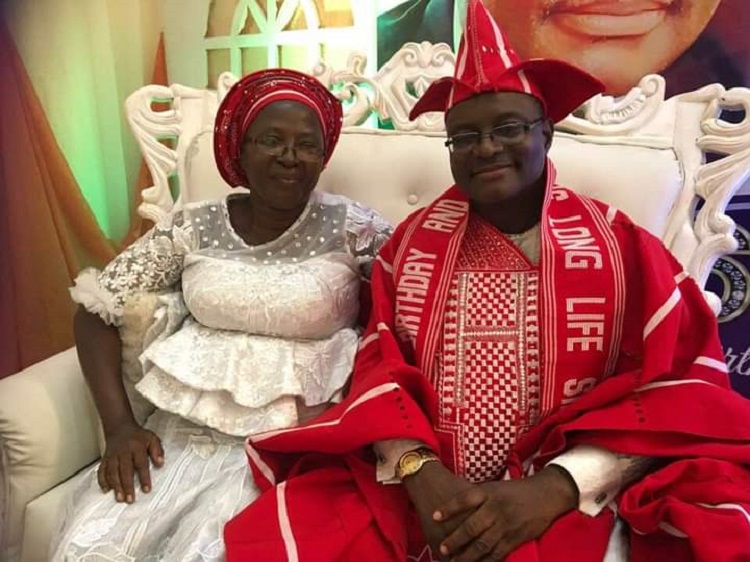 Share with us the hurdles he had to cross before he won your heart over.
Mrs. Elebute: The major hurdle he had to cross was my father who was initially uncomfortable with his proposal because of his Muslim background. But after the intervention of some people, my father eventually gave us his blessing to go ahead to marry each other
What was the immediate response of your parents too, to your marriage proposal to her?
Dr. Elebute: The only issue was when I became born again. Initially, my parents didn't know that I have been going to church. When they eventually knew, I faced severe persecutions from my father. But that didn't stop me from attending church. When I brought her home and introduced her to my parents as my fiancé, they had no objection since they had come to terms with the path I have chosen to follow.
Were there some forms of conviction before you both agreed to marry each other?
Mrs. Elebute: I prayed about it and God gave me some revelations, which I shared with my mother in the Lord. She told me what she also saw about him. A fellow Christian sister also told me what she saw about him while she was praying on the mountain, and advised I should not say no when he proposes to me. These coupled with prayers of some other brethren that affirmed God's will for us to marry.
Dr. Elebute: I enjoy fellowship with God. The Lord usually shows me things. I actually saw a revelation in which someone woke me and said look at your wife.
Please, explains to us how you eventually proposed to her after this revelation?
Dr. Elebute:  I called and told her about the revelation that she is my wife. That wasn't a problem because I was already a preacher before I proposed to her. She must have been out of this world when I proposed to her (general laughter).
How long was your courtship before your wedding as husband and wife?
Dr. Elebute: The duration of our courtship is unspecific because we had some intermittent breaks-ups due to some quarrels while we were courting till we finally stood our ground to marry. Courtship, short or long, is important before wedding. You may not know everything about your intending partner during courtship, but it provides opportunity for the intending couple to share their visions, pray and discuss together, and to understand the attitude of each other, and how to relate with each other. It's vert important to have an idea of a person with whom you will live the rest of your life.
Tell us some of the activities you both engaged together during your courtship.
Mrs. Elebute: We often prayed together. We admonished and encouraged each other in the Word of God. Sometimes, he would sit me down and teach me how to pray. Occasionally, I visited him on his campus. I was a nursing student then at Ijebu Ode while he was at the University of Ibadan. We also walked with people of like-minds so that we would not be corrupted.
Dr. Elebute: We also had our fair share of going out together. There's nothing wrong in intending Christian couple going out together. But they must avoid giving rooms to sexual temptations while they are courting. Temptation will always be there. Don't ever assume you are strong to resist it. Simply don't give room to the devil. During our courtship, we usually met at parks and other public places and discussed. Once in a while we visited each other at home when other people were in the house.
What role did your parents play in your marriage proposal and decisions?
Dr. Elebute: I had lost my parents before our decision to marry. But my elder brother stood in their gaps and did the needful between the two families. Her father made enquiries about our family. Fortunately, my brother had worked with one of her father's acquaintances. And this helped in getting the approval of her parents.
Were there specific decisions that you jointly took and agreed together during your courtship, particularly on finance, children, career, and relatives etc.?
In those days taking decisions on these areas during courtship was not important. We just followed the will of God. When you follow the will of God, you leave every decision in His hands. We devoted most times to praying for God's will.
Tell us the specific qualities that you expected from your would-be husband, and did your husband possess those qualities when he proposed to marry you?
I love someone that is educated and who loves God. I love someone that is hard working. I love someone that can fend for his family; not someone that if he is in needs all the family members will be at zero level. When I saw him, I was impressed that he possesses all these qualities. He loves God. He is very hard working. He doesn't make lots of friends but loves people that are very successful.
Tell us the specific qualities that you expected from you would-be wife, and did your wife possess those qualities when you proposed to marry to her?
All they taught us in church those days on how to choose the right spouse is a Christian brother should marry a Christian sister; Christian sister should marry a Christian brother. We were taught to marry someone that loves and serves God, and that we should not be equally yoke with unbelievers. I prayed to God to guide me in choosing my spouse. She was already a very good Christian when God revealed her as my wife. She is gentle and has a good character. I had already known her well enough as a dedicated and faithful child of God before we started courting.
How will you describe your about 36 years journey in marriage thus far?
Mrs. Elebute: It has not been too rough and too smooth. God is helping us.
What are the scripture verses that you anchored your marriage?
Dr. Elebute: The scripture verse we anchor our marriage is a man should love his wife just as Christ loves the church, and the wife should submit to her husband.
How will describe your spouse as a husband, father and pastor?
Mrs. Elebute: He is very responsible as a husband. He is very loving as a father. He is very faithful as a pastor. He is very diligent as a husband, father and minister of God.
How will you describe your spouse as a wife, mother and minister of God?
As a wife she is very hard working. I call her Martha because of her diligence in home works. She is a very dutiful and committed mother. Even when we hold vigil she wakes up before everyone in the family to prepare our breakfast before she goes to office. I wonder why God called women the weaker vessel when I watch my wife engaging in multi tasks in the family. She is also very supportive in the ministry. She coordinates the church women very well. She organizes programmes for them, including skills acquisition/economic empowerment workshops.
Tell us how you handle your misunderstanding as a couple these about 36 years in marriage?
Dr. Elebute: We had our first misunderstanding when I secured a bank job and moved to Lagos while she remained at Ijebu Ode. I asked her to join me in Lagos. She said she must first secure a job in Lagos before she would join me. I secured a job for her in Lagos but she rejected it that she didn't want to work in a private clinic. So, she refused to join me and I was angry. We have been enjoying God's help in handling our misunderstanding. As a young couple back then we made lots of mistakes too. We quarreled with each other. We still have misunderstanding sometimes. Any couple that claims they don't quarrel with each other is being economical with the truth. The principles of the Bible help us in handling our misunderstanding. The Bible is the manual of our successful marriage over the years. Whenever I'm wrong quickly  say I'm sorry to her (Yes, he is, Mrs. Elebute interjects) in order to ensure peace in the home. I don't want anyone involved in resolving issues between us. Sometimes when I tell her I'm sorry, she will reply, "every time you say I'm sorry! I'm sorry! I'm sorry!" We will crack jokes over it and the matter ends there. I also understand the nature of her job as a nurse whenever she has to be on either morning duty, afternoon duty or night duty. I have to take care of the home front anytime she is on duty, particularly when our children were not yet grown up.
How do you submit to your husband in line with the Bible's injunction to wives?
When he gets angry and he's talking I don't talk. Sometimes the flesh makes me to respond and say why now daddy but I will quickly restrain myself and keep quiet. When he instructs me to do things, I don't have option because God calls him the head. Submission in marriage is about is the wife forgetting about herself completely. Forget about who you are; where you are coming from and submit yourself under the authority of your husband. God has really been helping us in this area.
How do you love your wife in line with the Bible's injunction to husbands?
I show my love to my wife by buying things for her. I assure and always reassure her that she is my divine choice as wife, especially anytime I have done wrong to her. God gives me the grace to pray. So, I pray for her everyday as another way of expressing my love to her. I admonish her with the Word of God. I'm completely committed to the family care to express my love to her and our children. I always ensure there is food at home. One thing about women is they don't really eat much but they want foods at home at all times. So, I ensure there are enough foods at home. At my leisure I take her along with our children to eateries for family treats.
Please share with us how you handle the issue of finance in your marriage
Dr. Elebute: In the early years of our marriage, she earned higher salary than me before I became a banker but that caused no friction at all between us. There was a period things were rough financially for me when I started the ministry full time and we lived on her salary without issues. Even after I regained financial stability, she continues spending her salary on the family needs like buying foods at home and cooking soup with her own money without asking me for refund.