Rev. Dr. Adewale Ojo & Rev. Dr. Ebun Ojo on April 17, 2023 celebrated their 30th wedding anniversary. As a follow up to Christian Benefits interview with the amiable husband, Adewale Ojo, on their three decades in marriage, his beautiful wife, Ebun Ojo, also shares with the magazine how she received her husband in the spiritual realm before his physical appearance, the humble beginning of their marriage built by faith and the working template and master plan of their successful marriage these 30 years, in the below interview. Excerpts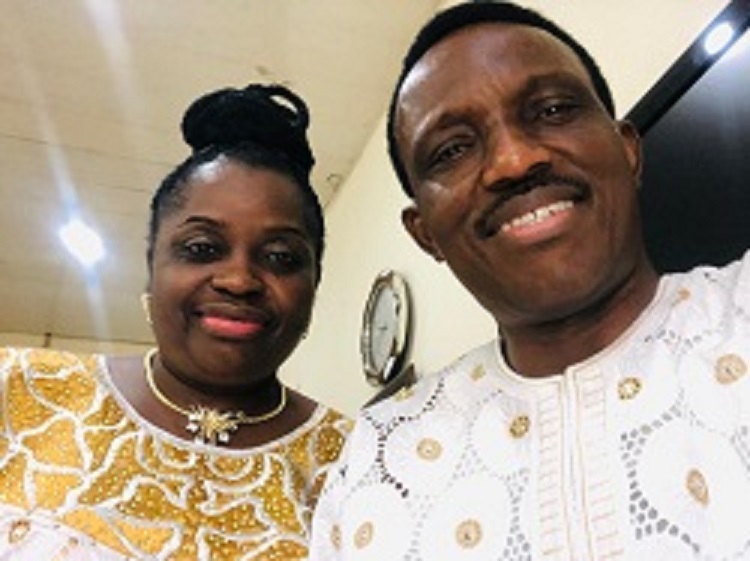 Congratulations on your recent 30th wedding anniversary. What are you most grateful to God in this journey of three decades of your marriage?
I am grateful for the word of God. The glory of our marriage is embedded in the word of God. Without the word of God, as the foundation and the standard of our marriage, our marriage of 30 years now wouldn't have been able to stand the tests of time. The glory of our marriage is the word of God. The scripture says "except the Lord builds a house, the labourers build in vain." It is the word of God that built our home from the scratch. What holds our marriage these three decades of marital life basically is the word of God. The glory of our marriage that people are commending today is connected to the word of God. We are products of God's word.
How will you describe your marital journey these past 30 years?
It has not been a straight line graph but progress has been evident.  We have scaled many hurdles and covered several milestones of records of achievements. Like Jesus said in John 16:33, "…in this world ye shall have tribulations but be of good cheer, I have overcome the world." So, no matter how it has been, we have made progress. Mathew 7:25-27 also applies to marriage. In a marriage you will pass through the rain, the flood and the wind. When you are stabilized on the rock (the word of God) none of these contrary conditions can sweep you off. Instead, they will fortify you. But where you are not a doer of the word the challenges of life (the rain, the flood and the wind) can sweep you off. Challenges of life do not know anybody; whether you are born again or not they will come. The difference is when you are established on the rock; the word of God, you will stand. So, in these 30 years, we have experienced the rain, the flood and the wind but standing by the word of God.
Briefly share with us how you met your husband
I saw my husband two years before he physically appeared while I was serving (NYSC) in Gwari, Abuja in 1989. One Saturday while washing I began worshiping and praising God.  And the Lord was touched and He opened the curtain and showed me what was coming. I saw myself walking to the aisle in a white wedding gown with a slim man beside me. So, I had seen my husband spiritually before I saw him physically. Throughout my five years on campus I was never engaged to anyone. Some fellow sisters in the Scripture Union (S.U) who already had partners were concerned and often asked me; Sister Ebun, when are you showing us your own partner? I told them God said in five years time. Then, I was a young convert; barely two years in the Lord. So, I zeroed my mind on evangelism and other spiritual engagements.  No relationship with any man. When the Lord eventually showed me my would-be husband physically, I saw him leading prayer at the Holy Ghost Ride programme of our church then, Vineyard Christian Ministries, Mushin, Lagos. And the Lord said to me, raise your head; that is your husband leading prayer. Surprisingly, after the grace, he walked to me and told me the Lord is leading him to have me as his wife.
What was your immediate response when he told you this?
Before now, we were not on talking terms. No form of any personal interaction between us. I only recognized him as one of the brothers in the church. In my response, I first played the usual lady's hide and seek. In fact, I joked that did he mean I should pray for him. But, when he reinstated what the Lord had told him about me, I told him I would pray about it. It took me about a month before I consented to his proposal to take me as his wife. As I said earlier, I had seen him in the spiritual before the physical. So, when he approached me to be his wife, it was a confirmation of what the Lord had earlier shown me.
Aside what the Lord revealed to you, did he possess the qualities of a husband you wanted?
My husband is a young-looking man, but personally I wanted someone much older than me as husband. I had the notion that someone much older than me would take care of me better. When the Lord told me to raise my head and see the man He has sent as my husband, I said Lord, I'm older than this person. Nevertheless, I desired and preferred the perfect will of God for my life. Although my husband has a youthful look, and he is older than me by a year, he has the capacity and maturity of an elder. I later realized that he is the perfect will of God for my life. We share the same birth date.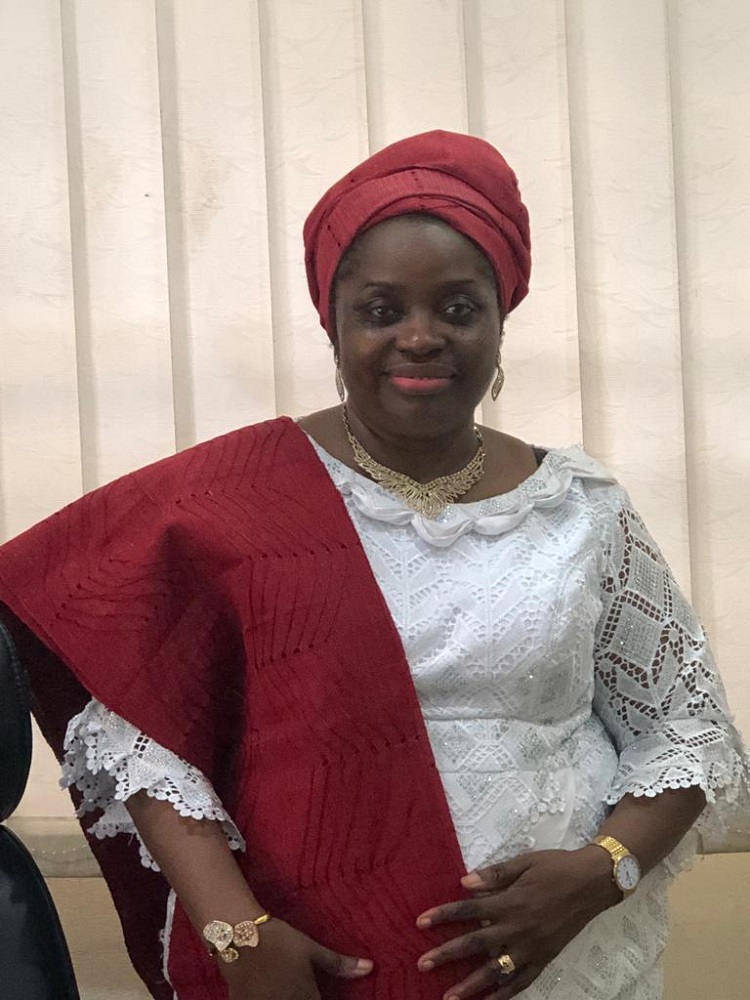 What were some of the hurdles he had to cross before he could marry you?
Immediately he proposed to me, I informed my senior pastor; now Archbishop John Osa-Oni that one Bro. Adewale in the church had proposed to me, and he (the senior pastor) took it up. As far as he was concerned the man looked too young. He asked me, Kemi, are you sure this is the right man; because what you want is what I want. I replied he was the person the Lord showed to me, and he accepted him. So, my senior pastor's acceptance of him was the first hurdle that he crossed; then followed by his acceptance in my family. My husband is a loved person in my family.
Briefly share with us about the humble beginning of your marriage
It was a rough beginning! We started in empty parlor. The day we bought rug we were so excited that we started sleeping on the rug in the parlor. We bought by faith all that we put in the parlor. My husband would say don't place anything here; that is where the refrigerator would be. And no sooner we bought and placed a refrigerator at the exact place that he pointed. He would tell me be careful, don't hit your leg at the dining table there; whereas there was no dining table anywhere. But no sooner we got and placed a dining table at the exact place that he pointed. He would say don't put anything in this place; the television set will be there. And no sooner we got a television set at that exact place. That was how we bought by faith all the things that we put in our parlor in our humble beginning. Also, we paid the first due of our house rent by faith. When my father in-law visited us back then in our empty parlor in the days of our humble beginning, it was lamentation. He said, eyin omode yi mio mo nkan tio nkan yin loju (Your these children, I don't know why you got married in a hurry). But, today the story is different. Praise God! Within two months of our marriage, my husband got a better job. And things that do not look like it began to look like it. By the grace of God we are still climbing.
Were there some pre-marital decisions you jointly took before your marriage?
It is our pre-marital decisions that are helping our marriage these 30 years. During our courtship we often met at a nearby school and planned our future together. We decided the number of children we want. We planned how to manage our finances, how to relate with relatives and the education of our children etc. We did quite a lot of documentations and prayers on how to live the future together. We prayerfully set the template and designed the master plan of how to live our future together.  Every intending couple needs to do this; set the template and design the master plan of their future together before going to the altar. This is very important to do. The marriage is not as important as the marital life. The marital life must be planned and prepared for.
How do you and your husband resolve your differences in these 30 years in marriage?
This is a very beautiful question. Positive characters are offshoot of the word of God. One may have a good character but lack the capacity to handle issues or crises if he/she is not rooted in the word of God. It is the word of God that sustains us in times of differences or disagreements. My positive characters are offshoots of the word of God. The word of God corrects you, instructs you, directs you, moulds you and rebukes you. You are a total package if you are rooted in the word of God. When offence comes you view it in the lens of the word of God. 11 Corinthians 6:3 says, "Giving no offence in anything, that the ministry be not blamed." I have resolved that as far as our marriage is concerned, the word of God must win over whatever our issues in my marriage. So, whatever the issue is I ensure it is resolved by the word of God. There are some disagreements that I may not get the solution immediately. I know over time in the place of the word of God I will finally get the solution.  Impatience can never resolve issues in marriage. Some issues in marriage take time to resolve. There is nothing new under the sun. The problem is lots of marriage partners are impatient in resolving their disagreements. If you are patient the way the word of God will resolve your marital issues will blow your mind. It might not come immediately. If a couple were genuinely married in the Lord, they will definitely overcome their issues no matter how long they take. But for those who are married in the flesh; there is nothing or little anyone can do in stopping them from eventually parting ways over seeming irreconcilable issues in their marriage. (Continues)