Bishop Moses Adedipe reveals: "How I proposed to my wife on our first meeting." A little over 50 years ago the then young Moses Adebayo cruised on his Honda motor cycle, accosted an equally young and beautiful lady on Palm Avenue, Mushin, Lagos, and offered her a free ride on his two-silencer motor bike. And the lady obliged!
After a few exchange of questions and answers between them, right on his bike, Moses, without mincing words, told the young lady, Helen, straightaway:  "I want you to be my wife. Can I come to your house later in the day to see your parents?"
 The bemused Helen responded: "It sounded embarrassing and surprising asking me to be his wife, just like that and take him to my parents on the very first day of our meeting. Is that how to marry? I don't know you. You don't know me." 
 Today, the rest is history. Despite Helen's initial display of the usual hide and seek of single ladies with their suitors, the Ilesa-born beautiful woman and former employee of the Nigeria Customs & Excise has spent the last 50 years in the house of Bishop Moses Adebayo Adedipe; a printing technologist, as wife of the General Superintendent of the Universal Christian Mission International, Ejigbo, Lagos.
Last year November 25th, 2022 the amiable couple, Bishop Moses & Rev. Dr. Helen Adedipe clocked five decades in marriage. In this joint interview with Christian Benefits on Ideal Christian Home, the highly fulfilled couple takes the magazine through the steady journey of their 50 years in marriage, and shares  how their paths crossed, their courtship, their pre-marriage decisions, their humble beginning, their parenting approach, their financing strategy, their disagreement management, their expressions of love and submission, their successes and setbacks, their gains and gains and above all the place of God and love in their 50 years union from motor cycle to a mother and father of nations with highly successful home and children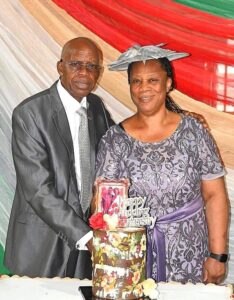 We started our marriage on a joint venture
Please, can I meet you sir?
I'm Bishop Moses Adebayo Adedipe, the General Superintendent and Presiding Bishop of the Universal Christian Mission International. I'm also a Bishop of World Evangelism Churches &Ministerial Council (WECMC) United Kingdom, presiding over Nigeria.
How does it feel clocking 50 years in marriage; which is quite a milestone?
Daddy: 50 years in marriage is not 50 days, 50 weeks or 50 months. It is 50 solid years uninterruptedly. 50 years ago we walked to the altar to say "I do, I do." We meant what we said then. That is one of the secrets of the success of our marriage.
From your experience in marriage in 50 years, will you please share with us, particularly with the younger folks, your understanding of marriage?
From the onset of our marriage 50 years ago, we didn't see marriage as a child's play but as a participatory responsibility with God because God is interested in marriage. That's why he started with creating a man. He made an assessment and discovered that something was missing. He then said it is not good for man to be alone. He didn't stop there. He found a solution by making a help meet for man; suitable, eligible and qualified to work with man so that they can start dialogue. There's a mystery here. Why didn't God create another man? God didn't establish gay system that humanity is cracking brains to sell demonic ideas to the world. God did the first surgical operation. After He made Adam, from Adam's rib He made a finished product and named her woman. From there God institutionalized marriage as a joining of a man and a woman suitable for each other. It means there is probability that a woman may not be suitable for a man and verse versa. They may not be able to raise a family together. At each given time God has to be called into a marriage, if not there it's just going to be a temporary joy of coming together and the marriage eventually crashing. But when God, the originator of marriage is always called into it, the joy is what we are enjoying in 50 years of our union. We daily allow the presence of God to be with us. That is the strength of our marriage.
 Please, can we get to meet you too, ma?
I'm Rev. Dr. Helen Omotunde Adedipe, I am the deputy general superintendent of the Universal Christian Mission International and the proprietress of MOSHELEN High School, 20/22 Muhammad Akije Street, off Ifoshi Road, Ejigbo.  Lagos.. I am also the West Africa Coordinator of Women Intercessors for the Church International.
What are you most grateful to God for your five decades in marriage?
Mummy: We are thankful to God for helping us this far in working together as a team in marriage. Years back, things were not as hard as they are now. Those days on graduation from the university you got a good job with good pay and settle down early. So, we got married at young age and God helped us in building a solid foundation spiritually, physically and materially. I was below 40 years old when we built both the church and our house structures. We are focused in our marriage. We are also grateful to God that He helped us in raising Godly children. We are so grateful that all our children are in the ministry with us. From childhood, we raised them to understand that salvation is an individual thing. Normally, children are bound to misbehave while growing yet we raised our children in the fear of God.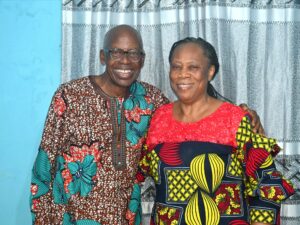 Our courtship was under ten months
Briefly share with us the humble beginning of your marriage 50 years ago
Mummy: At the time we got married, while I was a civil servant, my husband was a printing technologist. He worked with some printing firms. After a while we established our own printing press. By the grace of God, we were able to put things together and through the business we built both the church and our house edifices.
Will you please share with us how your paths crossed before your wedding?
Daddy: I was raised in a godly home where I shouldn't have immoral girlfriends. I had godly male and female friends. I had no girlfriend sleeping together or messing around because God is against immoral friendship. I had a personal encounter with God. I made up my mind that whoever lady God directs me to there are specific questions or signals that will make me to know this is my wife. I told God if I see any lady that is beautiful and attractive enough for me I will tell her straight to be my wife, not a girlfriend. So, on a particular day I saw this beautiful lady passing bye along a road in Mushin and I was interested in her. I summoned courage, went straight to her and told her to be my life partner. She smiled. I asked her where she was from. She said Ilesa. I asked her with whom was she living or she was living on her own. She said she was living with her parents. I had told God that any lady I approach to be my wife and ask her to take me to her parents and refuses, she is not my wife. So, I asked her if could visit her house later in the day to see her parents. She said I shouldn't come to her house because her parents would kill her if they see any man with her. Then, I asked if I could come just to say hello. She accepted. Immediately, I got the signal from the Lord, this is your my wife.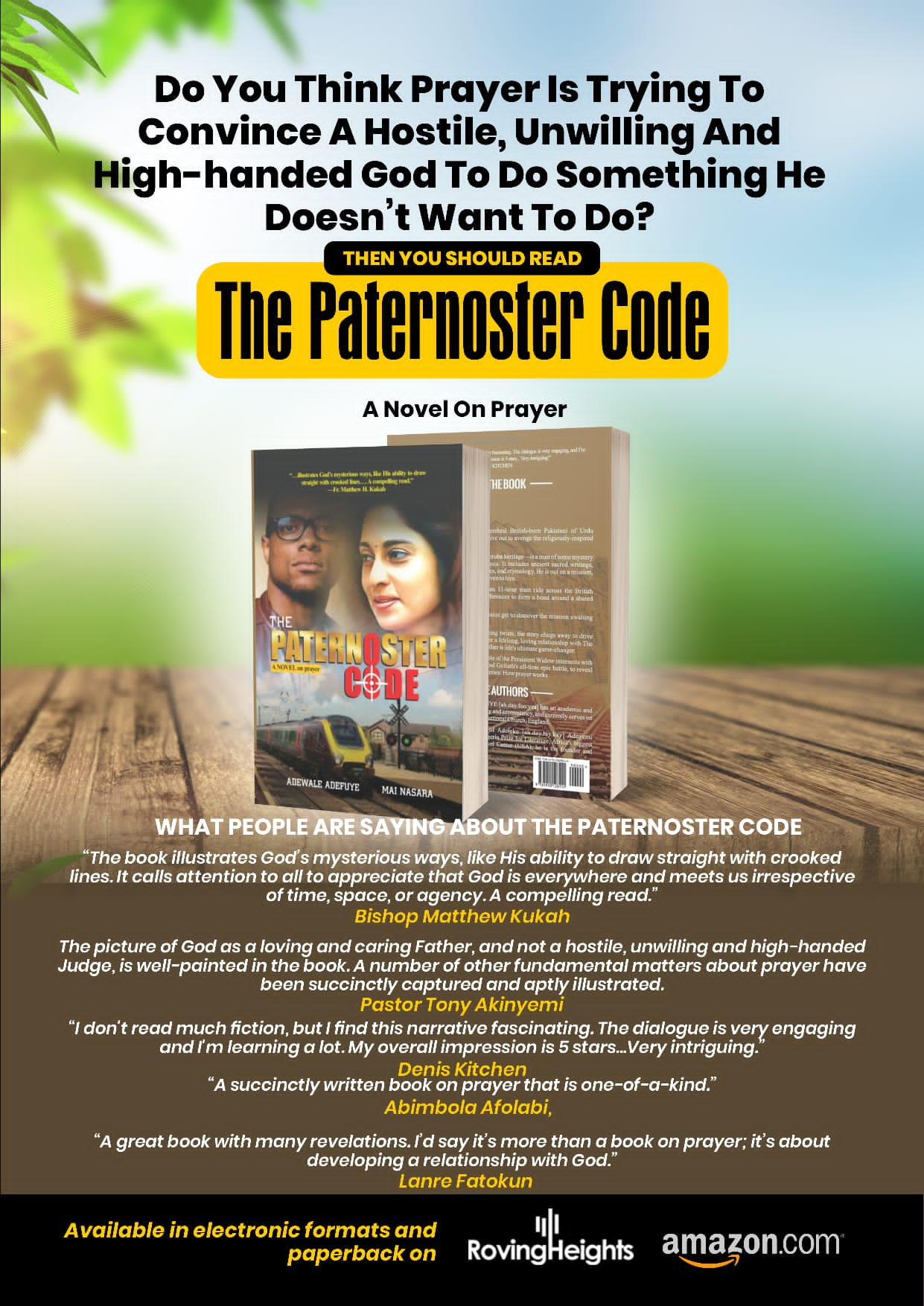 How did it sound to you when he asked you be wife on the very first day he met you?
Mummy: It sounded embarrassing and surprising to hear someone asking me to be his wife just like that and take him to my parents on the very first day of our meeting.  Is that how to marry? I don't know you. You don't know me.
What exactly transpired between you before asking you to marry him? 
Mummy: I was a civil servant with the Nigeria Customs & Excise going to Yaba for a training course when he accosted me on his motor cycle along Palm Avenue, Mushin. He offered me a lift to Olorunsogo bus stop. While on his bike he started asking me some questions and I responded. By the time we got to the bus stop it was about to rain with heavy breeze. He asked me my exact destination. I told him and he offered to take me to my destination so I won't get drenched in the rain. He then continued his questions. Before I knew it he told me he wanted me to be his wife and asked if he could visit our house later in the evening to see my parents. I didn't allow him to visit my parents on the first day. But later when the pressure was much I obliged when he said he only wanted to come and greet them. He later told me that he had been eyeing me while he was working at Associated Press; a missionary press at Challenge, Mushin. My church (ECWA) was also at Challenge while he attended Christ Apostolic Church (C.A.C). I was the captain of the Girls Brigade in my church, ECWA. He later confessed that he usually planned his break around the time of our Girls brigade practice on Saturday for him see me.
How much of his background you later knew after asking you to marry him?
I later knew that he had a C.A.C background. His father pulled out of C.A.C and started the Universal Christian Mission International to build an army for God. His father with some other people started Bible school in Christ Apostolic Church (C.A.C). His father was an in-law to the now late Apostle Ayodele Babalola.
 How long was your courtship before your marriage 50 years ago?
Daddy: Our courtship was under ten months. Personally, I don't believe in long courtship. It is prone to lots of negativity. I wonder what those in long courtship are looking or waiting for.  In long courtship, along the line some negative events or issues may happen between the intending couple. However, it depends on what individuals want from God. For me, I told God I don't want a girlfriend. I don't want long courtship. The moment you say this is my wife, I don't need waiting any more. When you are still waiting in long courtship, it probably means you are doubtful or still looking for something else. Even after marriage, the partners can't really know each other fully until after ten years in their marriage. It takes ten years for a couple to really know each other. You will discover that after ten years in marriage no hiding place any more for the husband and the wife in marriage. Consciously or unconsciously, the partners keep studying each other to know what they can tolerate and what they can't until they accept each other the way they are.
Share with us your courtship activities in this period of less than six months
Mummy: I was an active member of the youth fellowship, Sunday school and the Girls Brigades in our church. I was also active in the church activities. Unknown to me, many of my friends in our church were also his friends in his place of work. His best man at our wedding Vincent (now late) and I grew up in the same church. Some of his friends were my fellow youth fellowship executives. I don't attend parties. I attended only youth programmes. So, when he started visiting during our courtship I invited him to our youth programmes. Among others, I invited him to our youth fellowship camp meeting at Methodist Girls High school, Yaba, Lagos.
What roles did your parents play in your pre-marriage decisions?
Mummy: First, he decided to take me to his aunt for introduction. I told my mum and she approved it. But to my surprise when we got to his aunt's house it was my uncle's house too. We discovered his aunt was married to my mother's brother. My uncle and his aunt were surprised how we became friends. He later took me to his father who was eager to meet with my parents. My mother doesn't condone secret relationships. She encourages open relationships. So, we related openly from February 1972 when we became acquainted till we got married in November 1972.
Daddy: One dangerous error intending couples nowadays do is to lord their pre-marriage decisions over their parents. In our case, we carried our parents along in all our pre- marriage decisions. The first day I visited her, her mother prepared tea for me. We didn't shut her outside our relationship. While we were courting, our parents and siblings were carried along despite the challenges in involving siblings in courtship. Some siblings may have some reservations about the relationship often based on their biased perceptions of marriage. Apart from our biological parents, we also involved our spiritual parents (our pastors) in our pre-marriage preparations, particularly in the area of counseling. It goes a long way when a pastor vouches for his members. Our pastors' involvement in our pre-marriage decisions and preparations boosted our confidence to go ahead with the marriage.
Were there some pre-marriage joint decisions you took before your marriage?
Daddy: Certainly yes! There must be some key pre-marriage joint decisions and agreements by intending couple before marriage. Without pre-marriage joint decisions and agreements the intending couple may build their marriage on a poor foundation. We made pre-marriage joint decisions to have a sizeable family, to build a good home after God's heart, to train our children in the way of the Lord so that when they grow they would not depart from it (God helped us to achieve this); not to disrespect each other, to truly love each other and our children in addition to our love for God. When there is no true love in a marriage there will be crisis.
 Briefly share with us the humble beginning of your 50-year-old marriage
Mummy: We started our marriage on a very low key at Isolo, Lagos. We lived in a wing of a building of more or less a family house. We stayed in the smallest room. Within few months we decided to move when he changed his job. Actually, after our marriage we wanted to move to Kaduna because my husband had already been offered a job appointment there but Papa Martins of Premier College called us help him in the press. So, we rented a two-bedroom apartment in his (Papa Martins) house at Papa Ajao, Mushin. We had our first son, Ademola Adedipe in that house. We later relocated to a mini flat of two-room apartment. We the shared same kitchen with other flat mates and continued building our lives together. The owner of the house was a Jehovah witness Ijesa, Osun state. When one of the tenants parked from a 3-bedroom apartment he asked us how much we could conveniently pay for it. We told him told paid the amount and moved from the boys' quarter to the main building where we lived for 20 years before we moved to our own house.
How do you manage your finances in all these 50 years of your marriage?
Mummy: We started our marriage on a joint venture. We bought our first television set, car and other things from common purse. When we both received our salaries, we put them together, prayed, sat down and planned how to spend the joint money. After settling all the necessary things from the money we saved the balance.
Share with us how resolve your disagreements in these 50 years of marriage
Mummy: There is no marriage without issues. As partners, we laid the foundation and built the structure together. The man and woman are two different personalities from different backgrounds. They should learn to accommodate their differences. When issues arise in a marriage the best thing the partners should do is to pray. We are used to praying together; even over our differences. We can't pray together as partners without first resolving our issues. We don't sleep over disagreements since we know that we must pray together before going to bed. Most times we both compromise our stance when there are issues. In making decisions when he insists on having his way, I allow him and await the outcome. If he fails, I don't spite him.
Again, share with us your parenting approach in raising your children
Mummy: Irrespective of the office schedules I have to manage the home. Our children know I am a disciplinarian. We raised them to know that sin is sin. We had a prayer corner where I put them to pray when they misbehave. I give them prayer points in that corner to pray all day until they are remorseful. My children preferred to be beaten than to be sent to the prayer corner. We raised them in the fear of God. I didn't want them to be examples of ill-mannered pastor's children. I often tell them they are Moses Adedipe's children and not Eli's children. I made a covenant with God that my children, grandchildren and onto the next generations will serve Him. Some of our grandchildren received the Holy Spirit between age 9 and 10. We made them understand that Jesus is our only heritage for them. While in school they were all involved in campus Christian activities. By the grace of God, all our children are into ministry. Their husbands and wives are also pastors. Our children are also raising their own children in the way of the Lord. Everyone that lives in our house is raised in the atmosphere of love and the fear of God. (the Interview continues)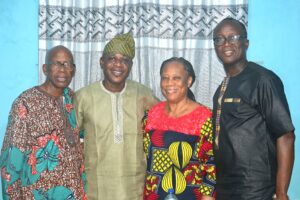 (L-R): Bishop Moses Adedipe. Dr. Wole Olarinde (Publisher, Christian Benefits). Rev. Mrs. Helen Adedipe and Prof. Pastor Ademola Adedipe after the interview with couple on Ideal Christian Home