U.S based Nigerian celebrated Seraph and founder of Ogo Sioni Aladura Ministry Int'l, Baba Aladura Dr. Olorunfemi Ejide clocks a year older on June 19, 2022. He is one preacher the Nigerian electronic media will love to celebrate his birthday with glitz for his imparting evangelistic television/radio programme that ruled the airwaves from the mid 2000 till the man of God relocated to the U.S where he presently resides but still preaching and promoting the glory of white garment churches popularly called Aladura churches that include the two prominent Cherubim & Seraphim (C&S) and Celestial Church of Christ (CCC) among other white robe churches.
In his a little over three scores on earth, Apostle Dr. Olorunfemi Ejide has devoted most of his years to preaching, healing,, deliverance and soul winning. However, the amiable and media-friendly Baba Aladura is renowned for his defense of Aladura churches from the mud sling, attacks and condemnation of the detractors of white garment churches. In one of his interviews with Christian Benefits, Ejide explained why it he took it upon himself to defend and reposition white garment churches from the negative perspective of some other church denominations, particularly Pentecostal churches.
Ejide bemoaned the belittling and non-recognition of white garment churches with disparaging comments by Pentecostal churches and biased Nigerians, particularly Yoruba people who he regrettably said are ironically the founders and custodians of the Aladura white garment church movement all over the world. He expressed sadness that the Aladura Church in Nigeria today is not accorded serious recognition and respect unlike the way the African white garment sect is recognized and respected outside the country like U.K, U.S, Ireland, Holland and Germany among other countries.
"It is because of the denial of Aladura churches of their due respect and deserved recognition by the unformed and biased Nigerians and other church denominations, particularly the Pentecostal churches, and also because of the dwindling interest in Aladura churches that we at Ogo Sioni use our revival programme to celebrate yearly the Ajagunmatablih convention for the first time in 2007. We organized the Ajagunmatablih convention to portray and promote the beliefs of the founding fathers of the Aladura movement by which people can receive victory from God. Ajagunmatablih simple means victory. We also use the power of the mass media in defending and promoting the beliefs and doctrines of the Aladuras," he explained.
Since his relocation to the U.S while the Lagos headquarters of the church continues growing in leaps and abounds, Ejide has harped on the social media platforms, particularly face book, twitter and YouTube in preaching salvation, healing and deliverance to millions of people globally, and also uses the new age media platform to address issues and controversies relating to white garment churches. For instance, Apostle Ejide's popular GOD Rain social media platform is one of the consistently followed interactive platforms on the internet where the prophet preaches and prays for his followers as well as addresses controversial issues that bother on white garment churches and unfolding events and developments in the Christendom generally beyond the Aladura denomination.
The founder of Ogo Sioni Aladura Ministry Int'l said although he is a proud and full blooded Aladura priest, Ogo Sioni is distinct in practice among the Aladura fold. "At Ogo Sioni we dwell more on the Word of God than in the use of candles and all sorts of things that are common practices in Aladura. Ogo Sioni is word-based. Ogo Sioni is not a typical all clapping and clapping Aladura church but a church where the scriptures; the word of God is deeply preached and practiced. The foundation of Ogo Sioni Aladura Ministry Int'l is solid rock. We have seen people healed of diverse illnesses and diseases like fibroid, blindness, lameness, bareness and many other profound testimonies under this commission since inception," Ejide shared.
Baba Aladura Dr. Olorunfemi Ejide is the Founder/General Overseer of Ogo Sioni Aladura Ministry Int'l, Abesan Estate, Ipaja, Lagos. He was born in 1958 to Mr. &Mrs. Salawu Ejide from Okene in Kogi state. He started his education at Army Children School, Okene, Kogi state before coming to Lagos to complete his primary education. Ejide proceeded to Renaissance Comprehensive High School, now Ojokoro Comprehensive School, Ijaiye. He however completed his secondary education at Ogba Grammar School. Subsequently, he furthered his education at the Federal Polytechnic, Ilaro, Ogun state where he graduated in Textile designs. Thereafter he traveled to the then Yugoslavia where he studied Para-psychology before he came into full time ministry in 1988. He had previously worked at Mobil Filling Station in Lagos as a supervisor and May Sun Hotel, Lagos, as a cashier.
Olorunfemi Ejide started his ministry in 1988 with the name Jehovah Mission Church a.k.a Ogo Sioni at Idoani, Egbeda. In 2003 he had an encounter with the Lord, which led to the present name of his ministry, Ogo Sioni Aladura Ministry Int'l. Over the years Apostle Dr. Olorunfemi Ejide has been engaging in series of evangelistic outreach on television/radio stations, newspapers and magazines in Nigeria and overseas defending and repositioning the Aladura Church as a church organization divinely established by God in response to the negative impression of the African pioneered and oriented church by uninformed critics and detractors.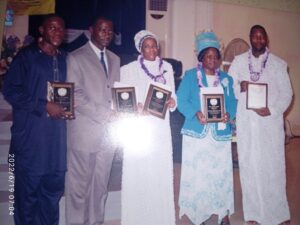 Baba Aladura Olorunfemi Ejide (extreme right) and some other recipients of the BAME Award in 2008
In recognition of his dogged commitment to evangelism of the doctrines and beliefs of the Aladura church through the mass media, Apostle Dr. Olorunfemi Ejide was honored in 2008 with the Benefits Awards for Missionary Excellence (BAME Award) for Christian Service by Nigeria's front line Christian Benefits magazine.
Baba Aladura Dr. Olorunfemi Ejide, shortly after his return from his first trip to the United States of America (USA) in 2009 shared with Christian Benefits magazine his testimony of his recognition and honor with the prestigious BAME Awards in 2008 by the wholly Christian news magazine. "I must say the truth; my interviewer at the America Embassy in Nigeria was impressed with my interview in Christian Benefits magazine and the BAME Award certificate, which are some of the vital documents I presented at the America Embassy to apply for the US visa. The Christian Benefits interview and the BAME Award paved the ways for me right from the America Embassy and beyond," Baba Aladura Ejide testified.
"I must say the truth; my interviewer at the America Embassy in Nigeria was impressed with my interview in Christian Benefits magazine and the BAME Award certificate, which are some of the vital documents I presented at the America Embassy to apply for the US visa. The Christian Benefits interview and the BAME Award paved the ways for me right from the America Embassy and beyond," Baba Aladura Olorunfemi Ejide