As Nigerians go to the polls this Saturday February 25, 2023 to elect a new president, Sound Character Coach and Nation-Builder, David Adegboyega charges Nigerians to vote for the candidate that ticks the four boxes of character, competence, capacity and policies as the nation's new leader.
In this interview with Christian Benefits on Sound Character and Leadership, Adegboyega also shares his vision to raise the teenagers and younger ones of today that will emerge leaders over the next 50 years; starting with his sound character building in the teens and the young people in various primary and secondary schools and the teens/children churches across the country. Excerpts
Briefly, who is David Adegboyega?
David Adegboyega is a Sound Character Coach and Nation-Builder with a vision to raise a critical mass of young Nigerians to whom corruption will not be an option.
You are a renowned Sound Character Coach and Nation-Builder. What exactly is Sound Character?
Character is a combination of qualities that make up a person or thing, and it could either be good or bad. It is the invisible part of a person that governs conducts. Sound Character, therefore, are attributes that show you as a positive influence on the society. These include perseverance, courage, godliness, integrity, obedience, humility, simplicity, patience, responsibility and biggest of all, love.
What is the place of sound character in the building of a virile and prosperous nation?
A nation is a people with a defined culture. To have a virile nation is to have a nation with the strength of character needed to harness its potentials for greatness. Take perseverance for instance, imagine where all students persevere to study hard, and when they enter the exam hall they do not talk to themselves, then we can have leaders who will not cut corners in every facet of the economy. Imagine where parents do not look for special centres but insist their children study to pass exams.
Nigerians go to the polls this Saturday to elect their new president. What character strengths should Nigerians look out for in all the presidential candidates to inform their decision on who to vote among the candidates as Nigeria's next president?
I align with the Christian Association of Nigeria (CAN) to look out for Character, Competence, Capacity and Policies. You can see that the number one is character. The one character strength to look for is Perseverance. Who is that candidate that had persevered to uphold the positive value systems he believes in against all odds? Him vote. I love to paraphrase a quote by Peggy Noonan, speechwriter to the 40th American President, Ronald Reagan; she said "A president does not have to be brilliant, he can hire strategists but he must come with courage and willpower, these he cannot hire." However, you can imagine the impact when we have a brilliant president with sound character.
Going by the character strengths of the major candidates in the presidential election, any hope for Nigeria in the next political dispensation?
Yes, because we can point to one of them that ticks the four boxes of character, competence, capacity and policies.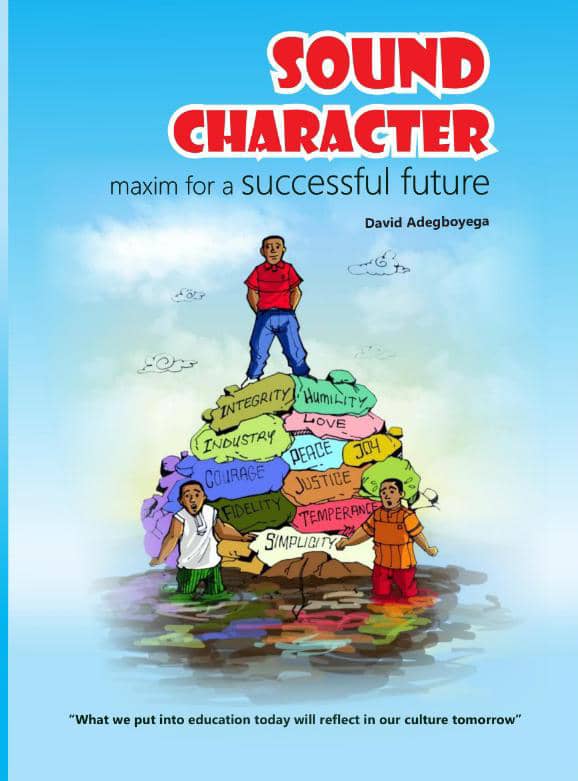 You've been looking and working beyond now to raise today's teens and young people with sound character as future leaders in all spheres of life over the next 50 years. Tell us more about your vision of raising future leaders with sound character over the next 50 years?
It's very simple. Let every parent and educator ensure they speak with and show their children and wards Sound Character strengths everyday over the next 50 years. Little drops of water make a mighty ocean. The teenagers and younger ones today would emerge as leaders over the next 50 years, and I believe we can have a critical mass who would not have corruption as an option in anything they do. My book on Sound Character is hinged on the philosophy that 'what we put into education today will reflect in the culture tomorrow'. Let us join hands to put sound character into education today.
Since your resignation last year from your up mobile job at FirstBank, you have been going round schools and churches building sound character in the teens and the young people of these two foremost and important institutions. What has been the response to your efforts?
It has been very inspiring. I've had a school, just after 3 weeks of using my book, Sound Character, called me to an accolade assembly to decorate a student with a white tie because he found money on the floor and returned it. The student said he returned the money because they have been teaching them from the Sound Character book not to steal. The school teaches from the book on the assembly daily. See the video here: https://youtu.be/pfsDld6O4hI. I have also created a training tagged 'Sound Dialogue' for the workplace, and had the unique privilege of being invited by my last Department in the bank to facilitate a session during their Team-Bonding recently.
How can more public and private schools and churches engage your services in building and grooming their teens and young people in sound character?
I am available 24/7/366 (laughs). This is my work now. Just a call or WhatsApp message on +2348032015433 will do, and we can agree the schedule. My social media handles are @soundcharacter.
Your book, Sound Character, approved and recommended by the Lagos state government for both primary and secondary schools in the state, has been a blessing to lots of teens and young people across Nigeria. Please, share with us some testimonials about this book.
A teacher allowed me to capture her testimonial on video this week, where she excitedly told me how her students have memorized the wordings in the book. Please see the video via this link: https://m.facebook.com/story.phpstory_fbid=pfbid0uUTsCna3R3i8iTDAnYB2fh6YVMDZGgGR3XUHnR33M4pmfP49UVA3ym4bUfDGzxhcl&id=100000633974815&mibextid=Nif5oz We have also created the Sound Character theme songs available via this link: https://drive.google.com/folderview?id=1Y_0l2wKpcH7W884S-XCDrK4jxXRaeDhp Get the e-copy of the book here: https//selar.co/q8ba.
Lastly, any regret quitting your banking career to go about building sound character in teens and young people across the country, as Sound Character coach and Minister in Foursquare Gospel Church.
No. Firstly, I have prepared myself for the odds; then I have a very supportive wife and children. Secondly, knowing you either plant a tree 20 years ago or now, I face every day with hope; pushing out proposals, talking to people. Getting the "No", "Yes", "May be later" but getting inspired to getting it done. I mean, you can imagine my joy when the last Department where I worked invited me to train them on an offshoot of Sound Character tagged 'Sound Dialogue'. I'm happy to run the training for every workplace, corporate or religious. On the Church front, I had the privilege of been sent to pioneer a church in Makoko area of Lagos with a teeming population of young people to be inspired to character excellence. I am the Pastor-in-Charge of Foursquare Gospel Church Anposi and also responsible for the teenagers and youths in Makoko Zone. I have no regrets but joy all the way. The summary of my experience is my fond definition of 'Faith as seeing Jesus', so when I see nothing happening, I know something good, great and grand is happening because I see Jesus leading me on. A testimony to that is this unique interview on the eve of one of the most epochal elections in the transformation of Nigeria.  Thank you Christian Benefits Magazine for this opportunity yet again. Gracias!