Pastor Tunde Kanimodo, a former staunch Islamic believer and self-acclaimed hater of Christianity and Christians shares with Christian Benefits a dream in which he said God rescued him from the bows and arrows of chariots of attackers, and which led him to confessing Jesus Christ and later became the Senior Pastor of General Assembly International Christian Church that recently celebrated its fifth year anniversary. Excerpts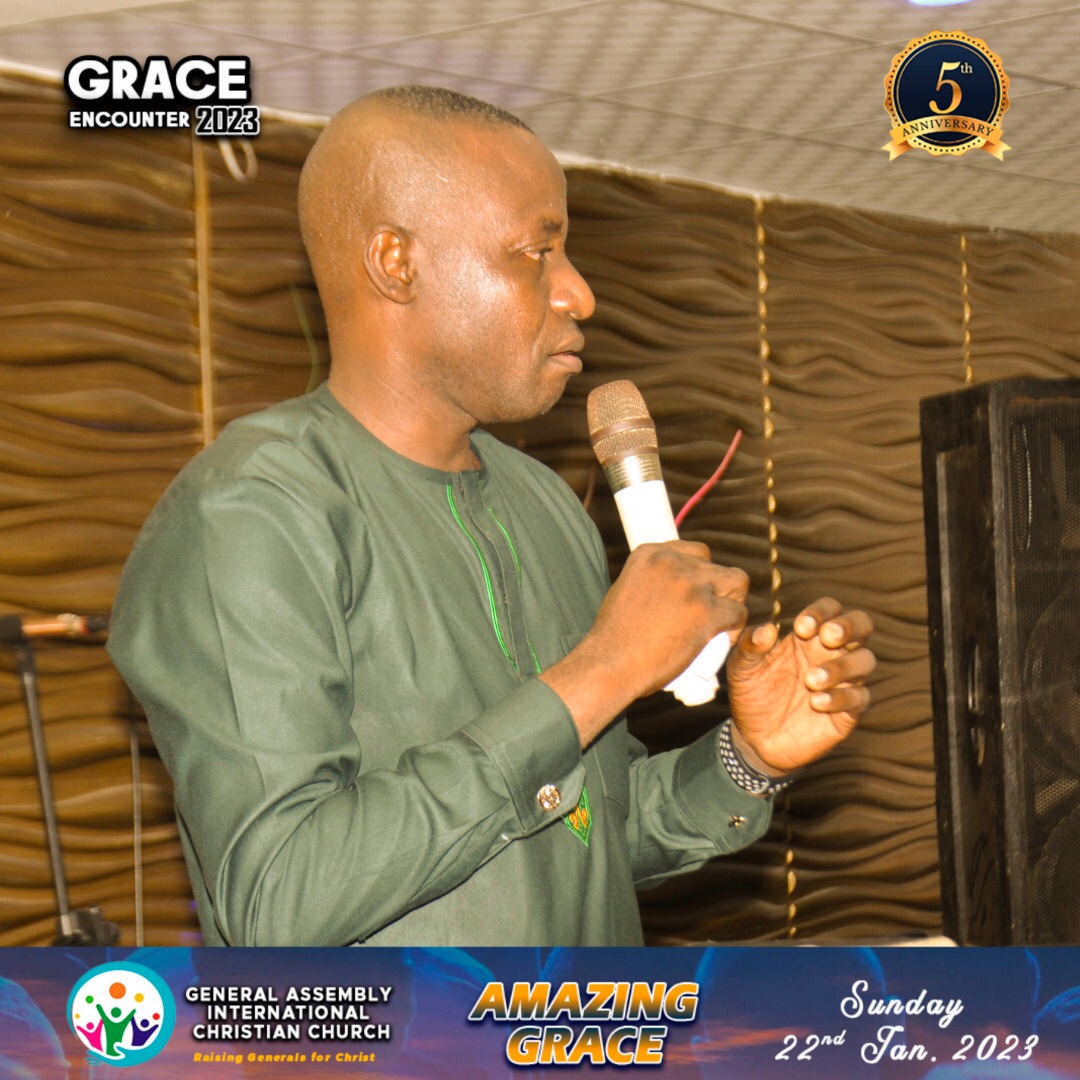 Please, can we meet you sir?
My name is Tunde Kanimodo, Senior Pastor, General Assembly International Christian Church, Ikorodu, Lagos. I graduated in 1995 from the then Ogun State University (OSU) Ago Iwoye; now Olabisi Onabanjo University (OOU). Later, I had my master's degree from University of Ibadan (U.I) in 1998/99. I'm married to Adebukola Kanimodo. We are blessed with three children.
How do you feel seeing the church recently clocked 5; the mark of grace?
I feel so good and happy. My heart is full of gratitude to God seeing the church clocked five. The church clocking five is grace. There are people who know better than me that started ministry same time but couldn't continue. With the little we have done and how far God has helped us within these five years, I'm full of joy.
Share with us about your background, including your rebirth encounter
This is an awesome request that I like, particularly about my rebirth encounter. I had an Islamic background. We were staunch Islamic believers in my family. It is grace that found me. Before my encounter with Christ I was a hater of Christianity and Christians. In Islam we were indoctrinated to see all Christians as Kefirs (Unbelievers). By the grace of God I will be 55 years this year, and till now I have never tasted pork for you to know how deep I was in the Islamic beliefs before I met Christ. Muslims don't eat pork. We believe in Islam that it is only unbelievers like Christians that eat pork.  How grace found me and converted me to a Christian is beyond my comprehension. My journey of conversion to a Christian began during my national youth service in Port Harcourt, Rivers state. I left home for the youth service as a faithful Muslim. I went for the national service with my Quran, Tesbin (Muslim prayer rosary) and other Islamic materials to help my growth in the Islamic faith. Unfortunately, I found myself residing with a Christian family in Port Harcourt.
Tell us your experience as a staunch Muslim residing with a Christian family
Whenever the family wanted to pray they would seek my indulgence to join them in the prayer, telling me that both Christians and Muslims pray to the same God. So, I started joining them in their prayer but would still observe my ablutions (Islamic prayers).  One fateful night I joined the family in a night prayer in their living room. After the prayer, I returned to my room, slept off and had an unforgettable mysterious encounter that led me Jesus Christ. I saw myself in a dream surrounded by some chariots of some masked people that looked like Nigeriens with bows and arrows in their hands. They were over one thousand masked people with bows and arrows in their hands. I asked myself, how would I escape this? Suddenly, I screamed Jesus! And I saw my hand lifted up and turned to fire. I moved the hand down, swung it right and left and saw the chariots with their riders caught fire. When I woke up I was amazed.
Why were you amazed about this encounter that you had in your dreams?
The first question I asked was why was it Jesus that I screamed in that dream when I was a staunch Muslim? I dismissed it that it was because I didn't do my ablution properly before sleeping. I repeated my ablution and asked God for forgiveness of whatever I may have done wrong that made me scream Jesus, and then returned to sleep. Immediately I slept off I had another dream in which I saw myself surrounded by some pools of rivers. I screamed Jesus and one of the rivers parted and a dry land appeared in my front. When I woke up I wondered why I screamed Jesus the second time. I reasoned that it was because I prayed in the Christian way before sleeping. But I kept wondering why I screamed Jesus on the two occasions, and not Mohammed or Allauhakubah. I concluded there must be something special about that name Jesus if it could save me from the bows and arrows of the warriors and made a way in the pools of rivers for me. I shared these encounters with some people who happened  to be Christians. They said to me, "Tunde, it was Jesus that appeared to you. He wants to use you." They then preached Jesus Christ to me and encouraged me to follow them to church. I consented and followed them. This encounter totally changed my life. In my 27 years in life then and as a devout Muslim, I had been facing several troubles upon troubles without solution. But just in one night of troubles in a dream I screamed Jesus and the name rescued me from the troubles. I followed the brethren to the church. And that was the turning point in my life. When the preacher made an altar call after his message, I came out and surrendered my life to Jesus Christ that year 1996 at that church in Port Harcourt. Since then I have never backslide from following Jesus Christ.
After your rebirth, how did you eventually receive the call to ministry?
After my rebirth encounter I started attending church activities. Along the line I became a worker in my former church. But I never envisaged becoming a pastor despite that I was committed and dedicated in service in my former church. For several years I was the coordinator of a particular programme in the church. I was three times chairman of the national convention of the church. I was zealous in the work of God probably because of my Islamic background. In Islam you don't jokes with the work of God. Later, I began receiving the promptings of a call to ministry, but never took them serious. Severally I argued with the Holy Spirit that I don't have to start another church to work for God. I showed the Holy Spirit some examples of men of God doing great works for God without running church. Yet, several men of God, including my senior prophet kept telling me the messages God gave to them about me to starting a ministry. This confirmed the promptings I have also been receiving in that direction. But for me I was content serving under a church than facing the troubles of leading another church. Eventually, I prayed about the promptings and messages and we started the ministry five years ago.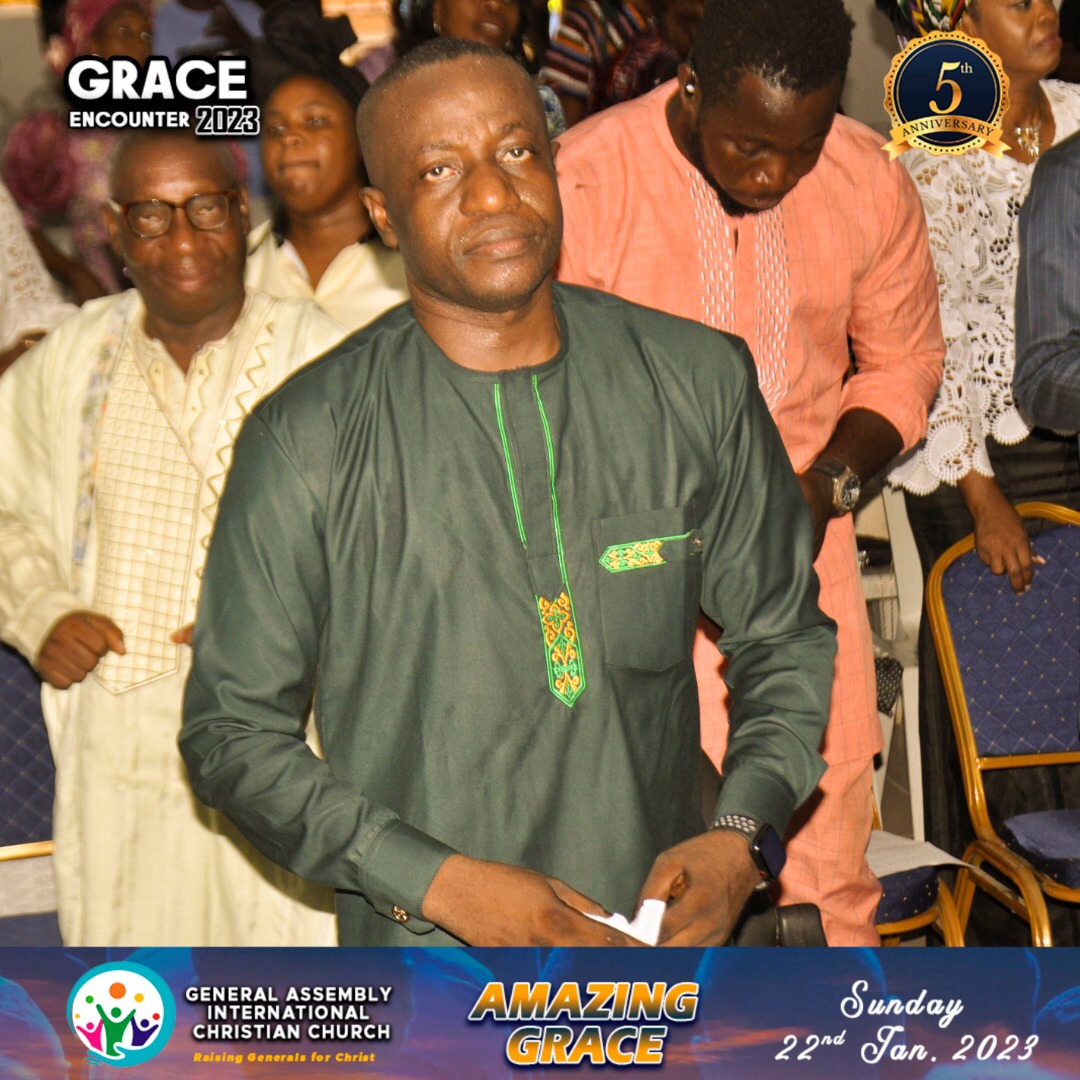 Before my encounter with Christ I was a hater of Christianity and Christians-Kanimodo
What is the mandate of your calling, and the gifts God endowed you for it?
The mandate of General Assembly International Christian Church is to raise generals for God. When we say generals we are talking about mature Christians who are able to stand out in all ramifications; standing in the gap in all situations for the body of Christ. So, our mandate is to raise mature Christians that will trouble the kingdom of darkness to expand the kingdom of God. The gifts God endowed us for this mandate is the gift of teaching of the word of God, prayer and the fire of God through Holy Ghost in Christ Jesus. These are the gifts helping us.
What are some of the church programmes in line with this mandate?
Our church programmes in line with this mandate include Moment of Grace. Everything about General Assembly is grace. All that we do here is grace. The ministry itself is all about grace. Sometimes I wonder why our ministry was not named Grace. God knows why he named us General Assembly. We hold Moment of Grace every Tuesday from 8a.m-10a.m. It is a programme where we sharpen our spiritual skills and get endued with the power of the Holy Ghost through prayer and the word of God. We also hold Weekend of Grace. It is a Saturday programme from 8am-10am where we gather the people of God for prayer and also teach them the word of God. On the third Friday of every November we hold Heavy Praise. The Lord gave us three pillars in this ministry to anchor on. They are the Pillar of the Word of God, the Pillar of Prayer and the Pillar of Praise. To uphold this, we run teaching programmes, prayer programmes and praise programmes. On the third Friday of every November we hold Heavy Praise programme where we give heavy praises and gratitude unto the Lord. This year 2023, we started a mid-week Digging Deep programme, a purely teaching programme from 5.30pm-6.30pm. Our Sunday worship service is designed for empowerment both spiritually by the fire of the Word and materially. We also hold Leadership Academy. It is a school of growth and the Word for the participants to know their right from their left. The Leadership Academy holds every Sunday morning from 8am-9am before we go into the celebration service from 9am-11am. These are our programmes for now.
Briefly share with us some of the testimonies from these programmes?
The testimonies from these programmes are innumerable. Let me just share the few I can remember. One was a woman who was given my phone numbers to contact. Her situation was so pathetic that was a strange movement all over her body. She couldn't eat. She couldn't sleep. She was preparing to travel abroad but had to drop the plan.  Her warehouse was shut down and her business grounded. She had an intercourse with an occult man who injected her with some demonic substances. When she came here I introduced some of the church programmes to her. The spirit told me that she needed to have night deliverance.  Deliverance ministration in our church is unusual from the popular manners. You may not have fall down while deliverance is being conducted for you here. Our deliverance is by laying hand and prophesying. So, I just laid hand on her, prayed and she left. The next day she started sleeping well and regained her entire body system. Later, she came to the church and told me she wants to continue her traveling process. I told her to go ahead.  She came back to the church the following week and told me that she and her entire family members have been given the U.K visa. As we speak she and her entire family members are in the U.K. There is also a testimony of a pregnant woman who series of medical reports showed she carried fibroid instead of baby. When she came here, we laid hands on her and prayed. When she put to bed she actually delivered a baby against the medical reports that she carried fibroid. Shortly after this church got to this area one particular woman came boldly to the church and joined our service. After the service I asked her what she wanted God to do for her. She said pastor I've been married for five years without a child. I assured her that since she had come to the church God would give her a own child. I laid hand on her and prayed. To the glory of God today that woman is carrying her child. This year alone that is barely a month the Lord has given us two bouncing babies from two different families in our church. As I said we have innumerable testimonies.
How will you describe the journey of the church so far these five years?
The journey so far has been awesome though with some ups and downs at the start. It was very rough when we started. We started the ministry on a property on lease.  By the time we got to the roofing of the church structure we had no money to continue. So, I had to sell the only car I had then to enable us roof the structure. I understand nobody crosses to the city of greatness without crossing the border of sacrifice. My Siena car was about 11 months old then. So, I had to sell that car to enable us continue the building. The beginning was indeed rough but today we are very grateful God. Later the Lord gave me a better car. Though we had a small beginning, we refused to remain small. We continue growing higher every day. It was indeed hard and difficult at the beginning but grace was sufficient for us. Grace makes it easy and simple for us in this journey so far. We bless God for that.
Who are those you look up to as your mentors or role models in ministry?
My mentor is Prophet Peter Olowoporoku. I was brought up in ministry under his tutelage. He is a man of God I love so much. I look up to Baba E.A Adeboye as my grandfather in ministry. I also look up as to Bishop David Oyedepo and Apostle Joshua Selman as my mentors. I particularly love Apostle Joshua Selman so much.
If Christ tarries, what are your plans or vision for the church in the next five years when it will mark 10th years?
If the Lord tarries our vision in the next five years is to accomplish what the Lord told us to raise generals for Him. We want to raise as many generals as possible. We are presently on our temporary place of worship. Our vision in the next two years is to get a befitting and massive place of worship with a very encouraging capacity to expand the kingdom of God.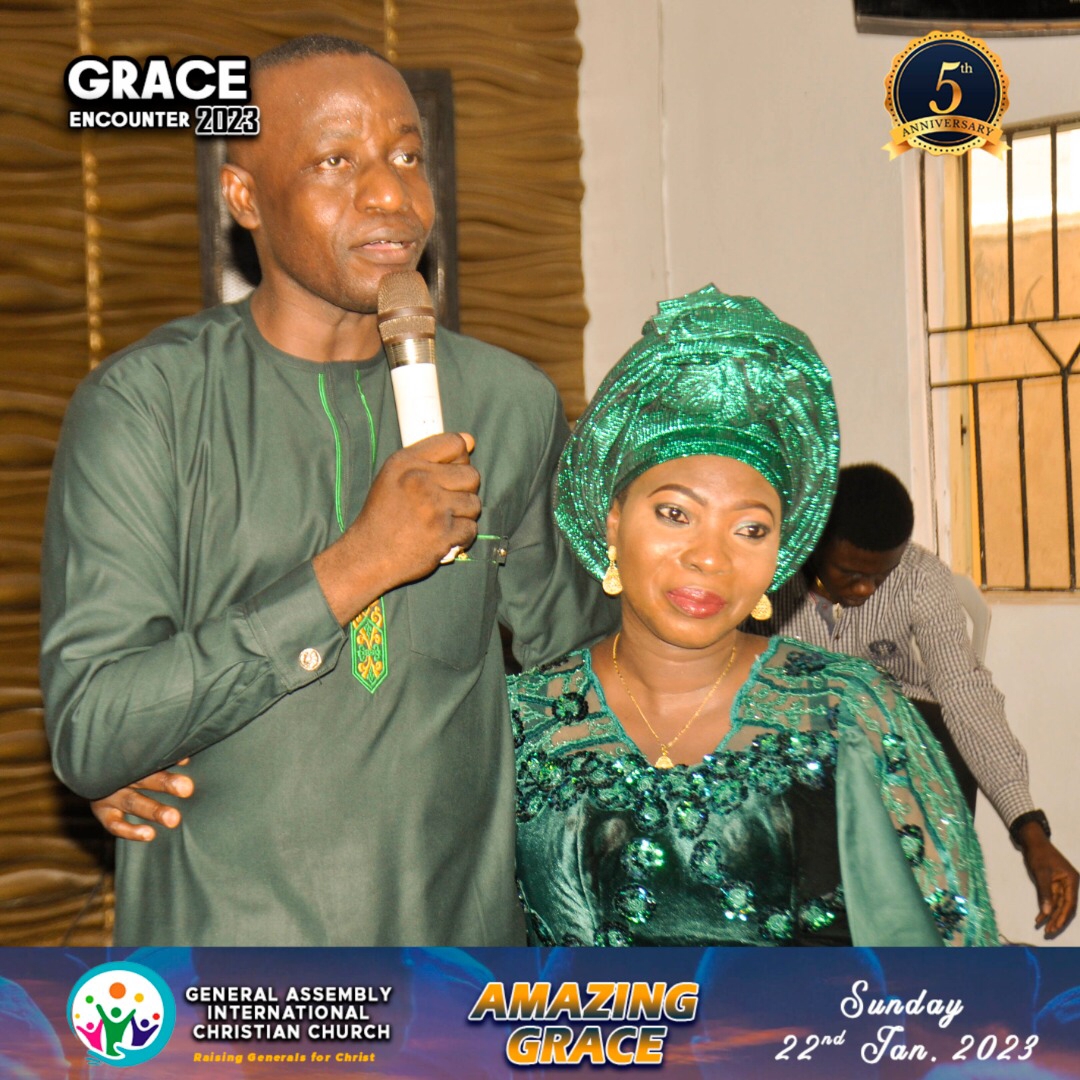 General Assembly International Christian Church is located at No. 2 Oruku street, Solomade Estate, Ikorodu, Lagos. Telephone: 08027858358