As Bishop Dr. Tony Aniekwu, General Overseer of the Radiant Army Deliverance Ministry, Ogba, Lagos, celebrates his birthday on Sunday July 3, 2022, he recalls the experience of his calling about 16 years ago as a prophet to set the captive free.
Prophet Tony, as he is fondly called, shared with Christian Benefits in an exclusive interview, how the Lord demonstrated to him the mandate of his calling through a revelation in which he recalled how he found himself inside the belly of a shark like the biblical Jonah on his escape from God's assignment to Nineveh. But unlike Jonah, the amiable Bishop of The Radiant Army Deliverance Ministry was not running from God's assignment when he found himself inside the belly of a shark.
"I received the name, The Radiant Army Deliverance Ministry in a revelation in which I saw lots of people running to a mountain. When I noticed some familiar faces among them and I joined the race. Then, I saw a big fish in form of a shark on top of the mountain. When I got to the entrance of the shark-like ship, I heard a voice spoke to me; you are the one I've been waiting for! I asked, why me; where are we going? He said, look at the body of this fish, you will see a name there. "I looked at the body of the fish and saw The Radiant Army Deliverance Ministry. The voice asked me to enter the ship. I entered and saw a lot of people waiting for me. And the voice finally said to me, start the ship and start going. Keep driving and I will keep directing you. As I started driving the ship I was shown in the Bible where "Radiant" was written in Psalm 34:5," he shared with Christian Benefits.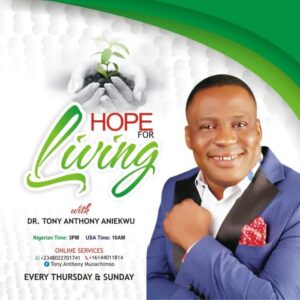 With the mandate of setting the captive free, the Enugu-born preacher; born by Catholic parents and vowed to the Lord by his mother to be a Catholic priest in the future, set sail on The Radiant Army Deliverance Ministry about 16 years ago with its headquarters in Lagos, Nigeria, but with awesome impact and testimonies globally.
"What make every man of God happy are testimonies. Your work is traceable to testimonies. Without testimonies your work is a question mark. The proof of your work is testimonies. If I have not recorded testimonies over the years I would have abandoned the ministry and joined business. We have recorded several undeniable and un-doubtable testimonies. It is our testimonies that attract membership to us. It is our testimonies that herald and bring people to us," the friendly prophet said
"One powerful testimony in this ministry that is still strange to is that of one of my daughters in the Lord that came to this ministry seeking the fruit of the womb. I told her to call her husband on the phone and we prayed together. They had been married 12 years without a child. They had prayed, yet they had no child until after about three years that they joined this ministry. One day, the lady came to me and said, Papa, I have a confession to make. She confessed that she has no womb; that when she was in school she had abortion that resulted in the removal of her womb.
"She added that her husband had also been diagnosed of low sperm count. She admitted that she was actually the cause of their fruitlessness. I told her that her husband must know about her condition .She pleaded with me that I should not let her husband know about it because if he knows she would be chased out. I called her husband and disclosed her condition to him. And truly the man chased her out that how could he remain married to a woman without a womb when I have I have my own kids. The woman kept coming to the church.
"One day, I was a guest minister in another ministry where I met her husband. I pleaded with the host pastor and the church to beg him to take back his wife; that after three months if the woman did not get pregnant he can then drive her away. The entire church begged the man to take back his wife. He accepted but said if after three months she did not take in he would chase her away. Before three months, miraculously the woman was pregnant and gave birth to a baby boy. And the couple named the child after me. They have had three more children. There are several other testimonies in this ministry," Prophet Tony shared with the magazine.
Bishop Dr. Tony Aniekwu is also endowed by God as teacher of His word. While quoting the scripture that the gifts of God are without repentance the prophet noted that his gifts are backed by divine ordination which he said restrains him from sin and its resemblance. "My gifts are backed with divine ordination. So, I back off from sin and its resemblance to keep this grace upon my life. I always go back to the word afresh. God didn't say my house shall be called the House of Prophecy or the House of the Word. He said my house shall be called the House of Prayer. What has been keeping me going in this ministry is the study of the Word. If you listen to my teaching you won't call me a prophet anymore. You will call me a teacher of the Word of God," Aniekwu finally disclosed to Christian Benefits.
.