Akinwale Akinola set a target to be a banker. So, he studied banking & finance at the then Ondo State University and graduated with 2.2 points. Unfortunately, he couldn't pursue his dreams of being a banker. Instead, he found himself working as administrative secretary at the national Pentecostal Fellowship of Nigeria (PFN) since 1996 and also as senior pastor of Appealing Grace Assembly Int'l, Ayobo, Lagos. In this interview with Christian Benefits, Akinola shares how his dreams of practicing banking was aborted as well as his academic set back after failing his first attempt at West Africa Examination Council (WAEC) due to his rascality and truancy in school despite being a brilliant student. He also shares his experience working with five successive national president of the Pentecostal Fellowship of Nigeria (PFN) from the now late Archbishop Benson Idahosa, Bishop Mike Okonkwo, Pastor Ayo Oritsejafor, Rev. Dr. Felix Omobude to the incumbent PFN national president, Bishop Francis Wale Oke. It's a loaded interview. Excerpts
 Please, can we meet you sir?
My name is Akinola Akinwale Oluwadamilare from Ekiti state. I studied banking & finance at the then Ondo State University (now Ekiti State University). I graduated with 2.2 points. My ambition was to be a banker, but God didn't allow me to practice banking. There were prophecies and instructions that I would be a pastor but I initially ran away. Eventually, I surrendered when the Lord showed me that I have no other way than to serve to Him.
Will you please share with us about your childhood upbringing?
I was born into an Anglican family. My mother was a strong believer and prayerful person. She was good in evangelism. She would have been a pastor were she in a Pentecostal ministry. Whatever I'm today is her impact in my life at childhood.
Please, tell us more how she impacted you in the way of the Lord at childhood
In those days I dare not miss church. When I joined the choir she ensured I always robed. Whenever I didn't participate in the choir ministration it was trouble at home. She was an ardent believer in God. When there was an issue and she was advised to toll the other way she said she would rather prefer the issue persists or that she dies than to compromise her firm believe in God.
How about the schooling part of your growing up?
I attended primary school in our home town and always came first in my class. From there I attended Ekiti Parapo College. I was rascally in school. I became a truant and failed WAEC in my first attempt. Some friends brought what is called expo (prepared questions and answers) and shared it among us including those of us that were brilliant students and this distracted us. We focused on the expo in our preparation. Unfortunately, at the examination we discovered that the examination questions were different from the ones in the expo. So, I had 1 credit and 2 passes.
How did you overcome this set back of your poor first WAEC results?
I retraced my steps to the path of academic excellence. My elder brother even said I was too young to have written WAEC at my age then. He advised I return to class three. And this caused me four years of staying home before I resumed school at Ifeoluwa Grammar School, Osogbo. When I resumed in this school my academic brilliance resonated and I became the best student in that school. I represented the school in literary& debating society competitions and won lots of laurels for the school. I wrote my second attempt at WAEC in that school and had distinctions. I proceeded to the then Ondo State University where I read banking & finance. But for some distractions I would have graduated with first class. After graduation, I lost a lot of opportunities to work in the banking sector. My last banking interview with ECOBANK led me back to Christ in 1994. I had earlier given my life to Christ in 1991 during my national youth service (NYSC) in Katsina state, but I was not deep in Christ until 1994 when I rededicated my life to him and got baptized in 1995.
Can you share with us more about your rebirth encounter?
My youth service year in Kastina state was the turning point. I thank God I didn't do my youth service in Lagos otherwise I would have missed my rebirth encounter because things would have been working too well for me in Lagos for me to know Christ. During my service year I met some ladies at the Kastina NYSC orientation Camp. I was ladies freak back in those days. I did all I could to woo one of the ladies but she was not giving me attention. She said if I want to be anything around her then I must attend the Nigerian Christian Corpers Fellowship (NCCF). But I never wanted to attend the NCCF. However, one day in August 1991 I followed her to the NCCF. How I met Jesus Christ at the NCCF on that day was a miracle.  After the fellowship I couldn't remember it was a lady I followed to the meeting.  I couldn't remember again that we ever met. That was how I gave my life to Christ.
How will you describe your kind of lifestyle before you encountered Christ?
Before I accepted Christ I was stubborn. In school I was nicknamed "mentallo." Though I was young I was too troublesome and very rascally. I had some humbling experience as a young boy growing at home. I felt that humbling shouldn't continue with me in the boarding house at Ekiti Parapo College. Boarding house in those days was quite tedious. You had seniors that would lord it over you as junior. I came from a home where we had some level of liberality. So, I felt my liberality was being challenged in the boarding school. Nobody ever lord it over me. You would fetch water and some so-called seniors would use the water. This was quite unpalatable with me, so I was resistant.  I was poised to fight my seniors. And that really affected my academics. In those days seniors were so powerful. They can fetch you out and give portions of the field to clear. I was troublesome and always ready to fight my seniors. That was my kind of lifestyle before I accepted Christ. But after I accepted Christ I converted my stubbornness to good use for the Lord.
How will you describe your walk with the Lord over the years from 1994 till now?
My walk with the Lord over the years has been by His grace. In the course of the journey there were times of challenges, weakness and temptations. I belong to the generation of people who believe in fatherhood and mentorship. That has really helped me. When I fall into temptation I have grace to walk to my fathers. When we confess our sins we expose Satan. Confession of sin is the best way to defeat Satan from roaring. This has really helped me. It's what is keeping me till date.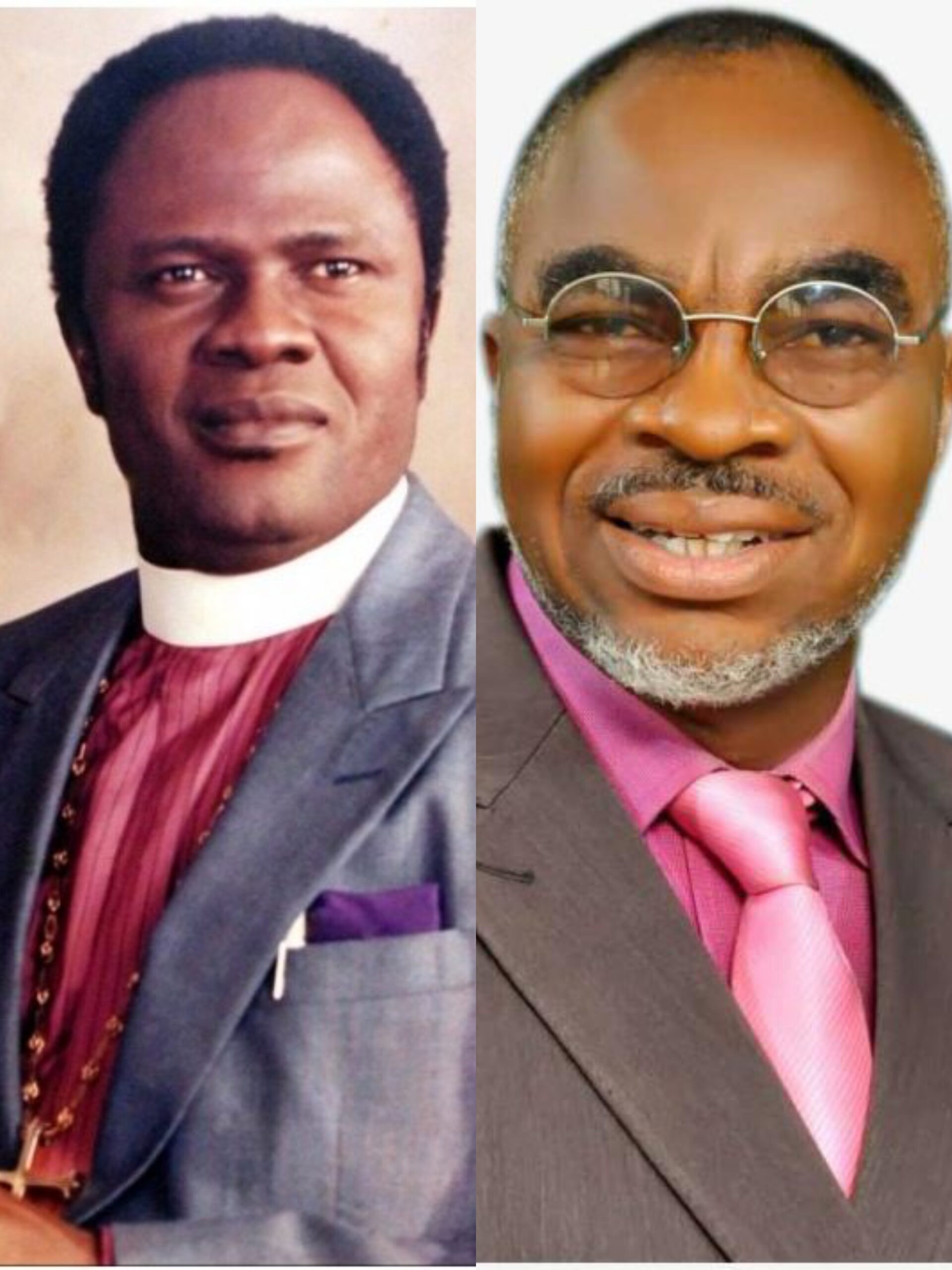 The late Archbishop Benson Idahosa (a former PFN president) once carried me on his laps in his car
How did you get working as administrative secretary at the national PFN since 1996?
It was completely divine. As I said earlier my eyes were on banking for a career. After I finished the national youth service job searching for me was like a curse. I attended several job interviews, performed very well but was never given any employment letter. The only job I was close to securing was blocked by a relation. But one day I was driving when I saw my pastor's car developed fault on the road. I picked him up to drive him to where he was going. He asked if I didn't go to work. I told him I was a job seeker. He asked me if would love to work at the PFN. I said yes. He then introduced me to the PFN. After my application to the PFN in July 1995 for employment I didn't get any response from them all through that year. In January 1996 I decided to do my masters at Ado Ekiti. The very day that I was going toAdo Ekiti for my transcripts the PFN invited me for an interview. I missed the interview but eventually got the PFN job by miracle. So, I started work at the PFN national secretariats on February 6, 1996 during the tenure of the now late Archbishop Benson Idahosa as the PFN national president. The archbishop boosted my faith in God when he was the PFN president. There was a day he was drinking juice and he tossed some to me. There was another day I was going to his house on Okada and he saw me from his car. The car was filled and the Archbishop carried me on his laps. When we got back to the secretariats he told the PFN to give me a car. That was how I got my first car. (Continues)