The 2023 Annual Leadership Vantage Classics of City of Divine Grace Ministry holds Thursday May 25, 2023 in Lagos. In this interview with Christian Benefits on the yearly church leadership summit, its host, Pastor Joseph Adeyemi explains how ministers of God can handle insults and offences in ministry. He also speaks on the expectations from this year value-added conference aimed at impacting ministers on how to lead their followers to a better purpose in life.
Please, can we meet you sir?
I am Pastor Joseph Olusegun Adeyemi, Senior Pastor, City of Divine Grace Ministry, with a church arm called Garden of Grace Bible Church, Shangisha-Magodo, Lagos state and a branch in Iyesi Ota, Ogun state.
Briefly, share with us about your background including your rebirth encounter
I was born about 58 years ago to the illustrious family of the late Pastor Luke Adeyemi; a staunch disciple of the late Apostle Joseph Ayodele Babalola, the first general Evangelist of Christ Apostolic Church (C.A.C). I had my childhood upbringing in the mission house of C.A.C Oke Igbala, Adetula Street, Papa Ajao Mushin, Lagos. While growing up I mingled with lots of people and shared experiences with them and equally served in the church. But the turning point in my life was when I gained admission into the Kwara State Polytechnic, Ilorin, and encountered Christ afresh on October 1986 at the joint Christian student fellowship of the Kwara State Polytechnic. Since then it has been a rich experience knowing and serving the Lord with my personal encounters and revelations and testimonies about my personal experiences. I hold a Higher National Diploma (HND), M.DIV, and Post Graduate Diploma (PGD) in Communication.
Share with us about your call to ministry and the mandate of the ministry
Aside been born into a clergy home, I was specifically called by God; not by my parents, to ministry in 1997 with the mandate of bringing God's happiness to lives and homes. God told me to go in His strength and make His people happy. Since then we have been running with this divine commission, and God has been proving Himself. Since 1997 we have been holding series of programmes. Initially, the ministry was named Amazing Grace Ministry until it was officially registered and renamed City of Divine Grace Ministry. We run series of programmes on marriage and ministers. We hold seminars and conferences for ministers, youths and women.
 Tell us more about City of Divine Grace Ministry and its  major programmes
City of Divine Grace Ministry is a registered and incorporated ministry with an offshoot of churches and interdenominational outreaches. The outreaches include Women of Honor International Foundation that organizes the yearly Women of Honor Conference since 2001. This annual conference has been very impactful to women with profound experiences and testimonies. It enables women to achieve a better purpose. Another outreach is Leadership Vantage. It is a value-added and growth development conference for ministers.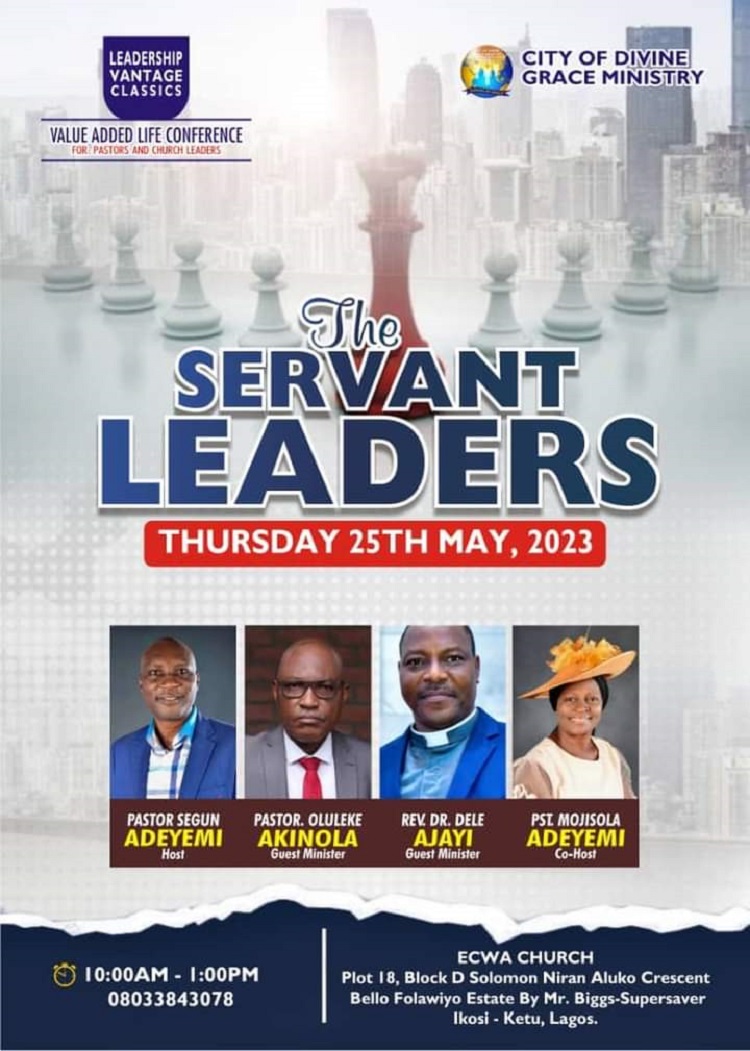 What is the forthcoming Leadership Vantage Classics conference of the ministry all about?
The Leadership Vantage Classics conference is a specialized conference for pastors, ministers and church leaders and workers. It is the third edition of the value added conference where pastors, ministers and church leaders and workers gather to learn and gain more knowledge, added advantages and quantum leaps to perform better as church leaders and ministers.
What informed the theme of this year's conference, The Servant-Leaders?
We see leaders who are very articulate in preaching and teaching only in theory. God laid the theme of this yearly, The Servant-Leaders, in my heart to remind leaders that the essence of their positions is to serve and be a blessing to the body of Christ, and not to lord things over their followers or congregation which is unfortunately the practice in many church assemblies today.
Specifically, what is the aim this year's conference?
The aim of the conference is to make pastors, ministers and church leaders and workers better and responsible leaders, and to enshrine in them the spirit of humility for them to know that power is transient, so that they can live with a servant-hood mentality. This will enable them serve with the attitudes of a servant-leader and that of a child. With these attitudes, they will be able to absorb insults and offences from people with the understanding that they are serving God, and not man, and thereby leading the people to a better purpose in life.
Who are the targets of this conference?
The conference is for bishops, apostles, prophets, teachers, evangelists, senior pastors, church leaders, ministers and workers. Our aim is to gather, impart, equip and empower a minimum of 200 ministers of God, church leaders and workers, with more knowledge at the conference. We want to share knowledge and experiences with one another at the meeting because nobody is a sole custodian of knowledge. Nobody knows it all. We will rub minds together and compare notes with one another. That is the best way we can progress in our individual ministries and callings to the benefits of the body of Christ.
Briefly, share with us the profiles of the guest ministers featuring at this year's meeting
For this year's conference, we will be having Pastor Oluleke Akinola, general overseer, Upper Room Baptist Church. Also, we will be having the deputy chairman of Lagos state Pentecostal Fellowship of Nigeria (PFN). He will speak on the main theme of the conference, 'The Servant-Leader.' He will be sharing from his wealth of experience as a servant-leader. We have observed him over times that he is a minister of God we can recommend as a good model to younger ministers.  We will also be having Rev. Dele Ajayi, the chaplain of Lagos state Chapel of Light. He will be speaking on 'The Heart of a Shepherd.' He will also share with us from his wealth of experience and knowledge. He is a respected man of God; an easy going and amiable gentleman. By the grace of God, I will deliver the address of welcome and also share some tips on servant-leadership. Aside these guest ministers we are also expecting many other reputable and anointed ministers of God as esteemed participants and knowledge-sharers at the one-day conference. We are also expecting participants from the Christian Association of Nigeria (CAN), the Pentecostal Fellowship of Nigeria (PFN) and other ministers' networks.
Aside this conference, what are other major events of City of Divine Grace Ministry?
Another major event of the ministry is the annual interdenominational Women of Honour conference that will come up on the last Saturday of October at the conference Hall of CMD Magodo, Lagos. Prior this, in August 2023 by God's grace, we will hold a youth programme tagged 'Singles World.' It will also hold in one of the conference halls of CMD Magodo, Lagos. We hold another programme tagged 'Couples Delight.' It is a marriage programme for couples to enrich their marriage. These are other major event of the ministry that we will also hold this year 2023.
Tell us what inspired your interest in leadership enlightenment?
I will say my privilege of having occupied  some leadership positions of service in the past, and also my current leadership status of service. For instance, I am privileged to serve currently as the Province Secretary of the Pentecostal Fellowship of Nigeria (PFN) Kosofe province; a province comprising 15 Chapters. Before hand I had served as chapter chairman of PFN Shangisha Magodo chapter for eight years. Also, I am the secretary of Christian Association of Nigeria (CAN) Ikosi Isheri LCDA chapter. In the past I served as vice president YCF C.A.C Adetula Papa-Ajao. Equally, I am the Alumni President of KWARAPOLY, Secretariat .Administrative Department (1991 Alumni set), Member, B.O.T, Total Grace and Glory Ministry.
Can we have a look at your lovely wife?
I am blessed with a good marriage to Pastor Mrs. Mojisola Adeyemi,  which has been a model to people around. The union will be 28 years by October this year. She is a staunch and very supportive co-driver of my ministry.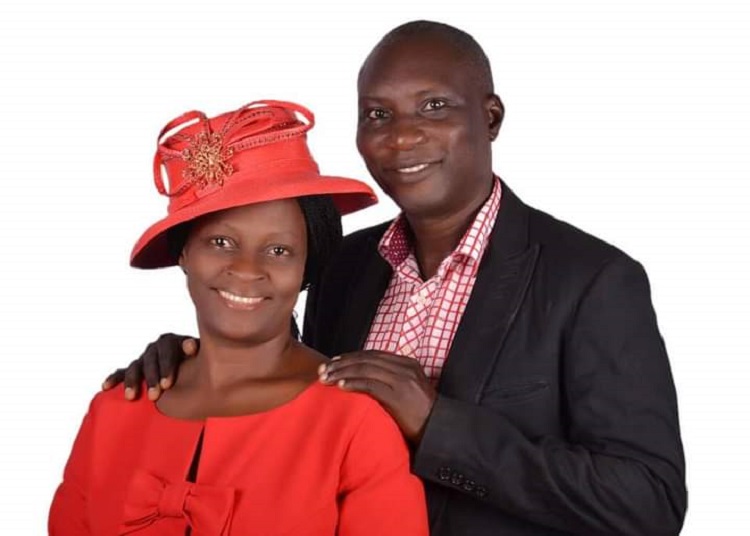 Pastor Joseph Olusegun & Pastor Mrs. Mojisola Adeyemi (Hosts, City of Divine Grace Ministry)
Finally, your parting shot sir!
I want to appreciate the Editor-in-Chief and the entire team of Christian Benefits magazine for the privilege of featuring me in the highly impactful magazine. I want to tell you Christian Benefits magazine has been making great impact. We love you for this vision. We pray that the vision will continue to advance and move forward in life in the name of Jesus.
#For further details or enquiry call: +2348033843078