Sam Amara had given his life to Christ at age 14. But due to the sinful practices of his church leaders he returned to his old sinful life of smoking marijuana and drinking alcohol the vision of the torment of hell and the rapture that he saw forced his return to Christ. Ahead the 2021 Riches of Grace Church Festival, Pastor Amara, the Senior Pastor of the church, shares with Christian Benefits his walk with Christ and the expectations from this year's Grace Festival. Excerpts
Please, can we meet you sir?
My name is Dr, Sam Amara, Senior Pastor of Riches of Grace Church and West African coordinator of Catalyst West Africa; an international organization.
Briefly share with us your rebirth encounter
I first gave my life to Christ in 1983 at age 14. That day my younger sister came home singing, "Sooner very soon, we are going to see the Lord." That song struck me, if Jesus comes today, will I be among those who will go with him? Suddenly, I started weeping; knelt down and gave my life to Christ. Thereafter, I joined the Scripture Union. That was how my walk with Christ began. Along the line I backslide till 1988 when I rededicated my life completely to Christ.
Tell us about your kind of lifestyle before you accepted Christ in your life
I was just a religious person before I accepted Christ. My father was a full time idol worshipper. My mother was a religious church goer. She often bribed me one kobo to come to church. I lived a secret life before I accepted Christ. My parents were unaware of my smoking marijuana and drinking alcohol drug addiction at a young age. They saw me as a religious boy but were unaware of my vices. I jumped fences or sneaked out to night parties. I In fact I lived a very chaotic lifestyle before I accepted Christ.
How will you describe your walk with Christ since you rededicated your life to him in 1988 till now?
After I got born again in 1983 I got very involved in church activities. I became children teacher at that young age. Unfortunately, I later discovered that the lifestyle of our church leaders was different from what were preaching to us. Some of them still womanize. Some of them tell lies. Some of them still booze. I discovered this because I was close to them. My mother told me she christened me Samuel became she pledged me to God before my birth. That was why I became close to the leaders of the church that I attended after my rebirth.
As a young convert, how did that discovery affect your growth in the faith?
I said if this is the way those who are preaching to us are living it is better I go back to the world and enjoy my life to the fullest. I said there is heaven but nobody is going there based on what I saw my church leaders doing. I returned to the world fully so that if I'm going to hell I know the reason I'm going to hell. So, I returned to smoking marijuana, drinking alcohol and doing all sorts of things again. That was how I backside till 1988 when I rededicated my life to Christ.
How did you retrace your steps to Jesus Christ in 1988?
One thing is whenever the Jehovah Witnesses came to minister to me I would ask them questions and they would get confused and leave me. But I was scared of the Scripture Union. Whenever they came for evangelism I wouldn't want to listen to them because I always returned home crying when I listened to them. So, I avoided them because they speak the truth. But one particular encounter that made me retrace my steps to Christ was when I saw hell for one week. In that encounter I saw millions of people in agony weeping and crying in hell. The following week I saw rapture. I heard the sound of trumpet for a whole one week. I saw people disappearing and I couldn't catch up with them. There were confusion and collusion everywhere. I saw that I didn't make the rapture. I also saw some prominent pastors that didn't make the rapture too. These 14 days encounter; seven days of hell and seven days of rapture frightened me that I had to return to the Scripture Union, knelt down and gave my life afresh to Christ.
What efforts did you make to ensure you don't return to the world again?
After I had my second chance I went back to the same church that I left to become light in that church. I and other people that went to the Scripture Union took over the Bible study of the church as Bible teachers and the Bible study took a new shape. We started teaching the message of salvation. Some of the elderly women also became born again and began fighting some practices in the church. We took many of these women with some young boys to the Scripture Union. That was how we succeeded in setting that church on fire for Christ.
When exactly did you receive the call into ministry?
My calling into ministry back dates to my birth. My mother had an encounter with God before she conceived me. She vowed to give the child back to God. That was why she named me Samuel when she bored me. When I was around 11 years old she fulfilled that vowed by presenting me to the church. But I was ashamed when people started calling me a lamb that has been sacrificed to the church. After I had given my life to Christ there was a particular day I was walking on the road when I heard a voice said to me, I have chosen you. My hand is upon you; go preach the gospel. I said no, I don't want to be a pastor. I want to be an engineer. I was then processing my admission into the University of Nigeria, Nsukka (UNN) to study mechanical engineering. But whenever I was alone the voice would come repeating to me, my hand is upon you. Go preach the gospel. When I joined the Scripture Union the call became clearer. The dramatic side was when I went to Warri to meet my uncle. He was a pastor. He wanted to secure job for me in Shell Warri but it didn't work out. Instead, I got a teaching job as a mathematics teacher. Dramatically, a day after I secured that job, my uncle said he was sending me back home. He told me God said He would kill him if he does not send me back home to serve Him. I purposely went to Warri to run away from the call. I went to Aba I experienced the same problem. Gradually, I began to yield to the call when I started reading the books of Kenneth Hagins, Oral Roberts and T.L Osborn from the bookshop of another uncle of mine. Nobody laid hand on me to receive the Holy Spirit. After reading those books I started fasting and the Holy Spirit came upon me. Subsequently, I attended a Bible college for studies before I eventually came into ministry.
What is the mandate of your call by God into the ministry?
The mandate is preach grace. Everything about this ministry is grace. When I was in the Bible College in 1991 in Akwa there was this lecturer from the U.S. He was a holiness extremist. He opened up Titus 2:11 and said before we can receive salvation we must enumerate all our sins and confess them one by one. As he was teaching, a light propped me up about grace. I began to have dealing with God about grace; the unmerited favour and love of God. I started studying about grace and found out that lots of churches are legalistic. They are run by rules and regulations. After the teaching, I retreated to a prayer hall called GAP in the Bible College in prayers, and I received more revelations about grace. It was here God further unfolded the vision of the ministry to me with the name. I further studied at another Bible College for my BTH before I came to Lagos. When I got Lagos I joined Christian Pentecostal Mission (CPM) as a lecturer in their Bible College. I lectured at CPM for over 12 years and left when the Lord reminded me of the ministry he gave to me and told me to go start the ministry. So, we started Riches of Grace Church (House of Grace) about 22 years ago.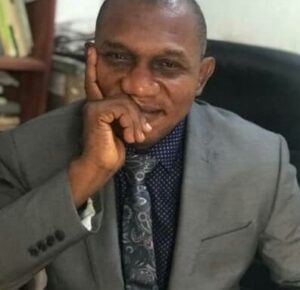 "Lots of churches are legalistic. They are run by rules and regulations." Dr. Sam Amara
What happened to your pursuit to study mechanical engineering at UNN?
I abandoned my university pursuit to study mechanically engineering. My father denounced me because of this. He said I should count myself fatherless and consider myself a dead man. He said I had taken the oath of poverty to be a pastor.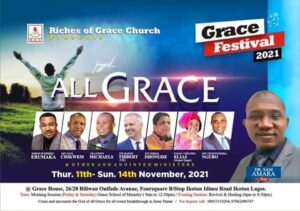 What is the forthcoming 2021 Grace Festival of the church all about?   
Grace Festival is an annual convention of Riches of Grace Church aimed to enrich lives with grace. At the conference annually we expound God's grace, which is the basis for the New Testament. The Bible says grace as it comes through Jesus Christ. In the evening session we want to see salvation of new souls unto the Lord. All our pursuits in life; family, cars, houses, wealth, fame, and breakthrough etc end here on earth. Only our salvation is eternal.  And salvation comes by the grace of God. The Bible says it is by grace we have been saved; not by works. So, at this yearly festival we bring salvation by grace to people. There are lots people going to church, paying offering & tithes and doing all religious things, yet they are not saved. Even if you receive a miracle it doesn't mean you are saved. So, we want to bring that redeeming grace to people again at this year's festival. We want to bring healing, deliverance and the total package of salvation to the people at the evening session. In the morning session we want to equip the ministers of the gospel. I always have passion for the ministers of the gospel. When a pastor is well equipped he is good to go. We have two days; Friday morning and Saturday morning for this year's ministers' conference. We have invited seasoned ministers of God to come and equip their fellow ministers. We want to see pastors operate in their individual grace. Like you I started a Christian magazine. It was selling everywhere, but later fizzled out because I don't have the grace in that area of calling unlike you who have been publishing Christian Benefits consistently for over 21 years till now, because you have the grace in that area of calling. Many ministers are struggling to be like other ministers instead discovering the grace of their own calling. We want to use the minister's conference to let pastors understand the place of individual grace in ministry. Many pastors are struggling and labouring in their ministry because they are operating against the grace God endowed them. When you operate in the grace God gave you, you will effortlessly flow and achieve results in your calling. When you encounter obstacles that grace will provide the wisdom, the strength and the stamina for you to overcome it. So, we want to use the two days ministers' conference to help pastors discover their area of grace and flourish in it.