This year's August 28, 2023 marks 49 years of Rev. (Dr.) Mathew .A. Oluseesi's walk with the Lord since he gave his life to Jesus Christ at the Scripture Union in 1974. In this interview with Christian Benefits, the general overseer of Build On the Rock Holiness Church , Idimu, Lagos, gives an account of his walk with the Lord from the Scripture Union to The Assemblies of God Church, The Apostolic Faith and the Deeper Life Bible Church's impact in his 49 years journey of faith, as Build on the Rock Holiness Church holds its 2023 annual convention on "Everlasting Joy," from August 13-20, 2023 at the church headquarters, Idimu, Lagos. Excerpts
Please, can we meet you sir?
My name is Matthew A. Oluseesi, General Overseer, Build on the Rock Holiness Church with headquarters at Idimu, Lagos. Nigeria.  I'm from Ogun state.
 Briefly share with us how you became a Christian
I met Christ in 1974 while in primary school through a programme organized by the Scripture Union. I was then living with my senior brother who brought me to Lagos.
How will you describe your walk with the Lord since 1974 till now?
We thank God for His grace. I have come across many things, and I thank God for my background, conversion and the people that God used to train me. I'm fortunate to have accepted the old time faith which I embraced and that is certainly keeping me going strongly in the Christian faith till now and forever by the grace of God.
Aside the Scripture Union, which are the other ministries that also groomed yon in the faith?
After my conversion by the Scripture Union in my area in Agege, Lagos, I joined the Assemblies of God Church and later joined The Apostolic Faith. From there, I started attending the Deeper Life Bible Church Bible study regularly at Oyingbo, Lagos. These are the ministries that exposed me to the truth of the scriptures. I attended The Apostolic Faith for 10 years under its first African overseer, Rev. Timothy Osokoya. All my desire was to know the truth of the word of God without the mind of becoming a pastor someday. In my thirst for the truth of the scriptures whenever I came across any book on the truth of the scriptures I always bought such books.
At what point did you eventually receive God's call to ministry?
I received the call to ministry precisely on August 26, 1978 while in the secondary school. But I couldn't begin the ministry immediately until after some years when I started the ministry by distributing tracts and also importing tracts from abroad for distribution. From there I started bus evangelism. I would preach in English, and also interpret it in Yoruba by myself until I met somebody in the course of the bus evangelism who later joined me in the bus evangelism ministry as my interpreter.
What is the exact mandate of your calling by God to ministry?
The exact mandate of my call to ministry is to spread the gospel. Till now we print this mandate on our church almanac yearly. Our mandate is to spread the truth of the gospel and increase believers through knowledge and understanding. This is exactly our focus, and I print this on all my books. God has helped me to write lots of books with focus on reaching the unreached with the truth of the gospel.
What are some of the church programmes in line with this mandate?
We started as a ministry with Bible study, Faith clinic and later Sunday service. Presently we hold Bible study by 6:30pm every Monday, Revival Hour every Wednesday and Holy Ghost vigil on the first Friday of every month.
Share with us some of the testimonies from these programmes
We have tremendous testimonies of what God has done in all our programmes such as testimonies of salvation, sanctification, Holy Ghost baptism, healing, miracles, signs and wonders and a lot of others. We thank God for everything.
As a young believer then who were those you looked up to as your role models  in the faith?
As I said earlier, after I gave my life to Christ at the Scripture Union I joined The Apostolic Faith. Later, I started attending the Bible study and retreat programmes of the Deeper Life Bible Church under the leadership of then Bro. W.F Kumuyi. So, as a young believer, I looked up to Bro. Kumuyi as my role model. I benefited so much from the Deeper Life weekly programmes, Bible study, Easter retreat and December retreat in Lagos, Ibadan and Ilorin etc . These are the particular programmes of the Deeper Life Bible Church that inspired me to look up Bro. Kumuyi as my role model in the faith.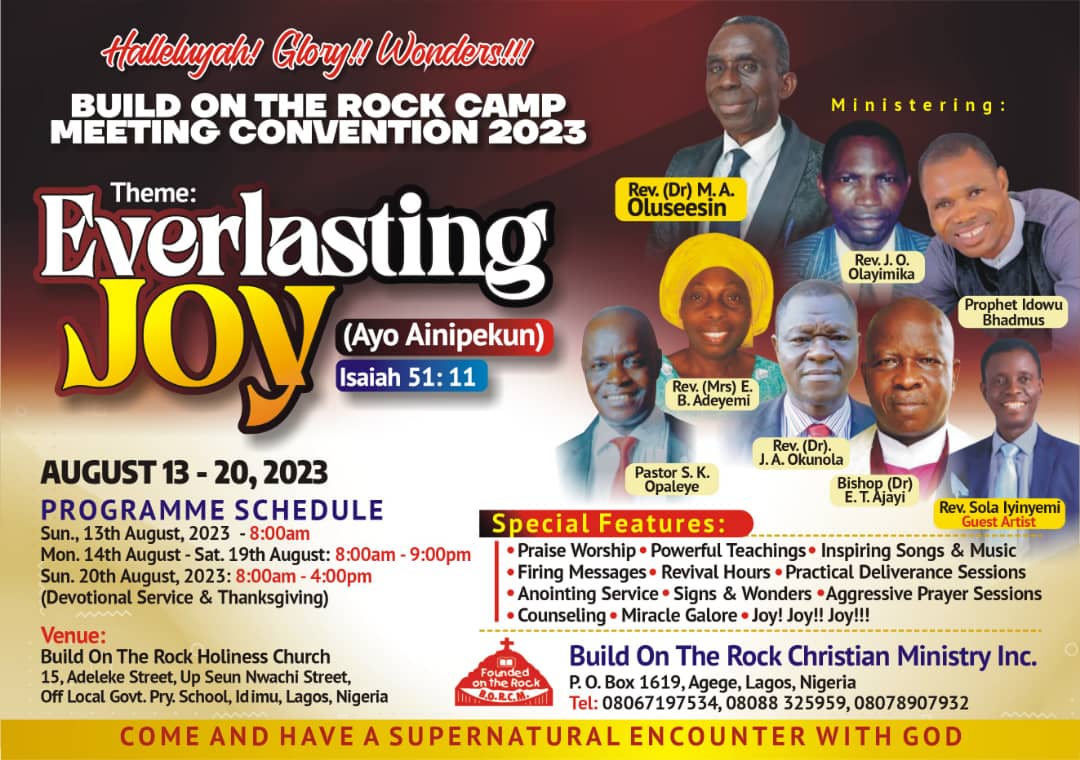 Tell us the factors sustaining your walk with the Lord these past 49 years.
It's the grace of God! It's not by power neither by might, but the grace of God. I have met and seen lots of people finding it difficult to continue in the narrow path. In those days such songs like I have decided to follow Jesus, no turning back are also some of the factors sustaining and keeping us in the faith till this moment.
How will you compare Christianity now to when you accepted Christ in 1974?
In 1974 when I gave my life to Christ, I could see the light of the true gospel in the lives of those that I  associated with. At that time, when the light of holiness came to Nigeria, lots of people embraced the light. But in this modern day Christianity one can barely see the light of holiness in the lives of lots of professing Christians today. One can hardly see the Bible in their lives due to the importation and practices of strange doctrines that are unseen in the Bible. But we thank God that there are still some remnants who still hold, and will continue to hold the true gospel to the end.
At what point did we get it wrong in the Christian practice in Nigeria, and how can we retrace our steps to the true gospel of our Lord Jesus Christ?
Paul wrote in Roman 1:28 that when they did not like to retain God in their knowledge, God gave them over to a reprobate mind to do those things which are not convenient.  Some people are not ready to retain God in their knowledge. That's why they are looking for fast ways of getting things done or get rich quickly. I believe in prosperity but prosperity without holiness will lead one to hell. When there is holiness God's blessings abound without sorrow. What I'm preaching now is how I received it. I didn't receive holiness with the ungodly practices that we see in Christianity today. I received pure holiness and I'm still holding unto that.
Who are some of your contemporaries in the Christian faith since 1974?
I can't recall most of them. Besides, many of them have slept in the Lord. I thank God for those who are still alive and keep standing on the  true gospel till now.
What is your advice to believers on how to overcome the challenges of today?
To overcome the challenges of life at any period of time is by God's grace. Paul wrote in 2 Corinthians 12:9, "And he said unto me My grace is sufficient for thee: for my strength is made perfect in weakness. Most gladly will I rather glorify in my infirmities that the power of Christ may rest upon me."  This is what helps believers that stand in the truth. Of course there are lots of challenges; spiritual and physical, family and ministerial challenges in the race, God always backs those who stand in the truth. For them there is always a way where there seems no way. Paul faced challenges and pleaded with God take them away but God said to him My grace is sufficient for thee. This is also for those who are ready to endure to the end. The problem of most believers today is that they are not willing to endure. Many pastors want to plant a church today and what it grows today. Some will start with five members today and within five years grow to 25,000 members; not minding whether the people they are pastoring are sheep or goats. But those who want to remain in the way of the Lord; though it's not easy, but the grace is always there for them.
What is the forthcoming annual convention of your church all about?
It is the  2023 annual convention of Build on the Rock Church with the theme, "Everlasting Joy," It is eight days programme starting August 13-20, 2023. It will feature Bible study, ministrations, concerts and lots of varieties with participants from our branches and other denominations to receive the blessings from the Lord.