Prophet Benjamin Mills, general overseer, Grace Land International ministries, Olodi Apapa, Lagos is one fiery prophet of God who dares Satan's strongholds; pulling down dreaded shrines in villages and setting the captives of such shrines free for the Lord.  The courageous prophet nearly met his Waterloo in his dangerous battles against dreaded shines in villages when he was abandoned, according to him, by his former general overseer on the battlefield against the chief priest of a family shrines in Enugu in their bid to uproot the evil shrines.
"I once served the Lord for two years under a particular deliverance minister and my then general overseer who always took me to villages in the east to uproot family shrines. Most times at 2 a.m we would be inside forests uprooting family shrines. On one of the instances, we battled with a strong herbalist and chief priest of particular family shrines to uproot their evil shrines. The battle was so fierce that while I was uprooting one of the shrines my then general overseer ran away, leaving me to battle the chief priest alone. The chief priest raised his Ofor (staff), made some incantations and everywhere became dark. I snatched the Ofor from his hand.
The Ofor was so hot in my hand that I was afraid. Still I held onto that Ofor and quoted John 1:1-3, "In the beginning was the Word, and the Word was with God, and the Word was God. The same was in the beginning with God. All things were made by him, and without him was not any thing made that was made," and then declared that if it is the Word that made this heaven let there be sunrise. Before I knew it there was a sudden sunrise and the entire villagers trooped out. Right there I made up my mind to leave the ministry of that my general overseer for abandoning me at the battlefield. When I returned to Lagos I went to him, said, sir, I'm leaving," Mills recounted to Christian Benefits.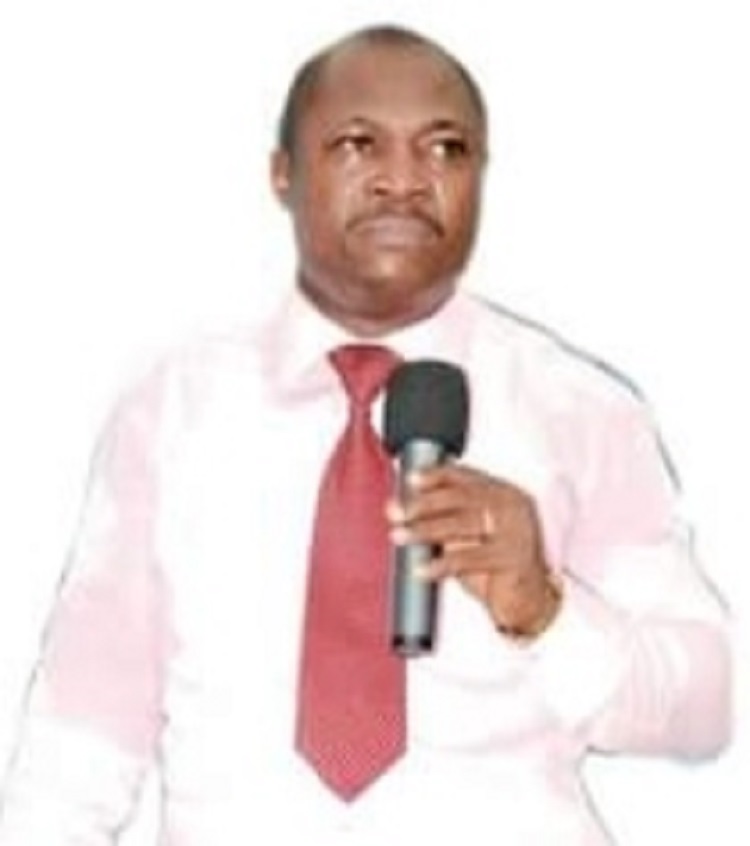 Prophet Benjamin Mills' exit from that ministry set a new place for him in God's vineyard as the founder/ general overseer of Grace Land International Ministries, Olodi Apapa, Ajegunle, Lagos. But not before the Delta state-born prophet had passed through further hard knock experiences including homelessness till he was offered a small shop where he lived and started the ministry. Mills had left his former church in 2006 homeless and penniless with just two pairs of shirts and trousers until God helped him through a particular woman who offered him to live in her compound.
"But, I requested her to release her shop to me to live in because I didn't want to be disturbing the people in the compound whenever I'm praying and she obliged. The next month, I went to the bishop of a very popular church in Lagos to serve under him.The bishop interviewed me. I shared with him all my experiences and walk with the Lord. He said if anyone must work under him, the person must go back to the new convert class in the church . To me, that is a slight. I don't mind working as an usher in that church but not as a new convert after my several years in the Lord. When I returned to the shop, I began crying my mother in the Lord told me, 'I told you not to go to that church. The Lord said you should go and start your own ministry," Mills shared.
Benjamin Mills continued living inside the shop where he also held a one-man fellowship and Sunday service. This attracted mockery from passers-bye as he recalls: "Some passers-bye would look at me and hiss; this man is not serious at all running a one-man church. This mockery continued until I had a dream in which I saw a very tall man in a white robe. He brought a very big King James Bible filled with lot of 20 naira notes. I struggled pulling out the notes inside the Bible, but they refused to come out. When I woke up I didn't need a prophet to tell me the revelation means in preaching the word of God therein I will get my provision."
Having received God's call  into ministry in 2001 and served under eight different ministries till 2004, including the Church of God Mission where he got born-again in 1982, Prophet Benjamin Chukwuemeka Mills. a former staffer of The Guardian newspapers, eventually launched out his own ministry, Grace Land Int'l Ministries in 2006 with God-given mandate of turning the mistakes in the lives of people to miracles. Since then the Ndokwa, Delta State-born prophet and deliverance minister has been transforming messed up lives into miracles, including rehabilitating prostitutes to decent living, turning the hearts of abortionists unto repentance, and also reaching out to area boys and other street urchins; transforming and turning their hearts unto the Lord with the gospel of Jesus Christ unto salvation
Today, Grace Land international Ministries from a one-man church inside a small shop has become a household name in Ajegunle with global influence, presence and impact. Come next month September 8-10, 2023, the fast-growing prophetic and deliverance ministry will be celebrating 19 years of turning messes to miracles, with the theme: God, My strong Tower. Watch out for exclusive interview with Prophet Benjamin Chukwuemeka Mills on Grace Land International Ministries @ 19 in Christian Benefits magazine