Rev. David Kayode Aboderin, General Overseer of Faith Family Bible Church, Ojodu, Lagos, in the below interview with Christian Benefits, shares his almost 40 years experience in ministry, particularly with the new generation of ministers of the gospel. He speaks on proper foundation, focus and consistency in ministry, the place of fatherhood in ministry, respect for order and authorities in the body of Christ and lots more. Excerpts.
Sir, how long have you been in ministry?
I've been in ministry almost 40 years. I got my calling into ministry in September 1986. The ministry was officially commissioned on 5th April 1987 by Dr. Emiko Amotsuka at No. 2 Eric Moore Street, WEMABOD Estate; Ikeja, Lagos. The Lord later led us in October 1987 to Ojodu to start the ground breaking work.
Please, share with us your experience in the ministry in this almost 40 years?
I don't know where I should start my experience from because you are not really specific on the experience. However, the major thing I will just say particularly in the area of calling into God's assignment is that it is not many who really seek God's face to get direction for their assignment.  For some it's like just waking up, and say I want to be a pastor. I want to be an evangelist and just get into it; not really seeking the face of God to get clear what He is calling them into. Many get into ministry for some ulterior motives; maybe for what they will eat and drink.  When God called me I was in business with a high prospect. He gave me a specific direction to come to Ojodu which if had my choice I wouldn't want to come. In the first place if I had my choice I wouldn't even want to come to Lagos at all. I never liked Lagos for anything. Ojodu was a no go place then.  It was not a place I would naturally want to come. When God gave me that instruction to come to Ojodu I had several opportunities, up till now if I had wanted to be in the United States or the United Kingdom I would have. But I have to stay in God's calling; not for money. If I have been looking for money I wouldn't have come this far in ministry. I left a highly prospective business to come into ministry. And getting into ministry is not that easy. If you start a ministry with the aim of material gains you will soon quit.
What is sustaining your focus and consistency in the ministry over the years?
Everything is about being kingdom-focused. I've seen many ministers who started ministry very well but when they were not seeing the physical results they were expecting, they have to change their message. This has led many ministers to missing God. The Bible talks of people who have started in the spirit but ended up in the flesh. So many have gone here and there and still find me where they left me, yet they have not made headway. They have one time or the other missed it and started regretting themselves. Some have even died in it, which shouldn't have been. If you look at it physically, it's not easy. But we are not people of the flesh. We are people of the spirit. We have to stay consistently focused on God who has given us the assignment. Sincerely, it's not easy physically, but we don't live in the physical. We live by faith; not by sight. If you look at what you are going to eat and drink it will drive you crazy. But if you look consistently on the one who has called you; focus on Him, He will meet up with the needs. It might not be at the pace of your expectation but God will definitely meet up with the needs at His own time. That is what lots of ministers don't want to do. They don't want to wait for God's timing. If you do not learn to walk with God definitely you will get into the flesh. It is the same thing that happens to some ministers who operate in some certain gifts of the spirit. For instance in the prophetic, you can merchandise it. And the moment you get into the flesh, the Holy Spirit will withdraw; then you are on your own. This has caused many to miss their assignment. This is affecting the Church. Most church leadership has not been consistent in walking with God. The moment the Holy Spirit withdraws from a minister, that minister is on his own to his peril.
There are charlatan practices among lots of new generation ministers today. Are there no way the elders in the body of Christ, including you can check such ministers?
It is actually very difficult for the elders in the body of Christ to check such ministers. But that is the way it's supposed to be. We should understand the way God works. God flows from the head. That is the way the anointing flows from the head to the feet. Many people don't know that they are operating outside God. If you decide not to walk in the order of God you are on your own. Many in leadership who don't have respect for the authority above them are on their own. That is why the church is no longer attractive because you feel you have gotten some money or some fame,  you don't have respect for the elders any more, you have missed it. God is an orderly God. I can't look down on those that are ahead of me because of maybe I'm in a certain position of authority. That position has to be subject to order. The body of Christ has order. Those ministers who just woke up today, and raised titles for themselves; bishop, archbishop and all that and look down on those ahead of them because of their titles have missed it. Today, the body of Christ is not orderly. It is very difficult for the elders to check unruly ministers because you are dealing with different types of human beings who don't have foundation. Some of them have lost their foundation. Some possibly started well but have lost their foundation.
Share with us how you have been following your spiritual father, Dr. Emiko Amotsuka consistently for almost four decades now, where some ministers frequently change their spiritual fathers like wrappers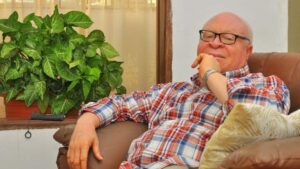 All I know is if you need God's help in your life, you also need the help of man. God one time or the other attaches you to a man. Such a man is a father and mentor over you. He is somebody you respect. I've submitted to Dr. Emiko Amotsuka for almost forty years. I cherish him. I relate with him with all humility; learning from him. He rebukes me. Since we got married my wife knows who to report me to. Dr. Amotsuka  comes into my marriage. He comes into my ministry. If I make a mistake he is the one the members call. Both in life and ministry somebody must call you to order. When I have challenges in the ministry I call him into them. He comes to settle problems in my ministry. He also comes to settle problems in my marriage. My marriage is standing today because I'm subject to a father. My ministry is moving because I'm subject to a father. He can come into every challenge and put things in order. You call someone your father but you are not subject to him. He can't talk into your  life. He can't talk into your marriage. You don't respect his instructions. You start ranking with him. You are wrong, that person can't truly be your father. Some young ministers when they take certain title or position, they feel they are now more successful than their supposed spiritual father. As I'm subject to Dr. Emiko Amotsuka, by the grace of God I give the same order and instructions to those God places under me; that you've got to understand the place of a father so that you can go farther both in life and ministry.
 What's God mandate to Faith Family Bible Church?
God's mandate to Faith Family Bible Church is to build a family of faith unto perfection; that is unto matured manhood. I see our church more as a missionary church. We are on assignment to establish people for the work of ministry. It is not about the number but about the members being established to do the work of ministry; expanding the work of God. We are not talking in line with Faith Family Bible Church alone but in line with the entire body of Christ, expanding the work of God. Most of our members occupy a position of leadership anywhere they find themselves. A lot of them have planted their own ministries, following same way. (Continues next edition)