In the 80s Blackman Akeeb Kareem ruled the Nigeria's airwaves with his popular hit songs like Omo npe dagba, Amebo and Iya ni wura. Today the famous singer, who began his music career at a cinema, is now a preacher of the gospel in the UK. Christian Benefits' U.K correspondent, Olatokunbo Bankole met now Evang. Akeeb Kareem after his ministration around Old Kent in London to share his rebirth encounter with Christian Benefits. Apart from preaching the gospel, Evang. Kareem, 73, is still a song writer/music producer in the U.K. Olatokunbo says it was a swell experience talking with this great Nigerian music legend and preacher.
It's pleasant meeting you sir. You are a foremost Nigerian music legend, now a preacher of the gospel in the U.K. Please share with us your upbringing?
Thank you for this interview privilege. I was born into a Muslim family from Owu, Abeokuta. My Muslim name is Akeeb Kareem. My father had many wives (Just eleven wives-giggling) where each wife was looking after the welfare of her own children. Unfortunately, I lost my mother in 1953 when I was in primary 5 and aged 7years. Losing my mother was a very sad time and life was difficult for me.
In the 1970s into the early mid 1980s you were a very renowned musician in Nigeria before your sudden exit from the music scene in the country. In the first place, how did you find yourself doing music?
Since I was a teenager, I have been interested in music. At a very young age, I told my father that I wanted to be a singer but he said mi o fe alagba lomo (I do not want a beggar for a child), and he sent me out of the family home. Then I started sleeping rough in a cinema house known then as Rivoli Cinema, which was on Ikorodu road, Lagos for years. There was a time I almost lost my life when I tried separating two people fighting and ended up being attacked. While sleeping in the Cinema house, I used to be an errand boy to be able to survive. While doing this work, I took it upon myself to sing for people who came to watch films at the Cinema and to other sleeping there like me. I was fortunate to meet a man in 1967 known as Kenny Jones who invited me to join his band, King Kenny Jones and his Bright Top Toppers Band at the Cool Cats Inn on Apapa road, Lagos; then singing soul and blues music. While I was doing this, I got another bigger offer with more money from another well known top most musician called Orlando Julius who was based in Ibadan. After he heard me singing with King Kenny Jones, he invited me over to Ibadan but I was reluctant to go as I did not want to look like I didn't appreciate what King Kenny Jones did for me. I told him to go and see my father thinking he would go as he didn't know where my father was living. To my surprise he was able to get hold of my father. That was how I joined him and became the lead singer with the Orlando Julius and his Modern Aces Band which was then based at the Independence Hotel, Oke Bola, Ibadan Nigeria. He later became the lead singer for the Army Band. He served in the Army from 1968 till 1973 during the Biafra/Nigeria Civil war, and later became the lead singer for the Nigerian Army Band. I also served in the Nigerian Army for five years.
What was the brand of music you sang back then and besides Uncle Tunji Oyelana (Sura De Tailor), who were your other contemporaries in the Nigerian music/ entertainment industry in those days specifically in the 1980?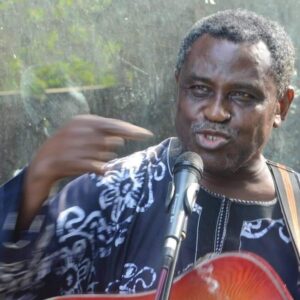 Some of my contemporaries in the Nigerian Music Industry then were Uncle Tunji Oyelana, Sunny Okosuns, Johnny Haastrups of monomonon fame, to name but a few. I wanted my type of music to be different. I did not want to sing the same as others. I decided to sing the Hunter Beat like African Hunters, how they celebrate when they returned from hunting successfully. I wanted my music to be unique and different. For example I sang a song known as Olu Igbo (King of the forest).
Tell us how you arrived at your popular stage name Blackman Akeeb Kareem
There was a particular time I sang a song titled 'Call me Blackman. It was after the release of that song my fans started calling me Blackman Akeeb Kareem till now.
Will you please recall some of your hit songs that ruled the airwaves on radio and television which young generation of Nigerian musicians can learn from?
Some of my recorded song that the young Nigerian musicians can learn from are Omo o npe dagba, Iya ni wura (Mother is gold); I respect mothers a lot and then, Ololufe and many more. They can learn from all my recorded songs which also includes my Gospel songs now like Jesus is the Answer, After Jehovah God.
Since when have you based in the U,K, and tell us you why relocated from Nigeria to the UK despite your household name and large fan base in Nigeria?
I moved to the U.K in 1986. I recorded my first solo single Aphrodisiac label titled: Olu Igbo, and Egba ni mi which became instant hits on the Nigerian Music scene. My biggest hit album of all time in Africa was Amebo (Gossip). But due to some issues relating to finance in regards to my biggest hit; I didn't get any money, I decided to move to Frances in 1984 where I released an album titled Peace & Love, which hit number 4 in the French/African Top Ten Album Records. I later moved to the U.K in 1986.
Was there any specific incident that influenced your decision to abandon secular music and give your life to Jesus Christ?
It happened that I went to see a man of God around Greenwich area in London about a recording and he asked us to pray, which I found funny, and I stared at him. I remember telling him to hurry up. And he said that at least you came to meet me in the church, we should pray. I was laughing and later realized that the laughter was getting really high and uncontrollable. Whilst my eyes were closed, I saw a blue sky with many doves in the sky forming a circle. Then I heard a voice but did not see anyone. And the voice said, "If you leave what you are doing I will give you three things; peace of mind, joy and happiness beyond human comprehension. The voice was like how we are chatting now, but the only difference was I could not see anyone present. The voice just continued, "If…if…if and finally said to me, "Go and form a ministry." The only ministries I knew then were Ministry of Education, Ministry of Agriculture. The voice continues, "Do not form a church (he repeated it three times) because there are enough. Stop playing in hotels. This encounter was after 30 years of my singing professionally. Olatokunbo, you need to remember that I was 51 years old then; a Muslim and I did not have Bible then. The voice continues, "I will be with you. You will need to go from church to church, nation to nation and tell them what I have done for you. I will be with you." After awhile the white doves disappeared. And that was the exact time the pastor opened his eyes. It seemed that the pastor knew what happened to me as he was saying, E kaabo! E kaabo! Eku orire (Welcome! Welcome! Congratulations!)  I was just thinking about the way I have lived; my past as Blackman Akeeb Kareem. I used to take my keys with me anytime I went out. But this particular day I forgot to take my keys with me. So, when I got home, I knocked the door and my wife opened the door for me. I had barely settled down when she said there was something quite strange about me as I entered the house.  She asked me what had happened to me. I asked her what she meant by that. She said she saw peace all over me. At this juncture I need to let you know that my wife is a Christian and I never disturbed or stopped her going to church. My beautiful wife was singing Ose O Jesu (Thank you Jesus) when I came inside the house. So I narrated to her my encounter with God that day. She advised me to pray more about the encounter. I entered into the room to pray but did not know what to say. After awhile I said, "Jesu, iwo lo bami soro pe ki ma korin ni hotels mo. Fi ona han mi. (Jesus, you are the One that said I should stop singing in hotels. Show me the way). That was how I had encounter with Jesus and surrendered my life to him on that day February 17, 1997 and became a Christian, and eventually a preacher of the gospel going from place to place preaching Jesus.
Who were the people you looked up to as your spiritual role models or mentors after you accepted Jesus Christ and surrendered your life to Him?
None of us is qualified to be a servant of God if not for His grace. So, since then till now I only look up to Jesus Christ; my saviour, as my role model and mentor.
Why didn't you switch from secular music to gospel music when you became a believer like how other former secular singers usually do?
As I said earlier, when I had encounter with God He instructed me to start a ministry, and which entails singing and ministry in churches from place to place.
You currently run The Blackman Akeeb Kareem Media Ministry here in the U.K. Please, share with us what this media ministry is all about.
The Blackman Akeeb Kareem Media Ministry is all about proclaiming how great and wonderful God is. The ministry goes everywhere evangelizing souls for Christ. I have taken the ministry activities to countries that include Canada, America and other European countries proclaiming the Almighty God to people everywhere.
How will you describe the impact of your ministry in the UK and beyond; also, apart from the ministry what are other works you do in the U.K?
We also send yearly calendars, Christian magazines, tracts, Bibles etc to every part of the world. Some of our major ways of reaching souls, the lost or the backsliders are through radio, television, internet, facebook and websites as a lot of people are wondering if Blackman can become a Christian. One of our major ways of reaching the lost and backsliders on Radio, Television, Internet and website is through Jehovah's unconditional Word of truth, and sweet, blessed music of hope and salvation. I have 973 songs that I haven't recorded.
Please can we have a look at your lovely family; talking about your wife and children?
I have a very beautiful family. My wife is the best woman in the whole world. My children are all trying their best and I pray their future will be bright. The last 20 years has been the best years for us as I have peace of mind and joy. Though financially, it is not the same but we are happy. Olatokunbo, did I tell you I have two wives? (Olatokunbo was looking confused) Ha! Ha!. My first wife is my beautiful wife and my second wife is my guitar; the only rival my wife has is my guitar.
How often do you visit Nigeria, and do you have plans in the near future to finally return home  as the Yoruba adage says, "ille l'abo isinmi oko"?
I go to Nigeria almost every year as I realize that I will be more useful in Nigeria because I will have the opportunity to be on TV, Radio and people can relate to my gospel music and my evangelism work.
Finally, what is your advice to our readers?
First, thank you Olatokunbo and the magazine you represent, for your patience. It was difficult to arrange a date for the interview. I will advise everyone to stay in the Lord. If they want to be Christian, they should be. If you want to be white, let it be white, not black. Christianity is not about money. It is not about going to see an evangelist or a general overseer.  It is about us. We should be ourselves; pray as we can pray on our own to God. The Lord says love all, hate no one. You can't be a Christian and keep malice. We might have all heard about Abraham, Paul and other apostles in the Bible. None of them had it smoothly. We are all soldiers of Christ; soldiers of salvation. Running the ministry is not smooth as we need financial support to run it but we thank God for His mercy. I invite people to Jesus, not to the church.
Daddy, thank you for your audience sir
You are welcome and thanks once again for the interview (Daddy sings one of his gospel songs "JESUS IS THE WAY" to conclude the interview.