Dr. James Oluwole Akanbi, the General Overseer of God's Mercy Revival Ministries (GOMERM), Idimu, Lagos, will on January 22, 2022 host dignitaries from all walks of life to his 60th birthday celebration, which will feature a lecture on "Nigeria And the Challenge of Raising Agents of National Transformation: Any role for the Church" and public presentation of his biography, A SEED FOR GENERATIONS.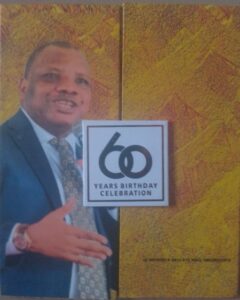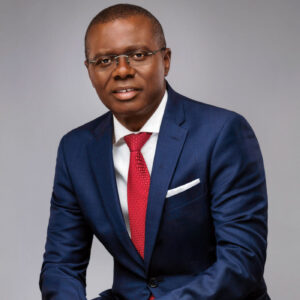 Mr. Babajide Sanwo-Olu, the governor of Lagos state will be the special guest of honour at Dr. Akanbi's silver jubilee birthday lecture by Prof. Biodun Akinpelu, Director, Centre for General Studies, Lagos State University (LASU) and with Pastor Johnson Funsho Odesola, Assistant General Overseer (Admin/Personnel), The Redeemed Christian Church of God (RCCG) as the chairman of the occasion.
James Oluwole Akanbi was born as the last child of the last wife in a polygamous family from Ode Omu in Osun state. From a very humble background, Akanbi described himself as a product of grace in view of the esteemed position God has made him occupy in his three scores in life. "Under normal circumstances, with my kind of background, I am someone that shouldn't have been in the position I find myself today. I'm the last child of the last wife of a polygamist. I was born into an Anglican family. I am a product of grace" Akanbi shared with Christian Benefits.
Though he was born into an Anglican family, the young Wole personally encountered Jesus Christ when he was 17 years old, which led to his rebirth at that tender age. Prior his rebirth encounter he was rough and rascally before the Lord arrested him. "I was very rough and rascally. I always wore shirts without buttons. When I want to sow a new shirt I will tell the tailor not to fix buttons on it. When I buy a new shirt with buttons, I will remove the buttons on it. I lost my mum when I was two years old. I lost my father when I was 17 years old. So, I couldn't care less about courtesy until Jesus Christ arrested me in a dramatic matter when I was 17 years old."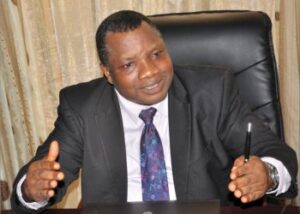 Dr. Akanbi's rebirth encounter was indeed dramatic! He had gone out searching for job when he saw one preacher sharing the gospel with an unbeliever.  After the preacher was done preaching to the unbeliever and prayed with him, Akanbi eavesdropped from the preacher the church address the preacher gave the unbeliever.
"I was watching them. At the end the preacher prayed with the fellow and gave him the address of his church. When he mentioned his church address I discovered it was close to my home. In the evening I attended the crusade of that church; Soul Winning Ministry, Ibadan, under Evang. Caleb Oloyede as the General Overseer.
"Bro. Paul Chuks was the preacher that evening that I visited the church. And he preached wonderfully. He was a very intelligent and good teacher of the Word. Unfortunately, I was not moved though I loved his cerebral presentation. After he finished his one-hour ministration, Evang. Caleb came up and made the altar call.
"He said, 'Brethren, we have finished for the night. We are going home. But before we go, let me ask you one question; what is your name? Like when Jesus met the man at the Gade-renes, and asked him, what is your name? And he answered we are legions. I also ask you tonight; Are you a fornicator? Are you a fighter? Are you a drunkard; etc?
"As he was asking those kinds of questions the words were hitting me like thunderbolt. Within five minutes that this man talked it was like a whole lifetime. At a point I didn't know what to do. I just went on my knees and wept myself out into the kingdom of God that night. The man climbed the altar around 7 p.m.  By the time some people picked me up from the floor it was around 9 p.m. I was just sobbing. I couldn't explain what had come over me.
"For a follow up I was handed over to Pastor Tunji who became my mentor. He guided me in the Christian faith and explained to me all a new life in Jesus Christ is about. I attended the crusade in a pair of knickers and shirt without buttons. He (Pastor Tunji) told me I can no longer dress like that to church He said I am now born again. I returned home that day a totally changed person," Akanbi shared his rebirth encounter thus in an exclusive interview with Christian Benefits.
The now regenerated Bro. James Akanbi later went on to become a strong vessel for the Lord as a devoted Campus student fellowship leader in his tertiary institution where he raised the numerical strength of the fellowship through his soul winning activities on the campus before the Lord, after his graduation promoted him to a General as the overseer of God's Mercy Revival Ministry (GOMERM) with about 100 vibrant branches spread across Nigeria to other continents of the world.
The meteoric rise of Dr. James Oluwole Akanbi in ministry work from a campus students fellowship leadership to a General Overseer of the fast growing God's Mercy Revival Ministries worldwide among other details, including his humble upbringing, background, challenges, academics and accomplishments in his six decades in life are richly contained in his biography titled: A SEED FOR GENERATIONS that will be unveiled on his birthday on January 22, 2021 at the magnificent GOMERM International Headquarters (Mercy Revival Centre) 25/33 Alake Lakoko street, Ile Epo Bus stop, off Idimu-Ikotun Road, Ikotun Lagos.
Dr. James Akanbi is, by God's grace, General Overseer of God's Mercy Revival Ministries (GOMERM); a ministry founded in 1999 that is devoted to "countering the devil's revival at this end-time" and has over 90 branches in Nigeria, United Kingdom, USA, Canada, South Africa, Benin Republic, Gambia and many others.
Dr. Akanbi, who has degrees in both secular and theological education, left his successful accounting career to work full-time in God's vineyard. He is the Apostolic Missioner, Revival Apostolic Network (RAPONET) International, a body which brings Christian leaders and ministers together for apostolic mentorship, counseling, training and spiritual development.
Dr. Akanbi is also the Pro-Chancellor of the Mercy School of Ministry (MSOM); Rector, Church Planters Academy; Chairman, Mercy College of Business and Investment (MECOBI); and Founder, Akanbi Educational Foundation (AKADUCFO) which gives scholarships to indigent but brilliant students.
A prolific writer, Dr. Akanbi has authored over 40 books including the best-selling Mystery of Believer's Destiny, Bombers of Hell; I shall not Marry my Enemy, Unraveling the Mystery of Divine Selection; Kingdom Principles, Kingdom Power; and Daily Pulpit, a highly-sought after devotional with about 100 volumes in print.  As an apostle, a great teacher of the Word, revivalist and prophet, he ministers regularly in the UK, Gambia, Canada and the United States. He is also a columnist in Christian Benefits; a frontline Christian newsmagazine in Nigeria.
Dr. Akanbi, who has God's grace to minister the Word with signs and wonders following, lives with his wife, Pastor (Mrs.) Deborah Akanbi in Lagos. They are blessed with two lovely children, Dupe and Funto.