Pastor Onyema Duruigbo on his 60th birthday declared that one of the greatest gifts God can give one is happy home. Trained a lawyer at Abia State University, but accepted to serve God as Pastor of The Gospel House Church Lagos, Duruigbo in this interview with Christian Benefits on his diamond birthday celebration, reflects on the Nigerian civil war and its effects on his family; his rebirth encounter, walk with the Lord and experience in ministry in his three scores on earth.
Congratulations on your 60th birthday. Please, can we meet you sir?
I'm Onyema Duruigbo, Pastor of The Gospel House Church, Ago Okota, Lagos. I'm a lawyer by training. I'm married to a wonderful woman and we are blessed with lovely children.
How does it feel clocking 60 on earth?
I feel very grateful to God for His mercies that saw me clocked 60.  I didn't feel differently other than been grateful to God. Age are actually to me mere numbers.
What are you most grateful to God for at 60?
Essentially, I'm grateful to God for the gift of life. It has been God's mercies. I'm also grateful for the gift of salvation. It's one thing to be alive; and another thing to be saved. In addition, I'm grateful for the gift of relationship; family relationship, church relationship and other forms of relationship. Life is all about relationship.
What has life taught you at 60?
Life has taught me to be patient with people and in all I want to do. It has taught me not to judge people without giving ears to their views. No one is an island of knowledge. Knowledge comes from different quarters and different people. I've learn't to relate with people while giving them opportunity to live their lives.
Can we have a look at your background?
I'm from Orlu Local Government Area of Imo State. I'm from a royal family. My being a Christian today is because of my mother. I grew up as an intercessor. Every time I woke by 2 a.m. I always met her crying in prayer. Today, her children and grandchildren are dedicated to God as a result of what we learn't from her. I learn't a lot from my father in the aspect of being patient with people. As a leader, I watched him handle intricate cases that were made simple. We didn't have the opulence as a result of the civil war but we are closely-knitted. My parents gave birth to four children; two boys and two girls. I am the third child and second son.
Aside your mother's influence, share with us your rebirth encounter
Immediately after the civil war, Christianity was introduced to us. My mother, being a devoted Christian would drag us to church on a bicycle, whether we were willing or not. That was as early as 1972. While in school, I was faced with peer pressure, so I told God I was aware of all that were taught in church, he should allow me live my life until I finish secondary school. After I finished secondary school in 1981, the vow I made to God came back to my memory; the Lord was bidding me to fulfill that vow.  So, I told my friend of my intention to follow him to church, All Christian Fellowship. I went and heard the word of God bidding me to begin my service to Him. I got back home feeling sober. I prayed to God and my burdens were lifted up. That was how my journey with God began in 1982.
How will you describe your journey with the Lord over the years?
My journey with the Lord over the years has been founded on grace and mercy. We all err but depend on God's mercy. Many times you find yourself not living up to His expectations of you. But in the long run it's been wonderful. He's the sustaining grace for His grace is sufficient. Outside Him there is nothing.
As a young believer back then, who were those you looked up to as your role models?
While growing we challenged ourselves with reading books of great men of God like Kenneth Hagins and T.L Osborn and praying. Doing the things of God was our delight. I left All Christian Fellowship and joined Deeper Life Bible Church for about 10 years. Pastor Kumuyi was the greatest influence I had growing as a Christian. I took joy in doing things just the way he did them. He's a great model. Many of us that did those things ended up becoming teachers of the word like him.
At what point in your journey with the Lord did you receive the call into ministry?
I didn't want to have anything to do with ministry. After I left the Deeper Life where we were trained to view ministry as a voluntary work, I wanted to go into the business aspect of law as a trained lawyer but I got a specific instruction from God. The Lord directed me to whom I was to work with, Bishop Humphrey Erumaka. I worked with him for seven years. He was also of great influence to me in different dimensions of the ministry. He ordained me a pastor.
What is the specific mandate given to you by God when you received the call?
God commissioned me to bring people to a closer relationship with Him, and help them discover their position in life. As Christians, there are things God has in store for us, and until we have the knowledge of those things and work in accordance to His will, we will not be able to access them. We draw people closer to God. We motivate people to fulfill their life destiny.
What are the church programmes in line with this mandate and some of the testimonies from these programmes?
We deal with people one-on-one. By the grace of God many people under this ministry have had life-changing encounters.
How does it feel leaving your legal profession to serve the Lord as a pastor?
The essence of living is being fulfilled. Fulfillment is living in line with God's purpose for you. My fulfillment is dependent on serving the Lord faithfully. If you concentrate and appreciate what God has given to you, you will be fulfilled.
Please, share with us some of your experiences in the ministry since it started
When we wanted to acquire land for the ministry, we had serious issues over land disputes. It was indeed issues when the government forced the relocation of the church to a new site. Paying for the land for the new site was quite challenging that at a point I doubted if God actually called me into ministry because of the challenge of raising the huge amount for the payment of the new site for the church. While I was struggling with the anxiety of payment, the Lord told me calm down to watch how He would settle it. Till today, it remains a mystery how God settled it.
In these 60 years of life, what were the periods you considered your happiest moments?
Happiness is a choice. Irrespective of circumstances, one can choose to stay happy. I made my choice to remain happy about the positive things over the negative.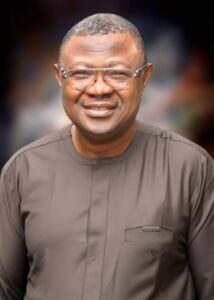 Duruigbo: Happiness is a choice. Irrespective of circumstances, one can choose to stay happy.
Tell us how your home contributes to your happiness in life and ministry?
By God's grace, I've a happy home. One of the greatest gifts God can give one is happy home I'm married to my friend. We both graduated as lawyers from the same university. We've been married for 30 years and are blessed with two boys and a girl. My wife is also into full-time ministry. One of her major priorities is family. One of our children has graduated while two are in the university.
What's your worldview now at 60?
While you are young you think of many things, but when you get old, you should be conscious of having good relationships.
At the beginning of the ministry, did you envisage it will get to this lofty level?
I imagined bigger things than this present level but we do not have enough funds to make it as I would love it be. I do believe there is no limit to visions.
What are some of the sacrifices you've made to build the ministry to this great height?
While people were acquiring exotic cars then, I was focused on investing in the ministry. We bought land to build. Over the years, the land has appreciated, which is more valuable in comparison to investing in exotic cars. I've denied myself of many comforts. I don't move with the crowd. I like to discern in my interactions.
Is it your choice living a low profile despite God's immense grace upon your life?
It's my choice. I'm recognized where I am, so I have no issue living a low profile.
Apart from your mentors, who are your contemporaries in ministry?
Everyone that exalts the name of the Lord is my friend. I don't indulge in competition. To me, contemporaries are competitors. When I see people, I don't judge or access them from the view point of contemporaries.
How will you describe your relationship with your church members?
You should bear the consciousness that you are a gift to them as they are to you. Life is already complicated. You shouldn't make it more complicated. I'm very accessible to our church members. We are one big and loving family in the church.
What is your principle to life and ministry?
My principle is finding balance; holding on to God while dealing with other issues of life. Whatever is taken from me by people is restored to me by God because He's my source of dependence.
If God were to tell you to ask Him one thing as gift for your 60th birthday , what will you ask from the Lord?
I will ask Him to give me more men that will love Him genuinely and serve Him faithfully.
.If Christ tarries, what are your plans for the ministry in the next 10 years?
I seek more ways to impact our generation. I hope to have a radio station before clocking 70.
 Finally, what's your advice to young people looking up to clocking 60 too, someday?
They should take things easy in life and be who God said they are.