Rev. Engr. David Adelaja, the Senior Pastor of Jesus House, Ikeja, Lagos, has urged the Christians in Nigeria to apply wisdom, consultation, strategy and diplomacy in the 2023 Nigeria's presidential election, particularly in their protest against the All Progressives Congress (APC)'s Muslim-Muslim presidential ticket for the election.
He appealed to the Christian Association of Nigeria (CAN) leadership to engage the All Progressives Congress (APC) leadership in a dialogue of negotiation and assurance that Christians in Nigeria will be fairly treated with the faithful of other religions in the country if the party wins the presidential election.
The revered preacher posted this appeal as a note of caution to the Nigerian Christians on his Facebook account that he tilted "A note of caution to my brethren on the 2023 presidential election in Nigeria" and culled by Christian Benefits. Below are the full details of  Adelaja's caution to Nigerian Christians on the 2023 presidential election.
A NOTE OF CAUTION TO MY BRETHREN ON THE 2023 PRESIDENTIAL ELECTION IN NIGERIA
Since the announcement of the running mate of the APC vice presidential candidate to be another Muslim from the north, a lot of speeches have been made and a lot of writings have been released condemning the choice by Tinubu, the presidential candidate of the APC. I have also condemned the same. This is quite understandable, particularly against the backdrop of the present APC president filling his security, cabinet and agency positions with about 80% Muslims and 20% other religions! This is unfortunate but a revelation of the Buhari's personality, mind-set and bigotry. And it would be right to think like some are already thinking "Could it be that APC has a hidden agenda to Islamise Nigeria?"
A critical look at the state of the country today, and Tinubu's choice of a vice presidential candidate, could suggest that there is something brewing in the pipeline! First, he talked about looking for "competence" in his choice of a vice presidential candidate. Was he therefore saying that there is no single Christian in the entire north that meets his criteria for competence? That must be half truth with due apologies to his person. Second, since making the announcement, he has not deemed it necessary to placate the Christian Bodies with promises such as "If elected, I will fill my cabinet with 50% Christians and 50% Muslims, and also work towards ensuring that the Federal Legislature has Christians at the helm of affairs" (these are just examples of what he could say to achieve peace with the Christian agitators, if he chooses to). Tinubu has however not deemed it necessary to make any such move! He possibly thinks it is not necessary. For me, he has not started his campaign properly at all. I hope he sees the light before it becomes too late for him. A Pastor friend told me that one of the things he learnt while working in MR. BIGGS is that "People only criticize the brand they love and want to continue with; they do not do the same with a brand that they have discarded".
The above notwithstanding, I admonish all commentators on these happenings to be careful lest we box ourselves to a corner. What do I mean by this statement? Joseph Stalin, one of the U.S.S.R dictators, was attributed to have said that "Voters do not determine winners in elections but the people that count the votes do". We have seen this statement play out in many elections in Nigeria, where rigging is the order of the day. So what happens if the elections are conducted, possibly rigged or not even rigged, and the Muslim-Muslim Ticket is declared winner? Remember that this same party is the one in governance today and the same government that will conduct these Elections. With all that Christians have been saying, writing and prophesying, if the results go the other way, what would Christians do?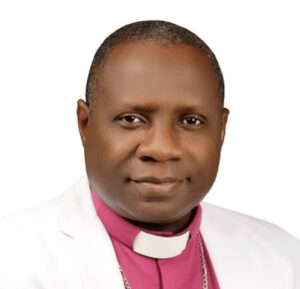 Rev. Daniel Okoh, CAN National President
I strongly suggest that we must not turn the 2023 elections into a referendum between Christians and Muslims because I know some Christians and even pastors that will still vote the ticket come what may. Take for example, the northern Christian Elders Forum came out to condemn this Muslim-Muslim Ticket, and within few days, another Christian Group in the north, the Arewa Coalition for Good Governance, has come out denouncing the Babachir Lawal and Dogara group. The way forward is more important as far as I am concerned, and the following are my suggestions:
  That our Christian leaders should stop talking to the press and the social media (this is like inciting their followers) but approach the Leadership of all the Political Parties, including this APC, and privately proffer ideas, and demand to know their plans for Christians and the Church in Nigeria, if voted in. Private consultations with each political party on behalf of the generality of Christians in Nigeria will give room for negotiations now and MOU signed before the elections. I believe that more will be accomplished this way as against the C.A.N and P.F.N always talking to the press and making comments on the social media. After election results have been declared, the winners usually first remember those that supported them to win, and only drop the crumps for those that fought against them.
  As I love telling people, it takes at least four years to prepare for Olympics. Denominational church leaderships can start mobilizing their members to participate in future elections from now. Some should be sponsored for the local government elections, some for the state houses of assembly, some for the federal legislatures, and at the right times the governorship and the presidency. All that C.A.N and P.F.N need do quietly is provide the denominations the necessary logistics to start; and then advise and guide those denominations that are under them, without making press statements on the plans and preparations of Christians for the future elections. The bane of our past strategies is that we leaked our plans to the opposition before they were hatched, and what did we get thereafter? Nothing! On the other hand, the other religion, which in the seventies and early eighties was far behind the Christians, went silent for a season and then resurfaced with their strategies. Then suddenly, we find them grabbing and almost wanting to grab everything available. It is time we learn our lessons and re-evolve through a long term Planning and Strategizing, not these short terms crying that we have been left behind!! If we fail in this, we would become subservient to these "new lords".
I would also like to comment on Peter Obi before I end this writing. Peter Obi is eminently qualified to rule Nigeria and he appears to also know his onions vis a vis what to do if elected. But with the political history of Nigeria in mind, you do not win Elections in Nigeria by just addressing city dwellers, taking control of the social media and visiting churches only. The literacy level of Nigerians and the percentage of those that live in the cities do not make such to garner sufficient votes to win elections in Nigeria. Peter Obi also does not have the widespread political Structures across Nigeria to use for spreading his message to everyone. To make a bad case even worse, we have seen in past elections that the north plays the role of the "kingmakers." Any candidate they swing the votes or counts for, wins! Has our Peter Obi sold himself sufficiently to these unfairly installed "kingmakers"? Not so much, going by the much I know. So what Peter Obi should be doing now is organizing his foot soldiers to go into the hinterland to spread his good news to everybody.
The two problems with this proposal however are (i) He needs to reach out to those people who dwell outside the cities. Many of these are people who often vote the way the big man in their midst, who at one time or the other, ministered to their needs, wants them to vote. How many of these "big men" that can influence others to vote for his Labour Party, does he have?  For example, how many governors, senators and House of Representatives' members are working for the Labour Party? Not many that I know! (ii) Our Dear Peter Obi does not have sufficient time to do all the above because he started late. As I said earlier "It takes at least four years to prepare for the Olympics". Peter Obi will make some impact but may not be enough to win the presidency for the Labour Party on this occasion. For me, he should spend the next four years preparing for the 2027 Elections; and in this period he must traverse the length and breadth of the Country networking and getting more people to team up with his Labour Party. In 2023, the emergence of Peter Obi will also further divide the Christian votes as many Christians are now "Obidients". In other words, Christian votes would go to PDP, APC, Labour Party and NNPP, where a bishop is even a running mate. This is another reason why making 2023 look like a referendum between Christians and Muslims could hurt Christians!
Finally, my condemnation of the APC Muslim-Muslim Ticket stemmed from the north and religion-focused appointments that President Buhari made in these past seven years of his administration. In spite of these, in 2023 Christians must come out and vote their conviction and wait for the outcome. I saw a banner urging Christians to obtain their PVC and be prepared to vote because "INEC does not count Prayer Points; INEC counts votes". Yes, this is very correct; we must pray but we must also come out and do the needful to win Elections. Before the 2023 Elections however, let the New C.A.N Leadership and the P.F.N embark on a quiet diplomacy with all the major Political Parties and redeem whatever can still be redeemed of the present quagmire. Whatever the results of the 2023 Presidential Elections, I am confident that God will not abandon His people in Nigeria. In 2 Kings 25: 27 – 30, it was a King by name EVIL-MERODACH of Babylon that God used in releasing the imprisoned King Jehoiachin of Judah after 37 years in Prison! You may want to ask "Why would God use somebody by that name (Evil-Merodach) to restore His penitent King?". Your answer is as good as mine. One thing I know is "Restoration will surely come to us in this same Nigeria in Jesus Name".
With long term planning, Christians can and will come out better in future elections. It is time for new foundations for Christians in politics to begin to be laid by every Christian denominational church leader in our country; and for Christians to embrace other Christians from denominations different from theirs. This time, let our leaders talk less to the press, and their followers do less of criticizing one another on social media, and more about welcoming, sponsoring and working towards having more Christians in the political landscape of Nigeria.