Amid the backlash of some pastors over their controversial and failed prophecies on the recent 2023 Nigeria's presidential election, a seasoned academician and Bible Scholar, Dr. Ademola kayode Fajimi, has come out clear that prophecy can be absurd. He notes that prophecies are most difficult to interpret, while also pointing out that predictions are sensual and prophecies are spiritual.
Dr. Fajimi, a retired senior research fellow and chairman, Academic Staff Union of Universities (ASUU), Obafemi Awolowo University (O.A.U), Ile Ife, Nigeria, and currently Senior Pastor, Royal Love Assembly and President, Yeshua Bible School, says the Nigerian Church literally threw caution into the winds over the presidential election. He explains the difference between prophecy and prediction, and also shares his over 39 years of walking with the Lord in the below interview with Christian Benefits on The Church, Politics and Prophecy. Excerpts below.
Please, can we meet you?
I am Dr. Ademola Kayode Fajimi, Retired Senior Research Fellow and Chairman, Academic staff Union of Universities (ASUU), IART, Obafemi Awolowo University, Nigeria. Presently I am the Senior Pastor of Royal Love Assembly (formerly Royal family Bible Church), Ajah Lagos and President Yeshua Bible School.
Briefly share with us our upbringing, background and rebirth encounter
I gave my heart to Christ under the scripture Union (SU) movement where we were taught holiness through and through. Everything must be said and done through the lens of holiness. It does not matter the Bible passage you choose to preach from, you must end up in holiness. That is the background wherein I was raised as a believer. Adjunct to this is a lifestyle of prayers and aggressive evangelism. To all these I remained consistent since then till now.
How long have you been walking with the Lord, and how will you describe your walk with over the years?
I responded to the altar call to give my heart to Christ in March, 1984 although I have been attending Scripture Union meetings since I was in the secondary school in the late 70s; but if date is anything to go by I gave my heart to Christ thirty-nine years ago at The Polytechnic, Ibadan and remained with the Christian Union even in the University. I joined the Ibadan Varsity Christian Union in 1987 and later became the President of the fellowship in 1991. I have never been a lukewarm or lethargic Christian all my life.
What is your position on the recent 2023 Nigeria's presidential election?
The nation has been badly misruled by the current administration and the people were eagerly waiting to vote them out. No time has the nation been so misruled and badly governed. Someone said the number of people who died during the Boko Haram insurgency of this administration were more than the people who died during the Nigeria- Biafra civil war.  This is not to talk of unimaginable inflation where a dollar exchanged for over 700 naira. Again, there was so much insecurity. Like I earlier said, this is the worst government in the history of Nigeria and many were waiting to vote out this oppressive government.  In view of this there came out a massive movement against all structures that have anything to do with the current government whether directly or indirectly.  So this election is to many a revengeful exercise to exterminate anything that has to do with Buhari's administration. Don't forget that youths are mostly and badly hit in all these, no employment and youths are busy picking up vices as a result of extreme poverty. After the presidential election and the winner declared by INEC the nation wore a mournful look. It is as though the people were mourning. This is one time in the history of Nigeria that the winner of a presidential candidate is declared and there is no jubilation. I may not be in a position to ascertain the credibility of the election process but one thing is clear, a good proportion of the Nigeria people are not happy; possibly because the winner declared comes from the same repressive Buhari's government.
How do you see the active and partisan involvement of the church and church leaders in the elections?
The Church in Nigeria has, before now, been passive on election matters. Pastors rarely talk up for a candidate, but in this election, pastors were literally calling out names of candidates that must be voted for. Again it is because the people have been badly treated and they are looking for a change. This government did so much harm. The harm is not only to the people but also to the church. Boko Haram insurgence decimated many Christians in the north while many fled to neighboring countries. So the Church came out en-masse to vote. The Church literally threw caution into the winds and sincerely it is understandable. Even the scripture says oppression makes a wise man mad. Although there was never a time a formalization of a candidate was done but the indicators are against the ruling party and their allies.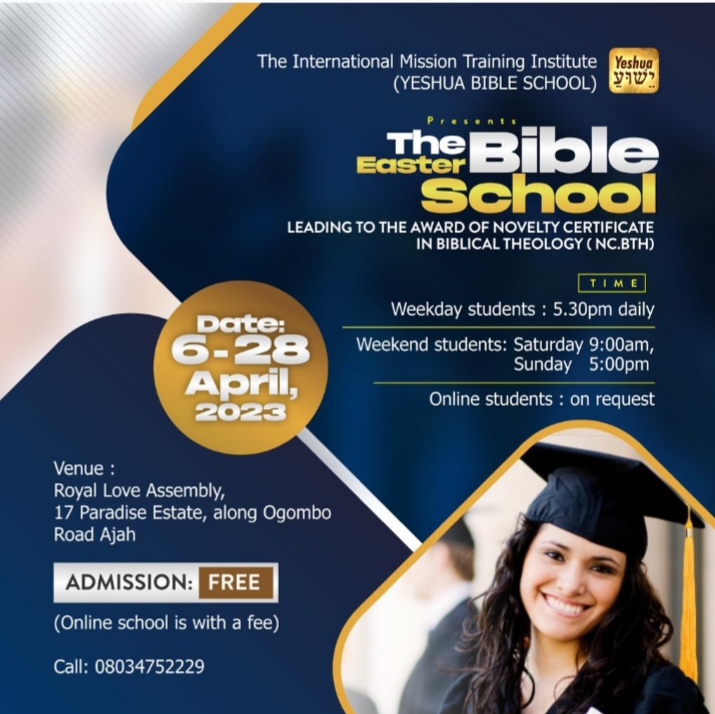 What is prophecy? And what is the difference between prophecy and prediction?
A prediction is a forecast; a deduction based on previously established trend. A prediction is based on trends. It is based on previously established trends. It is a permutation. It is sensual, and when well done can be accurate. When certain proven indices are factored together, you get a prediction. But a prophecy is not sensual. It not based on previous factors but solely from God. That is why a prophecy can be absurd because there is nothing of reference to it. While predictions are sensual, prophecies are spiritual.
Tell us the role and the place of prophecy in the governance of any nation
The word of God is called the book of prophecy, therefore the word of God is the most authentic prophecy that any nation can live by. When the leader of any nation pays close attention to the word of God preached by his ministers, that nation 'must' prosper.  Anyone or any nation who gives first place to the word of God will have good success. Uzziah sought the Lord under the instruction of Zechariah the prophet, who had understanding in the visions of God and as long as he sought the Lord, he prospered (2 Chr. 26:5). So, basically for a nation, the preachers must endeavor to preach the truth of the gospel, not sentiment; they must not tell the leaders what they want to hear but only the gospel and then the nation by adhering to the word of God automatically prospers. But a nation where the clergy runs to the leaders for reward, the words of God will not be spoken to them in truth and the nation will degenerate.
When a prophecy did not come to pass, does that make that prophecy fake or how do you explain unfulfilled or failed prophecies?
A number of top rated brethren wrote to me to comment on why many prophecies on U.S presidential election failed. The same applied to Nigeria:
Prophecies Are Most Difficult To Interpret
The books of the prophets are seventeen (17) in the OT and one (1) in the NT and are the most difficult to interpret of all the books of the Bible. Biblical prophecies are very difficult to interpret but worse still are contemporary prophecies. While we can leverage on prophecies from other portions of scripture as template for interpretation, it is nonetheless an ardors task. Agabus the prophet heard that Paul will suffer greatly in Jerusalem but the disciples were wrong to interpret this to mean that Paul should not go to Jerusalem because of this (Acts 21:10-14). Sometimes it may not be that the prophecies fail, it may be our interpretation of them was wrong.
Identifying Prophetic Options
Sometimes God will lay "options" before his prophet. He will tell his prophet what will become of the people if they vote for "Tinubu" and what will become of them if they vote for "Obi". (1Sam 8:9-19]. Sometimes instead for the prophet to lay down the options and the consequences to the people as given to him by God he will be making the choice for them. The choice is not God's but theirs and the prophet can only persuade his people to make the right choice, but the prophet should not try to make the choice for them because if he does and it does not come to pass he will be branded a false prophet
Time Interprets Prophecies
There are certain prophecies that may not be understood until the prophecies come to pass. Hosea prophesied that "Out of Egypt have I called my son" (Hosea 11:1; Mathew 2:15). One may wrongly interpret this to mean the Messiah will come from Egypt or that the Messiah will be an Egyptian but until Herod assailed to kill the children and Christ was taken to Egypt and now God called for him from Egypt to return that the understanding of the prophecy became crystal clear (Mathew 2:13-21). So certain prophecies may not be understood until when it happened. The presidential elections are yet being contested and let's wait until the tribunal and the court proceedings ends.
The Promises of God Are Sometimes Conditional.
God's promises are sometimes "conditional" and as long as the conditions are intact he cannot repent of His words. God told Balaam that he is not a man that he should repent, nor the son of man to change his mind and he quickly added that "so long as he cannot behold iniquity in Jacob and so long he could not see perverseness in Israel" (Num 23:19-21). God declared he will change his mind if the people sin and indeed he did (Ezek 33:14-15, Isaiah 38:1-6, 1Sam 2:30). So when certain conditions are not met a prophecy may seem to fail. God told Israel: for this will I yet be enquired of Israel to do it for them. Sometimes prayer may be a condition for ''certain'' prophecies to quickly roll to completion.
Prophets Are Humans
A prophet may speak unknowingly from his thoughts thinking it is from God and since it is not a "regular pattern" with him, he should not be crucified:  For we have this treasure in earthen vessel (2 Cor. 4:7). Again scriptures say we know in part and we prophesy in part but when the one who is perfect in knowledge shall come; then we shall know as we ought to know (1Cor 13:9-12).
Don't forget like I earlier said, the people had been greatly oppressed and victimized by this government and so the ''clergy'' began to speak from their 'minds' not from the Spirit. Scriptures provide situations where people speak from their minds. Many were prophesying from the anger bottled up within them and never waited patiently to hear from the Lord. That is one main reason why many prophecies failed; they were not from the Lord. So when you see someone prophesying that a 'messiah' is coming in the name of a particular presidential candidate then people buys into it. Many so called prophets were merely prophesying based on the prevailing socio-economic situation of the country, they were prophesying presumptuously (Ezek 13:1-6 Deut 18:20-22, Jeremiah 23:16 Jeremiah 23:14). This may be what happened. As human, a prophet may err. On seeing Eliab, Samuel erred, mistaken him for the Lord's anointed (1Sam 16:6). Nathan erred by giving King David the go-ahead to build the temple (2 Sam 7:2-13). Eli erred when he called Hannah a drunk. It is grievous for the Church to join the world in mocking the prophets that erred. To the people in the ship, Paul erred and they went on in this assurance that Paul must be a false prophet but after a while the table turned (Acts 28:9-10, 13). On Nigeria prophecies, time will tell.
What should church leaders learn from the public attacks on the church and church leaders over the controversial prophecies of some pastors on the presidential election?
A pastor must not seek to be popular. This is because popularity is not what a man of God should seek. In seeking popularity a man of God may be found in shameful and obscene deeds. Many prophesied so they can be noticed. Instead seek to be faithful to your calling.
A pastor or a prophet must know that you are not a successful pastor just because you prophesy. All the gifts of God are important and one must not be seen to be more important than the other. Many people were not called a prophet but were willing to prophesy and so they failed.
Always and every time a man of God must under gird his life with caution. Even when you have heard from the Lord you must never be hasty but be cautious so the name of the Lord is not brought to disrepute.
Prophets prophesy in courses while the other judge. Don't be a lone ranger or be overly obsessed with your own ways, share your experience with others before sharing it in the public domain.
Lastly sir, share with us more about Royal Love Assembly and its impact in its Ajah community.
The church established the Yeshua Bible School as a training arm of the church and it has served for the training of many ministers. The Yeshua Bible School is popular in Ajah environs and has raised many ministers. You may wish to attend the next edition between the 6th and 28th April, 2023. Call: 0803472229.