Ahead of his next city wide crusade tagged "Abeokuta Power Crusade" holding from September 8-9, 2022, at Panseke, Abeokuta, Ogun state, Dr. Olu Johnson, a front line evangelical crusader and Senior Pastor of Great Commission Bible Church, Lagos, has revealed how his unusual passion for crusades began. He also explains why Pastor Tunde Bakare lost the All Progressives Congress (APC)'s presidential ticket, and the danger of the controversial APC's Muslim-Muslim presidential ticket for the 2023 Nigeria's presidential election among other issues in the below interview with Christian Benefits. Excerpts.
 Please can we meet you sir?
My name is Olu Johnson, Senior Pastor, Great Commission Bible Church and National President, United Global Churches Association of Nations (UGCAN). By the grace of God I'm a crusader and nation builder, committed to seeing Nigeria become what God wants her to be.
Briefly share with us your upbringing and salvation encounter
I grew up as a church boy moving from church to church, including Anglican Church, with my parents until I had a personal encounter with Jesus Christ. In the early 80s I usually attended revival and crusade meetings and gave my life to Christ at each meeting. Each time an altar call was made I would come out and give my life to Christ until June 1986 when I finally surrendered my life to Jesus Christ at a programme organised by Ogun State Polytechnic Christian Students Fellowship at Bishop's Court, Abeokuta, Ogun state.
 How will you describe your over 36 years walk with the Lord?
My walk with the Lord over these years is not a child play! I grew up walking with the Lord from stage to stage. You can't stop growing in the Lord. Proverb 4:18 says, "But the path of the just is like the shining shine; that shines ever brighter unto the perfect day. Psalm 87:7 says, "They go from strength to strength before God in Zion." So, my walk with the Lord in over 36 years has been from stage to stage; from faith to faith and from strength to strength. It's been an awesome and fantastic experience. Of course there have been a couple of challenges on the way but we overcame them. John 16:33b says, "In the world you will have tribulation; but be of good cheer, I have overcome the world." Walking with and serving God does not immune one from the challenges of life. One will face challenges but the assurance is one will overcome them.
In the course of this journey when did you eventually receive the call to ministry?
Interestingly, I had my first preaching engagement in 1988 barely two year after I surrendered my life to Christ whilst I was in the Anglican Communion. We started a parish of Evangelical Fellowship of Anglican Communion (EFAC) in my area and held a crusade in 1988. Our parish leader, a director in a ministry in Ogun state, was billed to preach at that crusade. He had preached on the first day of the crusade but was not available on the second day because the state governor had sent for him. So, he instructed that I preach in his stead on the second day. That was how I preached for the first time and the Lord took all the glory. I didn't know how to preach or what to preach. The Lord put His words in my mouth, I preached and many people gave their lives to Him. As young believers then we had a great zeal for God's work. We loved Him and wanted to do His will. I later went back to a secular work. In 1992 I joined Morris Cerrullo World Evangelism where I worked with now Bishop S.A Dada, then the national coordinator. That was another phase of my ministry from the Anglican setting to the Pentecostal. In 1997 God called me fully into ministry.
What is the mandate of your calling by God to ministry?
The mandate of my calling by God to ministry is building a people of purpose, breaking the yoke of mediocrity, reaching the world with the word, moving on the wing of the Holy Spirit and totally committed to total evangelism.
What are the gifts God endowed you to accomplish this mandate?
The foremost gift God endowed me is passion for souls. I have an unusual passion for souls. This informs the ministry's regular hosting of crusades and evangelism. Second is the gift of healing. I have a healing ministry. All manners of healing miracles regularly happen in our ministry. We have had testimonies of the blind that saw, the deaf that heard, the dumb that spoke and the lame that walked. By the grace of God we also have testimonies of the dead that rose. We also have the prophetic dimension of the ministry.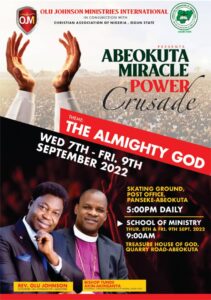 As the current national president of Global Churches Association of Nations (UGCAN), tell us about this once politically influential Christian group that was once led by the late Archbishop Abraham Oyeniran.
I took over the leadership of UGCAN at a challenging time. UGCAN is an association genuinely founded by its pioneers. It is a God-given vision with a genuine intention of bringing pastors and gospel ministers together. Genuine visions from God never die, no matter the challenges or crisis that may come up in their running.
UGCAN under the leadership of the late Archbishop Oyeniran as was political. What is the stance of the association now on politics?
UGCAN under the leadership of the late Archbishop Abraham Oyeniran was political, visible, vocal and influential due his leadership style. A former governor of Lagos state, the late Sir Michael Otedola became Lagos state governor on the strength of UGCAN's prayer and political influence. Also, Asiwaju Bola Ahmed Tinubu became Lagos state governor in 1999 with a huge support from UGCAN. That was why Asiwaju appointed Archbishop Oyeniran as chairman of Lagos State Christian Pilgrims Board. Baba Oyeniran was also instrumental in Raji Fashola's emergence as Lagos state governor in 2007. All the Lagos state gubernatorial candidates of all the political parties, including Femi Pedro and Musiliu Obanikoro visited Baba Oyeniran for his support but he supported Fashola to become the state governor. Rev. Chris Okotie also sought Archbishop Oyeniran's support for his presidential election on the platform of Fresh Party in 2007.
 What is UGCAN's present position in Lagos politics?
UGCAN is still relevant in Lagos politics. We mobilized support for Mr. Babajide Sanwo-Olu to become Lagos state governor in 2019. We recently held a meeting over some issues with his special assistant on Christian Religion matters. We have had meetings with some other Lagos state government officials like Mr. Tayo Ayinde, a director general in Lagos state. UGCAN is still relevant in Nigeria politics generally in ensuring a good governance.
 What is UGCAN's stand on the controversial APC Muslim-Muslim presidential ticket for the 2023 Nigeria's presidential election?
UGCAN see the controversial APC's Muslim-Muslim presidential ticket as undermining the Christian faith in the country in that presidential candidate of the party , Asiwaju Bola Ahmed Tinubu does not see any Christian of northern extraction competent to be his running mate. He thinks picking a fellow Muslim of northern extraction as his running mate would boost his northern votes, believing that he already has the southern votes. But that is an insensitive calculation. A Muslim-Muslim ticket is insensitive and delicate considering the religion tension, Boko Haram terrorism, banditry and kidnapping incidents prevalent in the country presently.
 A lot of Christians are saying after President Muhammadu Buhari's tenure; a Muslim, in 2023 it should be the turn of a Christian to be the next president of the country. What do you have to say to that?
In fairness, the next president of Nigeria after President Muhammadu Buhari's tenure in 2023 should be a Christian, and I believe this should be the stand of the Christian Association of Nigeria (CAN) on the 2023 presidency. Nigerian Christians are now awake politically to take their turn politically in the governance of this country in 2023. UGCAN's position on this is that a Christian should be the next president of Nigeria in 2023.
 What is UGCAN's position on the establishment of the Directorate of Politics & Governance in Pentecostal churches in the country?
It is what the Pentecostal churches should have done 20 years ago. A Chinese proverb says the best time to plant a tree is 20 years ago. But the best time is now! The establishment of the Directorate of Politics & Governance (DPG) in all the Pentecostal churches across the country is a good development. It is working because more Christians and churches are now politically awake to participate actively in the politics and governance of the country. The DGN has penetrated every nook and cranny of the nation sensitizing and mobilizing Christians and churches for active participation in the politics and governance of the country. The DPG has awakened more churches and Christians politically.
Pastor Tunde Bakare
An evidence of the Church's political awakening was Pastor Tunde Bakare's contest for the APC presidential ticket but failed to get the ticket. What do you think caused his failure to get the APC ticket?
First, Pastor Bakare vied for the presidency on the platform of a political party that the majority of the Church leadership is not comfortable with. In fact the majority of the Church leadership is not comfortable with the two major political parties in the country. The Church leadership is only interested in and comfortable with sincere political leaders irrespective of political parties or ethnicity. Second when Pastor Bakare announced that God spoke to him that after President Muhammadu Buhari he would be the next as the 16th president of Nigeria, I offered him some pieces of advice through Dr. Segun Oshinaga that when God speaks He also gives direction. When God speaks to you, ask Him for direction. When God spoke to Samuel, Samuel ran to Eli for direction because he heard someone spoke to him in Eli's voice. At that time Samuel was not familiar with the voice of God. He was only familiar with the voice of his master, Eli the priest. Nobody denies that God spoke to Pastor Bakare that he would become the 16th president of Nigeria. But when God spoke to him so, there are fathers in the faith that he ought to have consulted for direction on what the Lord had spoken to him. There is nothing wrong in calling the fathers together and tell them, this is what the Lord spoke to me. If he had done that God would have through the fathers given further instructions, guidance and direction. Then, the fathers would have been in a better possible to mobilize the entire body of Christ and even non-Christians to support him and bring to reality what God had spoken to him that he would become the 16th president of Nigeria after President Muhammadu Buhari. Of course Pastor Bakare is popular public figure, popularly known and loved all over Nigeria by people of all the tribes and ethnic groups in the country, yet he primarily and fundamentally belongs to the body of Christ where he is also a highly respected voice and leader too. So, he needed to have carried the fathers in the faith and the leadership of that body along about what God spoke to him becoming Nigeria's 16th president after President Muhammadu Buhari. There was where Pastor Tunde Bakare missed it. It is not that God didn't speak to him that he would become the 16th President of the Federal Republic of Nigeria as he claimed.