Apostle Sediq Moses is an apostle with a mandate from God to preach peace to the world.  The prophetic apostle, a former devoted Islamic adherent from Sokoto state, who experienced a strange personal encounter with Jesus Christ, shares with Christian Benefits, some mysteries about God, some apostles in the Bible and the danger that the presence of Satan on earth poses to humanity. He also shares his view on the late Prophet T.B Joshua in this lengthy interview with the magazine; starting with his background and rebirth encounter as a Moslem faithful to a preacher of the gospel.
Please, can we meet you sir?
I am Apostle Sediq Moses, a servant of the Most High God and the apostle at Christ Holy Mountain House of All People (CHMHP) Ikotun Egbe, Lagos.
How long have you been in the ministry?
I started Christ Holy Mountain In 2012, though I started with a counseling ministry in 2009.
Can we have a look at your upbringing?
I was born in an Islamic home from Sokoto state. My Moslem name was Abubakar Sediq. My dad was an Islamic priest and a retired army officer. My mother was a seamstress. I lost my father in 1992 and my mother in 1997. I left my mother to live with an uncle in Port-Harcourt till 2000 when I left for Kano to live on my own.
Briefly share with us how you received the call into ministry
I received the call into ministry many years ago while I was in Kano. Before the call I was into a unisex shoes business. At some point I had problems in the business. I relocated the business to another place, yet the problems persisted. I decided to visit any pastor for prayer to overcome the problems. My intention was only to get the problems sorted by a pastor but retain my Islamic faith. So, I decided to visit a neighbour of mine who is a Christian to take me to his pastor for prayer. Ironically, this person had been nursing it in mind to take me to his church. The next day after my decision to go see a pastor over the problems, I saw a very bright light illuminated my room. The light kept shinning until I suddenly went on trance while tracing where the light was coming from. I was awake while on the trance. I didn't understand what being on trance means until I became a Christian. I could not stand up to approach the light that illuminated my room.  Suddenly, I saw the feet of a veiled person with a hole on each of his foot. The light gradually waned and the person unveiled himself to me. I looked straight into his eyes. His eyes were unusual from the normal eyes of human beings. Then he said to me, "I am Jesus, your father! I have come to take my place in your life." Like his feet, I saw a hole on each of his palms. Light was illuminating from the holes. His eyes were shinning. Then, he said he would send me to someone that would pray for me. Gradually, the shining light finally waned and the person disappeared. After he disappeared, I regained strength. I stood up and checked if my door was opened.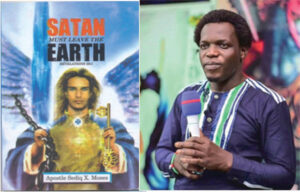 What was your immediate response to this encounter and the steps you took thereafter?
After this strange encounter with Christ, I became very bold and walked straight to that my Christian neighbour, and asked him if he knows any pastor that can pray for me over my business. He opened up to me that he had been looking for how to convince me to follow him to his church. So, the next day he took me to his pastor. Unfortunately, the pastor was not around. The next day, I went alone to see the pastor. I met him in the church and asked him to pray for me. Instead of him to pray for me, he encouraged me to join the fellowship of his ministry. I agreed to join the fellowship because of my purpose of getting any pastor to pray for me.  I had no aim to join the church because Jesus didn't send me to join a church. What Jesus told was that he would send me to someone that would pray for me. He never told me to become a Christian. He only said he came to take his place in my life. And if not that he personally told me in that encounter that he was Jesus and also for the holes that I saw on his feet and palms, I would have taken it that it was Mohammed that visited me. Ironically, for seven months, that pastor didn't pray for me. Instead, he only groomed me in the Christian faith for seven months till I never saw the need again for him to pray for me or the need to return to the Islamic faith. After one of the church services, the pastor invited out those who want to give their life to Christ. I responded to the invitation, came out and gave my life to Christ.
Share with us your feeling shortly after you surrendered your life to Christ
I felt the heavens opened and began to pour water on me. That was the day God showed me I have divine mandate over rainfall. Till date, if I pray that rain should fall, it will fall. God began to open my eyes to some mysteries in the scriptures. He particularly showed me Psalm 29: 3, "The voice of the Lord is upon the waters; the God of glory thundereth; the LORD is upon many waters." He began to show me more mystery about water. That was how I gave my life to Jesus Christ in 2001.
Was there any opposition to your conversion from your former Islamic brethren?
I began my journey with Jesus Christ as a secret disciple. I could not stop going to church while I still attended mosque. But I could no longer pray in the Islamic way. Whenever I bowed to pray in the mosque I prayed in Jesus name. I had further encounters with God and his angels. One of the angels of the Lord told me that my dead biological father who was an Islamist priest was also supposed to be a Christian prophet of God. He said my late father had with God the same rebirth encounter that I had with God, but he didn't yield to serve God in the Christian way. Instead, my father turned the encounter to serving the Lord as an Islamic priest. That angel then revealed to me that that is the reason God called me into the ministry. Whenever I bowed my head on the ground to pray I will call the name of Jesus. I continued this way until I began going to church freely and the burden of returning to Islam was lifted. Yet, the man of God still refused to pray for me. Like I said I had lost my parents by the time I gave my life to Christ. There was a distance between my siblings and me. So, nobody in my family contended with me when I accepted Jesus Christ. The only contentions I had were from some Islamic brothers when they noticed I was no longer going to mosque or attend Islamic gatherings. They later discovered that I have become a Christian, and  because of God's presence around me, they couldn't do anything. In fact whenever they visited my place they would leave the Christian way back to wherever they have come from to see me.
What remarkable changes occurred in your life after you accepted Christ?
Nine months after I gave my life to Jesus Christ God opened my eyes and I started dreaming. God started appearing to me in visions. It later dawned on me that His presence is with me everywhere. As a result of the death of my parents, I couldn't further my education.  So, till now I depend on the Holy Spirit to teach me all things. All that I know today are by the help of the Holy Spirit. People of higher statuses or positions in the society including professors, doctors, politicians and other people of high calibre now listen to me because of very deep spiritual things that I know that they don't know. There were times in my life that the angel of the Lord appeared to me and taught me the things that were taught in schools. I don't know how I started reading the Bible. All I know is I started receiving revelations upon revelations.  An angel once appeared to me and told me that he wants to take away my old body and give me a new body, and the new body is made for fasting. At times I can fast for one year or even two years at a stretch. (Continues)!
# Read the full details of this interview with Apostle Sediq Moses in the hard copy of Christian Benefits magazine.