Sound Character is an inspirational book that has made so much impact in the lives of several primary and secondary school students across Nigeria since its first publication in 2005. David Adegboyega, the author of the highly compelling educative book that is officially approved by the Lagos State Ministry of Education for distribution in all the primary and secondary schools in the state and endorsed by some corporate organizations, individuals, and academia, speaks with Christian Benefits on the Making of the Book that many schools have infused into their curriculum as a learning and teaching tool and also for devotional in several homes.
MY BACKGROUND
I am from Oke-Ijebu in Ikole-Ekiti, Ekiti State but grew up in Ilorin, Kwara State (south west Nigeria) where I had all my education up to tertiary level within the premises of the University of Ilorin. I attended University Primary School and then to Unilorin Secondary School (USS) and thereafter studied Civil Engineering and graduated in 2002 (Wow! 20 years this July). One remarkable thing I want to recall was how I used to think about Sociology and Psychology while I studied Civil Engineering but because I loved Technical Drawing and did very well in the Science class, engineering appeared to be the natural thing to do. All the while studying Civil Engineering, I was used to serving people. I was Class Rep from my 200L to final year. I enjoy serving my classmates right from secondary school.
I recall in 1993 circa, upon the aftermath of the June 12 1993 presidential election when Bashorun MKO Abiola was denied presidency, there was fuel scarcity and so to get to school on time, I had to join the first bus at departure by 5:30am from the mini campus (for those who know Ilorin, we used to live at Agbo-Oba in those days). I would usually get to school (USS) very early; and would sweep the whole classroom, clean the louvers and when necessary get paw-paw leaves and charcoal to blacken the board. My class then was always reputed as the neatest. A lot of my classmates would not know why we were the neatest until maybe they are reading this piece. Even though there was daily roster for sweeping, but I'm sure they would wonder that they did not have to sweep most of the time but the class was always neat. Those days imbibed in me the culture of service, sacrifice and excellence in doing things for the common good.
Going all out for sound character as I am doing today came from those values imbibed at secondary school. I later became class monitor and on to becoming the head boy. My knees were knocking against each other the day my name was announced as the head boy because, though I was expecting to be made a prefect, but not the head boy, as I wasn't near to the most brilliant. Those days ingrained the art of leadership in me. Today, I can connect the dots to my taking on a cause to raise a critical mass of Nigerians who imbibe sound character and to whom corruption is not an option.
Those days in secondary school were defining days for a life of service and leadership. I learnt values for which I would forever be grateful. Interestingly, I was the first person that was flogged on the assembly. What did I do? I had Bobby Brown hairstyle and I relaxed a part of it to form the punk style. I got 6 strokes of the cane and got the hair shaved off with a scissors (laughs). Those were the days of developing sound character. Of course, charity begins at home. My parents were very on point when it comes to discipline. I recall that at 400L, my father still caned me very well (laughs).
MY CAREER & THE MAKING OF THE BOOK, SOUND CHARACTER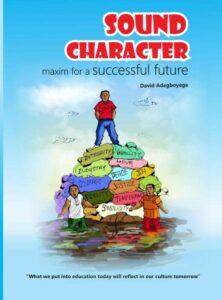 My career journey has been an interesting one because it hinges around the sound character book. So, I went for the National Youth Service Corps (NYSC) in Sokoto State in September 2002 (I graduated May 2002), and while there in Sokoto, I wondered how I managed all the freedom on campus and still got the grade I wanted. I realized it was due to the fact that some value systems had been imbibed.
After NYSC, I thought to myself how to pass this on to secondary school students, then I spoke with some of my friends and magnanimously the dad of one of them, Tunde Adeyemi, allowed us meet every Saturday in one of the meeting rooms of his hotel near Tanke junction in Ilorin (Tower Gate Hotel). I recall one of the Saturdays that I was out of town, my friend, Adeleke Arowobusoye, ensured the meeting happened; I was thoroughly inspired because that made me know that the idea has a great potential for my friends to have believed so much in it. We used to contribute money to buy snacks and drinks. Wow! Those days! Leke is a big fan of sound character till today. I daresay that I've not even scratched some of the ideas Leke has about this initiative. I extend my deep gratitude to them all.
It was at one of the meetings that a suggestion came that all the ideas could be put together in a book and given to the students.  I got to work on the book and through the help of my uncle-in-law, Dr. Modupe Amiel Fagbulu, the first 2,000 copies of the book were printed for free in Ilesha Osun State in 2005! "Baba Fagbulu" as we fondly called him is now gone to glory. Late Dr. Amiel Modupe Fagbulu was a Fellow of the Nigeria Academy of Education and his contributions to education in administration and content planning will remain a national legacy. I believe Baba Fagbulu's role in making this book see the light of day is in itself a testimonial to his legendary contribution to the development of education in Nigeria.
Going by the words of Martin Luther King, Jr., "the goal of education is intelligence plus character." This, Baba Fagbulu exemplified by printing the book for me free-of-charge. I humbly dedicate this interview to him. "E se gaan ni Sir…Mo mo're." (Thank you very much Sir…I know the worth).
I remember travelling to Ilesha with my Mum's red Audi 80 (laughs) to pick the books, and drove to Lagos seeking to sell at some of the religious conventions during the end of the year. I sold a few copies then took the books back to Ilorin. I was mightily encouraged when a cousin, Kehinde Owolabi, sold 600 copies to Chapel Secondary School, Tanke in Ilorin. That was a boost for me to keep pressing on. I returned my Mum's car to Ilorin and came back to Lagos with the remaining copies to seek organizations that can brand the book and give to secondary school students. Before leaving Ilorin finally, I started MSc. Water and Environmental Engineering but abandoned it and came over to Lagos. I remember walking around Ilorin seeking people who would support the production of more copies and donate to students.
I recall with gratitude a cheque of N10,000 given to me by Chief Wole Olanipekun, SAN, OFR, Founding Partner, Wole Olanipekun & Co; those days of combing the streets of Ilorin.
Also, one of the significant memories of the Ilorin days was when I got dressed to attend a government function at Kwara Hotel because I wanted to meet Mrs Toyin Saraki, Wife of the Governor of Kwara State at the time, His Excellency, Dr Bukola Saraki, MBBS, CON. I wanted Mrs Saraki's remarks on the book for the reprint. Of course, I was not allowed in by the Protocol Team but good enough for me, the dad of one of my friends saw me and let me in; that was Alhaji Salman Adelodun Ibrahim, he was then Secretary to the State Government (SSG). I told him my mission, and he handed me over to her Chief Press Secretary. The rest is good history.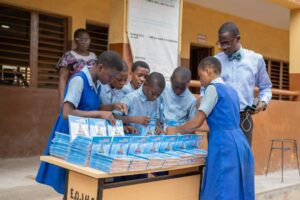 Mr. Adegboyega with some students of a secondary school at the donation of 500 copies of Sound Character to the school by Brand Collections By Nene
I relocated to Lagos in search of organizations that can put their adverts in the book and donate to students. On coming to Lagos, my brother-in-law, Mr Kehinde Kassim, FCA, Managing Partner, KKC directed me to his friend, Mr Kola Idowu who worked with Media Perspectives Ltd at the time (he is now Executive Director, Finance & Corporate Services at Halogen Group). Media Perspectives Ltd at the time handled media planning and buying for Brand Indomie Noodles. Mr Idowu took me to Mrs Tessy Taiwo who asked that I should come back the following day. I went back the following and she asked if I wanted to work with Media Perspectives. Hmmmm… I said "yes". At that time, I had no job because I was walking all over the place trying to promote the book.  Interestingly, I worked at Media Perspectives Ltd for 17 months during which time I tried to create time to still promote the book. During break-time, I will comb some schools within GRA Ikeja where my office was located. I remember been given audience by Dr Femi Ogunsanya, Founder/Managing Director, Oxbridge Tutorial College and she asked me to speak with her A'Level students at the time; she honoured me with a cheque of N10,000 (this was in 2007). This was very inspiring for me; because it shows there was potential in the book.
My employment at Media Perspectives Ltd (now Starcom Media Perspectives) was a blessing in disguise. Though there was no more talk about endorsement for the book, I got introduced to the world of Advertising. Since the company is under the Troyka Holdings, my 2-weeks induction/orientation took me round all the companies under the Group at the time: Insight Communications (now Insight Redefini), Optimum Exposures, FK:G2, Mediacom and The Quadrant Company (TQC). At TQC, I met a woman who would be my ladder into the banking industry; she is Mrs Helen Ogboh (now Group Head, Manufacturing 1, Corporate Banking, FirstBank). When she saw the book at TQC, she said she could buy a copy for N25,000! This was just to underscore the value contained in it. Interestingly, after a while she moved on to FirstBank; I didn't know.
However, it was time to get married so we got a place and my neighbour upstairs (Mr Kim Jokomba of blessed memory) worked with FirstBank at the time. I showed him the book to help see if the bank could possibly brand it and use as Corporate Social Responsibility to teenagers. He came back that day and gave me a name and phone number to call. Guess who? It was Mrs Ogboh, who then worked in the Brand Management Unit under Corporate Planning & Group Coordination, ably led by Mr Hafiz Bakare (who later went on to become MD/CEO at Keystone Bank). Mr Bakare taught me how to write memos that always got approved (laughs). He would correct and correct the memos with his beautiful and tiny cursive handwriting. My interview into FirstBank was fixed for our wedding day, 22 December 2007, so it had to be re-scheduled.
I joined FirstBank on 18 March 2008 and was their till 25 March 2022; 14 amazing years! Working with the Bank gave me the opportunity to board the plane for the first time when the bank sponsored International Conference for Food Security in Abuja. The bank worked with Verdant Zeal to activate the event and I flew to Abuja with Lanre Oyegbola so I was watching the way he fixed his belt (laughs). I got well-trained at FirstBank and got opportunities to handle great campaigns. This has positioned me for the current phase of the sound character project. My journey at FirstBank gave me the biggest validation of the sound character book. The bank branded 17,000 copies of the book and distributed to teenager at various events. The book was branded with the bank's savings accounts for children of different age bands, loans for school working capital finance as well as loans to parents and teachers and the quick banking app. The book also had advert of the bank's FutureFirst initiative which focuses on career counselling and building life skills in young people.
My deep gratitude goes to Mrs Folake Ani-Mumuney, Global Group Head, Marketing & Corporate Communications, FirstBank, for believing in the sound character vision, which she exemplifies. I am also deeply grateful to Ismail Omamegbe, Head, Media & External Relations/Corporate Responsibility & Sustainability (aka Chief Artisan!). They made the dream come alive.
THE NEXT BIG STRIDE
In view of the passion to raise a critical mass of young Nigerians to whom corruption is not an option is why I took a bow from the bank to focus on this. This became possible when my wife gave her endorsement and I discussed with my last boss in the bank (Ismail) and got his blessings too, then I sent in my letter. The theme song for this step of faith is "Oceans" by Hillsong. The part of the song that charges me on is: "Spirit lead me where my trust is without borders, let me walk upon the waters, wherever you will call me…"  My 14 years with FirstBank has prepared me for this journey, and I am ready for the long haul to transform Nigeria. To transform Nigeria will take us the next 50 years because the decline we see today happened over the last 50 years. I call this the #50Year Challenge. For that to happen, we must work with the Teenagers and younger ones today and for the next 50 years so we do a bottom-up cleansing of the people. I am not kidding myself that it is going to be a walk in the park, but I also know that it is not going to be by power nor by might but by the Spirit of the LORD. So, I am enjoying the ride. This is my career journey; could I be brief? Well, I tried. (laughs).