When divinity combines with humanity massive impacts are created in the society. This aptly explains the church social responsibility (CSR) activities of Living way World Outreach Ministry of touching lives materially beyond its spiritual calling.
The Ikorodu, Lagos state-based Living Way World Outreach Ministry is reputed for touching the lives of the poor, widows, orphans, the physically challenged, the jobless and less privileged families with regular distributions of food items and other basic needs on the platform of Living Way Community Service to these sets of the needy with the aim of liberating them from socio-economic hardship.
Aside hosting the hungry and needy to a sumptuous lunch of various delicacies on first Sunday of every month at its headquarters, Living Way World Outreach also organizes an Annual 500 Families Foods and Empowerment programme at which the ministry shares food packages to people from all walks of life across religious faiths and social statuses, and also empowers unemployed widows and youths.
Bishop Akinloye Ojo, the General Overseer of the church says the social responsibility gestures of the liberation ministry to the needy and less privileged is an extension of the mandate of Living Way World Outreach Ministry of liberating people from the kingdom of this world into the marvelous kingdom of God.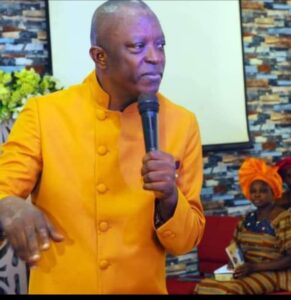 "My assignment is all about liberation. God told me, "Open the eyes of my people; make them see the difference between My kingdom and the kingdom of this world. I'm passionate about encouraging people that with God all things are possible. All our church programmes and activities are linked to liberation. Our community services to the less privileged are all about liberation. It has become a necessity placed on us to feed the poor, widows, orphans and other less privileged regularly.
"On first Sunday of every month we serve quality lunch to people of all faiths and statuses in our community. We feed them sumptuously. We also have some indigent but brilliant pupils/students from primary schools to tertiary institutions on the scholarship scheme of Living Way World Outreach Ministry. Aside foods and scholarship, periodically we also organize empowerment/skills acquisition programmes for unemployed widows, youths and others in our community," the amiable bishop disclosed in an interview with Christian Benefits magazine.
Pastor Omotayo Shittu,  assistant pastor/director of welfare services of Living way World Outreach also speaks to Christian Benefits on the socio-economic impacts of Living way Community Service to the needy and less privileged.
Pastor Mrs. Shittu explained to Christian Benefits the terms of social services of the outreach ministry to the needy in her community. "We render services to our community in terms of distribution of foods to the poor, widows, orphans and other needy. We have started the socio-economic uplifting gesture to the needy before the COVID-19 lockdown. We actually started reaching out to the needy since 2016. We organize foods distribution to the needy twice a year. We organized it twice monthly during the COVID-19 lockdown. On first Sunday of every month we host the needy to a good lunch. Our targets are not only Christians. We are reaching out to people of diverse religions and social statuses" Shittu disclosed.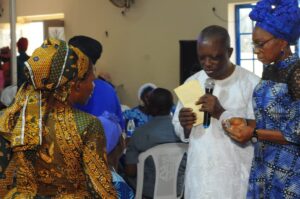 She continues: "Living way Community service is a non-governmental service. It is an evangelical outreach aimed at soul winning into the kingdom of God. Its impact over the years has been awesome. In December 2021 we held a massive programme that involved foods distribution to 500 families. From this year January 2022, we started concentrating more on widows with the intention of separating widows from the general community. We started reaching out to them on a monthly basis. We have been able to identify those that can still work. Some of them are now into small scale businesses. We organize skills acquisition/empowerment programme for unemployed widows and youths in our community," she explained.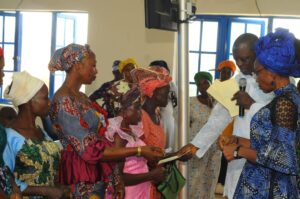 Mrs. Shittu, who described Living Way Community service as a blessing from God, expressed personal joy and fulfillment for her involvement in the social service as assistant pastor/director of welfare services in the ministry.
"Touching lives has always been what I have flair for before my appointment as director of welfare services of Living Way World Outreach Ministry. It is an opportunity of achieving God's purpose for my life. I always feel apathy for the needy. Our Senior Pastor, Bishop Akinloye Ojo is an exceptional man of God. He is a teacher with the gift of imparting lives. I joined his ministry by divine direction many years ago; precisely in August 2008, from Mountain of Fire & Miracles (MFM).  He has imparted my life immensely since I joined his ministry," Shittu eulogizes her pastor, Akinloye Ojo.