With a clear mandate from God to raise a new generation of truthful and faithful ministers and leaders, a Canadian-Nigerian preacher, author, process engineering and leadership consultant, Dr. Ayo Akerele is Nigeria-bound next month September 2022 for the second High Impart Ministry Training (HIMT) programme in Lagos. The programme, according to him will feature strategic intercession for the 2023 elections in Nigeria and training of men and women of integrity for churches, politics, governance and all spheres of life to stem the increasing waves of immoral and corrupt practices in the leadership of the country across boards. Akerele shares details of the one-day training conference in the below interview with Christian Benefits. Excerpts.
Sir, please briefly tell us who Dr. Ayo Akerele is
Thank you, sir, for this great opportunity. First, Ayo Akerele is a child of God and an anointed teacher of God's word in the body of Christ. I am also an author of many books; a leadership consultant; a process engineering consultant; and the founder of a couple of not-for-profit organizations–all of which are based in Canada. I hold six different degrees including a doctorate degree from four different Universities such as the University of Ibadan; University of Pretoria, South Africa; Robert Gordon University, Aberdeen, UK; Heriot Watt University, Edinburgh, UK and Anderson College, Canada.
Currently, you are based in Canada. How long have you been away from Nigeria and share with us your experience living outside the country over the years?
I have been away from Nigeria for the past 17 years. Through these years, I have lived in South Africa, Scotland, England and Canada. I had always had a burden to leave Nigeria primarily for economic and career progression purposes. But, along the line, it turned out to be God's wisdom for pruning me to become a leader in His kingdom. It has not been easy. But we thank God that we are not where we used to be. I was not really begging or suffering while in Nigeria. I was actually working with one of the new generation banks from where I resigned to move to South Africa. By and large, God has blessed me and my family with so many things, after years of ground-breaking sacrifices in the western world. Also, my stay abroad has greatly transformed my mindset and has equipped me so much with skills and capacities that I now use to mentor a lot of people in Nigeria.
You consistently write critically on issues in Nigeria on social media. Why are you concerned about the situations in the country despite living abroad with your family?
I love Nigeria so much. First, I was raised by the Nigerian church. Much of my spiritual foundation was shaped in Nigeria under the leadership of Rev Peter Okediji of the New Life Baptist Church and Bishop Wale Oke of the Sword of the Spirit Ministries. Second, God called me into ministry to Nigerians, specifically. He told me, "I am sending you to your people".  These two factors made it so vital for me to love Nigeria, and I want the country to change for the best. Finally, I am not going to live abroad for ever. I really hope to start our ministry and missions in Nigeria very soon. If the country collapses, my ministry may also collapse because I am sent to Nigeria and Nigerians, first before other people.
What is the major concern of Nigerians abroad on the situations in Nigeria, especially on the coming 2023 elections in the country?
Our major concerns about Nigeria are: Poor value systems; culture of silence; bad leadership; corruption and insecurity, the latter being the worst. Having to see people suffer so much that they are still unable to make the right choice of leadership is something that always baffles us. But I now know better. Poverty is a tool in the hands of the wicked leaders in Nigeria to control the minds of the people. A poor man is a weak man, and in that condition, he can be controlled.
By God's grace, you will be hosting in Nigeria, High Impact Ministers Training (HIMT), on September 24, 2022 in Lagos. Please tell us what the meeting is all about.
The Holy Spirit gave us a mandate to raise new generation of faithful and truthful ministers all across Nigeria. Are there now faithful ministers in Nigeria? Of course, they are many. Still, the younger generation of ministers is fast losing it. The church of Christ has been hijacked. There are enormous corruption and errors in the church. We have been commissioned by God to play our little role in reducing the scale and scope of these errors in the church. We cannot do everything, but we are doing the little we can do. God still has many great people in Nigeria who are also doing a lot to enforce the truth in the church. But the HIMT is a very seasoned ministers' training session that goes to the very foundation of ministry. The ultimate goal is to produce pastors and ministers with genuine love for God. We are covering subject like; "The Minister and the Message"; "The Purpose of Ministry"; "Ministry and Finance"; "Ministry and Sexual Purity"; "Ministry, Mentorship and Spiritual Fatherhood" and many more. This is the second edition. The first edition was held at Ibadan. It was extremely successful. The next edition will be in Abuja in the first quarter of 2023 until we go round the whole of Nigeria.
Share with us some highlights from the first HIMT meeting held in Ibadan.
The meeting held between 11am and 4pm at an event center. It was deeply soaked in pure worship and intercession. We gave the participating ministers free breakfast and free lunch. We also gave them free copies of my latest book and we never took an offering from participants, which really touched many of them. But that is exactly the model of our ministry. Things are hard in Nigeria. We are supposed to give to people when they are in crises and not the other way round.
What are the expectations from the HIMT on September 24, 2022 in Lagos?
The meeting will hold between 11a.m and 4p.m at an event center. It will be soaked in a hot session of praise and worship, led by one of our sisters, Bukola Bekes. We are going to dedicate two sessions to pray for Nigeria's coming elections. We are going to give free lunch to all participating ministers. We are also going to ask people who can afford our latest book to buy it and those who cannot will be given free copies of the book. That book is the foundation of the ministers' training as it contains all the topics we will be teaching. Also, we intend to provide some humanitarian assistance to selected numbers of struggling ministers as the Lord helps us.
What is the relevance of the meeting to the present situations in the body of Christ in Nigeria, and the nation generally?
It's extremely relevant. The Nigerian Church has been severely corrupted by so many false teachings and fake pastors. We are not the solution. God is the solution. We are not seeing ourselves as the alpha and the omega. But the little efforts God has commissioned us to bring on board will greatly help the church to understand the truth about the purpose of ministry; the message of a minister; the way finances should be generated and used in ministry; how a minister should select mentors and spiritual fathers and many more critical topics that will greatly shape the values of ministers to conform with those of Christ.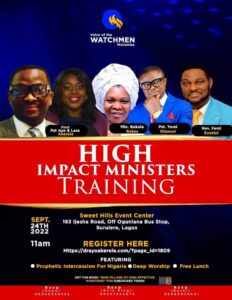 Briefly tell us about features of the meeting; that is, Strategic Intercession for the 2023 elections, Intensive Worship session and Word Impartation.
We want to raise an altar of intercession for Nigeria's coming elections. Hardly will you see ministers and Christians from different ministries come together to pray. Participants in this meeting are from different ministries. By praying together for Nigeria, unity will be fostered–something that is greatly lacking today. Also, the coming election is a make or mar for Nigeria. We will pray that the will of God will be established and that of the enemies will be thwarted.
What is the burden in your heart for Nigerian gospel ministers; home and in the Diaspora as you expressed in your statement on the forthcoming HIMT?
My main burden is to see the emergence of healthy churches that don't add to the burdens of the people. A lot of churches in Nigeria are doing well, but there are also others that are adding more burdens to people by manipulating them; abusing them and turning them to slaves. I want to see a church filled with faithful and truthful ministers. The healthier the church is, the better the Christians we will produce, and the better the quality of Christians we produce, the better the nation is at large.
You also said in your statement that God is looking for an army of men and women at the cutting edge of truth & Integrity for the harvest of these last days. What are you driving out with this statement?
Yes sir. That is my main focus; to raise men and women of truth and integrity; pastors that can be trusted with young girls and unmarried women, pastors that can be trusted with money. You keep your salary with your pastor and come back after one month to meet it intact. That is a man of integrity. Nothing is weightier than integrity. That is the ultimate goal of the HIMT. We are tired of hearing news of scandals upon scandals in the church.
Lastly, in your opinion what is the route to a peaceful conduct of the 2023 elections in Nigeria and what should be the role of the Nigerian Church in this exercise?
The Nigerian church must unite. I have been speaking about this since the last two years. Our fathers and church leaders must stop fraternizing with corrupt politicians. They should not entertain seeds or donations from corrupt politicians. When you collect money or favor from them, you will lose your integrity, and will never be able to correct them when they go astray. We must resist every attempt to Islamize Nigeria. Turkey had a 99% Christian population at a time in their history. The church leaders disregarded every threat of annihilation of Churches. Today, the church represents a tiny 2% of the entire population. According to a recent statistic I stumbled at, more than 1,700 churches have been turned to Mosques in the UK and mainstream Europe. The takeover is gradual, progressive and sinister. The Nigerian church is under severe attack. It is real. It is not a myth. No Muslim-Muslim contestants must be entertained. They will do everything to deceive the church including signing paper agreements, but they will eventually renege. God warned us in 2014, but we ignored him and are now paying severely for it. We must not repeat the same mistake. I won't tell the church whom to vote for, but I will never and can never endorse any Muslim/Muslim aspirant.
"Our fathers and church leaders must stop fraternizing with corrupt politicians. They should not entertain seeds or donations from corrupt politicians."