Pastor Solomon Ojigiri, Senior Pastor of Ever Winning Faith Ministries, Lagos, in this interview with Christian Benefits' Christiana Babalola, reviews the effects of the lock down of churches in 2020 due to the COVID-19 pandemic, and remarks that some fire brand preachers and respected church leaders were immature in their response to the pandemic. The lawyer-turned preacher expresses hope that people will be more responsive to online programmes by churches, a development from the lock down of churches, and also explains why he dropped the wig as a lawyer for the cassock as a preacher of the gospel. Excerpts.
Please, can we meet you sir?
I am Pastor Solomon Ojigiri; a lawyer by training and a preacher by calling. I graduated in law from the University of Ibadan. I gave my life to Jesus Christ in 1986.
How will you describe your walk with Christ since you gave your life to him?
It has been one of absolute dedication to God. Before my rebirth I was sold out to the devil as a young boy. I did lots of unimaginable things with my peers. Our parents wouldn't believe all the manners of bad things we were doing in school. It was an outstanding transformation when I eventually gave my life to Jesus Christ.
Share with us your outstanding transformation after you accepted Christ
Immediately I accepted Christ in my life I started pursuing the things of God. I had completed secondary school then and was trusting God for admission into higher institution. But for my transformation from an unbeliever to a follower of Christ, I would have served the devil as an instrument in secret cultism on campus. Instead, I was committed to the service of the Lord on campus from one fellowship to another. Shortly after my admission into Kwara State Polytechnic (Kwara Poly) I became president of a Christian student Fellowship on the campus before I moved to the University of Ibadan to read law. In my entire walk with the Lord on campus I always served in the leadership of various Christian fellowships on campus.
Again, briefly share with us how you received the call of God into ministry
As I said earlier, in my entire walk with the Lord on campus starting from Kwara Poly to the University of Ibadan and the Nigerian Law School I was involved in the leadership of Christian student fellowships in all these various institutions. Also, during my National Youth Service Corps (NYSC) year I was the state president of the Nigerian Christian Corpers Fellowship (NCCF). Incidentally, I gave my life to Christ as a young boy through the NCCF drama presentation in Ilorin, Kwara State, and years later I became the NCCF state president during my service (NYSC) year. It was during my service year that I received the call of God into ministry. Prior this time while I was a student at Kwara Poly between 1987/88 I had series of revelations that showed I have the call of God upon me. Before I went for the youth service, some of our senior colleague graduates of the Nigerian Law School visited us at Christian fellowship in Law school and informed us about job opportunities in some oil companies. I was the prayer secretary of the fellowship. I felt like applying for one of the job opportunities but my mind reminded me God has called me into ministry and I was to go into ministry immediately I finish from the Law school. So, there was a contention in my mind between the call and the job opportunities.
How did you resolve this contention to eventually yield to the call to ministry?
When I went for the youth service year I had another revelation in which I saw myself with my pastor then at The Apostolic Church. In that revelation I was already practicing law. In that revelation my pastor had a guest who happened to be a prophet in The Apostolic Church and he introduced me to him as a lawyer and a good member of the church. The prophet looked at me and said; this man is not a lawyer. If he likes let him continue his legal practice but that is not what God has called him to do. Immediately, I woke up and started crying! I knew what God had showed me. I knew how I was having contention whether to work and get some money before going into ministry. This particular revelation convinced me I was not going to work for too long before I would yield to the call to ministry.  Despite this conviction I felt I should work to garner some experience in the legal practice. Incidentally, where I was working they said I was too committed to the things of God, and I was sacked. After the sack instead of going into ministry I pushed further for legal practice. I didn't want to go into ministry with a negative impression that I came to ministry because I was a failure in law practice. So I started my own law chambers with a friend while I was already a pastor in one particular church.
To what extent did your background inform your decision to study law?
My going to the university to study law was a miracle from God. After secondary school I had challenges furthering my education. Despite passing my ordinary level subjects at one sitting in the WAEC with sufficient credits there was to funds to further my education to higher institution. Some people advised I go to Bible school since I already wanted to be a pastor. I said no, because I didn't want my story to be that I became a pastor because I didn't have money to go to school. So, I started believing God; going to farms; carrying head pans and doing all manners of odd jobs to raise money to sustain myself and to further my education.
What is the mandate of your commission by God into ministry?
The mandate of my commission is raising people from the low ebb of life to a transformed life; raising people from my kind of story of low beginning to greater heights. The ministry started without any sponsor or money bags as members. But today, we have numerous testimonies of lots of people that God has raised from nobody to somebody in various endeavours and vocations of life. Through this ministry God has even raised lots of people into ministry, in academics, business, politics and governance among other areas of life both at home and abroad. We have church in Canada and Australia where people are being positively imparted.
How will you describe God's move at Ever Winning Faith Ministries in 2021 despite the lock down of churches in 2020 due to the COVID-19 pandemic?
Despite the effects of COVID-19 pandemic that include the lock down of churches in year 2020 all over the word, at Ever Winning Faith Ministries we have had no cause to lament. The Lord met our needs and the needs of other people. Since the outbreak of the pandemic we have been streaming our church programmes online, but not many people watch them. The COVID-19 effects have caused many people from different parts of the world to be following our church programmes online.
How did you cater for God's flock in your care during the lock down of churches?
By the grace of God, apart from the online programmes that people benefited from spiritually during the lock down of churches globally in most part of 2020, there were occasions that our church shared palliative items to both members and non-members of the church during the COVID-19 pandemic lock down .
 What are the lessons people particularly ministers of God can learn from the period of the lock down?
Nobody envisaged such a terrible pandemic. Many believers can't stand the test of time. Instead of listening to the word of God, they were listening to criticisms online. Some people that we considered as "fire brand" preachers and respected church leaders were not able to handle the situation, making it glaring that they were not matured. People should not be raised to depend on churches. The concept of discipleship is that we are able to raise people that can stand on their own.
What should people expect from Ever Winning Faith Ministries in 2022?
They should believe God for greater things. We recently moved here from Ikeja because distance had been a barrier to many people. Our impact here is more. We have been able to make more impact in our new community than we did at Ikeja.
How can people position or prepare themselves properly to be partakers of God's blessings at Ever Winning Faith Ministries in this year 2022?
Ever Winning Faith Ministries is a global ministry.  So, we hope people will be more responsive to the online programmes of the ministry. Despite the fact that the lock down of churches has been lifted we still run most of our programmes online. Apart from our weekly programmes both physical and online, we run series of relationship meetings through our Singles and Couples of purpose programme. By God's grace I have written about 50 books including daily devotionals. Many of our books are on relationships.
Tell us about your lovely wife, Pastor (Mrs.) Laura Oluwayemisi Ojigiri and the roles she plays in your ministry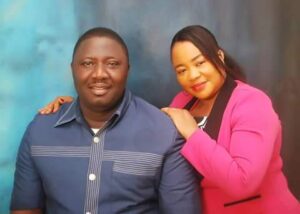 I got married to my wife, Pastor (Mrs.) Laura Oluwayemisi Ojigiri on the 7th of March, 1998. We are blessed with four children. My wife is also into women empowerment programmes. She is a great pillar of support, a prayer warrior and a great philanthropist. She is super generous. She reaches out  to many primary and secondary schools. Through her, the church has provided chairs, tables and stationary for many schools and even sponsor students in higher institutions. We also have the Operation Feed the Hungry programme where we give raw food, cooked food and clothes to the needy. My wife is in charge of all our welfare programmes