Ahead of his next monthly ministers conference holding on Saturday June 11, 2021 at Royal Mission International Centre Alausa, Lagos, Bishop David Jesufemi in the below interview with Christian Benefits shares the account of his rebirth encounter, and also why he considered himself a failure despite raising nine churches as he hosts pastors. ministers and leaders to a conference on Servant leadership this weekend. Excerpts.
Please, can we meet you sir?
My name is Bishop David Jesufemi. I was born and grew in our village, Iwara in Ilesa, Osun state. I was born in our family church. Cherubim & Seraphim (C&S).
Please, briefly share with us about your rebirth encounter
It was shortly after I came to Lagos in the late '80s I heard for the first time that someone must give his life to Jesus; that is born again. I was working then at Yaba. I knew a sister, a daughter of the late Justice Sowemimo, who picked interest in me and started talking to me about Christ. One day, she said to me, you are following me to church and she took me to the Foursquare Gospel Church headquarters, Alagomeji. It was in that church on that day that I gave my life to Christ in 1992.
How will you describe the experience of your salvation after you gave your life to Christ?
I felt different from my old life. Before my new birth I know the kind of life I lived. Shortly after I came to Lagos I was exposed by new friends in Lagos to Fela shrine then at Ojuelegba; drinking, partying and sleeping with prostitutes. I engaged in all manners of vices until I gave my life to Christ
Which among the vices you struggled with to let go after you accepted Christ?
One vice that I struggled with to let go was fornication. I was actually not a heavy drinker and smoker but was a reckless fornicator before I accepted Christ. Shortly after I gave my life to Christ I lost my job. Later I got another job as barman in a hotel. Unfortunately I backslide due to the nature of the job at Sabo Yaba where I served alcohol to the customers and was also exposed to worldly songs of musicians like Wasiu Ayinde, Adewale Ayuba, Abass Obesere among others who played at the hotel. But as God would have it, the hotel later sacked me and the Lord restored me to the faith.
Please, share with us how the Lord restored you after your sack by the hotel
After my sack I was in the house trusting the Lord for another job when I had a revelation. In that revelation, the first I ever had, I saw myself sleeping in my room when I felt someone knocked the door and entered the room. I didn't wake up but felt that person placed his hand on me. When I woke up I didn't see that person. The next thing, I heard a voice that sounded like a voice of many waters as written in the Book of Revelation. And that voice said to me, "I am God of Abraham, Isaac and Jacob. If you repent and follow me I will use you and the world will know I have called you. I knew it was the Lord that appeared to me. Immediately, I knelt down weeping and said Lord, I am sorry. I repent of my sin. Please, forgive me. That week I met the two brothers who used to come to the hotel to preach to people and that I normally ignored whenever they came. They said, please can we talk to you? This time I responded, please talk to me! I led them inside my room, they talked to me and I shared with them the encounter I had. After our meeting, they introduced me to the Redeemed Christian Church of God. That was how I joined the very first parish of the Redeemed Christian Church of God at Ebute Metta.
 What happened to you when you joined the Redeemed Christian Church of God?
I experienced a fast growth when I joined the Redeemed Christian Church of God. Without anyone telling I went out on the streets everyday preaching. I preached to passengers in the popular Molue buses of those days. I stood at bus stops and preached to passer-byes. I preached to people in market places. On every holiday I led fellow Christian brethren to the streets preaching to people. I became a worker for the first time at the Redeemed Christian Church of God.
 From then till now how will you describe your walk with the Lord?
My walk with the Lord since I gave my life to Christ till now has been grace. By God's grace I have never looked back following him. I have worked with several pastors, ministers, churches and ministries . I worked in a couple of other countries as a missionary or evangelist.
 What are the factors sustaining your Christian journey over the years?
The main factor that has been sustaining my Christian journey over the years is my determination not to forsake the assembly of the brethren. This has helped me. I don't joke with attending ministers' conferences. That is one of my secrets. For me ministers' conferences are retreats where to go, sit down and learn. I never knew I would become what I am today if not of my passion for attending conferences.
Specifically, what is the area of your calling by God into ministry?
God has called me to raise leaders for him. I discovered that any church I found myself I was always in charge of their pastors, ministers and leaders. So, over the years I have been training pastors, ministers and leaders in several churches. The Redeemed Christian Church of God was the starting point of my assignment. When I was about to leave the church I had another revelation in the year 2000, about the time I was graduating from the church's School of Missions in Ede. In this revelation, one of the Assistant General Overseers (AGOs) of the church, after he finished teaching, started praying and laying hand on all the students in the class. When it got to my turn, he looked at me, and passed. I said daddy, you have not prayed for me. He told me, you are not supposed to be here. In the same revelation, another AGO also came and prayed for all the members of the class. When it got to my turn, he also looked at me and passed. I said to him too, daddy, you have not prayed for me. And he asked me, what are you still doing here? The first AGO said to me, you are not supposed to be here. The second asked me, what are you still doing here? When I woke up from that revelation I didn't need a prophet to tell me my time was up at the Redeemed for me to move on. I served at the Redeemed Christian Church of God close to 20 years before I moved on.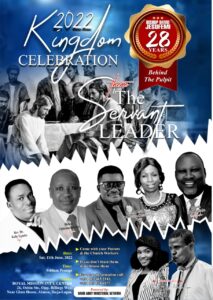 Tell us about the present work that you are celebrating its 11th anniversary with your 28 years behind the pulpit with a conference on June 11, 2022.
Before this work, which is to raise leaders for the Lord, I was doing church. I had started nine churches and kept seeing myself as a failure until the Lord said to me, "No! That is not what I sent you. I sent you to raise disciples and leaders for me. You have been doing this over the years, raising disciples and leaders in churches." He reminded me of several pastors and ministers who have passed through my workers training that are now on their own as senior pastors and general overseers. Thereafter the Lord told to take the work to a new dimension. And we started the new dimension last year 2021 by organizing a monthly conference for pastors, ministers and leaders of churches. All through last year we held the conference at the training centre of the Bible school that I run. While I was praying last December 2021, the Lord instructed me, "Let this work flow." When I woke from that revelation, initially I didn't understand the instruction until the Lord explained to me that he wants to place the work (conference) in the hands of his servants to host it every month in their respective churches. So, since January this year 2022 we started organizing the conference every month in different churches and its impact on pastors, ministers and leaders from all walks of life has been awesome.
Tell us how you organize the monthly conference in difference churches
By the leading of the Lord each month we reach out to a pastor of a church to host the conference and the pastors we have so far reached out to host the conference were very supportive. I use this medium to express my gratitude to all the pastors that have so far hosted the conference. May the Lord bountifully reward them. For each of our conferences we invite other seasoned ministers of like-missions as guest speakers to join me in impacting pastors and ministers at the conference. The next conference is tagged Kingdom Celebration which also aims at celebrating the 11th anniversary of the conference and my 28 years behind the pulpit. So, all roads lead on Saturday June 11, 2022 to Royal Mission International Centre, 26, Oshin Street, opposite Billing ways, near Glass House, Alausa, Ikeja for the June 2022 teaching conference for pastors, ministers and leaders. The conference will feature as guest speakers Rev. Dr.  Kelly Egueke, Bishop Christian Roberts and Apostle Imoh Idifreke who all will join me in imparting  the participating pastors, ministers and leaders as this month conference with the theme, The Servant Leader