Rev. Victor Adeyemi, the Senior Pastor of Global Harvest Church, shares with Christian Benefits the church's 2023 crusade programmes holding at University of Ibadan (U.I) in May, Olabisi Onabanjo University (OOU) in July and Agege stadium, Lagos in November, following its first crusade last January at Adamasingba stadium, Ibadan in pursuit of the church's mandate to preach the gospel all over the world, motivate the body of Christ to do the same and to plant evangelistic churches.
The amiable preacher, who began his walk with Jesus Christ at the tender age of 13 and studied law (diploma) at  kwara State Polytechnic, also shares his rebirth encounter on the influence of his now late uncle, Dr. Moji Adeyemi, and his spiritual and ministerial tutelage under Rev. George Adegboye, the founder/President of Rhema Chapel International churches from whom Adeyemi said he learned accountability,  moral excellence, financial probity and integrity; passion for the word of God, prayer, consistent fellowship with God and relentless pursuit of excellence in ministry from the days of the Holy Ghost Caucus Fellowship.
The Odo Ere, Kogi state-born younger brother of Rev  Sam Adeyemi, the Senior Pastor of Daystar Christian Centre, also expresses his views on the Church, Politics and Prophecy and Nigeria's 2023 general elections, particularly  the presidential election. Excerpts.
Please, who is Rev. Victor Adeyemi?
Victor Adeyemi hails from Odo Ere in Yagba west local government area of Kogi state. I had my early life in Mokwa, Niger state and Ilorin, Kwara state. At that time our part of Kogi state was still in Kwara state. Our dad decided to return to Ilorin and this brought us closer home. I was raised in a nominal Christian family. We attended ECWA church Ilorin as our family church. Our grandfather, Reuben Adeyemi had converted to Christianity. His children took after him in Christianity and the grandchildren continue in the Christian faith.
How was life like growing up in Ilorin in a nominal Christian family?
Life was very simple growing up in our humble Christian family. We had all we needed to be comfortable till our dad forayed into politics in the second republic. When the military took over that led the family into a lot of financial challenges. It did also impact on me academically. At the end of the day, I attended Kwara State Polytechnic (Kwara Poly) for a diploma in law. That was after I had already gone into the ministry. When I was done with my diploma I returned into the ministry. Due to the rapid growth of the church I was to pastor temporarily in Ibadan, I abandoned my academic pursuit. Since then I have been in full-time ministry.
How long have you been in full-time ministry now?
I have been in full-time ministry since July 1989. I started pastoring churches from September 1, 1990, starting with Rhema Chapel Int'l Churches. I received spiritual tutelage under Rev. George Adegboye, the founder of Rhema Chapel Int'l Churches. He became a spiritual father to me in May 1985 when I began fellowshiping in his sitting room. The fellowship was called the Holy Ghost Caucus Fellowship. I was one of the fellowship leaders until Rev. George left to start Rhema Chapel in 1987, and I followed him. I started pastoring under him in September 1990 until I left Rhema Chapel in 1995 to start Global Harvest Church, my present work.
Please, share with us your rebirth experience before your foray into ministry
My rebirth experience was not dramatic at all. The fact that I was raised in a nominal Christian home predisposed me to the things of God. My uncle, Dr. Moji Adeyemi (he went home to be with the Lord recently) had advised me that when I resume secondary school I should look out for a Christian fellowship. Interestingly, he was the leading light of the gospel in our family. He was a very close friend of Rev. George Adegboye. We first knew Rev. George as our uncle's friend who visited him regularly before we knew him in the Christian circle. So from Form 1 of those days I joined F.C.S Egbe in Kogi state. I heard the salvation message preached many times and I answered many altar calls. I got baptized at the age of 12 in ECWA church, Egbe. I was rather religious and said the sinner's prayer often time but lacked the power in my life. I was always doubtful about my salvation experience until my uncle eventually led me to Jesus Christ again in 1981.
Tell us more about your uncle's influence in giving your life to Christ
My uncle, Dr. Moji Adeyemi had given his life to Christ. He became a very serious Pentecostal Christian. He got back from school speaking in tongue. Of course we thought he was crazy because he wouldn't let us sleep. He would wake up 5am and start speaking in tongue till day break. We thought something was wrong with him until he started coming after us one after the other. He led me to Christ in 1981. I was a 13-year-old teenager at that time. His friend, Rev. George was then a simple young man. He often told my uncle to ensure he ministers the Holy Ghost baptism to me. I was not sure if I received it but I often quickly memorized a few funny words because he had told me that Rev. George was coming to hear me speak in tongue. But in December 1984 I attended a seminar organized by the Holy Ghost Caucus at Queen Elizabeth School, Ilorin. It was here I surrendered totally to the Lord, promising to do whatever He wants to do with my life, if only He would fill me with the Holy Spirit genuinely and kindly bless my life. I was an academic failure at that time in a family that was financially poor and struggling. By faith I received the real baptism of the Holy Spirit and stopped speaking the words that I memorized, and the Lord gave me utterance in the Holy Ghost. That was really the beginning of my salvation walk with Lord till now.
How will you describe your walk with the Lord these 39 years of your rebirth?
My walk with the Lord since 1984 till date has been very consistent. There has been no looking back. I won't say the enemy did not try to distract or tempt. They have also been years of service to the Lord. There is something about serving the Lord that helps to keep you on the straight and narrow way. It has been quite a journey. Almost immediately I surrendered totally to the Lord I had the sensing of God's calling me into ministry. I knew there was a calling into ministry. I didn't know whether it was full-time or not. I didn't know the ramifications; immediately or that it would come later. But I knew there was a calling into ministry. So, for me my heart was fully captivated in the love for the Lord and in the pursuit of Him.
As a young believer, who are those you looked up to as your mentors or role models in the faith?
The first person was my uncle, Dr. Moji Adeyemi who led me to Christ as well as other members of my family. He was one of the people I looked up to. He prayed a lot. He was a prayer warrior. He challenged us to pray. He made us pray for hours. The second person was his friend, Rev. George who would later become my spiritual father. Besides my parents, Rev George was the second greatest and the most significant impact in my life. In the long run, he had greater impact in my life than my parents except for the fact that he didn't bring me to the world. He became a great inspiration. I also looked up to some brethren in our Holy Ghost Caucus at that time like Pastor Joseph Saliu, who was also my uncle's friend. He presently pastors Stone Church in Lagos founded by Rev. Alex Adegboye, the elder brother of Rev. George. He took special interest in me as a young Christian when he met me at a crusade organized by Bishop Francis Wale Oke in Ilorin. He also helped me raise N66 at the Holy Ghost Caucus fellowship to buy G.C.E form at the time my parents said they didn't have money for me to retake the exam. I took the exam and got admission into Kwara State Polytechnic. He also used to invite me to his house every Monday evening and shared the word of God with me. He introduced Kenneth Hagins' Word of Faith magazine to me, and also The Light of Hope magazine of The Apostolic Faith Mission. He lent me these magazines on a weekly basis to read. He and his fiancée then (now his wife); Sister Shade (Rev. George's younger sister) would pray with me for 30 minutes every Monday evening; just prayed about my life and future. He had a significant impact on me as a young Christian. Another person I will mention is Rev. Akintola Oni. He now pastors TREM in Akoka, Lagos. He was also a member of the Holy Ghost Caucus Fellowship then, and he played a significant part in the fellowship. He became a full-time volunteer administrative secretary of the fellowship when he graduated. Before I got admission into school, I was the church janitor to help clean the office and run errands. I was like his office assistant and messenger who supported him in the office. These were the people that I looked up to as a young Christian.
What are the factors sustaining you in the Christian life these past 39 years?
It is very important to be accountable. When people ask me the keys to what God has done in my life I tell them having a spiritual father is one the greatest blessings God ever gave to me; a Rev. George Adegboye that I could be accountable to. He is someone I revered as an excellent role model for me. There are some young ministers who unfortunately find themselves under people of poor character; people with moral laxity and financial rascality that affect them negatively. I was brought up by a man of moral excellence who exemplifies financial probity and integrity before me; a man who also demonstrated his passion for the word of God, prayer, fellowship with God and relentless pursuit of excellence in ministry. I am more than grateful to God because I know it is a divine orchestration. Another thing that is so crucial which I learned from him is consistency in fellowship with God. Jeremiah 2:13, God said, "For my people have committed two evils; they have forsaken me the fountain of living waters, and hewed them out cisterns, broken cisterns, that can hold no water." The fact is that we need God every day and every hour. We must start our day seeking him in prayer. We must spend time in His Word. Without Him we can do nothing. It is from Him all blessings and lives flow. Since God is the source of all lives we must go to Him for daily impartation and daily blessings. That, for me is the second among the list of the most significant things that have kept me on the straight and narrow way. The third is related to the first, but not in the matter of a spiritual father. It is good associations. 1Corinthians15:33, "Be not deceived: evil communication corrupts good manners." Proverbs 27:17, "Iron sharpeneth iron; so a man sharpeneth the countenance of his friends."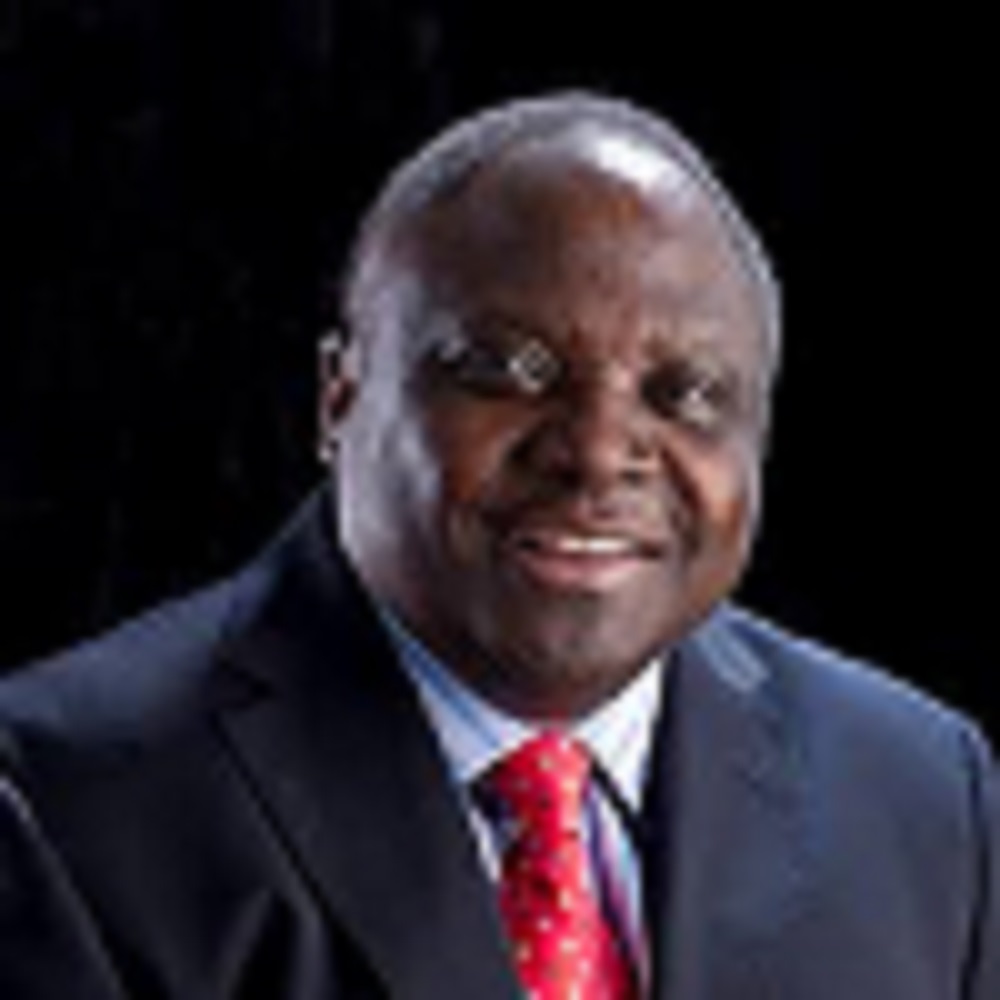 Rev. George Adegboye, Founder/President, Rhema Chapel International Churches
Share with us the impact of good associations on your growth and walk in the Christian faith? 
I have good friends. Around Rev. George was a group of us young ministers. We challenged one another to grow spiritually and to serve the Lord. Each person's trajectory has been different as we grew apart to different parts of the world, doing the work of God. God has blessed me with few friends. They are God-loving and serious-minded. They helped equip me on the straight and narrow way. They are priceless. My closest association is that of my wife that God has blessed me. There was a song she gave me to listen to when we started our relationship. She told me a line in the song that she held dearly in her heart "I wanna help you be a godly man." She said that was her desire for me. And that is what she has done to me all these years. She has helped me to be a godly man, and also helped me to serve the Lord without complaints about my service and consecration to God. She was Rev. George's personal assistant at the time we got married. She had also been in full-time ministry before we got married in 1992. She has been in the ministry till date.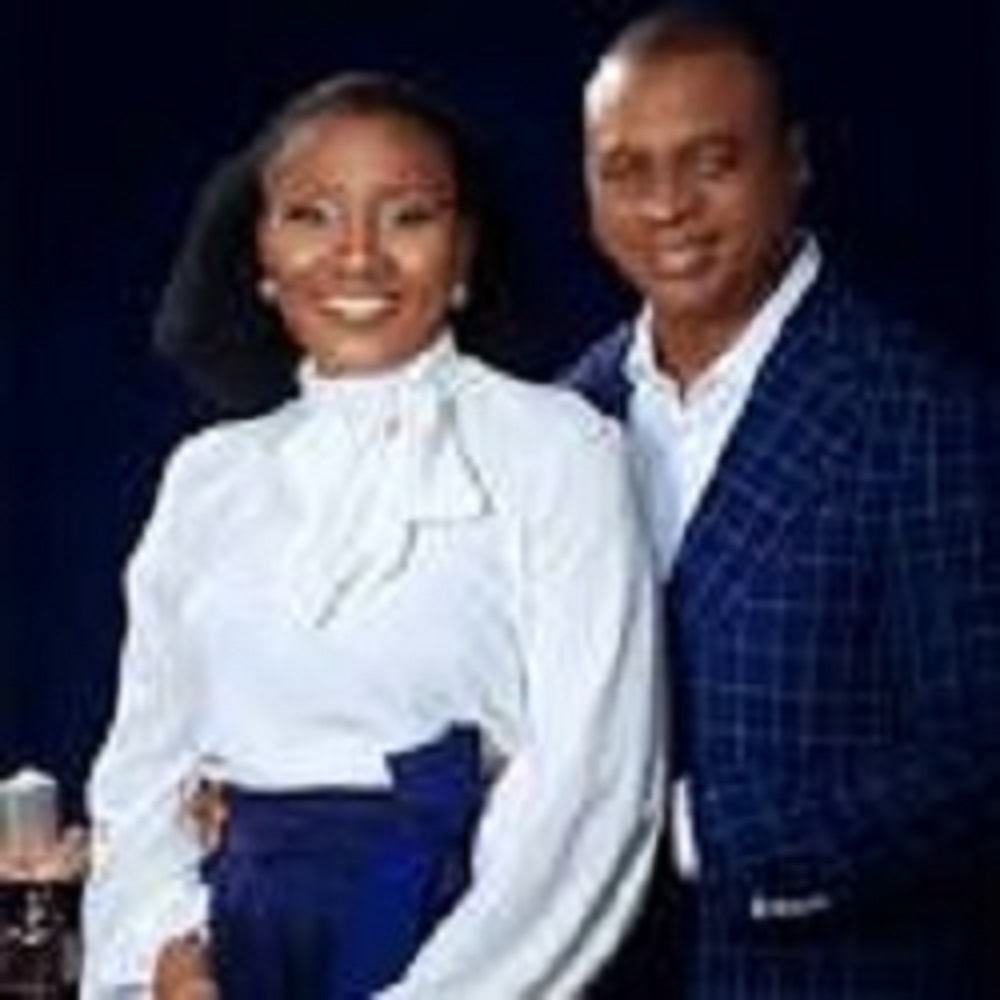 Rev. Victor & Pastor Jumoke Adeyemi
When did the picture of Global Harvest Church appear along this journey?
When I gave my life to Jesus Christ as I said earlier, I came to a knowing that the call of God is upon my life. The only thing I needed to know was the exact thing he has called me to do. So, I began to spend time in prayer. As a 16-year-old boy, my Saturdays were mostly for fasting and prayer; seeking the face of God under the influence of Rev. George who talked and taught about the gifting and the calling of God. I began to seek the Lord on the basis of the scripture; anytime I came across scriptures like Mark 16:15, "…Go ye into all the world, and preach the gospel to every creature," Matthew 28:19-20, "Go ye therefore, and teach all nations, baptizing them in the name of the Father, and of the Son, and of the Son. Teaching them to observe all things whatsoever I have commanded you; and lo, I am with you always, even unto the end of the world." Acts 1:8, "But ye shall receive power, after that the Holy Ghost is come upon you, and ye shall be witnesses unto me both in Jerusalem, and in all Judea, and in Samaria, and unto the uttermost part of the world." 2 Corinthians 5:18-20, "And all things are of God who hath reconciled us to himself by Christ Jesus and hath given to us the Ministry of Reconciliation; To wit, that God was in Christ, reconciling the world unto Himself, not imputing their trespasses upon them and hath committed unto us the word of reconciliation". I won't be able to gloss by these scriptures. I would read them over and again. These scriptures began to speak to me on evangelizing to the nations.
Apart from these scriptures what other factors encouraged your starting Global Harvest Church after your services at Rhema Chapel Int'l Churches 
Apart from these scriptures some books also became my favorite. I read a lot of books but two of them from my uncle library of hundreds of books stood out. Books by Oswald J. Smith touched me specially. Books like Endowment of Power, Passion for Souls and The Cry of the World. They were all speaking to me about the call to the nations of the world. One thing I became certain of by February 1986 was when I was a student at Kwara Polytechnic for a remedial course. During a mid-semester break I went to an uncle's house in Ilorin.  He would go to work in the morning and come back at night. So, I was alone in his flat for days fasting and praying. I spent time in prayers. One morning as I prayed, the presence of the Lord filled the room in a very strong way, and the Lord opened my heart. It wasn't a dramatic trance. I saw a revelation of myself preaching the gospel from nation to nation, organizing crusades, being on the media. I saw myself in large evangelistic gatherings taking place all over the world. I saw myself preaching to black people, white people, and brown people; to different cultures of the worlds. And I realized that it was going to be a global vision that God was showing me. I came about that experience knowing full well that it was going to be a global harvest.
How did all of these experiences eventually birth Global Harvest Church?
From that time I began searching what the name of the ministry would be.  Initially I was going to call it Word of Reconciliation Ministries from 2 Corinthians 5:18-20 "And all things are of God who hath reconciled us to himself by Christ Jesus and hath given to us the Ministry of Reconciliation; To wit, that God was in Christ, reconciling the world unto Himself, not imputing their trespasses upon them and hath committed unto us the word of reconciliation."But it was not sinking in my spirit until December 1987 when I came to settle with Global Harvest Church. At that time Rhema Chapel just started so I had known my calling into ministry before I had Rhema chapel started and my pastor knew that I had that calling even before Rhema chapel started. I knew of my calling into ministry before Rhema Chapel started. My pastor (Rev. George) also knew. So, by the time I was leaving Rhema Chapel to start Global Harvest Church it was not an after-thought. It was not a result of disagreement with my spiritual father. It was not because I was looking for what to eat. Rather, it was because it was time to fulfill that calling.
What is the specific mandate of Global Harvest Church?
The specific mandate is to preach the gospel all over the world, motivate the body of Christ to do the same and to plant evangelistic churches.
What are some of the church programmes in line with this mandate?
Church planting is our number one. The second is crusades. We have not done lots of evangelistic crusade over the years because it can be very expensive. After we did a few in the beginning and we were gasping for breath I told God I was going to wait until it was his time for it. When the Lord told me it was time we held a crusade at Adamasingba stadium, Ibadan in January. We are planning further crusades for University of Ibadan in May, Ogun state University in July and Agege stadium, Lagos, in November. That is how we intend to continue holding crusades from time to time. We did two last year. We are doing four this year. We intend to take it to six next year. As our partnership base increases the crusades increase.
 Tell us some the gifts God has endowed you for this mandate
The number gift God has given to me is the preaching anointing; especially when I'm at the crusade ground the anointing flows. We proclaim Christ in the simplicity of the gospel. The ABC of the gospel of Christ is what I love the most to proclaim on the pulpit. God has also endowed me with the healing anointing. To the glory of His name, healing do take place. At our last crusade we saw blind eyes opened, deaf ears opened and various other ailments healed to the glory of God. It has a connection with the evangelistic calling. God has also endowed me with the grace to teach. I believe this is for reproduction. This is to be able to reproduce myself and multiply these gifts in many other people/ I'm grateful to God for that.
 Now on politics. What is your assessment of the recent Nigeria's presidential election?
The first thing I will say is that it was a disappointment that INEC was not able to conduct a controversy-free election. My own personal assessment was that INEC was not ready for the deployed technology. They ought to have tested this system well enough. The commission has not had the opportunity in time past to conduct the nation election using this system although it has been deployed it some states. They had not tested the capacity of the Nigerian telecommunication infrastructure to handle that equipment. This gave rooms for compromise. I personally believe, from the widespread allegations from the various political parties, there might have been some staff of INEC that compromised to favour some politicians, which does not uphold the integrity of the commission and the system. I believe the aggrieved parties have taken the right steps; deciding to proceed to the court to seek redress. I think that is the best thing they can do under this circumstance. However, the positive aspect of it is seeing the awakening of the Nigerian youth to their civic responsibility as a part of the electioneering process. With few surprises showing that the labour party candidate defeated the PDP representations in Lagos state. Such surprises show the state of our political evolution. If there is any message that has been sent loud and clear to the Nigerian politicians; it is the fact that nobody can take the Nigerian populace for a ride anymore; we will vote them out of power.
How do you see the partisan involvement of the Church in the election?
It is rather unfortunate that the Church was partisan in the presidential election. I believe the body of Christ should not be partisan. When you look at any church, you will see the representatives of the various political parties there. The Church partisan involvement in politics can be divisive. Nevertheless, I believe it is still a good development that the Church was politically active in the presidential election. In as much as it is not a good thing on a normal day, for one political party to go for a Muslim-Muslim ticket in a nation with religious plurality as Nigeria was rather daring and insensitive. Due to that insensitivity, it pushed the Church to make politicians aware that they cannot take the Church for granted. Even if the president-elect scales through the court, I don't think he will want to play the game anymore. It was a risky gamble. (Continues)