All is now set for the popular Obabasiri programme of Christ Apostolic Church (C.A.C Greater Height Assembly), Abaranje, Lagos. As people from all walks of life are getting ready to receive God's blessings at this programme that holds on 12 Wednesdays twice yearly, the Pastor-in-Charge of the assembly, Pastor Wale Akomolafe notes that people need maturity to handle and enjoy God's blessings  as he shares his journey and experience in ministry in the below interview with Christian Benefits. Excerpts
Please, can we meet you Sir?
I am Pastor Wale Akomolafe, the Pastor-in-Charge of Christ Apostolic Church (C.A.C Greater Height Assembly) Abaranje, Lagos State. I am from a Christian family of Mr. & Mrs. Ayodele Daramola Akomolafe from Ikere- Ekiti, Ekiti state.
Briefly share with us your rebirth encounter
I was an ordinary church goer before I gave my life to Jesus Christ in 1996. Before then I passed through the teenage class of C.A.C (Oke Isegun) Ikere-Ekiti, and later joined the church choir. After my secondary school, I came to Lagos in 1996. After two months I returned home and visited some friends who are Christians. They asked me why I don't attend vigils. I told them I don't need to attend vigils. Three of them then joined hands, asked me to lay my hand on their head and promise I would attend the next vigil on Friday. I told them I won't attend. They said with the joining of their hands they had entered into a covenant that if I fail to attend the vigil I would run mad and through that they would bring me to the vigil. I refused to lay my hand on their heads and ran away. They ran after me, caught up with me, and commanded, in the name of Jesus, you will be at the vigil this Friday. Around 7pm on that particular Friday that the vigil would hold I completely lost my peace. And lo and behold I was the first person that came for that vigil. When those friends saw me at the vigil, they joyfully rolled on the floor thanking Jesus.
What later happened to you in the course of your participation in the vigil?
My peace was restored. And through that encounter I gave my life to Jesus. Then, I was dating a lady in the choir. I told the brethren I'm not going to leave her. They said don't worry; just keep coming to church. But they kept monitoring both of us.
Tell us why you continued dating the lady in spite of your supposed new birth
After my rebirth encounter, I had other subsequent encounters in my walk with the Lord. For instance, when I was at Annunciation school, some hoodlums attacked the principal in his house. It was during our examinations. I left my answer sheet with one Bro. Olaiya to go and defecate. Unknown to us some police officers were around investigating the attack on the principal. The police arrested the brother. I saw them far and ran to meet him but ended been beaten up with him by the police. Sensing that I was totally distraught by the incident, the brother consoled me that Christianity is not like that. After the incident, I came back to Lagos, and found myself among some brethren who followed me up in the faith. Gradually, I started feeling irritated dating the lady. Eventually, I told her I've given my life to Christ; I'm no longer interested in the relationship. I encouraged her to also give her life to Christ. And today, she is also in ministry.
How will you describe your walk with the Lord since then till now?
Initially it was fluctuating until I was fully established in the Lord from 1998 when I started fellowship with some very fervent Christian brethren in Lagos.
When exactly did you receive the call into ministry?
My mother had always told me that I would serve the Lord. After I received the confirmation, I attended Babajide School of Prophets & Evangelists in 1999 for two years course in ministry. Immediately I entered the Bible school I began the work of God.  At God's instruction I waited indoor for two and half years.
Tell us about your ministerial journey since then till now
I started as an evangelist in Christ Apostolic Church. It is good to start ministry early. It is also good God shouldn't give us the best when we are not mature. I got some gifts from God at tender age but because of immaturity and inexperience I lost them. So, it is good one is mature before one asks or get some certain gifts or blessings from God. Where one receives some gifts or blessings from God at tender age, one needs a mentor to guide one in order not to misuse or lose them.
Briefly tell us about Christ Apostolic Church (C.A.C, Greater Height Assembly)
By the grace of God I pioneered Christ Apostolic Church (C.A.C Greater Height Assembly) a little over 10 years ago. Since then the grace of God has been sufficient despite the challenges we have had in the assembly over the years. When God leads you, He backs you up. It is better to start ministry little and nurture it, than to start with crowd but lack the capacity to manage the crowd. When you start with crowd you may not be able to know the mind of most of the people following you. This is our sixth years on this present and permanent site of the church. Regardless of some challenges, we experience the presence of God in this church. Sometimes we make mistakes but we shouldn't allow those mistakes to nail us. We made some mistakes in the past, particularly in the areas of administration, overburdening oneself with the problems of people and also in the area of relating with the female members. For instance when a male minister is counseling or is very close to some female members, some people will conclude he is dating them.
What was the specific mandate God gave to you for your ministry?
The mandate is living a life style of praise rooted in the word of God for the revival of humanity.
What are some of the gifts the Lord endowed you for this mandate?
I sing very well. I have prophetic unction. Above all, I'm a teacher of the word of God.
What are some of the church programmes in line with this mandate?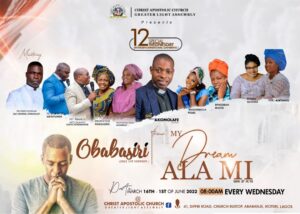 I believe seriously in the word of God. All our church programmes and activities, including prayer meetings are strongly tied to the word of God. We hold a special programme titled, Obabasiri" (God covers my shame) on 12 Wednesdays twice yearly. It is a covenant with the ministry that people key in and is working for them. We have Bible study every Tuesday. On monthly basis our first Sunday is Praise service, second Sunday is Healing & Deliverance service, Third Sunday is Family Forum service, and the Fourth Sunday is You and Bible service,
Share with us some of the testimonies from these programmes
The word of God in our programmes has transformed several lives. Approximately 75% of our church members are members because of the word of God. The word of God in our ministry has transformed many lives, taught many people patience, sustained and restored many homes and marriages. At Obabasiri programme we have had several testimonies of babies after several years of waiting, including after healing from fibroid. There are also diverse testimonies of salvation, healing, restoration, breakthrough, success, promotion, marital peace etc in all our church programmes tied to the word of God.
Who are those you look up to as mentors or role models in ministry?
In Christ Apostolic Church (C.A.C) I look up to Pastor Francis Ayo Olaniyi, the Coordinator of Christ Apostolic Church Theological Seminary, Idimu, Lagos.  I love his lifestyle, believe-system and focus in ministry. I learned contentment from him. I also love the President of Christ Apostolic Church because of his teaching ministry. Outside C.A.C I love and listen to the teachings of Pastor Tunde Bakare, Pastor Paul Eneche, Bishop David Oyedepo and Pastor Sunday Adelaja in Ukraine.