Radiance Achievers International Award presentation was held on Saturday April 2, 2022 at the Lagos Chamber of Commerce & Industry (LCCI) conference centre, Alausa, Ikeja, Lagos, in honor of some distinguished ministers of God among others as excellent achievers.
Some notable ministers of God honored at the event with the prestigious award of excellence include Rev. James Iyanda, Chairman, Alimosho Pentecostal Fellowship of Nigeria (PFN), Bishop James Okocha, President, Christian Ministers Universal Forum (CMUF) and Rev. Dr. Ebun Ojo, Senior Pastor, Christ Family Life Church, Okota, Lagos.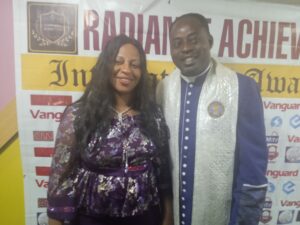 Dr. Angela Ohahosim (Host) and Bishop Dr. James Grand Okocha (Guest speaker & Recipient)
Dr.  Angela Ohahosim host of the event, said Radiance Achievers International Award was instituted for recognition and celebration of excellent achievers. She described the award recipients as worthy individuals with proven records of good character, integrity and selfless commitments to humanity, saying they deserved the Radiance Achievers International award in recognition and commendation of their good works in their various vocations. She added that the award is aimed at encouraging its recipients to do more works.
"Celebrating people for job well done and for their achievements will make them appreciate the work they do. Working hard in life is very important and being recognized for good and excellent jobs is encouraging," Dr. Ohahosim
Bishop Dr. James Okocha, one of the recipients commended  Dr.  Angela Ohahosim for honoring the achievers whilst alive and canvassed support for her worthy cause. Speaking as the guest speaker at the event, Okocha condemned the act of leaving people with a noble cause to carry the cross alone, saying nobody succeeds alone.
"It is a bad attitude to ignore people when they need our support. Someone is very sick and you call people to help but they will ignore that sick person. But when the person dies they will come to his graveside to pay glowing tributes to him. Does it mean everybody is wishing everybody to die? Many people will never tell others how good you are until at your grave side. It is a bad attitude," the bishop remarks.
Bishop Okocha, the presiding bishop of Life Giver Assembly, Lagos, identified love and appreciation as two virtues of humanity, saying there is nobody whose heart does not yearn for appreciation. "Appreciation is application. When you are appreciated, the person who appreciated you is making an application to you to do more or even do better. Jesus recognized appreciation in the parable of the ten lepers that received healing when he asked were they not ten lepers that were healed; how come just only one of them returned to show appreciation?
Bishop Okocha, also a businessman and political activist, commended the amiable host for her efforts and canvassed support for her noble cause. "What she has done is commendable. She is saying thank you to the awardees for their excellent jobs. The award is a voice of humanity. I pray after this experience the awardees will be triggered to do more works. According to its organizers, this event is centered on establishing the framework to improving the lives of the people around the world. I want to tell you that nobody survives alone. Nobody can do it alone. Therefore, let us support the organizers of this prestigious award," the bishop appealed.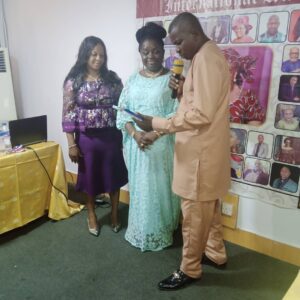 Dr.  Angela Ohahosim (Host) with Rev. Dr. Mrs. Ebun Ojo & Rev. James Iyanda (Recipients)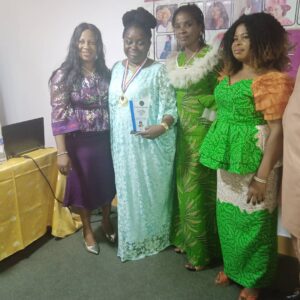 Dr.  Angela Ohahosim (Host) with Rev. Dr. Mrs. Ebun Ojo and members of Christ Family Life Church, Lagos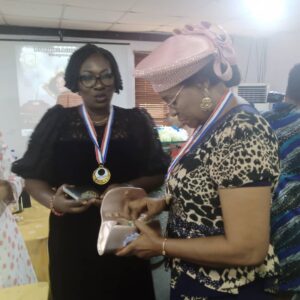 Two other recipients of the Award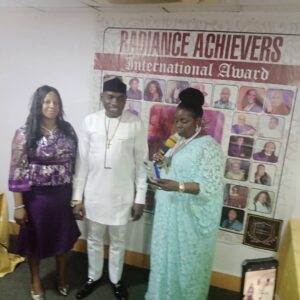 Dr.  Angela Ohahosim (Host), another recipient of the award and Rev. Dr. Mrs. Ebun Ojo