Pastor Michael Tewogbola is a man of God whose heart is completely sold out to the truth of the gospel. His deep insight of the scriptures and analytical expository on biblical issues in his posts on Facebook impressed Christian Benefits to trace the London-based Nigerian preacher for an interview in our Exploits of Nigerian Preachers in the Diaspora column by Olatokunbo Bankole; Christian Benefits U.K correspondent. Below are the excerpts of the interview in which Tewogbola explains the role of the prophetic ministry as God's mouthpiece to the nations, his victory over the flesh after his salvation and also the odyssey of his Christian walk and services in the Lord beginning from his salvation in Nigeria in 1985 to the United Kingdom where he presently leads Kingdom Truth For All Nations (KTFAN) with a mandate to take away salvation from religion and to disarm every false teaching that floods the Church and spoils the name of Jesus Christ.

Please, can we meet you sir?

My names are Michael Olusegun Tewogbola. I am a God addict!

Briefly share with us your upbringing, including your rebirth encounter? 

I was brought up in a Christian home; my mum, a prophetess, and my dad a gentleman of Methodist origin. I gave my heart to Jesus in 1985 at the University of Ibadan via a Christian Tract a brother gave me, then immediately I joined the Student Christian Movement (SCM) to encourage my growth in the way. I had a very strange rebirth experience at that time. At Mellanby Hall, when I was about to sleep, A voice will come and begin to tell and show me yhe Bible as it happened from Genesis. All this while I won't be able to sleep. So the following morning, my friends would think I was reading through the night! This happened at random times.

Tell us about your kind of lifestyle before you gave your life to Jesus Christ?

Before I gave my life to Jesus, I was a quiet person, probably an introvert. Later, I started smoking and drinking heavily, partying here and there with some wild friends. In all these, I was still attending church regularly and normally; a case of Churchianity

How long have you been walking with the Lord and how will you describe your walk with Him over the years?

Since I gave my heart to Jesus in 1985. It has been 37 years. Victory over the flesh is not a day event but an everyday occurrence, trusting and depending solely on the Holy Spirit for the grace to overcome the flesh which is a relative of the world.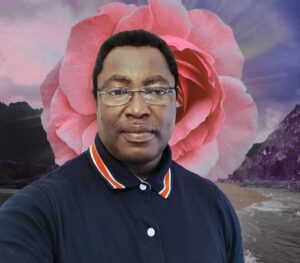 Pastor Michael Olusegun Tewogbola
You recently shared on Facebook your very touchy tough experiences in life before the Lord lifted you. Will you please recap that tough experiences with us here as a source of encouragement to fellow believers, particularly the upcoming and those going through tough times at the moment?
The little story I shared on my Facebook Timeline was just a small fraction of my tests and trials as a called and confirmed son and servant of God who must pass through refinery fire and learned obedience by what I suffered. Immediately after I got married, my wife and I traveled to the United Kingdom, and we were doing great there – I mean doing great there righteously! My bank manager would call me to just check on my wellbeing! Then I heard the call, told my wife about it, and decided to come back home and start the ministry. Honestly speaking, I thought it would just be an easy task. Then, come the tests and the trials again and again to the point that we were losing strength; especially our finances were bitterly damaged!  My wife and I will go and queue up in the banking hall to withdraw 500 naira, and the cashier will look at us with pity. Anyone that came for counseling in those days, I would be expecting that the person will give me something before he or she left. On one particular New Year's day, when everyone is rejoicing, eating, and drinking in their houses, we were with no food in the house except one bad yam which my wife cooked for the children to eat, and a small keg of palm oil with no oil in it, so she put the keg over the hot stove so as to melt the little inside the keg – and that was what my family had on the New Year's Day! One day, I went to my friend and I wept bitterly and uncontrollably before him – I needed N2,000 to feed my family. I was fed up! In a network of pastors to which I belonged, there were these two pastors who will always be looking at my terrible shoes, even when I was greeting them and shaking hands with them. Just because I could not pay the acceptance fee of about N2000 one of my sons lost the opportunity of entering a University that very year! When there was any occasion in our families, and we need to wear uniform clothes, they will buy for us and even help us to sow it -we will then wear it for the event embarrassingly! I can joyfully say all these experiences today because God who called me is faithful and He has done it – turning the test into a testimony! Praise God – Hallelujah!!
What were the factors that sustained your faith and standing in the Lord during those tough times?
What sustained my faith and my standing in the Lord during those tough times was my relationship with the Holy Spirit, my love for Jesus, and my trust in God. Although it was not easy, I kept seeing the hands of God in other areas of my life like powerful teaching, the manifestation of the Holy Spirit, etc, so I thought if God is doing all these, then He will one day touch my finances, hence I remained faithful and determined.
Please share with us your profile in church services or activities before your eventual calling by God into ministry?
I was serving as a choirmaster in Christ Apostolic Church, Woolwich, London, under the leadership of Pastor Timothy Gbegudu. Then there was a small adjustment, I became one of the leaders of the Woolwich Dockyard branch, later 4 brethren with me started a 6- month daily prayer meeting at Frances Street Woolwich. They are Baba Joseph Akinde, my wife Kehinde Tewogbola, Brother Timothy Akinwunmi, and Brother David Akinwunmi. It was in these daily prayer meetings that I got baptized in the Holy Spirit according to Matthew 3:11
Share with us how you received the call into the ministry, and the mandate of your calling by God into the ministry
It was in the 6-month daily prayer meetings that God called me and also confirmed through another person (Baba Akinde, who rejoiced over this calling for 3 months before telling me what God revealed to him). God asked me to take away salvation from religion and to disarm every false teaching that floods the Church and spoils the Name of Jesus Christ. And so I was finally commissioned into full-focused ministry in 1998 by Bishop J.O.Fatunwase of Salem Gospel Church. Later in 2015, I was fully ordained as a pastor by Pastor Bankole Akinmola of World Outreach Church For All Nations (WOCFAN). Our Ministry was Christ The Truth Ministries (CTTM) from 1998 until recently when God told me in 2018 that He will lay a new foundation for the work where He called me. Today, Christ The Truth Ministries is now Kingdom Truth For All Nations (KTFAN). The Mandate is still the same – Truth!
What are the gifts that God endowed you for this mandate?
The gifts and the calling of God are irrevocable this is true, yet no one should pride himself on this. The gifts God gave me are many but I don't want to mention them here – those who are part of the Move will tell you what God is doing in my life. I will not announce my Anointing; I will allow the Anointing to announce me.
What are the programmes of the ministry in line with this mandate?
We do a lot of teachings because the Bible says my people are destroyed because of lack of knowledge. Our own Prophetic is not the same as the Seers you see everywhere exploiting the innocents. God speaks to nations through this Ministry and that is prophetic. We also have a Prison outreach with great testimonies, and also a Campus Outreach setting the Youth Ablaze for Jesus. We also engaged seriously on Publications, for example, The Winning Wife is a book every girl and woman should get a copy of – it is a manual for marriage.
Tell us about your lovely wife and adorable children and their respective roles in your life and ministry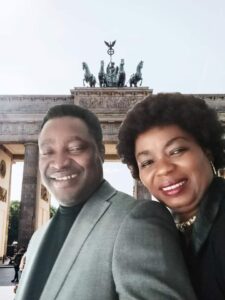 Pastor Olusegun & Pastor Mrs. Kehinde Tewogbola
My helpmate and partner is Pastor Mrs. Kehinde Esther Tewogbola, she is a woman of God endowed with the gift of wisdom.  She is the Chief Executive of Tower Mission Youngsters Foundation. She is a graduate of History (UNIBEN) and has masters in International Affairs and Diplomacy (Imo State University). We got married in June 1991.  God has blessed us with three wonderful boys (now men!).
 Lastly, how much are you fulfilled in the ministry and what is your vision for the ministry in the next 10 years if Christ tarries?
God told me that He will restore the years that Caterpillar has eaten, so I am not yet fulfilled in Ministry and my Calling, but this one thing I do: Forgetting what is behind and straining toward what is ahead (Philippians 3:13). If Christ tarries, in the next 10 years I would love to import many Believers into the Most Holy Place, in the Presence Of God; calling them from the monuments to Jesus' movement, using the instrumentation of 2 Timothy 2:2
Thank you for your audience
Thank you for inviting me to speak in your wonderful Magazine. May God prosper the works of your hands, and may you find favour before God and men henceforth  in Jesus name.