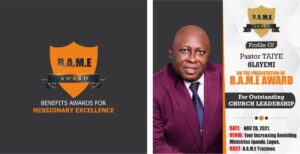 Pastor Taiye Emmanuel Olayemi, General Overseer of Ever Increasing Anointing Ministries  International, Igando, Lagos, will be honored tomorrow Sunday November 28th, 2021 with the presentation of the 2021 Benefits Awards for Missionary Excellence (BAME Awards) in recognition of his outstanding Church & Ministerial Leadership as General Overseer of Ever Increasing Anointing Ministries Int'l and President of Prophetic Eagle Ministers Forum.
The event will hold at the international headquarters of Ever Increasing Anointing Ministries Int'l, Igando, Lagos.
Below is the profile of Pastor Olayemi, a sound preacher, insightful teacher, pastor, prophet, fine writer and prolific author.
PROFILE OF PASTOR TAIYE EMMANUEL OLAYEMI
Pastor Taiye Emmanuel Olayemi, the Senior Pastor of Ever Increasing Anointing Ministries Int'l, Igando, Lagos, was born over 60 years ago in Minna, Niger state, into a devout Christian family from Kogi state. His mother was a staunch member of Christ Apostolic Church (C.A.C), and it was through her that Christ Apostolic Church (C.A.C) spread  to some communities in Maiduguri, Borno State.
Olayemi had both his primary and secondary education in Borno state and Gongola state (now Adamawa state). He furthered his education at University of Maiduguri, Borno state, where he bagged Bachelor of Science in Sociology in 1988. After his National Youth Service Corps (NYSC) programme at Ikole Ekiti, Ekiti state in1988/89, he worked at now defunct People's Bank at Isanlu in Kogi state from 1990-1991. After he left the bank, he moved to Ilorin, Kwara state and continued life as a Kabukabu driver with the Peugeot car he inherited from his late father. Olayemi ran the kabukabu transport business taking passengers between Ilorin and Osogbo to irk a living. It was in the course of one of his trips back to Ilorin that he heard the voice of God at a spot close to Ajase Epo along the Ilorin-Osogbo route.
The voice had said to him, "Why are you carrying people instead of carrying the Bible to preach the gospel? That was how Olayemi's journey into ministry began. He shared this encounter with a certain man of God for counseling. Olayemi had previously served as a prayer leader at Soul Reconciler Ministries under the leadership of Rev Samuel Babaniyi, while he was working at People's Bank in Kogi state.
Subsequently, Pastor Olayemi joined Rev. Love Abiodun (now Late) to start his ministry at Iyara Kogi state. The ministry thrived with many branches, and he was posted to Lagos to start the branch of the ministry.
In the course of his service as pastor of the Lagos branch of the ministry, while he was seeking the face of the Lord in Prayer and fasting for many days in the suburb of Lagos now Igando, Olayemi heard the Lord spoke to him, "start here" after he had series of encounters with the Lord prompting him to start his own ministry. It was that voice that birthed Ever Increasing Anointing Ministries over 26 years.
Pastor Taiye Olayemi is endued with a sterling leadership quality, sound and holistic teaching of the scriptures. With this he has built Ever Increasing Anointing Ministries Intl into a massive church congregation with several vibrant branches.
Pastor Olayemi is an in-depth teacher of the gospel and an insightful televangelist. He is a cerebral evangelist with his effective use of different platforms of mass media to teach the scriptures with the sole aim of soul winning into God's kingdom. He is particularly very evangelistically active on various social media platforms like face-book, instagram, YouTube, whatsApp, telegram etc with huge followers.
Olayemi is also a prolific author, writer, and publisher with several quality books, journals and periodicals to his credit. Some of his book titles include Dynamics of Thanksgiving, Power of the Cross, Fire Revolution and others; teaching and preaching the Word of God with prophetic insight in the power of the Holy Ghost.
He a seasoned man of God with a unique mandate to release men into their God- ordained destiny through conscious holy living.
Pastor Taiye Emmanuel Olayemi deploys his sterling leadership quality as President, Prophetic Eagles Ministers Forum, Chairman, Board of Envoys College of Theology & Christian Education, and a Trustee, Benefits Awards for Missionary Excellent (BAME). He is a responsible family man with God-loving children.  Pastor Taiye Emmanuel Olayemi has been honored with several other awards by different organisations.