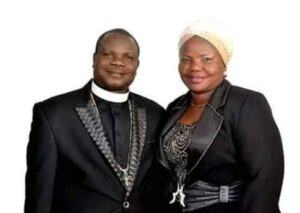 Childlessness is one major problem that causes a great surge of childless women into churches for spiritual solution. From Hannah in the Bible till now, barren women usually carry the burden of the pains of childlessness more than their husbands, especially in Africa where most childless wives are treated with disdain.
Therefore, it is no surprise that most churches run a weekly prayer programme specifically for barren women who are mildly called either Expectant mothers, Joyous mothers or women who are looking unto God for the fruit of the womb. But what would one say about pastors who pray for barren women and they have testimonies of babies, yet the pastors and wives still sulk over childlessness in their union after several years of their marriage.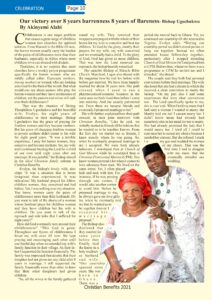 That was the situation of Bishop Theophilous Ugochukwu and his beautiful wife, Ernestina, for eight years of childlessness in their marriage. Bishop Ugochukwu has the grace of praying for fruitless women and they become mothers. But his grace of changing fruitless women to joyous mothers didn't extent to his wife for eight good years after their marriage was consummated. "It was a terrible experience. I pray for barren women, they conceive and become mothers. Yet, my wife and I continued trusting the Lord for a child of our own until eight years after our marriage. It was painful," the Bishop shared in the Ideal Christian Home column in Christian Benefits magazine.
Ernestina, the bishop's lovely wife, also chips "It was a situation that is better imagined than experienced. It was ridiculous! My husband prayed for fellow childless women, they conceived and had babies. Yet, I was sulking over my situation. You know, women carry the pains of childlessness more than their husbands. Do you want to talk of the shame of a woman whose husband prays for childless women and they have children but his wife is childless. Do you want to talk of the reproach and side talks that I suffered for eight years?"
How did God eventually turn around their childlessness? "This God is good. Throughout our the years of our childlessness I loved my wife even till now. We kept praying and encouraging each other until one fateful day when we attended my wife's family function in their village. As their in-law I supported the function financially. The family was impressed that despite that their daughter had not given me any child after 8 years in marriage, I still supported the family financially more than other in-laws that their other daughters had given children.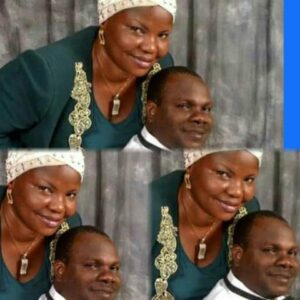 "So, all the wives in the family gathered round my wife. They removed their wrappers and prayed with the whole of their hearts for my wife to conceive and bear me children. To God be the glory, shortly their prayers for my wife, my wife conceived and we eventually had a child. To the glory of God, God has given us more children. That was how the Lord removed our reproach, the bishop heartily remarked
The amiable Bishop of Miracles Bible Church. Maryland, Lagos also shared with the magazine how he met his before wife before got married. We have been happily married for about 30 years now. Our path crossed when I used to run a pharmaceutical/cosmetic business in the same area we both lived then before I came into ministry. And she usually patronized me. From there we became friends and eventually I proposed marriage to her."
His wife further explained how their path crossed, in their joint interview with Christian Benefits, "Like he said, we initially started as friends till he told me that he wanted us to be together forever. From the first day we started out as friends, I knew exactly where he was going. So, when he eventually proposed marriage to me I accepted. We were both already believers. I worshiped then at Church of God Mission while he worshiped then at Christian Pentecostal Mission (CPM). You know women pretend a lot when it comes to love advances from men. We lived on the same street. Yet, I often played hide and seek with him. For instance, if he was passing through one corner, I would take another corner to avoid him. Before he proposed marriage to me, he always gave me love gifts. So, when he eventually told me that he wanted us to be together forever I accepted his marriage proposal."
The Bishop also disclosed that they courted for some years before they finally tied the knots in a holy wedlock as husband and wife. "Our courtship spanned some years. She was born in Ghana. There was a period she moved back to Ghana. Yet, we continued our courtship till she returned to Nigeria. Ernestina adds: "During our courtship period we didn't attend parties or hang out together. Instead we often attended house fellowship together, particularly after I stopped attending Church of God Mission Int'l and joined him at CPM. Before then, whenever there was a programme at CPM he invited me and I attended," she shared.
The couple said they both had personal convictions before their marriage. The wife disclosed that she had a dream in which she received a clear conviction to marry the bishop. "On my part also I had some experiences that were clear convictions too.  The Lord specifically spoke to me, this is your wife. When I told my mum that I had seen a woman I wanted to marry she bluntly told me no! I cannot marry her. I didn't know mum had already had somebody else in her mind for me to marry.  She had already promised the lady that I would marry her. I tried all I could to convince her to accept my choice because I needed her consent. But she refused. I stuck to my gun and wedded the woman of my choice. That was the first time I had to disagree with my mum. But she eventually attended our wedding