Being the address of the foundation and pioneer principal of Okota Secondary School (OSS), Pa Caesar Simon Okuweh. on the occasion of the Founder's Day of the 40th Anniversary Celebration of Okota Secondary School (OSS) on Tuesday September 6, 2022 at OSS premises, Okota, Isolo, Lagos.
 Mr. Chairman
Royal fathers and community leaders here present
Directors and Assistant Directors here present
The Principal, staff members and students of Okota Secondary School
Former Principals and staff members and Alumni of Okota Secondary School
The Guest speaker
And all other protocols duly observed
 It gives me a great pleasure to welcome you to this special occasion of the 40th anniversary celebration of Okota Secondary school (OSS), Okota, Isolo, Lagos, especially to today's Founder's Day celebration kick-starting the 3-day event.
As the pioneer principal of this great school I am indeed very grateful to God to be alive to witness and celebrate the four decades of existence of Okota Secondary School, especially seeing again my beautiful children who have now grown up and successful men and woman with whom I pioneered OSS on this day 40 years ago with some of former teachers of this glorious school at this grandeur celebration. I will like you joining me in giving glory and honor to the name of the Lord.
BRIEF HISTORY
You will agree with me that it is an enormous task to be the foundation principal of a secondary school. Indeed when the journey started 40 years ago, precisely on 6th of September, 1982; it really started on a very rough note. The school was started with an inadequate infrastructure to teach and groom about 250 students but very few teachers, most of whom were young teachers just starting their teaching career. By the time we presented our first set for the school certificate examination in 1987, we were left with just 53 students of the number we started the school with. Such was the story of the humble beginning of Okota Secondary school 40 years ago.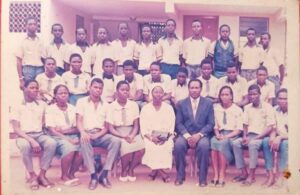 A cross session of the pioneer graduating students of Okota Secondary School (OSS) on their passing out in 1987
ACHIEVEMENTS
But the story is completely different today as you can see the difference. Okota Secondary School has come of age and second to none. We were privileged to be housed in this prototype but our permanent site courtesy of Lagos state government. We can also boast of quite a number of facilities, materials and so on acquired over the years
HOW TIME FLIES 
Exactly 40 years ago today, September 6, 1982, fate brought together a hybrid of pupils from two different primary schools in Lagos state; Layi Oyekanmi Primary School, Mushin and Community Primary School 111, Odo Aladura, Papa Ajao, Mushin, as new students of Okota High School, (OHS) Okota, Isolo, Lagos.
But less than a session of their studentship at OHS, a chunk of the students was carved out to pioneer a new school initially called Okota High School (School 11). After its baptism into a full-fledged and independent secondary school, the nascent OHS School 11 was renamed Okota Secondary School, (OSS) Okota, Isolo, Lagos.
Through the thin and thick some of the pioneer students (53 of the about 250 in number that started the school) graduated in 1987 and many of them furthered their education in universities, polytechnics and colleges of education while others ventured into various other endeavors. I am very proud that today among them are a medical doctor, a lawyer, accountants, engineers, an architect, a journalist, teachers, a surveyor, an entertainer and several entrepreneurs and civil servants.
It is gratifying to note that till date the father-children bond continues between me and some of my pioneer students particularly Dr. Tessie Shorunmu, Barr. Segun Afolabi, Dr. Wole Olarinde, D.J Antonio Olayiwola, ESV. Lekan Adio, Mrs. Abiola Adegbola and others at home and in the Diaspora who still relate closely with me and some of the pioneer teachers of the school like Mr. Ochu Mbilla, Mr. Demola Alabi, Mr. Samson  Kusoro, Mrs. Afolabi and few others 40 years on, to the glory of God
Although today is dedicated to the pioneer students of Okota Secondary School, I will also like to celebrate and appreciate all other OSS students of other sets who passed through my tutelage as principal of Okota Secondary School, many of them also relate closely with me till date. I celebrate and appreciate generally all the graduated students of Okota Secondary School (now Okota Senior Secondary School and Okota Junior Secondary School) both home and in the Diaspora on the occasion of the 40th Anniversary celebration of Okota Secondary School (OSS)
Finally, I also appreciate all the pioneer teaching and non-teaching staffs, subsequent and present principals and teaching staffs and students of the great Okota Secondary School on the special occasion of the celebration of the four decades of our school. Congratulations and happy celebration to everyone. Thank you.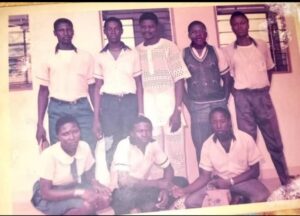 Some of the pioneer graduating students of Okota Secondary School (OSS) with their History/Bible Knowledge teacher, Mr. Samson Kusoro on their passing out in 1987