Bishop David Adetiloye, Presiding Bishop, The End-Time Army Church, Mushin, Lagos, was a frontline pioneer of modern Pentecostalism with glamour and social vibes in Mushin in the 1990s.
Fondly called the missionary bishop, when Bishop David Oluwarotimi Adetiloye began his ministry in Mushin, his approach to evangelism stirred controversies, curiosities and criticisms in the deeply conservative Mushin setting, particularly his famous praise & worship gigs with notorious areas boys and girls in Mushin every Saturday evening in front of his Ote-omi, Papa Ajao residence; dancing to all kinds of "worldly" music such as fuji, juju and Apala but spiced with good gospel evangelistic songs.
Soon his unusual style of evangelism became a fast-growing fad among the churches in Mushin , and many of them eventually adopted his ingenious evangelism method as a workable dragnet for soul-winning. The effervescent bishop defends his novel "sociable evangelism" approach thus, "You can't catch fishes by your own terms but their own terms." The then Rev. David Adetiloye's every Saturday evening praise & worship vibes with areas boys & girls announced The End-Time Army Church as a hurricane that redefined the approach to outreach evangelism in the Mushin area.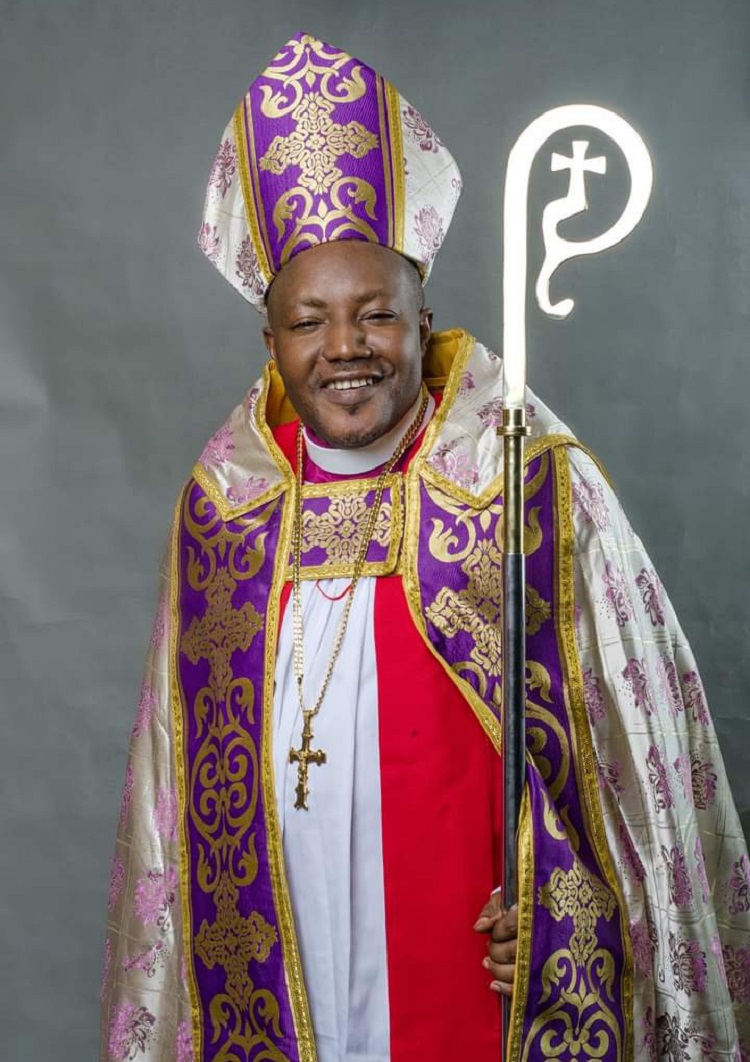 BISHOP DR. DAVID ADETILOYE OF THE END-TIME ARMY CHURCH, MUSHIN, LAGOS
But unknown to quite a lot of people, the dancing bishop, Adetiloye; a graduate of fine arts had also begun his journey with Christ on a controversial and suspicion note too at the famous The Polytechnic, Ibadan. He shares his salvation encounter at the Nigeria's front line polytechnic with Christian Benefits magazine thus:
His conversion on the campus: I cannot talk about the beginning of the vision of The End-time Army Church without first talking about when I got born again. The whole thing started on the campus during my Higher National Diploma (HND) programme at The Polytechnic, Ibadan in 1987. I was in the radical group on the campus. It was during this period that the Lord met me. On one of those days, I just made up my mind that I wanted to attend church on May 12, 1987. And when I got to church that day; the Scripture Union precisely, after the message they called anyone who wants to give his/her life to Christ to come out. So, I decided to come out to give my life to Jesus Christ. Many people were surprised at my new birth.
The New Birth Experience: Immediately I gave my life to Christ, the power of God came upon me and my life changed. Many people then didn't believe my salvation. There was this news spread all over the campus that a wolf had joined the sheep. There were times I would enter the fellowship, while praying before I opened my eyes many people had left the place. It was that serious! That made me feel discouraged. But God sent someone to give me a prophecy that He is with me. The person didn't know me. He encouraged me to go on. The person that was supposed to follow me up showed up about two months after I got born again.
Source of growth as a new convert: I grew up in the faith on Kenneth Haggin's books which really helped me a lot to know many of the fundamental principles in the Bible. I also saw in Mark 16:17 that "…this signs shall follow them that believe, in my name they will cast out devils, heal the sick…" which encouraged me to do the work of God. I also read John 15:16, "Ye have not chosen me, but I have chosen you, and ordained you, that ye should go and bring forth fruit, and that your fruit should remain that whatsoever ye shall ask of the Father in my name, he may give it to you." The particular scripture spurred me into evangelism to win souls for Christ despite the skepticism surrounding my salvation.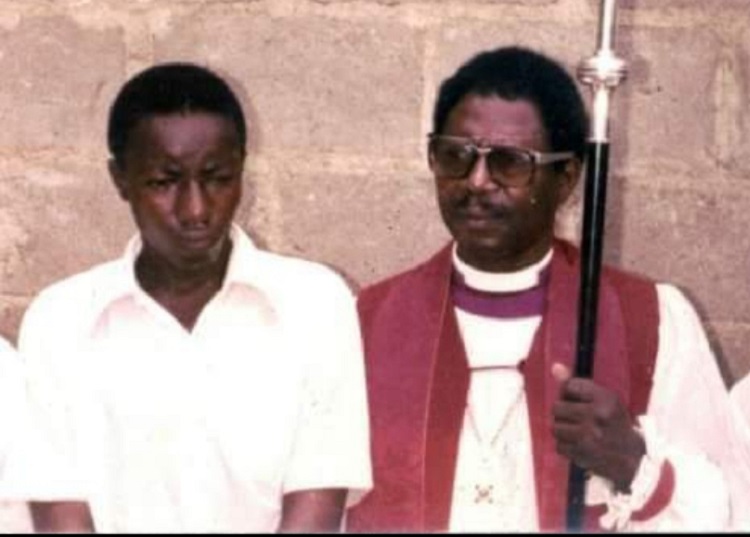 FUTURE DEFINED: YOUNG ADETILOYE WITH THE NOW LATE ARCHBISHOP ABIODUN ADETILOYE
Journey to ministry:  The two scriptures above provoked me into service for the Lord. I didn't hear God's voice called me into ministry immediately. I had been in His service long before I eventually heard God spoke to me about His plan for me. I got born again on Tuesday, and by following Friday I started serving God; ministering in different places, which was very strange to people. That further confirmed their fears that definitely this boy must be working with evil power; that how could he in a little time he got born again and already doing things for God; ministering deliverance to people. Three months after I got born again, people started inviting me for crusades. Since that time it has been up and never down.
 Life before rebirth: Most times what we do in life is as a result of most of the experiences we have had in the past. If you see a man terribly angry with sickness, go and find out. He had been very sickly in the past. If you see a man of God vehemently preaching against poverty; find out his history. He used to be very poor. I used to be very sickly. I was born with sickle cell anemia. I was always in and out of hospitals before I got born again. At the age of four I had polio meningitis. I lost the use of my two legs. Miraculously God delivered me.
Missionary beginning: When I got born again that day Tuesday May 12, 1987 God connected me to my destiny. I realized that God saved me from wasting my life in disco parties. I had wasted many years of high productivity. And it was with that zeal that I started going into villages where no one would want to go and preach the word of God. I realized that I had been forgiven so much, and that I need at least to do my own little part to save other perishing souls by all means. I lived a very terrible rough lifestyle. When I say rough, I mean a terrible one! That God can look down on me and gave me a chance to be his minister. If I am looking for a pastor, I won't choose my kind of person back then 'lai, lai'; (Never). But He chose me!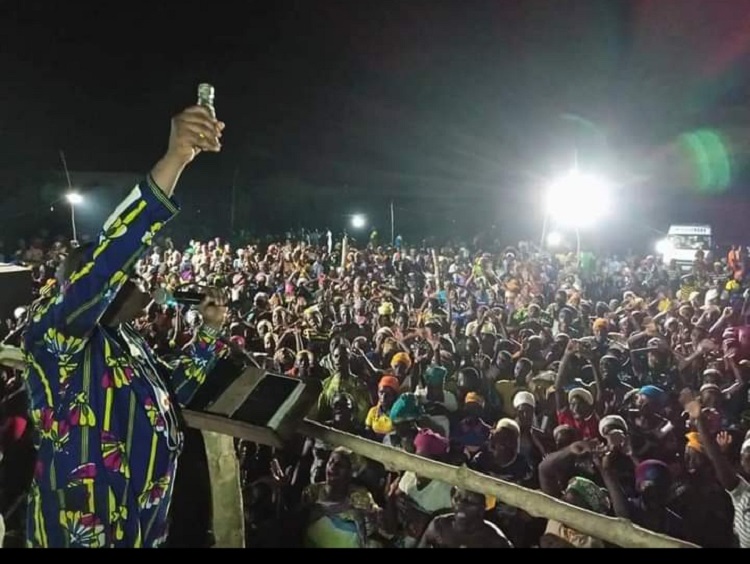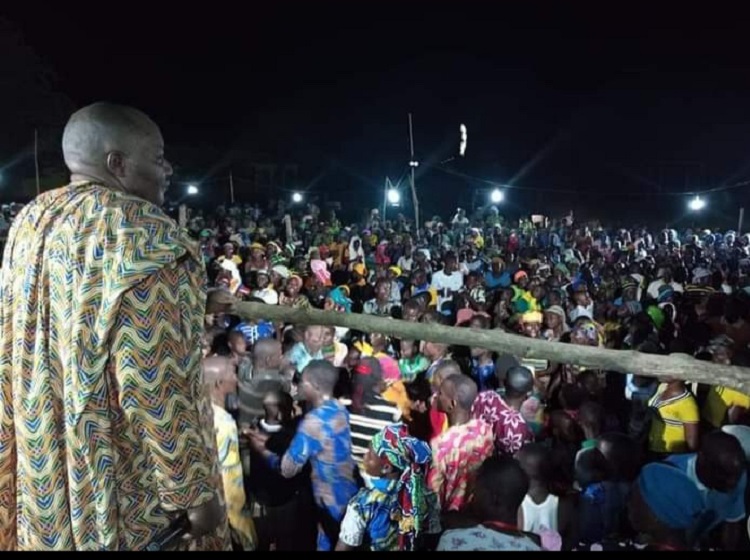 ADETILOYE: THE MISSIONARY BISHOP ON TWO OF HIS FREQUENT CRUSADES IN BENIN REPUBLIC
RE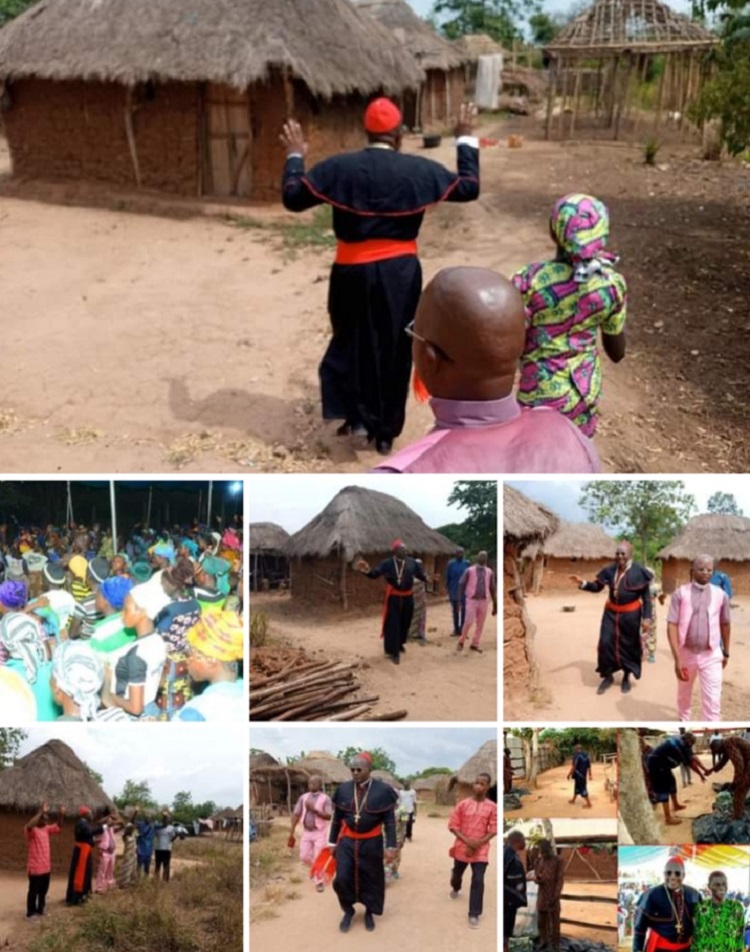 ADETILOYE: THE MISSIONARY BISHOP ON THE VILLAGE MISSION IN HIS  BISHOP'S ROBE