Pastor Oluwasina Ige recently obtained a master's degree in Religious Studies from Joseph Ayodele University (JABU) and describes his impressive academic feat as compensation from God for his obedience to serve Him. In the account of his meteoric rise from a Roman catholic church background to becoming a seasoned pastor-in-charge of Christ Apostolic Church (Mount of Wonders), Ejigbo, Lagos, Ige shares with Christian Benefits how, as a young man aiming to further his education God asked him to choose between going to school and die, or serve him and fulfill destiny. Below are the excerpts.
Please, can we meet you sir?
I am Pastor Emmanuel Moronkeji Oluwasina Ige, Pastor-in-Charge of Christ Apostolic Church (C.A.C Mount of Wonders), 3a Amida Ilufunmi Street, Ejigbo Lagos.
Briefly share with us about your upbringing
I was born and brought up in Ikoro-Ekiti in Ekiti State. I attended Saint Columba Primary School, Ikoro. I later proceeded to Eso-Obe Comprehensive High School where I spent one year (JSS1) before moving to Unity Secondary School Ushi-Ekiti in then Ondo state; now Ekiti State. I was raised by my paternal grandmother who nursed me from day one till January 13, 1996 when I enrolled for ministerial tutelage under now late Pastor R.A.B Ajegbomogun in one hamlet called Ilupeju under Ogotun-Ekiti, Ekiti State. That was where I began the work of the ministry.
Tell us briefly about your rebirth encounter
My rebirth was a funny experience. I was actually born into a Christian home. My parents were Christians. My grandmother was a Roman Catholic church member. I give the credit of my new birth to my parents who always encouraged me to give my life to Jesus Christ. It was through their influence I joined Christ Apostolic Church (C.A.C) from Roman Catholic church.
What specific role did your parents play in your new birth conversion?
As an instance I recall when my father placed me on marathon fasting which I had never done before. I had to run to my mother who lived in the church then. After two days of the marathon fasting whilst with my mother I ran back to my father. Why I said my new birth conversion was funny was that on a particular day one of my friends ran into me and asked me why I was just roaming about town while God was greatly using my mother for great works in the lives of people. He said my mother was a prophetess. People were visiting her for prayers and were getting results. He then said we should attend her revival programme. I accepted to follow him to the programme but just to go and make jest of my mother and to know the spirit that possessed her. When we got to the revival at a Christ Apostolic Church it was Pastor R.A.B Ajegbomogun that was ministering. While we were praying with our eyes closed I heard someone beside me speaking in tongue. When I opened my eyes to see who the person was, to my surprise it was my friend who invited me to the church. We were both street boys, roaming the streets for nothing, but I never knew he was already deep in Christ without telling me. That was what brought about my conviction to give my life to Jesus Christ. Since then I have been a member of Christ Apostolic Church till date. Why I give kudos to my mother for my rebirth is because she often impressed it on me to join Christ Apostolic Church. I also give kudos to my father because he always preached Christ to me from the Bible; advising me to give my life to him.
Can you share with us how you received the call into ministry?
I had barely spent a year in Christ Apostolic Church when I started having strange dreams. At that time I was making efforts to go back to school but to no avail. So, my mother took me to one particular prophet at Efon-Alaaye mountain, and the prophet asked her if she would allow God to use me. He interpreted the strange dreams as God's calling me to serve him. He said it's either I go to school and die there, or yield to the call of God and become what God wants me to be. When I heard this I felt like pushing the man inside a dungeon close to the mountain. I couldn't imagine myself a devout Catholic joining Christ Apostolic Church. In Catholic we don't believe in all these vision and prophecy like Christ Apostolic Church. My mother took me to another prophet, Pastor R.A.B Ajegbomogun. He repeated the same thing that for me to amount to any good in life I must serve God. At this point I accepted to serve God and started as tutelage under now late Pastor Ajegbomogun for two years.
Let us have a look at your ministerial journey from there to where you serve now
After my two-year tutelage training under Pastor Ajegbomogun, he took me and my tutelage colleague under him, Rufus Ajayi, to Prophets &Evangelists Training Bible College (now Babajide School of Prophets &Evangelists), Ilesa, Osun State. We finished and graduated at Babajide on May 27, 1999. I started work as a full-time evangelist on July 1, 1999. I came to Lagos and first served at C.A.C God First Soul Winning Ministry, Ipaja, Lagos, about two and half years. I then moved to C.A.C Agbala Adura, Mushin, Lagos, where I served four years. Subsequently, I also served at C.A.C Oke Iyanu, Omo Oye, Abaranje. Lagos. Eventually, I was transferred to my present station, C.A.C Mount of Wonders, Ejigbo, Lagos. Before I came to C.A.C Mount of Wonders, in the course of my ministerial journey and  in my quest for greener pastures to be able to fend for my family I studied at Yaba College of Technology (Yabatech). Unfortunately  I stopped my studies at Yabatech abruptly
Why did you stop your studies at Yabatech abruptly?
Despite that the Lord warned me that if I go to school I would die, I still nursed in my mind the ambition to go to school come what may. After two attempts I was offered admission into Yaba College of Technology (Yabatech), Lagos. But I was afraid of disclosing my schooling at Yabatech to my boss then.  When he later discovered he gave me two options to either stop my working in the church or my schooling at Yabatech. As the breadwinner of my family I could not afford losing my job in that church. So, I had to stop my schooling at Yabatech.
How did you feel forgoing your schooling for working in the church?
I made up my mind if I have another opportunity to go back to school I will grab it because I really desired to be educated. And to the glory of God I have been able to achieve that to the level of master's degree in Religious studies from Joseph Ayodele Babalola University (JABU). My master's degree qualification is compensation from God for my obedience to first serve him before schooling.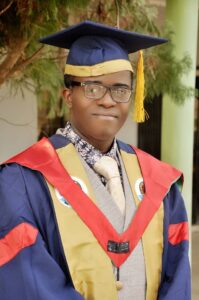 How will you describe your experience in the ministry from 1999 when you started ministry work?
It has been a very pleasant experience though with lots of challenges. However, to God be the glory since my transfer to my present church, Christ Apostolic Church (Mount of Wonders) I have been experiencing progress both in the church and in my family. My predecessor in this church is a friend. He had previously invited me to minister in the church before I took over from him. The church is marching forward to the glory of God with many branches.
What are some of the church's programmes where God imparts live?
We hold programmes as the spirit of God leads us. We have a weekly programme, "Hour of Wonder"6.00a.m -7:00am. We hold Bible Study every Wednesday. These are our two major weekly programmes aside Sunday service. We hold vigil every last Friday of the month.  I don't believe in people been in church for 24 hours. I believe in people serving God genuinely and seeing Him manifest in their works. That is the reason we don't have many programmes. We hold a yearly 21-day fasting every January. In July we hold a 7-day Uncommon Vigil from 9:00p.m -11:00p.m; Sunday to Saturday. It is a wonderful programme that brings increase to the lives of people. In December 2017, the Lord laid it in my heart to hold 30 days Morning Dew programme. After the programme, people were eager to know if it would be done every year because of how God moved in that programme. I told them the Lord did not tell me to hold it yearly but I didn't want to discourage them. So it became a yearly programme but not for 30 days. Last year October, the Lord told me we should have 82 days fasting. To the glory of God we have started it. We come to the church every Tuesday for prayer. I host a radio programme, Moronkeji Online radio, 6.00-6.30am, Monday to Friday on https://mixlr.com/ige-sina . We hold the 82 days fasting prayer on Tuesday 6-7a.m in the church and  12noon and 3p.m on Moronkeji Online radio. And on Friday 6-7a.m in the church and 9a.m, 12noon, 3p.m and 6p.m on Monkeji Online radio. Then  9p.m to 12.30am in the church, and we break our fasting.
Can you share with us some of the testimonies from these programmes?
For instance there is a particular testimony of an evangelist who used to trek with his family members from their house at Abaranje to the church. God turned their situation around for good. They have completed their building and started another branch. There is also a testimony of a sister who gave birth after a long period of waiting. Her husband was also promoted. We have several other testimonies.
What are the gifts God endowed you with for the work of the ministry?
I am a teacher by calling. I may have other gifts inside of me not yet manifesting. I'm an adjunct lecturer at the same Bible College where I was a student for four years.
 Who are those you regard as great influence in your life and ministry?
Foremost are my parents; then Pastor F.A Olaniyi and Pastor Ademola Afolabi, a prophet and a pastor. He is my father in the Lord. Then my friends, Pastor Akintunde Akinwunmi, Pastor Wale Komolafe and Pastor Oladipo Oladosu. Of course My wife is also a very great influence in my life and ministry. One of the greatest things in life is when you don't miss it at the point of choosing a partner you will spend the rest of your life with. My wife has been a great influence in my life and ministry.
What is your next target after your master's degree qualification?
As a lecturer I have become an academician. My next target is doctorate degree. I am also looking ahead to a day I will earn professorship. I am looking up to God for help to further pursue my education and to also wax stronger in the work of the ministry. I have never worked in any secular office, or been into any business outside the work of ministry. So I will continue working for the Lord in ministry.
How much are you fulfilled as a minister of God in Christ Apostolic Church?
I'm genuinely contented with been a minister of God in Christ Apostolic Church. I regard Christ Apostolic Church as the place of my strength because when I was a Roman Catholic Church member I didn't think I could become anything in life.