Raised by God from the wheelchair for the miraculous and soul winning, Rev. Olanrewaju Peter Essien, the general overseer of The Living Water Revival Mission worldwide, Badagry, Lagos, shares with Christian Benefits how a spiritual attack confined him to a wheelchair, leading him to becoming a soul winner in hostile communities in Badagry where God is also using him for miraculous healing of terrible conditions. Excerpts below.
Please, can we meet you sir?
My names are Rev. Olanrewaju Peter Essien, the general overseer of The Living Water Revival Mission worldwide, Itogan Road, Aradagun, Badagry, Lagos state.
 Briefly share with us your upbringing, including your rebirth encounter
I was born on July 29, 1965 at Ebute Meta, Lagos, into a family of six of now Late Pa Ene Essien and Elder Mrs. Elizabeth Essien from Cross Rivers state. I attended UNA primary school, Ebute Meta and Aguda Grammar school, Surulere, both in Lagos. I obtained diploma in Public Administration from the University of Lagos. While growing up I worked in several places that include Texaco Filling Station, Alaka, Surulere and Mobil Filling Station, Ekololu, also in Surulere. Besides, I did an automobile (mechanic) apprenticeship. In 1988 my father tool ill and the family relocated with him to Calabar our home town where I got a job with the National Population Commission. (NPC). I worked at the NPC until 1992 when I retired from the commission.
 What did you fall back on after your retirement from the National Population commission (NPC)?
I joined the family business of my now late elder brother, Babatunde Ekpe Joseph Essien based in England. I shuttled between Nigeria and England and other places working in the business. In 1994 my father died and I planned to move to England. At that time I was already engaged to my wife and eventually we got married.
At what point in the course of this journey you encountered Jesus Christ?
Before my personal encounter with Jesus Christ I was a worker at Fire Brand Bible Church, Alhaji Masha, Surulere. I had an encounter with Christ after I suffered a spiritual attack on a night trip, which confined me to a wheelchair. I had yet another encounter with Christ in August 1991 by which I finally gave my life to him. I had given my life to Christ several times before this particular encounter that I totally surrendered my life to Jesus Christ though I had always been a worker in the house of God. Till his passing unto glory my father was a man of God. He had a Christ Apostolic Church (C.A.C) orientation. So, I was actually born in a devoted Christian home.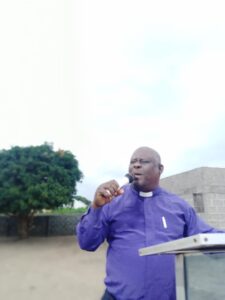 Rev. Olanrewaju Peter Essien ministering in one of his community evangelism in Badagry
Tell us more about the spiritual attack that confined you to a wheelchair, and how you subsequently received the call to ministry after the incident.
When the attack occurred I returned home unable to continue the journey. I nearly died but to the glory of God I survived and the Lord opened me up to the Book of Isaiah 61:1 and gave me a mandate to go bring people unto Him: the sick, the oppressed and those in prisons (the captives).Upon receiving the call and the mandate I submitted to the tutelage of our now late father, Bishop Samuel Oyenola Odubajo, the general superintendent of Emmanuel Gospel Church. In 1997, I was released and started the ministry in 1998 from Surulere to Lekki and finally Badagry we are presently. From the mandate of this commission the ministry is all about saving souls for the Lord.
What are the gifts God endowed you for this mandate?
God endowed me with the the gifts of healing, prophecy and teaching of His word.
Please, share with us some testimonies from your church programmes
We have numerous testimonies. There is a testimony of a man in coma at the Lagos University Teaching Hospital (LUTH). I was called to minister to him, and by the grace of God when I ministered to him he came out of coma back to life. There is also a testimony of another man God healed of 10 years tumor in this ministry. There is also a testimony of an elder God healed of a chronic sickness and blessed with a breakthrough in business of several millions of naira. There are uncountable miraculous testimonies of armed robbers that gave their lives to Christ through their encounters with the word of God at the Living Water Revival Mission worldwide, Badagry, Lagos.
How long have you been in the ministry; and how will you describe your experience in the ministry over the years?
I am about 25 years in the ministry. My experience in the ministry is diverse from different communities that we visit for evangelism. Residents of some of the communities are hostile. Some are difficult to evangelize because of the evil spirit dominating their environments. But to the glory of God we have lots of soul winning testimonies.
Who are those you look up to as your mentors or role models in ministry?
Those I look up to as my mentors in ministry are; foremost my now late father in the Lord, Bishop S.O Odubajo, then Pastor Enoch Adejare Adeboye and Dr. Daniel Olukoya.
Lastly, if Christ tarries, what is your vision for the ministry in the next 10 years?
My vision in the next 10 years is to evangelize the whole world by God's grace
Thank you for your audience sir.
Thank you very much sir. I sincerely appreciate you.
#The Living Water Revival Mission worldwide, Itogan Road, Aradagun, Badagry, Lagos state. Telephone: 08033909688