Dr. Ayo Akerele has described as terrible the circumstances leading to the death of ace gospel singer, Osinachi Nwachukwu. Amid the controversy the death of the late singer ( allegedly killed by her husband) is generating over domestic violence, Akerele, a Canada-based Nigerian preacher discloses that over 40 million Nigerians are suffering from various mental ailments, according to Nigerian government statistics, and therefore advises marriage counselors to include mental health fitness checks on intending couples before appending approval for their solemnization in holy wedlock. He speaks more on the gory death of Osinachi and the rising cases of domestic violence in the below interview with Christian Benefits. Excerpts.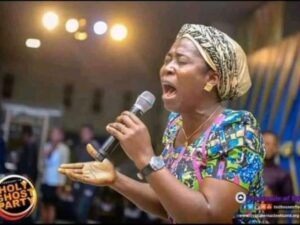 Sir, how will you describe the late gospel singer, Osinachi Nwachukwu?
Though I don't know her personally, her songs have blessed me and the body of Christ very tremendously. Besides, she's one of the top worship leaders in one of our churches in Nigeria in which I have many friends. And from all I have gathered from friends who are much closer to her, she was indeed a deeply committed and amazing personality.
Tell us how you feel about the domestic violence she allegedly suffered from her husband, leading to unfortunate death?
I felt terrible. I felt ashamed to be classified in the same category as a man with her husband. Initially we thought she died from cancer as many had widely publicized. When I later found out that her death was the result of serial incidences abuse from her husband, I could not but groan. This is a needless death. God didn't take her home. God didn't kill her. People should stop designating God as a killer. What the husband did is highly condemnable and unfortunately evil. Domestic abuse is evil. It is satanic. It is unchristian. It has no place in the Bible. No true follower of Christ will abuse anyone, let alone your spouse. Those who do it and celebrate it as an achievement may be mentally deranged. I have never done it and will never in my lifetime. I sympathize with the body of Christ in Nigeria and with her family and beloved children.
There have been rising cases of domestic violence in marriages leading to death in recent times. What are the factors responsible for this?
This problem is a product of our rotten culture–particularly the preponderance of fallen values in the Nigerian society–ably assisted by the evil culture of silence; the evil culture of men's superiority over women and the lawlessness in the Nigerian society at large where people can do or say whatever they like and will get away with it. The church has entered the culture. The culture has entered the church. The Nigerian government recently mentioned that more than 40 million Nigerians are suffering from various mental ailments (and the government always downplays statistics to avoid panic. So this number may even be more than this). A mentally ill person is not necessarily a mad person. We need a lot of awareness in this aspect. When a mentally deranged person–a person suffering from bipolar, psychopathic and sociopathic disorder is married to another person of sane mental status, the outcome is always disastrous.  If 40 million Nigerians have mental health challenges, don't you think that some of these people will be pastors? Some will be Policemen. Some will be medical doctors. Some will be lecturers. Many will be husbands and wives. You need to Google bipolar disorder and read about the behavior of people in this category.  Marriage counseling in churches must embrace mental health fitness checks. There are many medications and therapies out there to contain these illnesses. But where there is ignorance and/or lack of awareness, a lot of homes will continue to be ruined by mentally deranged partners
How can domestic violence in marriage be checked or controlled?
First, our churches must wake up and start teaching sound doctrines. The departure of many church leaders from the message of truth has produced a new generation or carnal and money-driven Christians who go into marriages for personal gains. When the church stopped producing disciples, we started to produce wife beaters and husband abusers. The church must wake up. Second, the government has also failed woefully. Values have collapsed totally in the society. The youths have no role models again except the corrupt politicians, sexually immoral celebrities and co. Also, the nation's worsening economic crisis coupled with the lawlessness in the society produces morally bankrupt citizens who go into marriages with vengeance and bitterness. So, we can't solve this problem from the surface. The solution is multidimensional. The church must wake up. The government must wake up. Otherwise, marriages will continue to end up in crisis and troubles.
Many are quick in advising women who suffer domestic violence from their husbands to quit the marriage without considering what happens to the children from the union after they leave. How will you address this situation?
Safety is the first priority. The first question I ask women in counseling is this, "does he abuse you"? Once I hear the word, "yes". The next thing is to tell her to jump out to a safer place. With the little experience I have with women in counseling, I will never allow my junior sister or daughter to remain in the arms of a killer–or someone who appears like one. Fortunately or unfortunately; whichever is correct, I don't have girls. All my children are boys. I am doing everything possible to model a good father to them. I have never touched my wife in 15 years of marriage with the tiniest finger in my hand, much less using a foul language on her, before or behind our children. "Are you stupid? From my mouth? Never! Don't you think? Never. And you can ask her to confirm this. Do we disagree? Many times. Do I get angry? Several times. The children are better off with a living mother than with a dead mother. Time and again, when the mother is dead, the police will lock of the father. So what has become of the children? We need to see beyond the sentiment of "what will happen to my children if I leave my marriage"? I am not endorsing separation on every type of marital challenges. I also don't endorse divorce in every case and in every situation. I stand with the Bible, any day, anytime. But the Bible also says, "a wise man sees evil and hides himself". So, every woman who wants to remain alive must run to a safer place as soon as the husband becomes violent. When you are outside, then the case of the children can be resolved.