Rev. Mrs. Abiola Olasunkanmi Olugbenro, widow of the late General Overseer of Mountain of Solution Ministries Int'l, Bishop Abiodun Olugbenro, has dedicated a newly completed family house in Ikorodu, Lagos, as part of the activities marking the fifth memorial thanksgiving service of the late charismatic preacher. The late Bishop Abiodun Olugbenro passed on to glory on August 16, 2016.
Rev. Mrs. Olugbenro from her base in Texas, United States rallied members of Mountain of Solution Ministries Int'l, some family members, friends and other associates of the late bishop to the new private residence of the family to express gratitude to God for his support and faithfulness to the family of the late prophetic preacher and his ministry (MOSMI) since his glorious transition five years ago.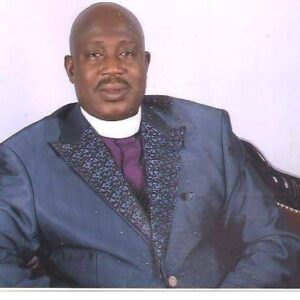 In her message at the thanksgiving service and house dedication, Mrs. Olugbenro thanked the Lord for standing with the Olugbenro family and the church (MOSMI) in the past five years, and also paid a glowing tribute to her departed husband. The children of the deceased prophet also thanked God and paid tributes to their father.
In her interview with Christian Benefits magazine on the 5th year remembrance of her late husband, Mrs. Olugbenro said God has been good to her, the children and MOSMI since the demise of the church founder. "God has been good and faithful to me, our children and MOSMI. He has been standing with us these five years," the lovely woman of God expressed.
The beautiful widow recalled some fond memories about her husband, and said, "I missed his lovely dancing steps, his love for God and his passion for humanity. My late husband had great and dedicated passion for ministry. Since his transition our children and I are doing well in Texas, U.S and the church is also moving forward.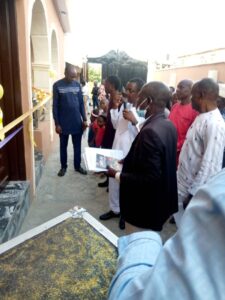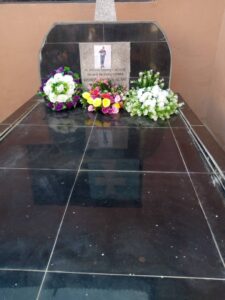 However, she expressed disappointment that most of the friends and associates of the late preacher have denied the late Prophet Abiodun Olugbenro after his death. "God has been faithful to us. The bitter experience is most people he assisted so much denied him after his death. I missed his lovely dancing steps and his passion for ministry. God has been faithful. The children are doing well in their capacity. The church is moving forward. I will encourage people to emulate his heart of giving and his great and dedicated passion for ministry," Mrs. Olugbenro said.
Some members of Mountain of Solution Ministries Int'l and some associates of the departed charismatic bishop paid tributes to him on his fifth memorial. Dr. Wole Olarinde, Publisher of Christian Benefits said the late Olugbenro left a yawning vacuum in the lives of several people yet to be filled. He said he personally missed Bishop Olugbenro. Olarinde recalled that he gave a posthumous recognition to the late amiable bishop at the 20th Anniversary of Christian Benefits magazine in 2020 in appreciation of his immense contribution to the magazine in his life time.
Dr. Olarinde wrote: "Didun ni iranti olododo. It's been 5 years today you left us unannounced. My beloved Guv, Bishop Abiodun Alani Olugbenro, the late General Overseer of Mountain of Solution Ministries Int'l (MOSMI), Associate Director, Christian Benefits magazine, President/Founder, The Compeller Club (an NGO and Gospel of compassion to prostitutes, street urchins, widows and the less privileged, erstwhile Assistant Publicity Secretary, Lagos state Pentecostal Fellowship of Nigeria (PFN), President, Lovers of Raji Fashola Fans Club (LORAF), Lagos state chairman of Church of God International Churches (COGIC), a media friendly person, a strong political mobilizer, an unrepentant giver and lots more. I celebrate you sir. Continue to rest in peace (Amen).
Bishop emeritus of Christian Press Association of Nigeria (CPAN) and Publisher of PTL News, Bishop Julius Adegunna described the deceased as "our amiable people's governor, while Bro. Gbenga Osinaike, Publisher of Church Times says the late Bishop Abiodun "was a jolly good fellow. He had a heart for people."
Brother Akeem Daniel Giwa, the first Personal Assistant (P.A) to the late Bishop Abiodun Olugbenro wrote emotional tributes to his former general overseer. "Bishop Abiodun Alani Olugbenro, the Set man, Mountain of Solution Ministries International (MOSMI), the man who was always ready to give his money, time and platform in support of kingdom projects. A man of many good parts. Omokan soso bi egbeeru omo, suure o! Eyin yin koni baje ni oruko Jesu, amin.
Rev. Dr. David Okusenogu, General Overseer, Christ Disciples Gospel Global Church and Bishop Olugbenro's colleague as former Assistant General Secretary of Lagos state Pentecostal Fellowship of Nigeria (PFN) also wrote: "How time flies. The memory of the saith is blessed. May God continue to comfort him family, you and all and the body of Christ. Shalom. Dr. Faith Ajiboye, a frontline gospel singer and respected minister of God also wrote: "May God continue to strengthen and comfort the entire family members and loved ones. It is well!"
Others who paid glowing tributes to the late founder of Mountain of Solution Ministries on his fifth memorial include Pastor Victoria Olugbenro (younger sister of the deceased,  Prince Kingsley Omo Iruonagbe, Efosa Richard,, Clem Emma, Joseph Essogie Esedion, Okwuhor Beatrice Ngozy, Babafemi Olugbenro (first son
of the deceased), Alex Adeluola, Victor Okolo, Pastor Gabriel Onyeisi, Joy Daniel, Rev, Ajani Olutade, Archbishop David Robert, Prophet Dr. Femi Adura , Pastor David Akinyosola, Pastor Julie Adewoyin, Brother Bola Olarinde,  and several other well wishers across the world.