Rev. Dele George, Founder, Little saints orphanage was one the maiden recipients of the humanitarian category of  the Benefits Awards for Missionary Excellence (BAME Awards) in 2004 with Evang. Elishama Ideh (Founder, Christ the Ever-Present Ministry, CTEM), Evang. Blessing Jibuike (Founder, Support Missionary Agency, SUMA), Rev. Mrs. John Gift ( Founder, The Good Shepherd Orphanage) and Evang. Taiwo Olowoyeye (Founder, The Bethlehem Orphanage) held at The Bible Place Guest House Palm groove, Lagos.
Going through Christian Benefits' rich archive recently, yours sincerely fell on a past edition of the magazine in 2002 that featured how Little saints orphanage started. Aside this particular story, Christian Benefits had published a couple of other touchy stories on the orphanage, including a special cover page edition that earned its founder, Rev. Dele George, the prestigious BAME Awards (humanitarian category) that 2004.
Pronto, Christian Benefits republished online two weeks ago its old story on how Little saints orphanage started, first published by the magazine in 2002. This motivated the magazine's editors to do a follow up on how the charity home for orphans has been giving life, hope and future to abandoned babies, rejected babies, abused babies, infected babies and orphaned babies for about 30 years since its establishment in June 1994.
Back to the orphanage for a fresh scoop, as usual, the gaiety and very friendly now 67-year-old  Rev. Dele George; the first child of a former military governor of the old Bendel state, the late Brigadier Samuel Ogbemudia; ushers yours sincerely by herself into her office with her trade mark of warmth and lovely smiles.
"Oh! I'm too busy for this interview o; I was thinking I should discharge you, and tell you to send your questionnaire to me for my response by email. But there's a rumbling in my spirit to grant the interview. I feel there is a purpose for this interview. Okay, let's do it this way. Let me share some information with you, later you send me your questionnaire for my response by email," with this inject,George welcomes yours sincerely.
I was short of disclosing to her that I never wanted to come myself either for the interview. I had wanted to send our assistant editor for the interview. Like her, I also had some struggles in my spirit to take up the interview by myself. So, Rev. Dele George and I settled down for a kind of a paddy-paddy gist about the little beginning of Little saints orphanage and its big strides in about 30 years of giving life, hope and future to hundreds of orphans mostly abandoned babies picked on the streets, dustbins and dumpsites.
One interesting, but unfortunate aspect of the scoop is George's account of her travails in the hands of the Lagos state social welfare, which landed her in the kirikiri prison yard. What a painful price to pay for giving life, hope and future to the hapless and innocent orphaned babies at Little saints orphanage.
Below are the excerpts from the step-by-step information that the lovely and Holy Spirit-field woman of God shares with Christian Benefits' publisher, Wole Olarinde, on the magazine's return to the beautiful haven of the Little saints for a fresh scoop on the fresh developments at the orphanage that has successfully raised and educated hundreds of hapless orphans since its humble establishment in 1994.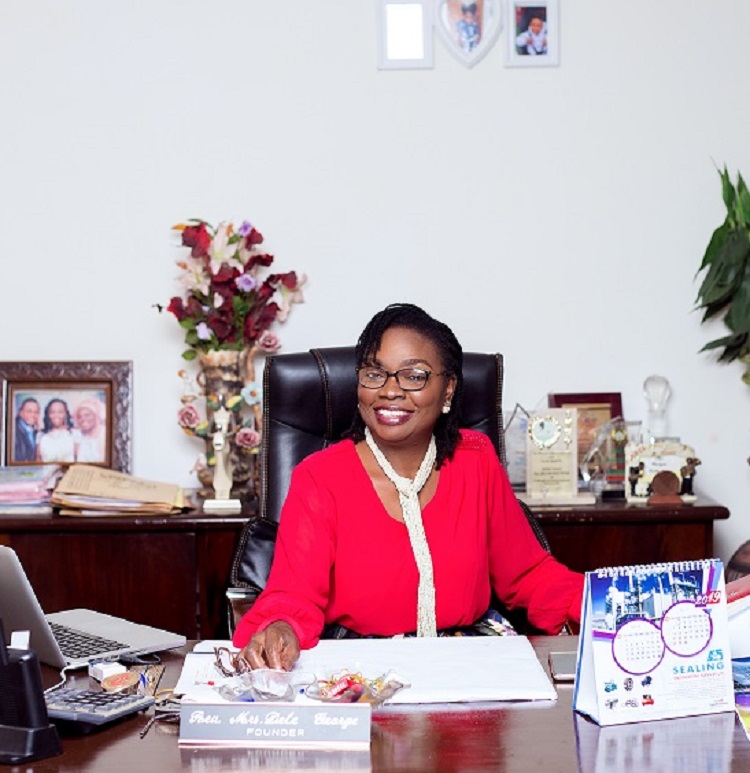 THE BEGINNING
Little saints orphanage started in 1994; so we are celebrating our 30th anniversary next year June 2024, by the grace of God. Over the years a lot has happened. Our main focus is the education of our children. We have over 60 graduates from different universities; from both private and government universities. Right now, we have about eight grandchildren from those of them that have happily married, and still bear our surname, George.
LITTLE SAINTS ORPHANAGE AS A BIG FAMILY
During their wedding, my husband and I stood for the orphans as parents, and we performed all the marital ceremonies that parents do for their children that are getting married. Their in-laws brought the usual engagement and marriage customary items to this place, and we got to meet them. It's a big family. That was the whole idea from the beginning. I thank God for giving me the enablement and the grace. I desired to raise them as confident children. I didn't want them to have any sense of low self esteem, or to feel that other people are better than them because they are orphans. I wanted them to know that they have parents too, like other children out there that have parents.
PARENTHOOD AND THE LITTLE SAINTS
Sometimes, God takes the biological parents home for His reasons, but He will always raise some person(s) to stand in as the mother and the father for the orphan. Sometimes, it could be relatives. But if one is not so lucky to have identified relatives, or to come from a big family, God will raise other people who are not even related to the orphan to stand in as his/her parents. My husband and I made up our minds to stand in as parents for the little saints, and they all bear our surname. Those that come with surnames bear their surname but those who come here as babies without surname, bear our surname. So, we have a lot of Georges in the orphanage, home and abroad. Some of them are in America now. Some are in the UK. One thing I notice about these children is that grace is abundant in their lives. Favour always follows them, especially those that are very devoted to God, and to praise & worship in the orphanage, I notice that grace is so abundant in their lives that they get scholarship to study abroad.
THE ADOPTED LITTLE SAINTS
A total of 450 adopted children in Lagos state came from Little saint orphanage alone. I can boldly tell you that Little Saint Orphanage has given the highest number of children for adoption in Lagos state. Majority of those children are adults now. They keep coming here saying, I heard that I was adopted from Little Saint Orphanage. Some parents bring them here to see us, after telling them they were adopted from this home. It's a beautiful story which I've always wanted and prayed for.
I PROMISED GOD TO CARE FOR JUST 25 ORPHANS
When Little Saint Orphanage started about 30 years ago, I didn't envisage the huge number of the children in the orphanage today aside those that are now married, or that have been adopted from the orphanage. What I said to God was that, father; I can help you with just 25 children because He told me specifically "take care of my orphans." Being the father of the fatherless, I told God, okay, I will do it; in my lifetime I would help you with just 25 children. And I planned that those 25 children would have the best. I would try my best to give them as much as what I give to my own children; send them to school up to the university level, give them a good life, and stay in my house. That was the plan for just 25 orphans.
THE EARLY CHALLENGE
Ironically, in the first two years of Little saint orphanage we had over 50 babies that were abandoned either on the street, dustbins or dumpsites. I was perplexed; how could God have given me such a burden to bear? How can I raise this number of children? At that time, nobody was helping us in Lagos. It was only my husband and I funding the orphanage solely from our family business.  So, I began praying, God you didn't call me to render me poor. You can't call me and make me wretched whereby I would now be going round looking for people to help me. You have to provide, although our business was doing well. My husband was very hard working. He was not in the ministry, but any money that came to the business went straight to the ministry.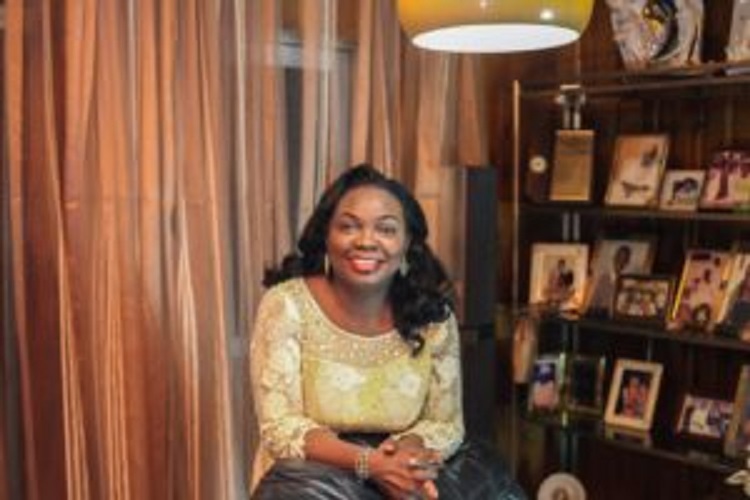 THE BREAKTHROUGH
So, it was so challenging until a journalist from Nigerian Tribune newspaper came one day to our office at Akowonjo, and said, madam, I've heard about the wonderful work you are doing. I want to publicize you. I said no, don't publicize me. I don't want Nigerians to think I'm running the orphanage to raise money. But she kept coming to our office to see the children until one day she wrote something about Little saint orphanage in the Nigerian Tribune. As soon as she published her story about the orphanage, people began visiting the home. As people began visiting us, God began to stir me up to open my home for help; that I can't do this work alone because of what was coming. So, I opened my heart to people for help and started contacting corporate organizations for support. That was how Little saint orphanage was able to provide all that we needed. We were able to get good patrons and sponsors that were committed to the children's education. The good thing about Little saints orphanage is that we are very open. We don't hide anything. In some orphanages it is when people are visiting them that they will dress their children shabbily in order to attract pity from the visitors.
HER BACKGROUND AND HER CARE FOR ORPHANS
I believe my background has a lot to do with my care for orphans because my dad and mum divorced when I was about 5 years old. I'm the first born of my dad. They got married while they were quite young. My dad was around 22 or 23 years old while my mom was may be 18 or 19 years old when they got married as young lovers. After my mom had had three children for my dad, they divorced. I didn't grow up having my mother totally at home. So, I missed that motherly presence, although I used to go visiting my mom everyday just to spend some time with her. So, when God called me to the ministry of orphans, I already knew how orphans feel without mothers. I said I that have one parent know the vacuum of a mother in my life, not to talk of someone who does not have any. So, the empathy for orphans is there right from the beginning. Therefore, I was very happy when God called me into the ministry of orphans. I know I will be able to handle such a ministry. There are people that cannot love other children asides their own. If you tell some people to adopt, they will say if God can't give me my own, I don't want to adopt. I will rather be without a child than to adopt. There are some people that do not even allow orphans come into their house. They feel like I don't know where the orphan is coming from. I don't know if the orphan is evil-possessed. I don't know whether his/her parents are witches. Some people will say maybe because of some evil things they have done that is why they became orphans. But for me, right from the onset till now I identify both parentally and motherly with all orphans.
ABOUT 30 YEARS FOCUS AND CONSISTENCY OF CARING FOR ORPHANS
My focus is God. My desire is just to do what God wants me to do. I'm someone who is always so much in tune with the Holy Spirit. I don't do anything without a confirmation from the Holy Spirit. The Holy Spirit has to tell me; no matter how small any issue seems to be, the Holy Spirit has to connect with me and instruct me. Even when you came here (to the orphanage), my carnal mind was saying, o tell this man to go back. But the Holy Spirit said, look you can't do that. I know his voice. So, I just obeyed even though I don't feel like granting any interview for now. But I know there is a divine purpose for this interview. That is the way it has always been. I always listen to the Holy Spirit who is my guidance and helper.
HOT MOMENTS AT THE VERGE OF PACKING IT UP
Are you aware that Lagos state once sent me to kirikiri prison? It happened that a particular female evangelist came here and claimed there was child whose mother had died of HIV, and she wanted that child to be in Little saints. I asked her to bring the baby. When the child was brought here we ran some medical tests on her, found that she was fine and she started living in Little saints. Later, that same woman came to me, and said she had found the child's father, and alleged that the father was harassing her for bringing the child to the orphanage while he is alive. I said okay, does the father want to come and pick his child? Meanwhile, Alausa (Lagos state government) was disturbing us why should we be keeping children that have parents; we should reconcile them to their parents; that it is better for children to be with their parents; even if they are drinking garri, let them drink garri together. The man came; we did the necessary things and released the child to him.
STEPS TAKEN BEFORE RELEASING THE CHILD TO HIM
We wrote to Alausa about the issue. We got both the police and the social workers involved before releasing the child to the man. But there was a journalist who was interested in the case of the child's mother alleged to have died of HIV. He said he had been monitoring the woman from when she fell sick to the time she died. He said the woman evangelist should have called him when that woman died, so that he can take her pictures to conclude his report. He got angry that why would she go behind him to get the child for that man? He came to my office asking for the child the woman brought to Little saints. I told him the child had been reconciled to the father. He said it was a lie; that the man was not the father. He said the man told him that the evangelist bribed him to come and lie to claim the baby. I didn't believe it.  I said, why would the evangelist bribe him to come and lie that he was the child's father? I had known that evangelist for over 5 years. She used to do evangelism under the bridge. So, I believed she was a true evangelist. I later discovered that the man that claimed the child as her father was a drug addict. But when he came here he didn't look like a drug addict. It was after the journalist came here that I realized he was a drug addict. I called the evangelist, and asked her, where is the child you took away from Little saints? She said the child was with her, that the man who claimed the child as the father said he couldn't cope with taking care of her. I told her she should have come to me and explain what happened, and I would have told her what to do in order to keep that child. I told her a journalist came and he's angry with her about the child being taken away from Little saints.
HOW THE SOCIAL WELFARE CAME INTO MATTER
One day I just saw the social welfare came to arrest me. They said what rights do I have to give the child to the evangelist? I told them I didn't give the child to the evangelist; that I even wrote to the social welfare that we were releasing the child to a man who claimed he was the father, that the social welfare should have replied us if they don't they want us to release the child. We wrote to the social welfare, called the police and the social workers who signed all the necessary papers for the child's release, so where do I have a case? They just wanted to feel they had caught a big fish. Before I knew it, they charged me to court for illegal release of the child to the evangelist despite the evidence that we did all the needful before releasing the child to the man who claimed he was the father. We took pictures of the man collecting the child from the orphanage. I told the court it wasn't the evangelist we released the child to but the man who claimed he was the father. So, it was that man they should be prosecuting. This case took eight years in court. They dragged me up and down all the eight years. If I travel I had to come back to attend court. I was troubled all the eight years that the case lasted.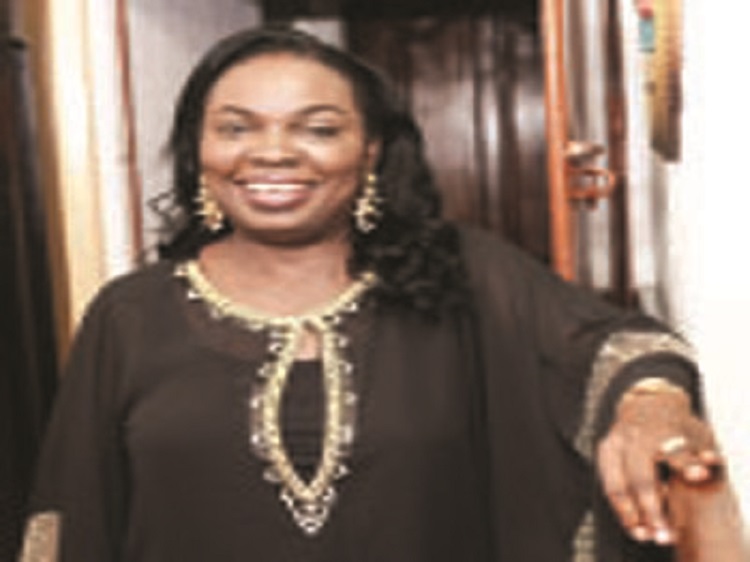 DISCHARGED AND ACQUITTED
Eventually, the judge dismissed the case after eight years. She was not happy that the prosecutors were troubling me. She said, look, you shouldn't be prosecuting people like this woman. She was not happy with my prosecution. She dismissed the case; discharged and acquitted me that I had no case to answer. During this period, the same ministry that charged me to court had written the then Lagos state attorney-general on the case. I went to see the attorney-general and he was angry when I narrated the whole matter to him. He wrote a strong-worded letter to the ministry of justice. The ministry replied him that they had investigated the matter and the woman had no case to answer. It was this letter I now presented to the judge. God had already gone ahead of me to settle the case. The judge then told the prosecutors, you people had already put it into writing that this woman had no case to answer, why did you have to charge her to court again? That was how the judge dismissed the case after eight years. I slept in Kirikiri for just three days because I was taken there on Friday to be charged to court on Monday. So, like Jesus I went through three nights of agony from Friday night and resurrected on Monday morning (Laughter).
WHAT WENT THROUGH HER MIND DURING THE TRAVAILS
I was upset; not with God, but with the social welfare. I was so angry; why should I go to prison and court for putting smiles on the faces of innocent orphaned babies. I said despite all I'm doing giving life, hope and future to innocent orphaned babies; even if I was found guilty as charged; which I wasn't, shouldn't the social welfare had stood for me to say because of the works this woman had done, yes, she made a mistake, she is not like that; even if I actually gave the child to that evangelist; which I didn't even do. So, I was really upset with the social welfare because when I spoke with their officials, I expected them to stand for me and say, look, we know this woman.  But they never did. Yet, they continue bringing a lot of children to me after prosecuting me. I really felt discouraged. But, as you know, the Holy Spirit is a comforter. He comforted and encouraged me.  Also, lots of well-meaning people surrounded me during my eight years ordeal in the hands of Lagos state social welfare for that baseless allegation.  Those that were very close to me were very angry too, with the social welfare. But, they just said, look, this is an experience you have to go through. This made me more determined.
ANOTHER BIG SACRIFICE OR PRICE PAID IN ABOUT 30 YEARS OF LITTLE SAINTS ORPHANAGE
When the Lord called me to the ministry of orphans, I was actually in the United Kingdom (U.K), with my kids. They were born, and were schooling in the U.K. So, I attended a Bible school in the U.K. Upon the call, I had to leave the kids in the U.K, and returned to Nigeria to answer the call. So, leaving my children in the U.K to answer the call in Nigeria is one huge sacrifice.  I didn't see any other route to do it than to return to Nigeria for the call. When God places a calling in your life, you can't rest unless you answer and fulfill it. So, most of the time, you have to sacrifice something. I sacrificed my time with the kids; though my biological sisters and sisters-in-law were there with them.  I had to leave them and kept moving and traveling to fulfill the call. So, I had to sacrifice that to start the ministry.  Again, I left our entire business for my husband because most of the time I'm with the kids in the orphanage.  You know babies, you have to be with them all the time.  So, I left the business for my husband, because I couldn't support him much because of the ministry.  He didn't complain; he just employed people to do what I would have been doing in the business. Of course, in the area of funding the ministry at the initial stage, we had to spent a lot of money to put the orphanage in a good condition, to ensure the children eat very well and go to school. But when people began to support us, I began to spend less from our personal resources.
WHAT SHE IS MOST GRATEFUL TO GOD FOR ABOUT 30 YEARS OF LITTLE SAINTS ORPHANAGE
I will say I'm grateful to God for everything. Everything God does for us is always wonderful and beautiful. In the ministry, I am mostly grateful to God for the provision.  Without God providing, there is no way these lots of children will go to school up to the university level. As a human being, no matter how rich you are, you can not fund the education of over 100 children without God's support and provision. But God provides for us to fund the education of over 100 children up to the university level. From one orphanage, we now have six homes; four in Lagos and two outside Lagos, with different types of babies and children. So, we are indeed grateful to God for everything. We are grateful to God that in about 30 years of this ministry, we have not made any terrible mistake, because from what happened to me in the hands of the social welfare, some people are just waiting for one to fall. The moment once falls, they will just bounce on one and send one to the grave.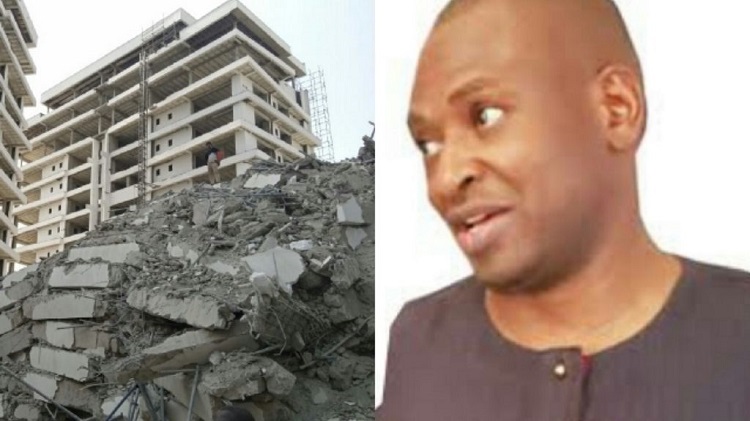 FEMI OSIBONA'S DEATH GRIEF AT LITTLE SAINT ORPHANAGE
Bro. Femi Osibona's unfortunate death is one incident that when you think about it, it just brings you sadness. Anytime, I remember him, I just feel very sad. But, at the same time, I give glory to God for what he was able to do before his painful passage. Of course, we have quite a lot of other patrons and sponsors who are also tremendously supportive of the ministry and the children, and for which I'm are extremely grateful to them too; I just want to share in this interview my thoughts about the late Bro. Femi Osibona as a tribute to his fond memories, because that man came into our ministry at a very dire time when we needed help to sponsor the education of our children. He started by sponsoring the education of two of our children. From two children, we went to 10 children. From 10 children he went straight to 100 children in this orphanage; both in primary and secondary schools. Apart from that, when we needed a house for our girls; when our children started going to universities and graduating, we realized it was improper for them to continue living together in the same home with the younger ones; because when they come back from campus, they return with some odd habits and behavioral patterns, and I didn't want that to affect the upbringing of the younger children in the home. So, I was desperate to get a separate accommodation for our undergraduate girls. And out of the blues this man (Femi Osibona) just called me, and asked me, Mrs. George, did you need a house? I never discussed with him that we needed a separate accommodation for our undergraduate girls. I said yes, and asked him, how did you know, Bro. Femi, that we are seeking a separate accommodation our undergraduate girls? I explained the need to him. He then renovated a house at Ogudu and presented it to the orphanage. He fixed all the necessary facilities in the house . After he fully completed the renovation, we relocated all our undergraduate girls to the new home at Ogudu courtesy of Bro. Femi Osibona. He gave us that house in 2005. As at the time he passed on last year 2022, he was also sponsoring six of our children in the universities. Bro. Femi's passage indeed left a big vacuum in Little saints.  We deeply felt his passage with very painful griefs in our hearts in Little saints. We just can't explain what happened that he had to pass at that time. He was such a selfless and generous giver. He was also very passionate about God. If you chat with Bro. Femi, out of three sentences, two would be about God. He was a fantastic blessing to Little saints orphanage and to the entire humanity generally. May his soul continue to rest peace, amen.