Anointed University Worldwide (ANUCITY) is a Nigerian-founded university in South Africa and currently with chapters in ten different nations. The president of the multi-racial university, Prof Kunle George Aladeoba, shares how he relocated the university from Nigeria to South Africa in 2007 in the wake of the Nigeria Universities Commission (NUC)'s clampdown on universities in the country without the required structures on the ground. He says he moved the university to South Africa in order to preserve and fulfill its commission of spreading to 28 nations, and of which the university has spread to ten nations. The Prof. shares more in this interview with Christian Benefits magazine as Anointed University Worldwide (ANUCITY) holds her 25th anniversary convocation at the University of Lagos, Akoka, Lagos on Saturday, November 4, 2023. Excerpts.
Please, can we get to meet you sir?
My name  is Prof. Kunle George Aladeoba; an apostle of Christ and the President of Anointed University (ANUCITY) South Africa.  I gave my life to Jesus Christ on July 7, 1987. The same year, God called me into ministry as an evangelist. I worked with Christ Apostolic Church (C.A.C) where I grew up as my family church and my father was an elder. So, I had a Christian upbringing and my parents gave me good education. God endowed me with wisdom such that I can invent from childhood. My hubby is singing and dancing. I thank God for saving me from darkness. I had a crucial salvation encounter after my graduation in religious studies from the University of Ibadan and was employed in the accounting department of Great Insurance Company
Tell us about your work for God before starting Anointed University Worldwide
I started my work for God at the now late Apostle T.O Obadare's World Soul Winning Evangelism Ministry (WOSEM), ketu, Lagos, in 1987. From there, I joined Prophet S.K Abiara's C.A.C Agbala Itura,and later Bishop Bola Odeleke's Power Pentecostal Mission (Kiibaati) where I met and married my wife. When my wife and I left Kiibaati we started a church. In the vision that birthed the church, I saw oil coming out of my head and people were tapping the oil on their own heads. The church was thriving until we got the wrong person in the right position, which gave us serious problems that led to my wife and I relocating to Akure and served under another woman of God as branch pastors of a small assembly until October 5, 1997; precisely on my birthday, when I heard the voice of the Lord spoke to me, "start a university that will spread to 28 nations." It's been very wonderful working for God. I have never regretted working for the Lord. I have never backslide from working and walking with him. It was in the course of my walking with the Lord that I met my wife at Mama Bola Odeleke's Power Pentecostal Mission (Kiibaati) as a member of her church. When we met she immediately joined me in the ministry, and she is still with me running the ministry all over the world till now.
What was your immediate reaction and the steps you took when you heard the voice of Lord spoke to you to start a university that will spread to 28 nations?
First, I told my wife this is what God said, how do we go about it? We then went into prayers. I asked God, is it a Bible school you want me to open? He said no! It's gonna be a university; a spiritual intellectual university. I also asked him, what about the funding and the structures for the university? He said to me: "my divinity will empower your humanity. Just follow me; though there will be obstacles, I am the way, the truth and the life. Nobody will be able to stop you if you follow me."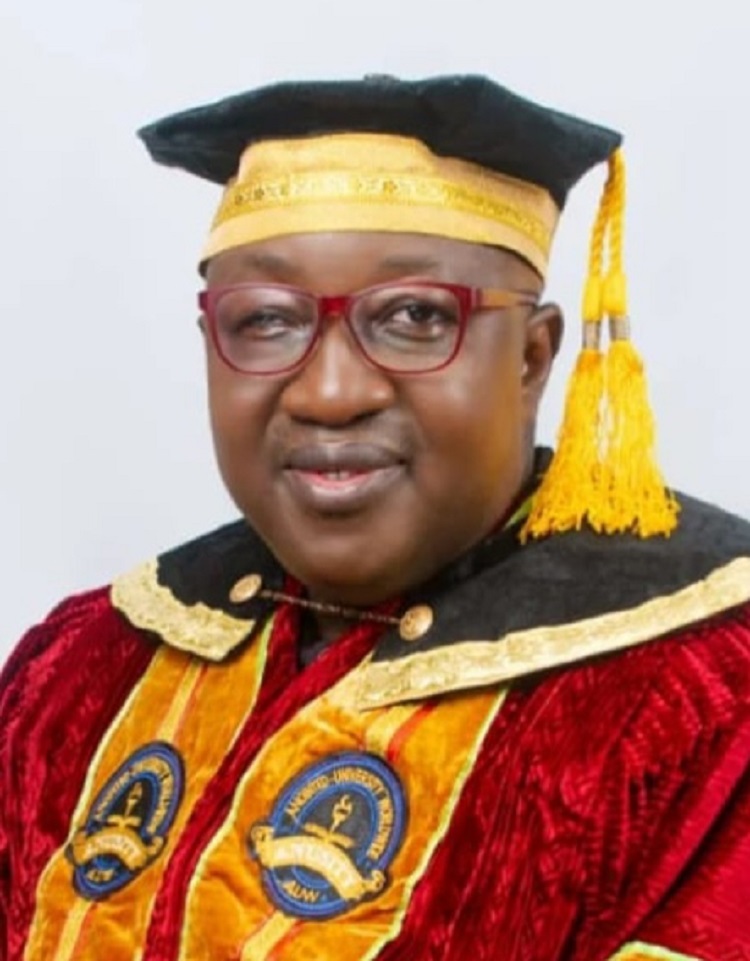 Professor Kunle George Aladeoba, President, Anointed University Worldwide (ANUCITY)
Share with us the little beginning of Anointed University Worldwide
My wife borrowed the money from her mother for us to start the then Jesus University; in a rented house in Akure. Most of the pastors we informed about the university looked at us as foolish couple, but we followed God. Unfortunately, unknown to us, the area where we started the university experiences a heavy flood every five years. It was the a period of another five years that we started the university with a library in that area. One day we went for a programme in Lagos and before we returned the house we used for the university had been swept away by a heavy flood. It destroyed all that we had in that house including all the books in our library. All our students had run away. That was how we lost our first investment in then young university in Akure.
How did you you revive the university from the flood that swept it away?
The Lord said to me don't worry, Pick yourself and go to Lagos. I have prepared someone that would accommodate you. The man of God who got us most of our students told us he was going to Lagos to start a ministry and asked us to follow him. We moved to Lagos with him and he arranged some elders with which we revived the university in his church building in Lagos as our fresh students. After about five months of reviving the university in Lagos and were about holding its inauguration that man of God said the university must bear his church name. We left his building and hired a room to continue the school. Along the line, my wife and I were employed as lecturers in a nearby theological school. Later, I went to another man of God at Isolo who we gave all our church instruments when the church had crisis. I encouraged him to start a primary school and he did. In 1997, we relocated the university to that primary school, and held its first convocation in the school premises in 1998. Later, we moved the university to a self-contain two rooms & parlour. During our second convocation a heavy downpour removed the canopies at the ceremony, and drenched all the attendees, including the guest speaker. We again moved the university to an uncompleted building where we ran the university for two years and held our next convocation at the University of Lagos. That marked the turning point of Jesus University leading to our relocation to South Africa in 2008.
What informed the relocation of the university to South Africa in 2008, and the change of its name to Anointed University Worldwide in South Africa?
Our relocation to South Africa was by divine revelation in the wake of the Nigeria Universities Commission (NUC)'s clampdown on the Nigerian universities that do not have the required university structures on the ground. Of course back then our Jesus University didn't have the required structures on the ground, and the Lord said to me, this is my (God's) vision; take it and run away. And just like he revealed to Joseph to take Mary and his son, Jesus, away in order to save the life of the little Jesus from Herod's onslaught, God revealed to us to move our university out of Nigeria in order to preserve and fulfill its destiny of spreading to 28 nations he had commissioned the university. Initially, we wanted to move the university to South Korea, but as God would have it, we moved it to South Africa. From South Africa the university has spread to 10 nations: South Africa, Brazil, UK, USA, Egypt, Korea, Uganda, Australia and Nigeria. I first went to South Africa three times before I finally moved to her capital. During my visits, the Lord instructed me to walk round the capital, which I did, and he said to me this is the place you are coming. That was how the Lord cleared the ground for us in South Africa on my third visit to the country.  I legalized my living in South Africa; obtaining all the necessary immigrant papers. By God's grace, we have legally settled down and living in South Africa since 2008.
What informed the change of the university's name to Anointed University Worldwide?
God instructed us to change the name to Anointed University Worldwide. so, we registered the university as Anointed University Worldwide in South Africa. Do you that know we are the only Christian university allowed to register in South Africa after the authority came after us in 2014 that we were running an illegal university? They were surprised we were registered as a university because it has never happened before They were surprised how we got the money to fund our university buildings in South Africa. They charged us to court, and also visited Nigeria to know if we are into any illegal act but they returned with reports to the judge that our hands are clean. And the judge, on behalf of the South African government, said to us, we are sorry. We applied for the U.S visa and the embassy told us we are not running an illegal university, approved my visa and also added my wife to the visa.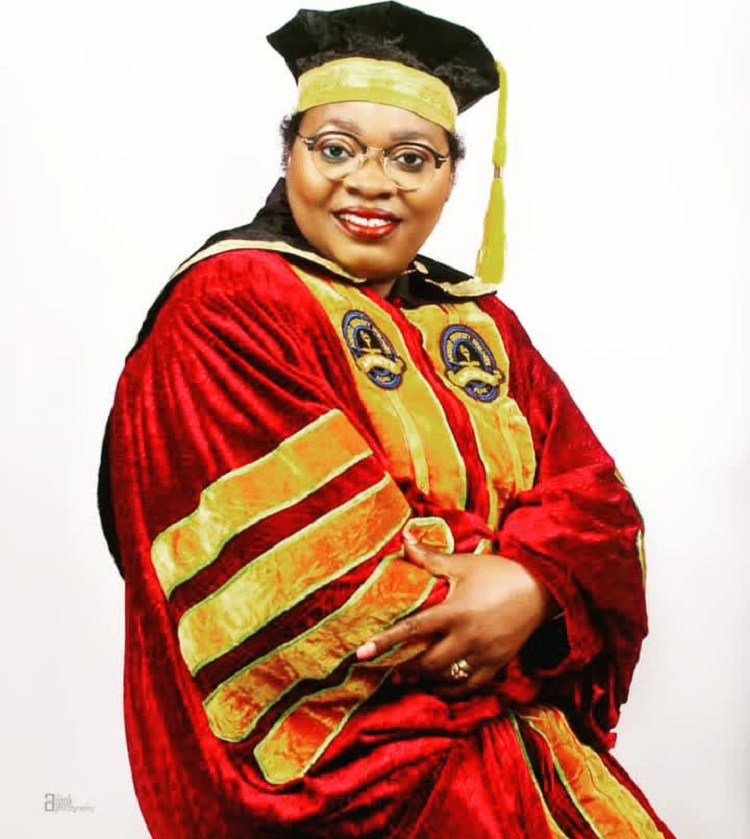 Professor Oluremi Kate Aladeoba, Deputy President. Anointed University Worldwide (ANUCITY)
How will you describe the role, contributions and support of your beautiful wife in the university?
My beautiful wife, Prof. Kate Oluremi Aladeoba, the deputy president of the university, is a worthy role model. She is not just my wife;  she is my divine partner. She doesn't know how to say no to whatever God says. Whenever I say this is what God says she believes me. When you have a woman that gives you confidence .it is more than than a wife.  My wife is my backbone and the helper that God has blessed me with.
What are your words of prayer to her on the 25th anniversary celebration of Anointed University Worldwide
I pray that the Lord God will sustain her to eat the fruit of her labour; and that we both live together to the old age and fulfill our destinies together in Jesus name.
What is the present operation of Anointed University Worldwide in Nigeria?
Anointed University Worldwide is still running in Nigeria presently in Abuja, Nasarawa, Jos and Lagos where we are currently building the university annex offices on Ekoro road in Abule Egba, Lagos. We have a governing Board comprising a chairman who is very passionate about us and has gifted the university land in Ede, Osun state for the building of the Nigeria's campus of Anointed University Worldwide. The university Lagos annex offices under construction is a multi-purpose complex both businesses and training. Anointed University Worldwide runs online classes and lectures in all our chapters in the nine nations. God has indeed blessed us.
How do you feel seeing the university celebrating 25th anniversary with chapters in nine nations?
I feel fulfilled with the global stride of the university in 25 years. It is a mystery to me. The fact we have come this far is still a mystery to me. I often tell myself I don't know God can do this for me because my picture is not in it at all. It is God's picture.  From the 28-nation target God commissioned us to cover; by the grace of God we have currently covered nine nations: South Africa, Brazil, U.K, USA, Egypt, Korea and Nigeria, and hitting the 10th nation in Australia. God has indeed been faithful to us these past 25 years.