God's Mercy Revival Ministries (GOMERM), Ikotun Lagos recently concluded its Zion 2022 yearly conference with a declaration by its general overseer, Dr. James Akanbi that the fast-growing revival church with almost 100 branches worldwide is stepping on higher ground in its evangelistic quest of breaking more boundaries.
The week-long programme with the theme Higher Ground Life, from August 15-21, 2022, featured a battery of seasoned and notable servants of God as guest ministers and ended with a glorious grand finale celebration at its Mercy Revival Centre, Ikotun, Lagos.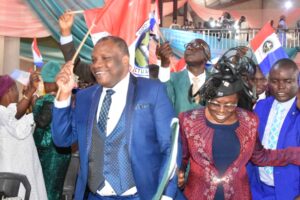 Dr. James & Pastor Deborah Akanbi celebrating at grand finale of GOMERM'S Zion 2022 conference
Before drawing the curtains on this year's Zion 2022 conference of the global ministry, Akanbi assured the church members and other participants at the conference that they had been adorned with a new garment of power of breaking boundaries, declaring that God is planting their feet on higher ground and taking them to greater heights.
Dr. Akanbi declaring GOMERM's stepping on higher ground at the grand finale of ZION 2022 conference
"As the Apostle and Prophet of this GOMERM commission, I boldly declare to you that God is planting our feet on higher ground and taking us to height we've never attained before. We are breaking and surpassing all forms of limitations. We are surely flying to unlimited heights. We are taking new land and territories. We are entering great open doors and enlargements. We are possessing our full inheritances in God. These are God's promises for us. I believe He will bring them to past,"Akanbi prophetically declared to the excited congregation at the closing.
Recalling the humble beginning of God's Mercy Revival Ministries (GOMERM), elated Akanbi; the amiable general overseer of the now worldwide ministry shared how GOMERM started in 1999 with just 12 souls. "Today, we are thousands of souls in almost 100 branches in seven countries spanning different continents. God has truly been committed to his covenant with this commission. We have not just seen God's faithfulness and mercy at work, we have also enjoyed it abundantly," he shared.
Akanbi attributed GOMERM's fast and steady growth in 23 years of existence to the peace and love of God that he said the  ministry enjoys, explaining that the peace of God has been abiding and continues to abide with the ministry, and that its members enjoys God's love. He further said that as a denomination, GOMERM continues moving from strength to strength and expressed that the church has a lots to be thankful and grateful for.
"God's kindness is being expressed, not just at the corporate level or at the regional, zonal and branches level, but also at the family and individual level. Testimonies of the supernatural acts of our God of Mercy and Wonders have been abundant in our midst. Without any doubt, the good success God has granted the ministry has not been by personal effort of individual ingenuity or dexterity. It has been by the mercy, peace, goodness and faithfulness of God. To His alone be all the Glory,"Akanbi profusely expressed gratitude to God for GOMERM's success story since its inception in 1999.
Despite GOMERM's success story, long strides and awesome testimonies in 23 years of existence, the general overseer said the apostolic ministry is not resting on its achievements, disclosing that the revival train of the ministry never stopped moving in the last 12 month since its last power conference in 2021 and had held major revivals at Ifo, Abeokuta, Epe and a major crusade in Benin. "We also had special Power Nights which were held outside of our expansive Mercy Revival Centre (MRC) where we hold our monthly miracle services. Several thousands of people were in attendance at these revival meetings with diverse forms of healing, deliverance and supernatural interventions taking place. Daily, the church is being strengthened as new converts are won into the kingdom of God and further established in the body of Christ," he shared some of GOMERM's testimonies.
Dr. James Akanbi concluded his special sermon at the grand finale with prophetic declarations that wrought massive divine healing, deliverance and restoration upon hundreds of the participants fell under the anointing and with miracles, signs and wonders following in their lives. This was the climax of the eventful one-week of programmes that featured four days ministers' conference, teachings and lectures in the morning session and messages, prayers and revival in the evening session.
The seasoned and notable servants of God that ministered at the Zion 2022 conference of God's Mercy Revival Ministries are Pastor J.F Odesola, Pastor Anu Ojo. Pastor John Oluwadare, Pastor Taiye Olayemi, Rev. Tony Akinyemi, Rev. Albert Aina, Rev. Toyin Kehinde, Rev. Kola Oyeyemi, Pastor Sam Adekoya, Dr, Francis Akin-John, Pastor Olaitan Aromolaran, Pastor Bisi Adewale and artistes; Dare Justified, Tosin Bee and Adeyinka Alaseyori.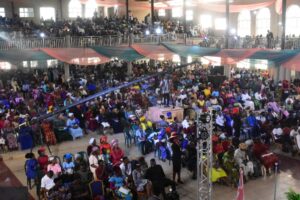 The massive auditorium of Mercy Revival Centre (MRC) full to capacity with participants from all walks of life at the grand finale of this year's God of Mercy Revival Ministries (GOMERM) Zion 2022 conference