Dr. James Akanbi has buttressed the necessity of power in the lives of believers in order to activate their dominion on earth. He asserted that every believer requires the mantle of power, which he described as a tool to fulfill God's mandate to man to dominate the earth. Dr. Akanbi, the General Overseer of God's Mercy Revival Ministries (GOMERM) made this assertion in his sermon at the grand finale of the just concluded 22nd annual conference of the apostolic ministry held at the church magnificent international headquarters in Lagos.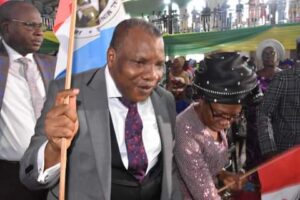 Speaking on the conference theme, Activating Dominion, Dr. Akanbi noted that dominion was one the four mandates that God gave to man to exercise authority over the earth. "Dominion is one of the key mandates or authorities God gave to man, particularly to us believers to rule the world. God expressly said in Genesis 1:26 "…Let us make man in our image, after our likeness; and let then have dominion over the fish of the sea, and over the fowl of the air, and over the cattle, and over all the earth, and over every creeping that creepeth upon the earth."
He continues: "God emphasized his mandates to mankind in Genesis 1:28, "to be fruitful, and multiply, and replenish the earth, and subdue it; and have dominion over the fish of the sea, and over the fowl of the air, and over every living thing that moveth upon the earth." But you need one thing to activate this dominion on earth. That thing is power," the cleric said.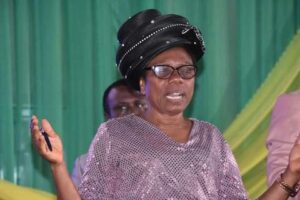 He therefore charged believers to seek and take the mantle of power just like Elijah did in order to be able to activate their dominion mandate over the earth. "2 King 2:1 says, "And Elijah took his mantle, and wrapped it together, and smote the waters, and they were divided hither, and thither, so that they two went over on dry ground." Why did Elijah take his mantle? Elijah took his mantle because he was aware he cannot prosper without his mantle. You cannot become your divine configuration without having the tool for the configuration.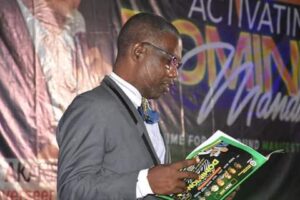 "God did not create anything without tools. Genesis 21:8 says God blessed them. This means God empowered them. He enabled them. He strengthened them. He gave them the capacity and also anointed them to do what he called them to do in life. Without the phrase "bless them," it is impossible for them to carry out what he asked them. They would have become ambassadors that did not know their purpose in life. They would have been stranded as soon as they were created. They would have struggled through life without results," he explained.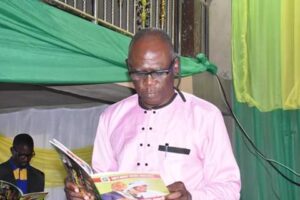 Dr. Akanbi further said those who are not endued with the mantle of power struggle in life. His words: Destinies that have not been mantled (empowered) struggle in life. They put in so much effort into life but receive very little from life because they lack the mantle (power). No mantle! No Power. A life without mantle remains on a spot until God endues it with power.  Bondage continues until power comes. Genesis 27 tells the only way you can access power. Power answers power. If a power ties a person it takes another power to loose him.
"Jacob sought for power to loose him and he received power. In the Bible whenever people wanted to start a new thing they had the mantle. When Jesus sought to be who he was called to be, Luke 4:14 said he returned to Galilee in the power of the spirit. Jesus accessed power before he started. You can't get anywhere without the power. Your destiny will only begin to achieve when you receive dominion. Prophet Samuel told Saul that when the power comes upon him he would be another man. When you get power you will exercise dominion in all areas of life. When you have the mantle, the world will bow and submit to you," he charged.
The awesome grand finale of the 22nd annual conference of God's Mercy Revival Ministries (GOMERM) was a spectacle of glorious celebrations of God's faithfulness to the church since its inception in 1999. The highly elated Dr. James Akanbi with his lovely wife, Pastor Mrs. Akanbi led a long train of ministers round the wide church auditorium in dance worship unto the Lord, raising GOMERM flags of dominion in 22 years to the glory of God.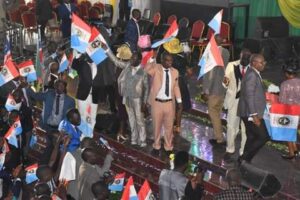 The conference, which was a week-long event from August 25-August 31, 2021, had during the week featured some notable anointed servants of God and some praise/worship ministers as guest ministers at the conference. The grand finale also featured presentation of plague with cash awards to some outstanding ministers and members of the church in the preceding year.
Dr. James Akanbi, in an interview with journalists shortly after the celebrations, shared his thoughts with the media on the current state of Nigeria. In his response to a question on his passionate interest in the affairs of Nigeria, Akanbi said he usually approaches the affairs of Nigeria in two dimensions. "I usually approach the affairs of our country, Nigeria in two dimensions; these are socio-political and spiritual dimensions. The socio-political problem of Nigeria is leadership. In my press address sometimes ago I pointed that to solve the myriad of problems facing our nation we must first fix the issue of poor leadership of the country.
Akanbi warned that Nigeria cannot continue running the same poor leadership and expect positive developments in her polity. He said the brutal fact was that Nigeria's major problem is leadership. "If we want to fix Nigeria's problems it has to start from her leadership. This gives a brutal fact that Nigeria's problems cannot be solved without first effecting a positive change in her poor leadership. Someone said if you keep doing the same thing the same way and you are expecting a change that means you have a mild insanity." The cleric further said people should not expect any positive change from the present leadership of the country.
"There is nothing they (the present Nigeria's leadership) can do. Socio-politically, Nigeria seems to be doomed. Nobody can fix Nigeria from the bottom except from the top. At my press conference I organized in 2015 and said President Buhari cannot fix Nigeria economy. If a leadership lacks capacity there is no way we can talk of fixing insecurity in the country. A good leadership that will positively deliver must be visionary. When we are able to fix the problem of leadership in this country, the problems of insecurity, poor electricity supply, economic recession and other challenges in the country can be handled," the cleric assured.