Family Booster Ministry (FBM), a faith based non-governmental organization (NGO) will from Thursday 25th-Saturday 27th September, 2022 host an International Ministers' Family Conference on "Excellent Family, Excellent Church , where issues relating  to the health, the finance, the family life and the total well-being of ministers of God will be addressed by some renown experts.
Pastor Bisi Adewale, the host of the unusual ministers' family conference on the total well-being of ministers of God and church leaders, in his recent meeting with some journalists in Lagos on the conference, explained that the 3-day programme was aimed at addressing the health, the marriage, the finance and the family challenges of ministers of God with a view at helping and strengthening the ministers in their respective family and ministry.
Describing pastors as special people with multiple tasks as marriage counselors, financial counselors, psychologists, trauma healing experts, guarantors, lawyers, accountants, health experts, fathers, pillars yet passing through personal challenges they find difficult to discuss with people, Adewale expressed concerns about the plights of pastors on family issues, financial struggles and health crisis, yet "they are the ones most of their followers call first whenever they need help. They are consulted for almost everything," the family life coach expressed.
Pastor Adewale revealed that many pastors, church leaders and ministers are passing through many challenges that they find difficult to discuss with people. He shared some statistics sourced from Pastoral Care Incorporation showing that 38% of pastors are thinking of quitting the ministry (51% from mainline denominations) 50% of pastors from age 56 and above are having serious health issues. 72% of pastors work between 55 to 75 hours per week.  84% of pastors feel they are on call 24/7, 80% believe pastoral ministry has negatively affected their families. Many pastor's children do not attend church now because of what the church has done to their parents. 78% of pastors report having their vacation and personal time interrupted with ministry duties or expectations. 65% of pastors feel they have not taken enough vacation time with their family over the last 5 years. 35% of pastors report the demands of the church deny them from spending time with their family. 24% of pastors' families resent the church and its effect on their family. 22% of pastors' spouses say the ministry places undue expectations on their family.
"Our findings at FBM revealed that many pastors, church Leaders and ministers are passing through many challenges that they find it difficult to discuss with anyone. Some it is their marriage. Some it is emotional battles and others it is deep health issues and some need new knowledge to drive their ministry. We also discover that majority of pastors' wives are not happy with the state of things at their homes. While lots of pastors children are turning against their parents and many youths are turning their backs against the Church. As such, it became necessary to to help and stir up conversations about pastors' health, marriage, finance and family life so as to help strengthen these men and women attending to the need of others and building our society. This is the reason FBM has gathered together experts that can dissect issues that affects pastors and their families. The need for this conference is borne out of the desire to look deep into the lives of pastors and church Leaders," the author of several books on family disclosed.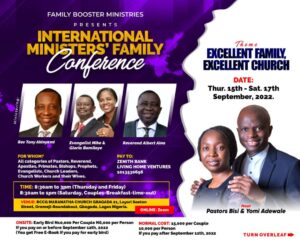 The three-day conference designed for all categories of ministers of God including pastors, reverends, apostles, primates, bishops, prophets, evangelists, church leaders, church workers and their wives will hold on Thursday and Friday (8:30am to 3pm) and Saturday (8am-1pm) at RCCG Maranatha Church GBAGADA 21, Layori Soetan Street, Oremeji-Roundabout, Gbagada, Lagos Nigeria. It will also be broadcast online on zoom and WhatsApp.
The Conference speakers include Evangelists Mike and Gloria Bamiloye of Mount Zion Ministry who will speak on Power of Unity in Ministry, Rev Tony Akinyemi (on Ministers' Health and How to Live without sickness) and Rev. Albert Aina (on Ministers Finance and Money Management). The Conference contents are as follows:
— How to regain and retain youths in the Church
— Health: Living Above sickness
— Health: Natural Ways to handle prostate enlargement
— Finance: How to make Money for your family without hurting your Ministry
— Marriage: Pastor Wives number one Ministerial assignment
— Ministry: How to help your Church Members build strong Marriages
— Effective Ways to support your Husband's Ministry
— How to gain and retain youths in Church
— Ministry:  Building stronger Churches as a Couple-in-ministry
— Emotion: Inner healing for hurting Pastors and their Wives
— Marriage: How to maintain strong marriages in ministry
— How to build better marriage in your Church
— 54 Pillars of marriage Success
— What Every Couple-in-Ministry must never do
— Marriage and Ministry striking a Balance
And lots more
Costs of participation at the conference are as follows
INVESTMENT: ONSITE
Early Bird
N10,000 Per Couple
N6,000 per Person
(For payment before 12th September, 2022)
REAL COST
ONLINE (ZOOM)
Early bird N15,000 (30$) per Couple
For payment before 12th September, 2022
Actual Cost
N20,000 (50$) per couple
For payment before 12th September, 2022
HOW TO REGISTER
Click this link to pay with your Card
https://bisiadewale.com/imfc2022/
Or Make a Transfer to
LIVING HOME VENTURES (Naira)
1013530696
ZENITH BANK
LIVING HOME VENTURES (Dollars)
5070155252
ZENITH BANK
The details of payment for participation that include the participant's names, email address, phone nos and online or offline participation should be send to familybooster@yahoo.com and 08056457013, 08068312004 and the participants  will be added to a WhatsApp group to get further details on the conference