Pastor Solomon Ojigiri has dismissed as erroneous the impression in some quarters that the annual Saint Valentine's Day celebration is for sinners. Instead, the cleric advised people, particularly Christians to be smarter than the devil during the yearly celebration.
Pastor Ojigiri explained to Christian Benefits the significance of the yearly day of celebration of love among humanity, just as his ministry; Ever Winning Faith Ministries Int'l holds Valentine Lovers' banquet on this year's Valentine's Day celebration on Monday February 14, 2022. The church has been hosting the lovers' banquet yearly every Valentine's Day for the past 15 years to educate people what love is all about.
"As a preacher who is passionate for the youths generally, I have discovered the need for us to be smarter than the devil on the Valentine's Day.  We discovered that the devil uses Valentine's Day to destroy youths, so we decided to take advantage of that day to educate people about what love is all about," he explained.
The preacher posited that a lot of people misunderstand or misconstrue the concept of love, and he made reference to the literary icon, George Bernard Shaw's statement on love to back his position. "Like George Bernard Shaw once said love is one of the most misunderstood and misconstrued word in our vocabulary.
"Therefore, our perspective of the yearly Valentine's Day celebration is to let people know what God says about love. Our message is that God Himself is love, and no one can truly give love until they have received the love of God (Christ) into their lives because you cannot give what you don't have," the cleric explained.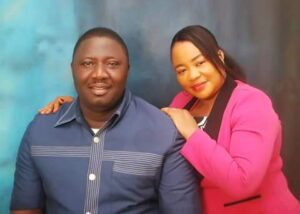 Pastor Solomon Ojigiri, whose Singles & Relationship programmes together with his beautiful wife, Pastor Mrs. Laura Oluwayemisi Ojigiri are very popular among youths, said the youths are basically the targets of the yearly's Valentine Lovers' Banquet of Ever Winning Faith Ministries Int'l on February 14 every year.
"Our targets basically are the youths especially Singles. It is not just to get them busy with an alternative programme on that day, but to liberate them from deceptions by imparting them with the word of God. It is generally believed that the celebration (Valentine's Day) is for sinners, but we cannot fold our arms and watch people go to hell without doing anything about it. We must learn to respond positively to people's needs, Apart from this yearly Valentine lovers' banquet and our weekly programme both physical and online, we run series of relationship meetings through our Singles and couples of purpose programme. By the grace of God, I have written about 50 books including daily devotionals. Many of our books are on relationship," the amiable lawyer-turned preacher disclosed.