Ever Increasing Anointing Ministries International, Egan-Igando, Lagos, will celebrate its 27th anniversary from September 26th-30th, 2022 at its headquarters, 14/16 Olabisi Olaitan Street, Omolade Bus stop, by LASU-Igando Road, Egan-Igando, Lagos. The 5-day celebration will feature morning session for Prophetic Eagle Ministers Summit on Fire on the Altar and evening revival session on Power of Prayer.
Pastor Taiye Olayemi, the church's general overseer in an exclusive interview with Christian Benefits on this year's anniversary, said the yearly anniversary celebration of the church was a time of celebrating God's faithfulness to the church members. He adds: "Ever Increasing Anointing Ministries International's yearly anniversary celebration is basically a time of renewal and revival in the church. God has been faithful to us over the years. We are indeed very grateful to God for His faithfulness in this 27 years journey of the church so far," the cleric expressed.
While expressing gratitude to God for the big strides of Ever Increasing Anointing Ministries Int'l; as one of the largest and fastest growing churches in Alimosho area of Lagos state, the Kogi state-born amiable preacher said he was not surprised at the laudable growth of the church in 27 years, disclosing that from the beginning God revealed to him the heights the church has attained now. However, he said the apostolic church still has lots of grounds to cover in fulfilling its divine mandate.
"One cannot measure the work of God by predictions or numbers because God works in diverse ways. Most times all the Lord needs are our obedience and loyalty to His instructions. Lots of people measure church growth by the numbers of its members but in God's sight church growth has little or nothing to do with numbers or physical possessions. Many people are coming to church on the basis of getting what they want from God. This year we are bringing more people back to God on the basis of relational, instead of command prayers to God," Olayemi shared on the main theme of the church's 27th anniversary celebration, Prayer Revolution.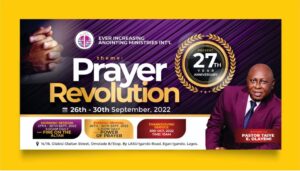 Speaking further on the theme, Prayer Revolution, the prophetic teacher explains, "Most of us pray command prayers and not relational prayers. Command prayers are different from prayers borne out of an intimacy with God. In relational prayers, when you pray and you didn't get answer you look for the reason you didn't get answer. But command prayer is borne out of God's command to pray whether we get answer or not. God called us to a relationship with Him. And that is why Jesus died for us. Prayer is God's will, but are our prayer points God'swill? In relational prayers, you pray in God's will. You fast in God's will. You don't fast because you want to cast out demons. In relational prayers, you pray and fast as a normal lifestyle more than mere obedience to God's command on prayer," Olayemi explained.
The preacher also pointed at the complementary functions of the word of God and prayers, enjoining believers to balance their prayer life with the word of God. He however declared a prayer revolution at both the morning session ministers' summit and the evening session revival prayer service of the anniversary celebration.
"Both the morning and evening sessions are going to be prayers all through; and of course with the sharing of the word. God wants our prayers to bring glory to Him. He wants our prayers to be fruitful. At these meetings we are going to align our prayers with God's heartbeat. Prayer and the word of God go hand in hand. Whoever that doesn't give himself or herself to both prayer and the word can't go far in life or ministry. The Prophetic Eagle Ministers' summit is for ministers to build, rekindle or revive the fire on their altars. The fire referred here is power. Corporate prayers bring about revival to the issues of individuals, ministers and ministries. At this year's meetings we are going to do more of prayers to revive the altars of ministers and the lives of individuals ." Olayemi disclosed.
The 27th anniversary celebration of Ever Increasing Anointing Ministries Int'l, like its previous anniversary celebrations will close with a thanksgiving service on Sunday 30, September, 2022 from 9 am at its international headquarters, Egan-Igando Lagos.