Elder Apostle Michael Lebile has dismissed the recent outburst of Prophet Dele Ogundipe; popularly called Genesis, against Mother Esther Ajayi as a personal issue that shouldn't bother the generality of white garment churches. Describing gospel singer, Lanre Teriba as the sacrificial lamb in the tussle between the two popular white garment preachers, Apostle Lebile condemns the pouching of members among white garment churches as he shares the expectations from this year's anniversary of the Eternal Sacred Order of Cherubim & Seraphim (Aladura Parent Body), and the significance of the yearly celebration, in the below interview Christian Benefits. Excerpts
Congratulations sir, on the forthcoming anniversary of the Eternal Sacred Order of Cherubim & Seraphim (Aladura parent Body). Please, can we meet you sir?
My names are Elder Apostle Prophet Michael Olusegun Lebile, AOM. I am the Secretary General and serving as the Acting Spiritual Leader/President of the Eternal Sacred Order of the Cherubim and Seraphim Inc. RC 316 (Aladura Parent Body).
What is the significance of the annual anniversary celebration to the church?
The significance of our annual harvest anniversary is to give thanks to God for all He has done in our life, so we are observing the Biblical doctrine which reminds us of God's provision for us and blessing for others. We celebrate a harvest season just once a year, we experience the spirit of harvest all the time (Exodus 23:16). We have constituted Harvest Committee headed by Special Apostle Pro. Kolawole Temitope Thompson Alonge (Kakaki JESU), Chairman, Harvest Committee assisted by Snr. Evangelist Kehinde Ashaluwala, Chairperson, Harvest Committee, Special Apostle Pro. Abia Sunday Edet, Bro. Thank God Obiechefuna, Security/Welfare, Pastor Segun Akingbade, Bro. Abayomi Salako, Sister Abosede Taiwo, Music, Snr. Evang. Aina Adewoyin, Evang. Dorcas Ariyibi, Sister M. Babalola, Entertainment Dept, Snr. Lady Leader Taiwo Ifeoluwa Lebile,  Secretary Harvest Committee. They are working round the clock to make the day a memorable one.
How will you describe God's move in the church between last year and this year's anniversary?
God has shown Himself worthy of Praise by sanitizing His Sanctuary of all disobedience. He made all things possible for those who reference Him in their service. There are lots of uplifting in all departments of the House of Prayer.
What are the expectations from this year's week-long anniversary celebration starting from September 29, (the 2022 the Holy Michael Day)-November 13,2022 grand finale?
Our expectation in this year's anniversary is spiritual impartation. We having seven Powerful Thursdays Revival which starts from 29th September, which falls on Holy Michael day to 10th November 2022, which is our FESTIVAL OF SONGS/PROPHETIC DECLARATION NIGHT and we will be having the Thanksgiving service on Sunday, 13th November 2022.
What are the aims and purpose of this year's anniversary celebration?
The aims and purpose of our Harvest Thanksgiving Anniversary is to give thanks to God Almighty, and also, lay before Him our expectations for the coming year 2023.
What should the participants expect from all the Thursdays of the long weeks programme, and what should they do to be partakers of the blessings from this programme?
The participants should expect the grace and the manifestations of His glory. To be partakers of the blessings, they need to come with their faith.
Tell us about the guest ministers that will be joining you in imparting lives during the long weeks programme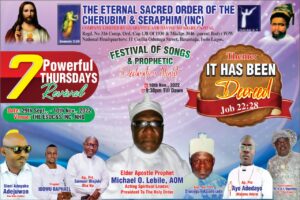 The guest ministers that would join me in imparting lives during the long weeks programme are Baba Aladura Pro. Dr. J. O. I. Ogundipe DD Oba Alayo 1, Supt. Apt. Pro. Olusegun Agunbiade, Apt. Pro. Ayo Adedayo (Majemu Adura),  Apt. Pro. Samuel Olajide (Oba Naa), Prophet Raphael, Special Apt. Pro. Kolawole Alonge (Kakaki JESU) and other anointed ministers of God.
Apart from this yearly anniversary celebration what are other programmes of the church where God imparts lives?
Apart from this anniversary, on 29th September 2022, we are celebrating Holy Michael Anniversary. This is the day God declared victory over adversaries in His Kingdom and give liberty to those in bondage, bind the brokenhearted and proclaim the acceptable year of the Lord. It's a celebration of victory for the Cherubim and Seraphim Band worldwide because it's the day Jehovah God gave us Archangel Michael, the leader of the heavenly hosts as the Captain of the Holy Order. It's a day of Special Prayers for Armed Forces all over the world for God to continue to uphold His mandate upon their lives. We are declaring 29th September as the International day of the Army of Salvation and it will be observed worldwide as from 2023. We have other several programmes that impart lives in the Holy Order like: SO IGBA AYE MI D'OTUN;.a monthly vigil which comes up every 2nd Tuesday of the month.,1st Monday vigil which comes on 1st Monday of the month, three days Revival once a month, Asaale awon Oba, which is only men vigil open air services and organizing seminars etc.
How will you describe your experience since you assumed the church leadership about six years again ago?
Since I assumed the leadership in the acting capacity, I have come to realized that uneasy lies the head that wears the crown. So, I give God all the glory for seeing me through to this day. I know there are lots to be done in the Kingdom of God. Within this period, I witnessed loyalty, betrayal and success in some areas and we are working towards achieving more successes in other areas.
What are the changes and development your leadership has achieved in the church, and your further vision and plans for the church?
There are lots of changes, we have put on hold ordinations, which is part of the challenges we are facing now; thus opening avenues for youths to have a say in the affairs of the organization. My further vision and plans is to see members standing firm and strictly observing the tenets of our doctrine and practicing it according to the constitution the Holy Order with total humility and fear of God.
For decades now you've been vociferous clamoring for oneness, unity, change and modern development in the Seraph fold. How will you describe the state of the Seraph fold today?
We thank God that there are true Cherubs and Seraphs who had realized the need for oneness and unity and working relentlessly to achieve the goal. Though, the state of the fold today is nothing to write home about: situation whereby competition, camping and de-camping, buying of players and trying to render the youths and elders clueless in their duties. We are still battling the spirit of segregation that has gained ground to fault the efforts of the faithfuls. It's a pity that those we look up to as leaders have sold their anointing for a bowl of porridge. Their scepter has been given to women (Isaiah 3:12). We will not relent until we achieve our aims to take the Holy Order to the Promised land.
What do you make of the recent outburst of Prophet Dele Ogundipe (Genesis) against Mother Esther Ajayi and Lanre Teriba's comment over the issue? Are their public outbursts not a disgrace to the white garment churches?
Prophet Dele Ogundipe Genesis and Mother Esther Ajayi's issue is personal. It has nothing to do with white garment churches. We didn't know when, where and how they met, I don't think it should get to this…if maturity had come to play. What happened should be a lesson to all of us. Their issue shouldn't be headache for the Cherubim and Seraphim and Celestial Church of Christ because their matter was not reported to either side for any reconciliation but blown to the world to judge them. So, it does not have any bad effects on the image of White Garment Churches. My advice for them is to go and make amends and stop disgracing themselves. Lanre Teriba made himself a sacrificial lamb.
Lastly sir, as a prophet to the nation, what is your view on the situations in Nigeria today, and your advice to both the leaders and the followers in this country on the coming 2023 general elections in Nigeria?
The situations in Nigeria today have been there since the inception of the country. Selfishness, greed and lack of trust are the main causes of insecurity, kidnapping, banditry etc in Nigeria. But we can overcome these, when we are ready to see ourselves as Nigerians and abhor tribalism and religious intolerance. Equity and justice, quota system, national interest and religion tolerance should be our watchwords. Our leaders should be honest to themselves and the citizens they represent. They shouldn't see their positions as an avenue to siphon the wealth of the nation for their selfishness. They should see their 4 or 8 years of service as an opportunity to contribute positively to the development of the nation and that they should remember their role in governance will be written in history. They should realize that, it's an opportunity, not their birthright to be where they are today because whatever they do either good or bad, will leave with them here and hereafter. So they should act well their part. As for election 2023, both the leaders and the citizens should diligently play their roles. They have their voters' card and should vote wisely. It shouldn't be do or die affairs and whoever is elected should see himself or herself as a vessel unto honor. They should serve the nation and not their pockets. Improve the living standards of the citizenry. Whoever is elected as President of the Federal Republic of Nigeria should himself as the President of the people and not of his party. I implore the Clergy/Laity both Christians and Muslims to pray for a peaceful election come 2023. May God give us a President after His heart. Thanks and God bless.