The night of Saturday April 16 through Sunday April 17 2022 was indeed a night of awe and wonders which cannot be forgotten in a hurry in the history of God's Mercy Revival Ministries (GOMERM).
It was a night of the ultimate verdict overriding every form of wicked verdicts sponsored by the enemy against humanity.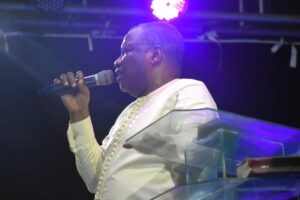 Dr. James Akanbi slamming the final verdict on the wicked at the Easter Power Night
The special vigil, tagged Easter Power Night and themed 'Final Verdict  held at Centre Point Ground, Ikotun Lagos.
Sundry satanic verdicts, under which destinies are being subjugated and truncated, were set aside that fateful night. Our Apostle, Prophet and father, Dr James Akanbi, the set-man of God's Mercy Revival Ministries, by the power of the Holy Spirit, eloquently amplified the voice of mercy to pronounce the supreme, divine verdict for destiny manifestation and fulfillment for everyone at the power night.
The service that glorious night commenced with earth-shaking prayers anchored by powerful ministers of God, prominent among which is our mother-in-Israel, Pastor (Mrs.) Deborah Akanbi.
The guest artiste for the night, Evang. (Sis) Bukola Bekes thereafter mounted the altar and treated the mammoth crowd that thronged the Centre Point College Ikotun the venue of the crusade to an Holy Ghost Power intoxicated praise session. The Zion Voices of GOMERM also got the congregation excited with their powerful renditions that brought many people on their feet.
Events took a dramatic turn when the anointed man of God, God's-ordained revivalist Dr James Akanbi mounted the pulpit as the Spirit of the Living God took over completely. Virtually everyone on the revival stage could no longer stand on their feet when the manifold presence of the Holy Ghost upon the Man of God hit them.
Hundreds of people received miracle touches which sent many reeling; powers resisting miracles in many lives were cast out; people living under the yokes of satanic masters were delivered; satanic worms were cast out of many lives; evil powers dominating lives and destinies were subdued. Those being satanically bathed in dreams with diabolical aim of stealing their glory were delivered. All these, and more, occurred. Indeed, the miracles were too numerous to be fully captured!
It was truly a night of final verdict during which divine pronouncements took pre-eminence over and above all satanic contraptions.
There were no dull moments at all during this year's Easter Power Night.  Many among the people of God who attended have expressed their eagerness for such type of holy convocation as the 2022 Easter Power Night.
Here are pictures from that blessed and anointed night: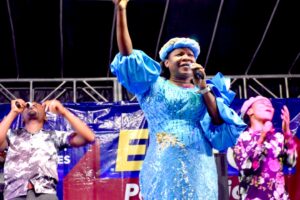 Evang. (Sis.) Bukola Bekes ministering in songs at the Easter Power Night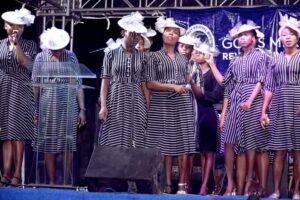 GOMERM Choir ministering at the Easter Power Night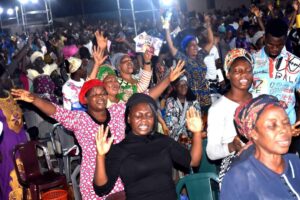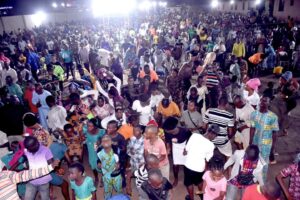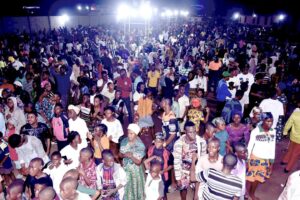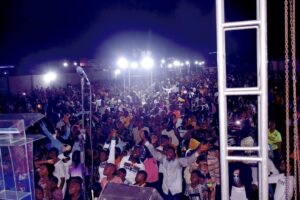 A crowd of witnesses in prayer explosion at the Easter Power Night