Pastor Joachim Oloye is one greatly endowed servant of God who keeps a low profile. But this time, the Kogi state-born Senior Pastor of Eagles Assembly, Ejigbo, Lagos, decides to roll out the drums to celebrate God's amazing grace on the 20th anniversary of the church whose building under construction was engulfed and destroyed by fire some years ago. The amiable preacher and revivalist takes Christian Benefits through the vision, the mandate and the testimonies of Eagles Assembly in 20 years of existence in the below interview with the magazine. Excerpts.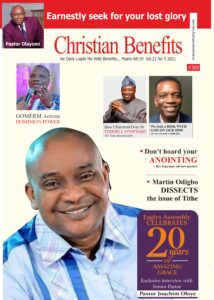 Please, can we meet you sir?
My name is Pastor Joachim Sunday Oloye from Kogi state. I had my primary education in Kano state and my secondary education in Kogi state. I attended the Federal Polytechnic, Mubi, in former Gongola state (now Adamawa state), where I obtained my Ordinary National Diploma (OND). Subsequently, I attended the University of Ibadan (U.I) for my first degree in Sociology. Thereafter, I had my master's degree at the Lagos State University (LASU) and my PhD at the International Center for Church Renewal. I worked at Nigeria Oil mills, Kano, as an Assistant Manager (Marketing) before I answered the call of God and later came into full-time ministry.
How does it feel seeing Eagles Assembly clocking 20 years this September 2021?
It is quite amazing! That is why we tagged the 20th anniversary Amazing Grace! We started the church in 2001 in a rented hotel hall where I also had my office under a tree. When we started, we held our Sunday service at the hotel hall, held our Bible study at the former building of Oby Hospitals inside Agodo Egbe, and held our vigil service at my private residence. When the Lord secured a permanent site for the church we moved all our services to the permanent site. Looking back and considering the 20 years of Eagles Assembly, our testimony is aptly expressed by King David in Psalm 40:1-3, "I waited patiently for the Lord; and he inclined unto me, and heard my cry. He brought me up also out of an horrible pit, out of the miry clay, and set my feet upon a rock, and established my goings. And he hath put a new song in my mouth, even praise unto our God: many shall see it, and fear, and shall trust in the Lord." In the course of the journey we faced a challenge over the land on which we built the church. Some of the church leaders slept in Zone 2 Police station over the matter. I'm delighted they are all alive today to witness God's faithfulness in this ministry. God has been good to us at Eagles Assembly these 20 years. He has moved us forward. Recently, I did the dedication of a set of twins by a couple after 21 years of marriage. We thank God that He confirms His Word with signs and wonders in this ministry.
Briefly share with us the vision that birthed Eagles Assembly 20 years ago
The Lord spoke to me about the vision while I was at my former church, Light Chapel, where I served as the resident pastor for ten years. The Lord told me to go and present the total gospel to the degenerating world. I received the vision of the ministry in April 2001, but waited to stabilize the system in my former church till August 2001 when I officially resigned from that church.
What is the exact mandate that the Lord gave to you for this commission?
The mandate is soul winning. By the grace of God, we have won several souls unto the Lord in this commission. We minister the total gospel to people and their lives change. The mandate entails pulling people from darkness into God's kingdom, transforming lives from poverty to prosperity, building formidable marriages and Christian lifestyle, and piloting people to heaven.
 What are the gifts that God endowed you to run and fulfill this mandate?
There is no soldier that goes to war at his own expense. From the gift manifestations in my life, I see myself as a pastor, prophet and a teacher of the Word. We operate the healing ministry. We give the word of knowledge and the Lord always confirms His words with signs and wonders, particularly in the healing ministry. God reveals things to us, we say them and they come to pass. These manifestations are what attract people to this commission. We teach and preach a deeper and undiluted word of God. And to the glory of God, people are blessed by the word of God.
 What are some of the church programmes in line with this mandate?
We have Bible study every Wednesday, Morning Dew Service every Thursday morning and on the first three days of every month we hold Prayer Mountain where we pray our hearts out to God and receive good responses from Him. We have prayer and fasting on every public holiday. Through all these powerful programmes the Lord tremendously builds the people unto Himself.
Please share with us some testimonies from these programmes
The testimonies from these programmes are enormous. As I said earlier, we have a testimony of a couple in this ministry who recently had a set of twins after 21 years of marriage. There are testimonies of miraculous healing of all manners of sicknesses and diseases including kidney stone miraculously melting off in the stomach of people. There are many testimonies of gainful employment and promotion of our church members. There are testimonies of incredible miracles, signs and wonders in the lives of people in this church. God has blessed several women with babies at the Fruitful mothers fellowship of women who are waiting for the fruit of the womb.
How will you describe your experiences in these 20 years of Eagles Assembly?
Sincerely, it has not been easy but God has always been faithful to us. There was a time that our church structure under construction went up in flame, and everything in the church was burnt. We had to rebuild the structure all over through the help of the Holy Spirit and the supports of friends, families and the church members who are committed to the course of this commission.
How did you cope with the family responsibilities in the face of these challenges?
During my master's degree programme, I asked God for some things and He said He would do them for me on one condition that I sow my lancer car as a seed to Him. It was a painful demand because I used that car to take my children to church, school and other places. Nevertheless, I gave the car to the Lord with the agreement of my wife and children. The next Sunday, we went to church under a heavy downpour without the car. When people asked us about the car I told them that we had given it to God. This period was so tough that on Christmas we had no grain of rice to eat. So, some people said we had sold the car to eat. We couldn't pay the tuition fees of our children. We couldn't buy the school uniforms and text books for them. We could only buy exercise books for them. There was a time that I pleaded with their head master to give me time to pay their tuition fees. She asked me the job I do. I told her I am a pastor. Three weeks after I gave the car to God a member in the church said God didn't speak to him but he spoke to himself to give one of his cars; a BMW to me. He said when he joined Eagles Assembly he trekked to the church. And within a short time he joined the church God has blessed him with two cars. From then I never bought any car with my money. God has been raising people to bless me with cars.
 What are you most grateful to God for Eagles Assembly at 20 years?
I am grateful to God that I am still alive. One afternoon when I was counseling people in my office under the tree at the hotel that we used then, a snake fell from the tree and landed on my right hand. I thank God I didn't suffer a snake bite from that incident. There was another time the driver of a bus I boarded drove into a mighty tree. Some passengers jumped out from the bus through the widows while I carried my bag and walked out of the bus. When I was doing my first degree at U.I I traveled every week from U.I to Lagos for church services. I had no road accident till I completed the course. My first child was a pupil in a primary school when I was a student in the university. We often cracked jokes with each other. She would ask me, daddy have you done your home work, otherwise your teacher will beat you, and we would laugh. All our children are progressing in their different endeavours. The Lord has lifted us to take the gospel beyond the shores of Nigeria. The lives of the people we have impacted are our greatest testimonies. I am also grateful to God for giving me immense strength and sound health to carry on with the work.
Tell us the expectations from the 20th anniversary celebration of Eagles Assembly
I don't like making loud celebrations but this time we need to celebrate God's faithfulness for the 20th anniversary of Eagles Assembly because we are waxing stronger. To the glory of God at 20 we have vibrant branches. So, we are celebrating the fact that God has kept the vision alive. We are celebrating because of the many souls that we have won for the Lord in this commission. We are celebrating the transformation of lives, and also for the fact that the devil never gave us any chance to survive but the grace of God keeps us moving. We are also celebrating to announce the presence of the church in order to win more souls unto the Lord. That is why we have invited notable preachers of the gospel, Archbishop Joseph Ojo, Apostle Anselm Madubuko, Bishop Humphrey Erumaka and Pastor Tunde Kojogbola to come and bless people at the anniversary.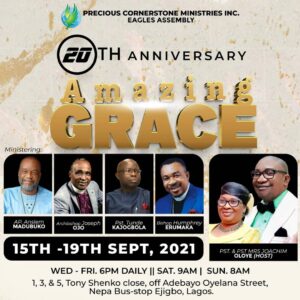 Please can we have a look at your background?
I came from a very humble background. My siblings and I lived with our parents in one room apartment in Kano for almost 30 years. I told God if He lifts me I would praise Him. The Lord helped me to pass through lots of challenges in life. After I had my OND, I waited seven years before I gained admission into U.I. I was a married man and a resident pastor when I entered U.I.
 Briefly share with us your rebirth encounter by which you became born again
I was a mass server in the Catholic Church before my rebirth. My ambition then was to become a Catholic priest.  In 1978, one of my mentors, a Canadian Rev. Father, took me to Saints Peter & Paul, when His Eminence John Cardinal Onaiyekan; now retired, was then the rector, in order for me to become a Catholic priest. Along the line I could no longer flow with the Catholic doctrine. On June 8, 1986 a colleague of mine at Nigeria Oil mills invited me to the Deeper Life Bible study on Tuesday. After the teacher, Bro. Mike Agbahieme finished his teaching and made altar call I came out and gave my life Christ. That was how I joined the Deeper Life in Kano. When I later left the Deeper Life I joined Calvary Life Assembly, Kano, as a foundation member. It was at Calvary Life Assembly founded by Bishop Ransom Bello I received the call of God into ministry. I eventually resigned from Nigeria Oil mills and came into full-time ministry.
Your lovely wife is very committed in your ministry. How will you describe her support and contributions to the success story of Eagles Assembly at 20?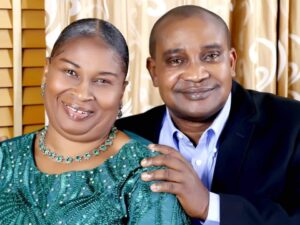 My wife got born again long before me. She was from a Moslem background. Since her rebirth, she is focused and she loves God. She was the secretary of the youth fellowship in her former church where I was once invited to preach. When God called me into full-time ministry, I told Him to confirm it to my wife. Ironically, on her way home from the office, my wife heard an audible voice said to her twice, supposing your husband is a pastor; supposing you are a pastor's wife! And she said, Lord, have your way! From the inception of this ministry my wife has been very supportive to the work because she loves God and has the evidence of my calling by God as a pastor. She runs the Fruitful mothers fellowship in the ministry. God is really using her mightily through that fellowship to open the wombs of waiting mothers with wonderful babies. He is using her powerfully in coordinating and bringing the women group in the church together.
When you set out, did you envisage the level of growth that the church has attained today?
No, I never envisaged the level of growth that the church has attained today because when we set out on this commission we faced lots of severe oppositions when I tendered my resignation to my former church. So, at the start we were not given any chance to survive. All that was at the back of my mind when we started was to do whatever the Lord asks me to do. For how far I would go in the new work, I committed that into the hands of the Lord. That is why we want to celebrate to appreciate God for His amazing grace we have been enjoying in 20 years of Eagles Assembly. This informed the theme of the 20th anniversary celebration, Amazing Grace! I never envisaged we would come this far in 20 years. But God's amazing grace made it possible for us.
If Christ tarries, what is your vision for Eagles Assembly in the next 5 years?
If Christ tarries, my vision for Eagles Assembly in the next 5 years is to plant more branches of the church. We want God to expand, increase, enlarge and advance the frontiers of this church to depopulate the kingdom of darkness by converting more souls into God's kingdom through this commission. Eagles Assembly is a flourishing church. We are soaring like eagle. God has indeed blessed us. We crave for more of His blessings to fully achieve the mandate of this commission.
How will you describe the church members, and what is your anniversary message to them on the 20th anniversary of Precious Cornerstone Ministries (a.k.a Eagles Assembly)?
God has blessed me with a level headed membership. I must confess they love me. When I traveled recently to the U.S for two months they kept the church running peacefully. They had no problems with mummy and other ministers in the church.  No single member left the church. We are one big and happy family at Eagles Assembly. We are more than a church. We are one family from different tribes. I am grateful to God for these wonderful children in the faith. They give me an enabling environment to function very well. My anniversary message to them is eyes have not seen, ears have not heard, neither has it entered into the hearts of men what the Lord intends for them. The Lord will advance them because they love Him. I implore more people to join us at Eagles Assembly, and their lives will change for better. They will become living testimonies.
To what extent you will say your background from the north has imparted your ministry?
It has greatly imparted my ministry. It is not easy to serve God in the north because of the severe oppositions, attacks and persecutions that Christians suffer in the north. In the north, we have no guts to paste Christian posters in the day time except at midnight between 12pm-2am for the fear of being attacks by Moslem fundamentalists. Such background back then, gives us great zeal and enthusiasm to serve God wholeheartedly. When I came to Lagos I noticed that the environment here is different from the north. Nobody hinders anyone from preaching the gospel in Lagos.
As a prophet to the nations, what is the way forward for Nigeria from her challenges?
The Bible says God rules in the affairs of men. If we allow God to rule in the affairs of Nigeria, Nigeria will move forward. I couldn't have imagined that Nigeria will be in this kind of mess it is today. When I was in the polytechnic in the early 80s, we were given two toilet rolls and one bar of soap every week. When we attended classes there were people who laid our beds. Every Sunday students were served chicken in their meal. When they were traveling to their respective states the government would give them transport money. The painful thing is that most of the people who benefited from the Nigeria of yester-years are the same people ruining Nigeria today. But I have not given up hope on Nigeria. Nigeria will rise again! I prophesy, it shall be well with Nigeria. Life will be good in Nigeria again. Nigeria will take her rightful place in the comity of nations. Nigerian children will not suffer anymore. God will have mercy on Nigeria. The Lord will restore what the locusts have eaten in Nigeria in Jesus mighty name, amen!