Rev. Julius Bamibe of Comforter Christian Centre Int'l, Texa, U.S, was recently on a missionary visit to Nigeria with his lovely Panamanian wife, Jizell. Jizell, visiting Nigeria the second time shares with Christian Benefits what fascinates her about Nigeria and her people but expresses shock seeing lots of magnificent houses built on deplorable roads in places she had visited in the country. She also shares how the ministry conquered the fear of the COVID-19 lock down of churches in the U.S, which her husband describes as imprisonment of pastors in the U.S. Excerpts.
 Please, can we meet you ma?
I'm Mrs. Jizell Bamibe from Panama but married to a Nigerian pastor, Rev. Julius Bamibe. I am part of his ministry, Comforter Christian Centre Int'l, Texa, U.S
 Briefly share with us how your paths crossed with your Nigerian husband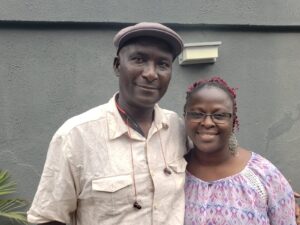 Rev. Julius & Mrs. Jizell Bamibe
I met my husband over 26 years ago in a Christian club in the U.S. He was already a pastor when we met. We became friends and I knew the Lord wanted to use me in his ministry but back then I didn't know the exact role the Lord wanted me to play in his ministry. I have been working in his ministry since we met till now.
What is the experience like working with your husband in the ministry?
Working with my husband in the ministry requires a lot. Since I know it is a call, I went through the humbling process but didn't understand that process until we got married. Before I met him, I have had dealings with many Africans from different backgrounds. I have had contacts with different people of the world. So, I know it requires patience in dealing with Africans properly without reacting poorly. I learned the power of humility. I've been working with my husband with prayer.
While growing up, did you envisage marrying a pastor; more so an African?
I actually didn't envisage marriage in the first place. Before I met my husband, I was comfortable with "just me and God alone." I have always been a believer. When he told me the Lord revealed to him that I'm his wife, I told him to go and pray; God hasn't told me. We prayed and the Lord confirmed it. One of the things that attracted me to him is the fear of God in him. Before I met him, I had been in ministry in different churches. I was very active in the choir. There have been no irreconcilable conflicts since we started working together in the ministry. We have different levels of anointing. Our children are parts of the ministry as musicians.
How do you combine working with your husband in the ministry with your roles as a wife and mother without one role adversely affecting the others?
It has been the help of God and the Holy Spirit. It's not by power nor by might but by His Spirit. Before our current visit I'd been to Nigeria with him. I don't buy into anything that has nothing to do with the kingdom of God or bring glory to God.
 Can we have a look at your background?
I am originally from Panama. I came to America in 1987. Before coming to the U.S, I told the Lord if He brings me to the U.S I would serve Him till I die.  Since He brought me to the U.S I've been working for the Lord without compromising.
What has been sustaining you in keeping the faith?
It's been God's faithfulness. In 2018, we planned an event for married couples. While our 19-year-old son was on the way to church some guys ran into his vehicle with their car and he passed out (died). The Lord sustained us during this moment, especially my husband who was closest to him. People were mesmerized to see how strong we were despite the incident and it won many souls to Christ.
How do you feel being used by God through Comforter Christian Centre Int'l, Texa, U.S in touching lives by distribution of food items, clothing, beverages and other essentials to the needy across the world?
It's my joy and food seeing transformation in the lives of others. I'm always thirsty of touching the lives of people; particularly the needy. It's more than money to me.
What are some of the sacrifices you make in touching and transforming lives?
There are times when people from different backgrounds come to live with us in our residence until they are able to stand on their own. We accommodate people in the church. Sometimes because of the cost of living; with time, they become part of us and are able to reciprocate same gesture to others.
What's your impression of an average Nigerian on your visit to the country?
Please pardon me, what I see in an average Nigerian is selfishness, and this could be as a result of frustration. In Nigeria, there are very magnificent houses built on very bad roads. I wonder why Nigerians don't see the need to provide solution to these bad roads. Most times, Nigerians direct their complaints to the government, which I don't see as a reasonable thing to do. In the educational sector, the public schools are nothing to write home about. The teachers rarely come to school in order to run their private businesses in the name of 'the government hasn't paid our salaries.' I think the laxity in the Nigeria system is beyond the government.
Again, please share with us the impact of Comforter Christian Centre Int'l in alleviating the plight of the needy in the U.S, especially during the COVID-19 lock down?
The Lord magnified Himself in the lives of the poor and the needy during the COVID-19 pandemic lock down in the U.S. The devil was using the arrow of fear but we didn't fall to that fear. The law was so heavy on ministries but the Lord still used us to bless people. We blossomed even more as we shared food items to people. (Rev. Bamibe interjects) Over there, the devil was using the government to target churches because they have no investments in the ministries. During that period, many weak Christians went back to the world. It was as bad as locking several pastors in prisons. I went into fasting and prayer. The Lord told me to keep His door open for His house shall be called the house of prayer. So, I told the people that the doors will remain open and our community houses were fully open and even grew larger. All our services were held in the church. God preserved and protected us. I made up my mind if I will go to prison for opening the church, it means there's a soul that needs to be saved. Throughout the pandemic period, no soul was lost in our midst to the glory of God who preserves and saves lives.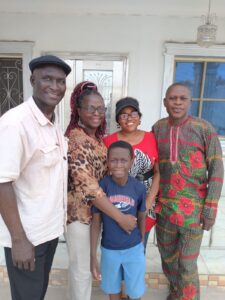 Rev. Julius & Mrs. Jizell Bamile; their son, Joshua and Christian Benefits editors, Wole Olarinde and Peace James during the Bamibes' visit to Comforter Christian Centre International's Mission Facility at Igando, Lagos.