Compass 2022, the tag of this year's International College of Ministers (ICOM)'s annual ministers' conference is set to kick off from April 27-19, 2022 at Ikotun, Lagos. In the below interview with Christian Benefits 0n the conference, Rev. Bola Omokorede, the Convener/President of Saved to Save Nations (SATSA Nations); the organizers of ICOM conference shares the vision of the yearly ministers' gathering and also discloses that this year's conference, among other expectations, is aimed at navigating ministers of God through the right route. Excerpts.
Please, can we meet you sir?
I am Rev. Bola Omokorede, the Senior Pastor of Agape Believers Church. I am a media practitioner, business man and politician. Though some people may have reservations about my being a politician I am proud to be one. I have a wonderfully and fearfully made wife. We are blessed with three children and live in Lagos.
Tell us about your call into ministry and the mandate of your commission
My journey into ministry started from Foursquare Gospel Church, where I gave my life to Christ, started my early Christian life, built up and and discovered the call of God into the ministry. My call into the ministry was not as dramatic as in the cases or experiences of Moses at the burning bush and Paul on the way to Damascus as some people erroneously think should characterize every calling into ministry. In my case my call into ministry was borne out of God's nudging by inner conviction from the time of my conversion, which the word of God in Philippians 2:13 later established that it is God which worketh in me both to will and to do of his good pleasure. That was the scripture I received when I was struggling to understand if indeed God was calling me until I listened to Rev. Albert Aina in one of our District Youth programmes in Badagry then. There God established his word in me, and from there; like Paul said in Galatians 1:16, I did not confer with flesh and blood but went home with the fire and immediately obtained admission into LIFE Theological Seminary to be trained as a man who has discovered his calling. There (LIFE) I bagged my first degree in pastoral studies. It was after some years in Foursquare Gospel Church that I picked up the courage to build a fresh ministry as the Lord had been leading me for a long time before I bowed to it. Starting a fresh ministry was a serious struggle for me; more terrifying than the initial call into the assignment because I didn't know how to start or how it would look like. I was fearful of failing despite that I was sure of the call to start a fresh work. I looked at the already established and large family (Foursquare) I belonged to; weighed it with starting where two or three are gathered kind of fellowship. It didn't seem a familiar terrain I could easily glide through until I had enough boldness to move it. Today, I really appreciate God who proves Himself in all we do in our ministry.
What are some of the gifts God endowed you to fulfill your commission?
Mathew 16:17 says, "And these signs shall follow them that believe; in my name shall they cast out devils; they shall speak with new tongues; They shall take up serpents and if they drink any deadly thing it shall not hurt them, they shall lay hands on the sick, and they shall recover." God has been faithful to His word as signs and wonders have been following the work and mandate of my ministry.
Briefly share with us your background before your call into ministry?
I am a trained Journalist. I was the publisher of formerly Ransom magazine; later renamed Awesome magazine, a Christian magazine, which I ran for some years before I freelanced for the following newspapers; Champion, Westerner, Compass, The Sun (as a weekly columnist) and The Nation (partially). Subsequently, my wife and I floated a school, Lasting Inheritance Private School, and also Sachet & Bottled water Production Company before I came into ministry. Despite coming into ministry I am still running my secular business till date. I strongly believe in combining the spiritual with the secular in serving God and in making ends meet.
Aside your ministry, you are also the Convener/President of Saved to Save Nations (SATSA Nations). Please, tell us what SATSA Nations is all about.
SATSA Nations is a ministerial network that brings ministers of God together into a unity of faith. It is a vision of making our (the ministers) hearts beat as one. The network is about ministers working together in the spirit of oneness as Jesus prayed for us in John 17. It is about showing love and care for one another. SATSA Nations has an arm called International College of Ministers (ICOM); another network where ministers pray, share the word of God together and discuss matters relating to the kingdom of God that we advance. SATSA Nations also has a school arm called Leadership Cum Ministerial Institute (LCMI) for training of ministers. ICOM is a gathering of ministers for the furtherance of the gospel of Jesus Christ.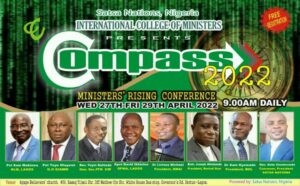 Tell us about the coming ICOM ministers' conference, tagged Compass 2022
Compass 2022 is the tag of this year's ICOM annual ministers' conference starting from Wednesday 27- Friday 29 April 2022 at Agape Believers Church, 59 Razak Tijani Street, off Governor Road, Ikotun, Lagos. The yearly conference started in 2019 with the tag ICOM 2019. It was this particular conference in 2019 that actually birthed International College of Minister (ICOM), after which we (the organizers and the participants) agreed to be holding meetings as often as possible. We had been doing that before my appointment to pioneer Governor Road, Ikotun chapter of the Pentecostal Fellowship of Nigeria (PFN). By the grace of God I have been the chairman of that chapter for about three years now. As the pioneer chairman of that PFN chapter it has not been easy but for the great people that God surrounds me with. The Lord made the pioneering work easy because some ICOM member started with me and work with me. I thank God for these servants of God.
What is the tag of this year's ICOM conference, Compass 2022, all about?
Compass as we know is a navigating instrument. So, with the tag, Compass 2022, the conference is aimed at navigating servants of God through the right route that will help our relationship with God and the work of our ministry. ICOM 2019 was a great blessing. Unfortunately, we couldn't hold the conference in 2020 and 2021 because of the COVID -19 lockdown and restriction regulations. We are expecting this year's ICOM conference to yield greater results because of the seasoned and highly respected ministers of God that will speak the mind of God to us, and also pray with us at this year's conference. Definitely, lives shall never remain the same at the end of this year's conference. I am a testimony of God lifting as a result of the 2019 edition. I expect a better manifestation/impact from this year's meeting.
What are the basic issues that will be discussed at this 3-day conference?
We shall be looking at some prevalent issues in Christianity practice today, crippling many supposed mighty men of God. We will look at some issues like the advantages of training to ministers. Many ministers abhor training and ignorantly bragging it is anointing that matters. You can imagine the havoc AK-47will cause in the hand of an untrained man. We will look at the issue of procrastination; how much evil it has done or can do to any ministry. We will look into proper handling of our assignments, x-raying the mind of God about our assignments and how we should carefully handle them so we will not be guilty at the end. These and more are what these great servants of God are coming to speak to us about. I trust God has loaded them with substances that will be more than enough to bless everyone.
What is your view on the state of Nigeria today, considering the increasing vices in Nigeria in spite of the proliferation of churches in the country?
I always believe that the situation in Nigeria would have been worse if not for the presence of the Church in the country. Despite the challenges of the Church today, the little light from the Church is what is keeping the country. You can imagine the absence of light in any community. There was a time The Nation newspaper interviewed me and headlined it "Nigerian pastors should apologize for the state of the nation." However, without mincing words, I will say that the Church is not doing enough. Most of the ministers whose voices are louder are actually showing the light for personal gains. Most church activities today are not for heaven gains but for individual running to outshine one another in marketing their ministries like shelf products. Waiting for Christ coming is no longer part of the church interests. Instead we are working hard to rival with the world and harder to establish empires on the earth that will collapse suddenly someday. The fact is this earth is coming to an end is only in the head; not in the heart of the people of God today. That is why we have everything going awry. The world looks for money. We also look for money in the same dexterity of the world that we are ready to do anything to match others. We have few who shed the light but it is not enough for all and sundry to see. That is one major issue we take to fore for discussion whenever we gather at our ICOM monthly conference. The church is seriously guilty. I have no apologies.
What is ICOM doing differently from what CAN and other Christian bodies in the country are doing in imparting the body and advancing the gospel?
Some Christian bodies and organizations are too secular in their motives and operations; honestly that may be the reason for their establishment. We don't shy away from encouraging civil involvement around us. We don't forget our major involvement in spiritual matters which has a way of taking care of everything together. Training is vital to us. We keep teaching what God desires us to be. We keep reminding ourselves of what we are meant to be but which still not seen in us. Christian education system is broken down and this has left many things in shambles. The major thing we seek now is God's wonders; even when our lifestyle is contrary to his stance. We stand to defend the truth of the word, encouraging ministers to operate only in the sphere the word of God permits though it is not easy today. Our voice may not be loud now to attract the interests of the majority but we know that surely if the master tarries people shall hear the truth through us.
How long has SASTA Nations been in existence, and how will you describe its impact and contributions to the body of Christ since its formation?
SASTA Nations started in 2005 while ICOM started in 2019. So far it has been a great experience. We believe God keeps making our impact and experiences better as we move on. Our level now is just the level of our impact and we believe God working towards greater level that will make us have greater impact. However, so far, it has been good though not easy and we have no regrets either.
Thank you for your audience sir.
Thanks. God bless you servant of God. Greater shall your reward be as you keep publishing the word as Psalms 68:11 assures and promises you in Jesus name.