Racy & Sturdy Schools is one of the best private schools in the Alimosho area of Lagos state. Prince Mike Adewole, the schools proprietor, shares with Christian Benefits how he was laid off from his former job barely a week after his wedding and moved on to establish Racy & Sturdy Children school in 1995.  He also shares his thoughts on the issue of safety and security of the pupils and students in private schools and sees the recent death of a student of Chrisland schools under the care of the schools as a lesson to other private school owners in Nigeria. Excerpts
Please, can we meet you sir?
My name is Prince Mike Adewoye the proprietor of Racy and Sturdy Schools and principal of Racy Comprehensive College located in Idimu axis of Alimosho Local Government Area of Lagos State.
Briefly share with us your background
I attended Odo-Otin Grammar School, Okuku in the then Oyo State now Osun State. I studied mechanical engineering at The Polytechnic, Ibadan; Technical Education at University of Ado-Ekiti and Human Resources Management at Ladoke Akintola University of Technology, Ogbomosho.
One interesting story about your background is your sack from your former job barely a week after your wedding about 30 years ago. Share with us what played out in your mind when this unexpected incident happened.
I had worked in two major organisations before the last one here in Lagos which laid me off a week after my wedding on the day I supposed to resume at work. It was a very sad experience for a young couple just about starting their new lives. After the incident happened, I did not hang my head pitying myself or my wife or looking for friends or any family; rather, I started thinking of the way out, so as to have food on the table for my newly wedded wife and myself since I don't know how to depend on people for help. In search for means of survival, I kept all my certificates and was looking for a menial job to support my new family. My wife; a stranger in Lagos also went out in search of means of survival too. I got trained on how to operate a dry cleaning business within a week, and which I practiced for sometimes while my wife got a teaching job as a trained teacher. During that time, we stayed away from families and friends to avoid unnecessary consolation or mockery.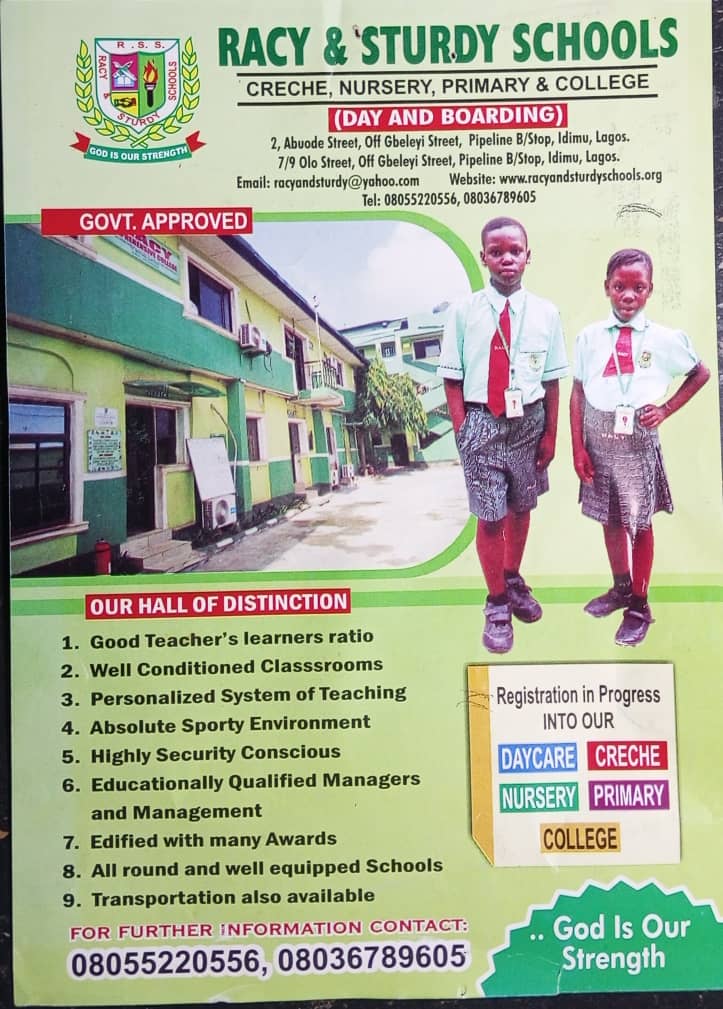 Tell us how you moved on to establish Racy and Sturdy Schools, which is today one of the best private schools in the Alimosho area of Lagos state.
While both of us continued in our newly found vocations, I got a leading from the Lord to start a school while my wife was still teaching somewhere else. That school began in a dilapidated building and was named Racy and Sturdy Children School about 30 years ago. To be precise the school was established in 1995, and by 1996, I forced my wife to join me as a trained teacher. The school where she was teaching, Victory Nursery and Primary School refused her resignation but I ought to intervene as she cannot be working for someone else while I am also into same business.
Share with us the performances of Racy & Sturdy students in the last SSCE examinations
The school graduated from one class to another each year until it grown up to secondary school by 1999 and was approved by the Lagos state ministry of education, WAEC and NECO in 2007 with both schools operating under a partitioned same venue.  Both the Lagos Basic Education and the West African Examination Council (WAEC) have always been conducted within the school since we have been approved and our results have always been outstanding. Both schools, which include nursery/primary and college are closely located but at different locations in the same area.
What stands Racy & Sturdy Schools out in Alimosho in terms of both academic and moral excellence?
Our schools stand out among others for our various innovative activities, academic excellence, strict discipline, and co-curriculum activities as we have a large expanse of land and recreational area for sports, play and games. We have low turnover of staff as some of our staff are as old as the schools and both the proprietor and proprietress are parts of school staff, making our level of monitoring and supervision of the schools standard and unparalleled.
Some private schools in Lagos state have been in the bad news lately over unfortunate deaths of some students in their custody due to alleged porous safety and security in those schools; the death of a Chrisland student being the latest incident. What is your view on the safety and security of students in Nigerian private schools under the schools care?
It is very unfortunate that we have witnessed these types of ugly scene but I am not comfortable when people are connecting them to inefficiency on the part of the indicted private schools. We have seen people dead at different stadia despite all resources made available and nobody accused government or the stadia managers of any fault. How come that people are always quick at condemning private schools when such a thing happened there? We have seen many government schools with broken security network and children were either killed or kidnapped yet, no one has ever closed such schools and blamed the managers. Accident and death are inevitable and not limited to private schools alone. Pupil/student death in private schools engenders bad news because we are in custody of the children with various age grades including those of storm and stress grade some of which don't care much about their health status and will still not allow their parents to be involved. Such occurrences are not rampant in public schools because majority of the students or pupils are from low cadre classes whose parents are always very close to and are able to be closely monitored; unlike children of middle and upper classes who hardly closely relate with their wards due to work pressure. It's very unfortunate that it happened this time at Chrisland Schools. It's not that other schools are more careful, it's just the mercy of God. The issue of security and safety are always the major concerns of majority of private school owners in Lagos state because we know what the outcome of being slack can be. Our associations have organized a lot of seminars and workshops as well as Lagos State Quality Assurance Department of Ministry of Education for private schools but the Bible in Psalms  127:1  says: "… except the LORD keep the city, the watchman waketh but in vain." Security is of the Lord. We can only try our best.
What does these unfortunate cases of pupil/student deaths in some private schools in Nigeria portend for the future of private schools in the country?
It is only teaching us more about things we need to do which we have not been doing because we have never seen it happened in those days before.
To stem this ugly tide, what measure should private school owners put in place in enduring the safety and security of the pupils and students in their custody?
As new threats appear, we shall keep on learning more on how to counter it.
What should be the roles of parents or guardians in ensuring the safety and security of their children or wards in the custody of their school management?
The parents and the private school owners should always work together on issues of safety and security of learners. Modern technological equipment should be employed also to notify the schools and the parents at the early stage, so as to nip them at the bud.
What safety and security measures should the government and the Association of Proprietors of Private schools in Nigeria put in place in ensuring that private school owners are not careless with the safety and security of the pupils and students in their care?
Government and private school owners associations should intensify training and workshop for private school owners and workers. Security gadgets should be highly subsidized by the government so that it can be affordable for schools and parents to purchase. There should be synergy between law enforcement agencies and schools for easy accessibility and quick response in time of distress. The ministry of education should be alive to their responsibilities of making sure schools are updated and comply with necessary safety rules.
Lastly, what is your advice to your fellow private school owners in ensuring the safety and security of the pupils and students in their care or custody?
As we are trying our best at ensuring the safety and security of the wards under us, let us depend on God also and pray more to Him for spiritual protection.
Thank you for audience
You are welcome.